Safe Household Cleaning is reader-supported. All reviews are independent and any products reviewed are purchased by the site owner. To help fund this model, some of the links on the site are affiliate links. If you decide to make a purchase from one of these links, this site will receive some commission. At no cost to you. It helps keeps this place running. Learn more
The 5 Best Eco-Friendly Laundry Detergents That Won't Ruin Your Environment or Your Pocket
Not only should a good laundry detergent care for your clothes, a good laundry detergent should also care best for your skin.
A landmark study published in 2014 in the Journal of Dermatology shows how residual laundry detergent – which is often invisible to the naked eye – can be a key risk factor for dry skin and eczema flares. In this study participants were asked to switch from a 'common anionic, additive enriched detergent to a non-ionic additive reduced detergent' (more about what these technical terms mean soon) and in just 2 short weeks of use, 76% of participants saw marked improvements in dry skin symptoms.[1]
Fact; a laundry detergent impacts the health, longevity and cleanliness of your skin and your clothes.
How do you choose the best laundry detergent?
Can a laundry detergent be gentle to your skin and effective at general stain removal?
Do kind to skin laundry detergents exist?
What the heck does anionic and non-ionic even mean?
At the end of this article we will quickly have you sorted with;
The answers to all of these questions
The best laundry detergent – one which perfectly fits your needs
Let us get going…
What's in this article:
The Best Laundry Detergent – Attitude Baby Laundry Detergent
Attitude Little One's Fragrance-Free Baby Detergent
is a worthy winner of our best overall laundry detergent.  It's hard to find words to do this best laundry detergent justice. Just look at all these tick boxes;
Contains just 5 ingredients including water
Uses mild plant-derived surfactants/detergent actives
Biodegradable
Top marks for general stain removal
Limited additives (!) – exactly what that 2014 study shows as best for improving overall skin health
What about the detergent actives? Are they anionic or non-ionic? What do those words even mean?
Actives used as detergents fall into 3 categories – it's really simple if you think about them as a battery or magnet;
Anionic detergents – have a negative charge
Non-ionic detergents – have no charge or are not 'magnetized'
Cationic detergents – have a positive charge
Non-ionic detergents are the most sensitive to your skin. They hold no charge and therefore lack any kind of interaction with the proteins your skin cells are made from. Having said that, there are also some new age anionic detergents which are considered especially gentle on your skin.
You will see these disclosed on the back of general use detergents like Fairy Non-Bio Washing Powder for Sensitive Skin. The box states it contains 5-15% anionic surfactants and <5% non-ionic surfactants. However, Unilever – the maker of this detergent does not tell us what these surfactants are. It could contain 15% of the most irritating anionic detergent which is sodium lauryl sulfate.
We just do not know.  Hence we'd never review that particular detergent.  As long-time readers of this site are all too aware, we only review products where the manufacturers have disclosed the ingredients.
Attitude Little One's Baby Laundry Detergent declares all of its ingredients. We therefore know it uses 1 anionic detergent called sodium coco-sulfate – which is much milder than the most commonly used anionic detergent – sodium lauryl sulfate. The second detergent – lauryl glucoside is non-ionic and therefore especially sensitive to skin.
Pro-tip; disregard the word baby from Attitude Little One's Baby Laundry Detergent, this hero laundry detergent is best for all skin types, including sensitive ones.
For you if; you have babies, have sensitive skin, have hyper-reactive skin, have eczema or atopic dermatitis. Attitude Little One's Baby Laundry Detergent is also a fantastic laundry detergent to have on hand for those cold winter months which commonly cause the dreaded winter itch.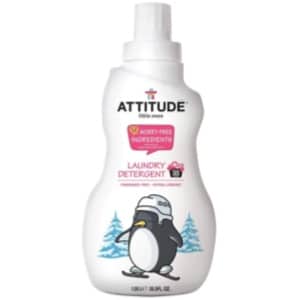 Attitude Baby Laundry Detergent is on sale now
With only 5 carefully selected ingredients, this highly effective fragrance-free, biodegradable and environmentally safe laundry detergent is kind to you, your environment and your wallet. A worthy winner

The Best Laundry Detergent Runner Up – Better Life Laundry Detergent
Better Life Laundry Detergent fought valiantly for the first place best laundry detergent prize. It's literally just a few points off. Look at all these reasons to love Better Life laundry detergent;
Gentle biodegradable formula
Cleans as well as regular detergent
Concentrated formula – you only need to use a little – environmentally friendly
1 fairly mild anionic detergent, 2 non-ionic detergents
Also contains soap bark – a natural extract with natural detergent properties
Contains enzymes which help to breakdown stains – excellent stain removal
For you if; your primary driver for switching laundry detergents is to be kinder to the environment, your skin and your family's health – without compromise on cleaning performance.
Joint 3rd Place Best Laundry Detergent Winners
We really couldn't pick. All 3 of our 3rd place winners scored an even 4.5 out of 5 stars. We're allowing all 3 here as proof natural, gentle and biodegradable laundry detergents are not few and far between… that is if you know where to look. You have you to guide you here.
First up – Mollys Suds Laundry Powder
Molly's Sud's Laundry Powder contains a super simple formula with just 5 ingredients. A stand out from our first and second place winners as this is a powder.
Pro-tip; if you live in a hard water area – this formula is perfect for you. Hard water can inactivate laundry detergents. Mollys Suds Laundry Powder contains a significant amount of water softeners i.e. sodium carbonate.
Tick boxes; non-biological, effective cleaning, cost-effective.
Note; this formula contains peppermint oil and is not the best laundry detergent for sensitive skin types – instead, choose Attitude Little One's Baby Laundry Detergent.
For you if; you want a simple, cost-effective laundry powder replacement.
Second up – Biopuro Fragrance-Free Baby Laundry
A fantastic mixture of actives in a sensitive to skin, fragrance-free formula. Rather than the complete simplicity of our #1 winner Attitude Little One's Baby Laundry Detergent, Biopuro Fragrance-Free Baby Laundry uses a different approach. A combination of detergents for effective cleaning power, plus skin-soothing actives such as hydrolyzed wheat protein.
For you if; you want cleaning performance that is guaranteed plus sensitive skin-friendly.
Third up – Bunchafarmers Laundry Detergent
A 100% natural laundry detergent. Bunchafarmers Laundry Detergent formula works in a completely different way to all of our other best laundry detergent winners. How does it work? With borax – natural water softening active which can convert small amounts of water into hydrogen peroxide – a natural bleach and cleaner. Plus it contains sodium bicarbonate – a natural deodorizer that can soften water and aid detergency.
For you if; you want a 100% natural laundry detergent. Also for you if you suspect you or a family member have a skin type which is reactive to classic anionic and even non-ionic detergents. Ideal for clothes which don't have heavy staining but which need a light clean/odour elimination.
Note; contains natural fragrance – lemon oil.
The Best Laundry Detergents
While we love every one of our winners, there's far more choice available should you wish to look for an alternative.
Here are the best laundry detergents on the market today
How We Chose the Winners
We've reviewed hundreds of cleaning products.  And when I say review, I mean a pharmacist/product formulator has assessed the formulation and a cleaning expert has tried the product under numerous conditions.
You will find no review here at Safe Household Cleaning that is not backed by science.
We do not review products based on subjective facts i.e. we like the scent or think the cleaning performance was great for us. Both of these facts change based on who you are and how hard your water is.
Instead we use science to grind down to the nuts and bolts of each formula. How do they work? Should they work? Are the ingredients known to be skin friendly? How skin friendly?
Of course we also in house test each formula we review – but this testing comes secondary to chemistry and science.
Our aim – we're aware of the numerous issues and problems with the cleaning product industry – so we're here to provide you with well researched solutions for Safe Household Cleaning.
What to Look For In a Laundry Detergent
We will keep this simple, usable and understandable – you already know the most important part;
What kind of detergent does a laundry detergent contain? Detergents tend to have names which end in sulphate or glucoside. Google search the ingredient names on an ingreidents list and you can easily find out if they're anionic, non-ionic or cationic.
This matters because;
Anionic i.e. sodium lauryl sulfate – can be extremely irritating to skin
Non-ionic – the most sensitive to skin
(Cationic surfactants are not as common in laundry detergent as they do not have good cleaning power, but instead can condition i.e. are found in fabric conditioners)
Next – is there fragrance in the formula? You may find this as the word parfum or fragrance, but you can also find this as natural oils i.e. peppermint oil or lemon oil. Fragrance free is best for sensitive skin types.
Finally – Is there a combination of detergents and does the product contain water softeners? More than 1 detergent usually means a better overall cleaning performance. For example our top reviewed Better Life Laundry Detergent. Water softeners such as sodium carbonate allow detergents to work just as well in hard water areas – plus help to minimise irritating detergent deposits on your clothes.
Liquid vs. Powders
Is there a key difference? Is a liquid detergent better than a powder detergent? New formulas in each category make it a much closer decision than it once was. In general here are the key deciders;
Liquid detergents tend to use less fillers/water softeners than powder detergents. Liquid detergents also tend to rely on a combination of milder detergent actives – usually without bleaching ingredients. They can be used effectively in lower temperature washes and are easier to pre-treat with.
Powder detergents tend to be most environmentally friendly for lack of plastic wastage. You're also not shipping gallons of water in a laundry powder Powder detergents tend to use large amount of water softening actives i.e. sodium carbonate – these can be helpful/give better cleaning performance if you live in a hard water area.
How to Use a Laundry Detergent
Here are our top tips for getting the most out of your laundry detergent;
Be sure to follow the dosing guidance especially when trialling one of the best laundry detergents from this list. Do this even if you've used a similar liquid or powder detergent before – every formula is different and detergent concentration is critical to cleaning.
Pay attention if you have a top loader – you will need a detergent which works even when copiously diluted with water – it will also need to create a lot of foam to be effective (foam helps detergents to spread around).
Steer clear from harsh anionic detergents for careful fabric care – delicate items of clothing are best washed with delicate and gentle laundry detergents. They can also help to extend the life of non-delicate clothing. Choose either our 1st or 2nd place winner to be sure clothes look and feel their best.
Don't be afraid to pre-treat stains with laundry detergent – sometimes you really don't need a separate stain treatment. Pre-treating with a laundry detergent concentrates actives in that particular area, increasing efficacy.
References
[1] Residual Washing Detergent in Cotton Clothes: A Factor of Winter Deterioration of Dry Skin in Atopic Dermatitis. Takashi Kiriyama Hisashi Sugiura Masami Uehara. The Journal of Dermatology Volume 30, Issue 10, October 2003, Pages: 708-765
[2] Laundry Detergents: An Overview. Divya Bajpai, V.K. Tyagi. Journal of Oleo Science, 2007 年 56 巻 7 号 p. 327-340