Safe Household Cleaning is reader-supported. All reviews are independent and any products reviewed are purchased by the site owner. To help fund this model, some of the links on the site are affiliate links. If you decide to make a purchase from one of these links, this site will receive some commission. At no cost to you. It helps keeps this place running. Learn more
Dropps Sensitive Skin Laundry Detergent Pacs
Review Score
Ewg Rated
B
Ingredients

Alcohol Ethoxylates (C12-13)
Sodium Laureth Sulfate
Glycerin
Propylene Glycol
Water
PVA (Polyvinyl Acetate)


Dropps Unscented Laundry Detergent Pods are great for people who are environmentally-conscious. The use of biodegradable, plant-based ingredients plus 100% recyclable packaging makes this product an earth-friendly choice.

The detergent cleans gently, yet effectively and the unscented, dye-free option also makes it a great option for users with sensitive skin.

For a truly earth-friendly, hypoallergenic laundry solution, try Dropps Unscented Laundry Detergent Pods.
This non-bio laundry detergent is produced by the Dropps company. Dropps is a family-owned company with a line of laundry dishwashing detergents.
Dropps was created out of the need for a gentle, effective cleanser. The founders originally ran a textile company but struggled to find laundry detergents that wouldn't yellow or stretch out their patented cotton yarn. They developed a revolutionary biodegradable laundry detergent free from enzymes and harsh chemicals.
These guys inherently understand the problems with laundry detergents and have tried to do something about it.
In keeping with their mission for sustainable cleaning, they created dissolvable, pre-measured laundry pacs and packaged their product entirely in recyclable, compostable cardboard.
Dropps is produced in the U.S., in Philadelphia with the goal of "delivering superior cleaning in the safest, most sustainable, and most convenient way possible."
They are proud to be a PETA Cruelty-Free company with its commitment to never use animal products or test on animals.
They are also dedicated to sustainability with biodegradable ingredients and recyclable packaging and has received the Safer Choice label from the EPA.
I loved the sound of this…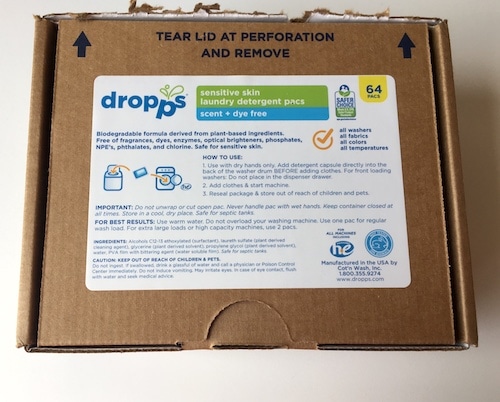 This product is shipped to your house in a cardboard box. You tear off the top portion of the box with your address label, and there you have the detergent in its own little cardboard storage box. I love the simplicity and that the entire detergent container is recyclable compostable cardboard. The shipping box doubles as storage for the product itself!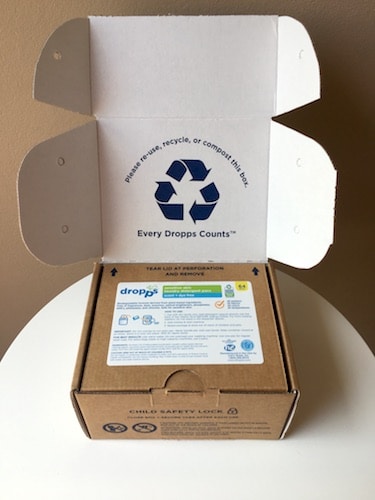 Ingenious!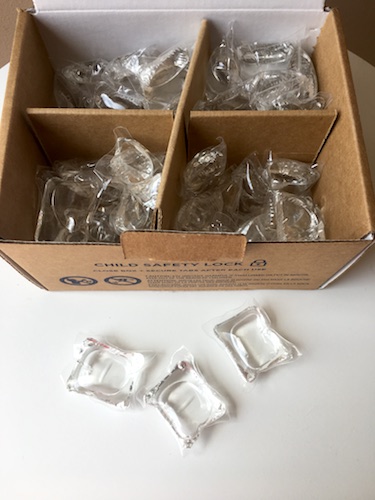 The detergent comes packaged in neat, little pacs in compartments inside the cardboard box.
The pacs are transparent and contain the liquid detergent inside is clear as well. I love that you can see what the detergent looks like and can see for yourself that no dyes and colors have been added simply for attractive packaging.Since this product is unscented, the detergent pacs do not have a smell at all.
The pacs are made of PVA, so they dissolve in water without you splitting them.  Be careful not to use wet hands, and keep these pacs dry as this stuff will disssolve.
What I love about this approach is the lack of waste.  IT's always tempting to use too much liquid or powder but these pacs prevent that.
Also, this is 100% plastic free.  Which I think is a first for a liquid on this site!
Be careful with these around pets or kids though.  You wouldn't want them eating one by accident.  Luckily the company have added a bittering agent into the PVA to help prevent this.  They taste vile basically.
The packing is innovative, the company have great intentions.  So how does it wash?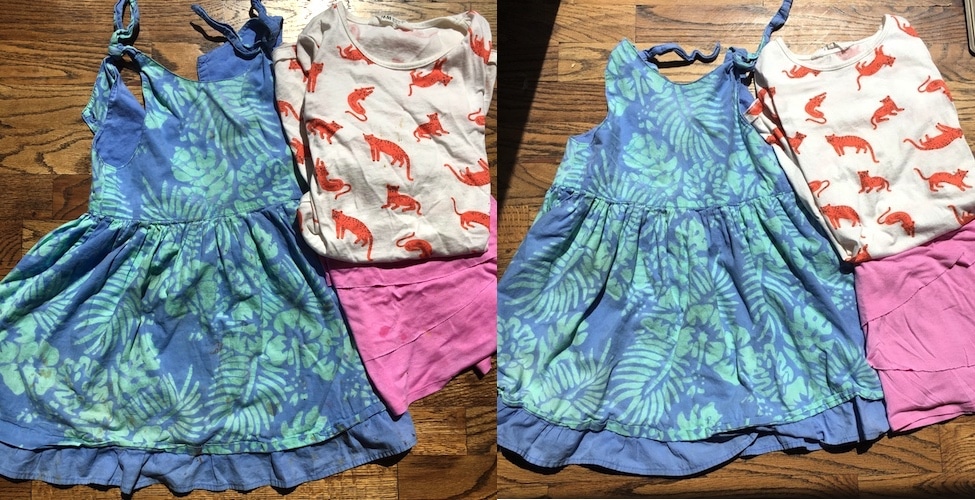 I tried out the Dropps product on some of my daughters' dresses with evidence of springtime picnics and playtime–lots of mud splatter, and a little hot dog grease and mustard.
The best part is the clothes came out clean! I wasn't sure how well Dropps would actually work, but the clothes look great out of the wash. There were a few places on my 4-year-old's mud-splattered dress where the spots look very faded but not totally gone. If I had pre-treated the spots before washing they would've disappeared entirely. This was a very dirty load of clothes, and the rest came out great.
Since this is an unscented product, the clothes didn't have a smell at all after being washed. But they smelled clean.
The directions say to place the pac in the back of the washer drum before adding clothes and to use warm water for best results. This was easy enough. You just need one pac for a regular sized load.
My washing machine is a traditional washing machine, but this product can also be used with a high-efficiency machine. For a high capacity machine or an extra large load, you just need to drop in two pacs.
This particular package of Dropps includes 64 pacs, which works out to 64 regular loads or 32 extra large/high capacity machine loads. The 64 pac option sells on the Dropps website for $20 plus free shipping, which works out to $.31 per load. If you select the subscribe and save option, you save 20% on your order bringing the per load price down to only $.25. This is a pretty good price for US based customers.
It washes well.  Is there a catch with the ingredients?
The detergent itself uses artificial detergents as opposed to soap based cleaners.    This isn't a good or bad thing, just some people have preferences for soap based.  The ingredients are all plant-based and biodegradable as well which is important for many consumers.
The detergents of note are:
Alcohols C12-13 ethoxylated – a very gentle, plant-derived cleaning agent
Sodium Laureth sulfate – another plant-derived cleaning agent. This is used in a lot of personal care products. It can irritate sensitive skin but is not considered as harsh a cleaner as SLS (Sodium Lauryl Sulfate). It's produced on an industrial scale, and there is risk of contamination with harsh ingredients from some manufacturers.
The other ingredients are:
Glycerine – a plant-derived solvent
Propylene Glycol – plant-derived solvent with potential irritation potential
Water
PVA film – the sac itself.  Flavored with bittering agent to help prevent swallowing.
So do we recommend it?
Yes, I would definitely recommend Dropps. My only reservation would be its ability to clean really heavily stained loads of laundry – some pre-treatments should be used.
That said, I absolutely loved that the entire product and its packaging are usable, plastic-free and recyclable. I don't know of another product I can say the same about. The ingredients are plant-based, and this product is also free from fragrances, dyes, and other harmful chemicals found in many laundry detergents.
It's also easy and convenient to use and store, and I like that you are never wasting product by just dropping a pod in your washing machine.