Safe Household Cleaning is reader-supported. All reviews are independent and any products reviewed are purchased by the site owner. To help fund this model, some of the links on the site are affiliate links. If you decide to make a purchase from one of these links, this site will receive some commission. At no cost to you. It helps keeps this place running. Learn more
BunchaFarmers Country Fresh Laundry Detergent
Review Score
Ewg Rated
NA
Ingredients

Sodium Carbonate
Borax
Coconut Oil
Vegetable Oil
Canola Oil
Litsea Cubeba Oil
Lemon Oil
Sodium Hydroxide
Water

If you're on a mission to wash your clothes with a natural laundry detergent free from toxins and chemicals, then Buncha Farmers Country Fresh Laundry Detergent is just what you're looking for! This laundry soap boasts a short list of natural ingredients, and it leaves clothes clean and smelling fresh. It contains no fragrances and no harsh chemicals, so you can rest assured you are cleaning your family's clothes with a safe, natural product.

If you find yourself dismayed by either the
lack of ingredient disclosure
or the
lengthy list of toxic chemicals found in most laundry detergents
, then Buncha Farmers Country Fresh All Natural Laundry Detergent is perfect for you!
This unique laundry detergent is made of only 9 biodegradable ingredients. Country Fresh is a product of Buncha Farmers, a small company in Ontario, Canada.
Like its name suggests, BunchaFarmers was founded by a group of farmers and artisans who were seeking to create affordable, high-quality, toxin-free products. Their philosophy is to create "great products that do what they are supposed to do using only the finest of materials at an affordable price." Their commitment to creating toxin-free products shows in the various products on their website.
Buncha Farmers also sells soaps and balms made from manuka honey as well as an all-natural stain stick. Their stain stick received a rating of Top Ten Green Household Items from Canadian Living Magazine, and the company ranks in the Top 200 Ethical Companies according to Ethicalocean.com.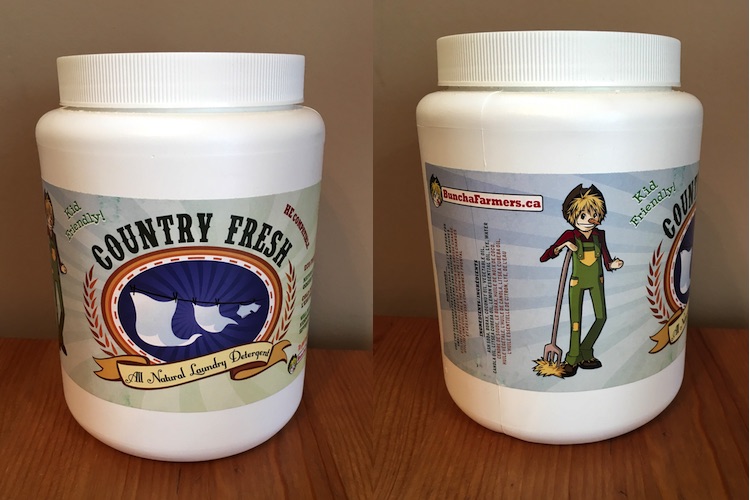 The detergent comes packaged in a simple white canister with a screw top lid.  I much prefer cardboard personally for environmental reasons.  And powders often come in cardboard as opposed to plastic, so I found this packaging odd given the company philosophy.
The label on the canister does have a natural, eco-friendly feel. The main picture of laundry hanging on the line does evoke thoughts of simplicity. To the left of the main design is a scarecrow leaning on a pitchfork. I assume this is part of the Buncha Farmers logo after also seeing it on their website, but it does look a little out of place on laundry detergent packaging. When I first picked up the product, I was not sure why there was a scarecrow on it. The green and brown tones in the rest of the packaging do make it feel like a "green" product.
The package also says Kid Friendly on it, and I assume this means that the product is safe to use on children's clothing. However, this product would be toxic if consumed, and the packaging is missing all of the warning symbols that are usually found on laundry products. Perhaps this is because it is produced in Canada where packing regulations may be different.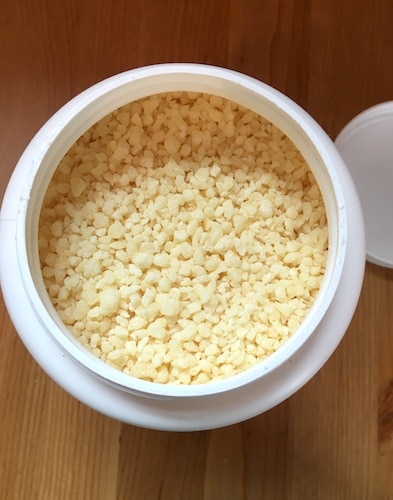 The detergent comes in powder form.  The powder is large, beige kernels that look like soap. It certainly looks different from traditional laundry detergent, but it does have a more natural look. It also smells great! The scent isn't strong, but it has a pleasant, clean scent. It doesn't smell like it has added fragrance, but just a clean, fresh scent most likely from the lemon essential oil in the ingredients.
The company stacks up, their philosophy is sound, so how does it wash?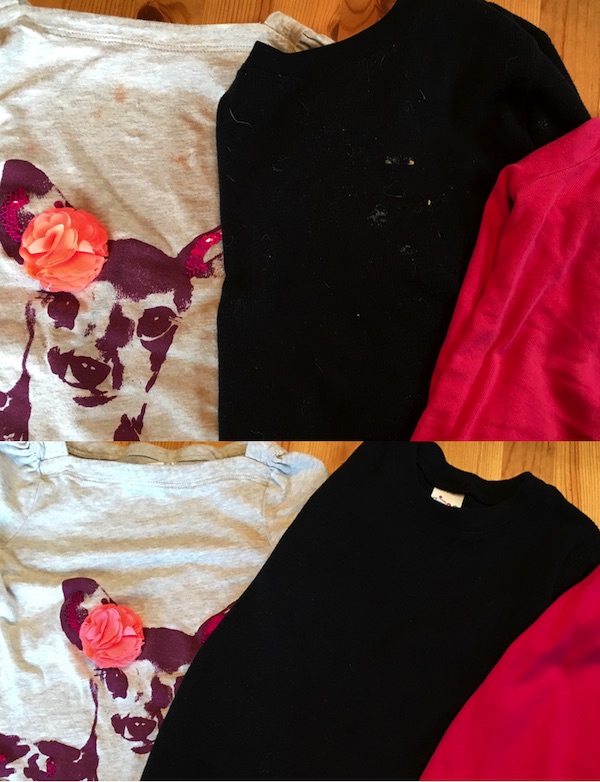 My four-year-old tends to play hard and her clothes show it. I tested out the Buncha Farmers detergent on a load of her laundry, and I'm pleased to say it worked great! Her clothes came out fresh and clean in a single wash. The detergent is unscented, so the clothes did not have a scent after being washed. But they did smell clean and feel clean.
I tested this out on a traditional washing machine, but the packaging says this detergent is compatible with high-efficiency washing machines and that it will not harm septic systems.
It can be used in cold or warm water (I used a cold/warm wash cycle), and it only takes one teaspoon for a small load. Even large loads only need two teaspoons of the detergent, so this one canister should last through at least 100 loads. At a price point of $25.31 on Amazon, this detergent will run you about 25 cents per load. That's similar to what many leading brands charge and without the harsh chemicals.
I couldn't wait to take a look at the ingredients after such a great wash
This is a non-bio laundry powder with a much shorter ingredient list than most laundry detergents.
INGREDIENTS: Ash Soda, Borax, Coconut Oil, Vegetable Oil, Canola Oil, Litsea Cubeba Oil, Lemon Essential Oil,  Lye, and Water. *Made in Canada*
The Ash Soda is Sodium Carbonate. This is a cleaning agent similar to sodium bicarbonate, but this stuff is toxic if consumed.  It helps clean and foam and is classed as an irritant in the EU. But when checking it out on the Skin Deep database on EWG.org, this ingredient does not seem to be a concern since it's a cleaning product that washes off. It could potentially be an issue if clothes aren't rinsed properly when washing.
Borax, or sodium tetraborate, is a boron mineral and salt that is mined. This natural product has created some controversy in crunchy circles lately – however, the controversy is over boric acid.  A very different product.   Borax is touted as a magical ingredient in many natural products and widely considered to be safe for use in cleaning. Borax is a mild skin irritant but only in larger quantities than in this laundry detergent. It's worth noting that Borax can also be toxic if consumed.
The oils and lye are used to make soap.  Yes, this is actually a soap product and not a detergent! There should be no lye left after saponification.
So is this a recommended purchase?
Overall, yes I would recommend the Buncha Farmers Country Fresh laundry detergent. Its ingredient list is so much shorter than traditional laundry detergents, and it does not contain any of the harmful chemicals found in most products. If you're looking for a natural, eco-friendly detergent, you've got to give Buncha Farmers a try.
Most importantly, it cleans your clothes! Clothes come out fresh and clean after just one wash, and it doesn't take a lot of product to get them that way. And at a price point similar or only slightly higher than other leading detergent brands, this is one natural laundry detergent that is actually affordable.