Safe Household Cleaning is reader-supported. All reviews are independent and any products reviewed are purchased by the site owner. To help fund this model, some of the links on the site are affiliate links. If you decide to make a purchase from one of these links, this site will receive some commission. At no cost to you. It helps keeps this place running. Learn more
The Best Green Dishwasher Detergents That Actually Clean Your Dishes
What can I use in my dishwasher instead of detergent?
Can I use vinegar as a dishwasher detergent?
Can I run a dishwasher without detergent?
After reviewing hundreds of cleaning products and conducting literally thousands of hours of product testing, we're in a good position to tell you what the top dishwasher detergents are today. We are experts in this field. We employ a pharmacist, a product formulator and countless cleaning experts to put these products and their formulations through their paces.
The likelihood is, if you're here with us right now, you're looking for the best dishwasher detergent that is not the norm. A dishwasher detergent that has a healthy safety profile. A detergent you can trust to clean your dishes and keep your home safe. A detergent you can feel good about using which won't harm the environment.
Where do you look? Which company do you turn to? How do you find a compromise which isn't a compromise? The best dishwasher detergent with A-star performance plus A-star eco-credentials.
A dishwasher detergent which will not cause mass environmental damage.
Note; this is why phosphates were banned from dishwasher detergents in the EU in 2015, a process that started in the US way back in the 1970's. Working their way into natural water sources they sparked mass algae overgrowth. This has a huge negative impact on other water-born animal species.
Helpfully no detergent available to buy today on our shelves is likely to contain phosphates.
However – there are still ingredients of concern.
If you're looking to do better by your family and the environment, you're about to find exactly what you need. An ultimate guide to the best dishwasher detergents.
Kind to your dishes, kind to your family's safety and best of all – kind to the environment.
Here's how you do better without having to resort to vinegar as dishwasher detergent.
What's in this article:
Best Dishwasher Detergent – Our 1st place winner – Puracy Dishwasher Detergent
The all-star winner. Gentle to you, your family and the environment. Plus best bit – this won't break the bank. What more could you ask for?
Puracy Dishwasher Detergent comes in neat pre-dosed detergent tabs.
Sparkling clean results are almost guaranteed by a combination of natural/plant-derived detergent technologies.
First up – cleaning enzymes. Think of enzymes like Pac-men. They gobble stains. Some enzymes gobble up oily stains and other enzymes gobble up dirt based stains. Puracy Dishwasher Detergent uses 2 enzymes for even better results.
Note; dishwasher detergents which contain more than 1 enzymes are most likely to have accelerated cleaning power.
Puracy Dishwasher Detergent contains;
Protease – as you might have guessed from the name – breaks down proteins
Amylase – breaks down starch
Then look at this, Puracy Dishwasher Detergent also contains;
An environmentally friendly antiscalant called Carboxymethyl Inulin – if you live in a hard water area and are plagued by water stains – get Puracy Dishwasher Detergent – it's the one for you.
A non-streaking, high performance, bio-degradable detergent made from renewable sources (aka surfactant) called Alkyl Polyglucoside C8-C16 – helps to clean away ALL types of stain from water-based to oil-based.
Can you see why Puracy Dishwasher Detergent takes the top spot in our best dishwasher detergent list?
On top of this cleaning performance, there's also no fragrance and zero colorants. Only what's needed for your best, environmentally friendly dishwasher performance yet. Puracy Dishwasher Detergent has us excited.
Best Dishwasher Detergent – Our 2nd place winner – Seventh Generation Free and Clear Dishwasher Packs
Zero spots, flawless washing performance, hard water-friendly, zero rinse aid needed, biodegradable. Impressive.
Similar to Puracy Dishwasher Detergent, Seventh Generation Free and Clear Dishwasher Packs work by combination use of a detergent/surfactant called PPG-10-Laureth-7 with enzymes (both protease and amylase).
Combinations of cleaning actives leads to quality performance.
The overall formula then uses 'alkalinity builders' like sodium silicate.
"Builders extend detergent capacity by solubilizing soils, hydrolyzing fats, promoting foam formation and the like."
Vital for any dishwashing detergent to work like magic.
Seventh Generation Free and Clear Dishwasher Packs are also 100% fragrance-free and 100% colorant free. They're a worthy rival for our first place star – Puracy Dishwasher Detergent.
Best Dishwasher Detergent – Our joint 3rd place winner – Better Life Naturally Crumb Crushing Dishwasher Gel
If a dishwasher gel's more you style, look no further than Better Life Naturally Crumb Crushing Dishwasher Gel. Fully plant-based, gentle to you and your home, only a small amount needed – plus it works (!)
This gel uses detergents/surfactants exactly like ones you'll find in your shampoo, soaps and shower gels. They're gentle, mild, plant-derived and effective. There's even a dose of natural soap bark extract for extra cleaning power.
Of course, Better Life Naturally Crumb Crushing Dishwasher Gel couldn't make our best dishwashing detergents list with just one type of cleaning active. You'll also find both amylase and protease enzymes in the mix. Plus ingredients like glycerin help the enzymes to live for longer – an 'enzyme stabilizer'. More about this soon.
Best Dishwasher Detergent – joint 3rd place winner – Nellies Dishwasher Powder
You can't get cuter than this packaging – and the best bit – it's environmentally friendly. A show stopper on the shelf and a show stopper in your dishwasher. Nellies Dishwasher Powder makes 3rd and not 1st place on our list because of fewer cleaning/detergent actives – however, the performance is still top quality. You will not notice a difference between Nellies Dishwasher Powder and a traditional, shop brought dishwasher detergent.
Nellies Dishwasher Powder formula is heavy on builder's i.e. citric acid to soften your water and help prevent hard water deposits. There's sodium percarbonate – a bleach active – plus a lesser amount of detergent (this one's called Cocamidopropyl Betaine and is commonly found in sensitive skin shampoos and body washes). There's also a small amount of the enzyme protease added in for good measure.
Exceptionally friendly for your family, the environment and your wallet.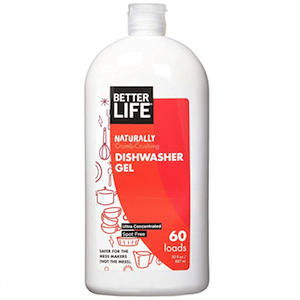 Nellies Dishwasher Powder is on sale now
The best dishwasher powder we've ever reviewed, Nellies is yet another bio-based dishwasher detergent that uses a gentle bleach and surfactant to make this an outstanding choice.

The Best Dishwasher Detergents
While we love every one of our winners, there's far more choice available should you wish to look for an alternative.
Here are the best dishwasher detergents on the market today
How We Chose The Winners
We've reviewed hundreds of products. We've undertaken thousands of hours of research. We employ a pharmacist, a product formulator and countless cleaning experts to put these products and their formulations through the paces.
We're good at spotting the top performers.
Here at Safe Household Cleaning, we have your back.
Not all dishwasher detergents declare the ingredients they're using. Although when they do – you can be left feeling even more confused. Protease – what's that? Can an ingredient called Cocamidopropyl Betaine really be natural and environmentally friendly – it doesn't sound like it.
Even the simplest and friendliest of ingredients can have the wackiest sounding names. Take a guess at what dihydrogen monoxide is?
Dihydrogen monoxide = water.
It's our job to cut through the science so you can make an informed and educated decision about your health, safety and wellbeing.
We want you to have the facts and nothing but the facts.
Every formula we feature is meticulously researched, investigated and in use trialed. While we test all dishwashing detergents we recommend, we place a particularly high emphasis on what's in the box as well as how it performs. It's no good using unsafe dishwasher detergents. But its no good using a safe one that doesn't clean.
The winners ticked both boxes.
What to Look For In a Best Dishwasher Detergent
You may already have picked up our #1 tip for finding your best dishwashing detergent. Variety (!)
Imagine trying to clean a radiator with only a duster. You can make it work however it's going to be a time-consuming job. There's also going to be dust you can't reach. Now imagine cleaning the same radiator with a radiator cleaning rod, plus a duster plus a hoover. More kit for the task means your job is done quicker and more effectively.
The same is true for dishwasher detergents. A variety of actives is best.
Here are the key families to choose from;
Detergents/surfactants – these will tend to have long names, common varieties include Cocamidopropyl Betaine and ingredients which begin with PPG or include references like C8-C12
Enzymes – like protease and amylase (hint – they'll end in –ase)
Bleaches – oxidizes away tough, burnt-on stains
Note; you won't find a liquid dishwasher detergent that contains both enzymes and bleach. This is because bleach will damage the enzymes and make them inactive. You can find both of these actives in powder form because sodium percarbonate is only activated when in contact with water.
Not only are powder formulas more friendly to the environment – they can also have even better results for your dishes.
If you live in a hard water area, finding citric acid high up on your ingredients list is winning. Citric acid is a water softener and will help stop hard water deposits clinging to your dishes.
Extras to look for or avoid;
Rinse aid like actives which help stop hard water stains – for example, our 1st place winner, Puracy Dishwasher Detergent which contains a rinse aid like active called Carboxymethyl Inulin
Enzyme stabilizers in gel dishwashing detergents – glycerin is the most common and one to look for. You can think of enzymes a bit like DNA, they're made up from strings of atoms and are folded together in highly specific ways. Glycerin and also sorbitol can form a protective coating around an enzyme which stops them from unfolding and therefore becoming inactive.
Fragrance and colourants – not needed! Can be troublesome for the environment and your family
How to Use a Dishwasher Detergent
Our top tips for getting the most out of your newly selected dishwasher detergent;
Be careful to allow small gaps between dishes and wash items. If plates are leaning against each other or surfaces are blocked from sight – detergent actives will have a reduced chance of interacting with that surface. You guessed it – this means reduced cleaning power.
Keep plastic items on top. The heating element of your dishwasher is at the bottom i.e. closest to the bottom layer. Keeping plastic Tupperware on your top shelve helps protect its shape – long live your Tupperware.
Note; ever wondered why plastic Tupperware clings to water droplets even when your dishwasher's finished? Plastic is made up from polymers. Because of the difference in charge i.e. polymers aren't highly charged and water is charged – they repel each other. Plates and ceramics don't repel as actively – so water forms a film instead of droplets. This film evaporates away quickly in the heat of your dishwashing cycle.
Make your first use in line with the manufacturer's guidance. Read the instructions and follow to a T the dosing they suggest. Once you have a handle on how well this amount washes an average load – you can adjust it as needed.
Decide if rinse aid is needed. Water stains thrive in hard water areas. They make dishes look dirty even when they're clean. Ensure your dishes are sparkling by using added rinse aid or choosing Puracy Dishwasher Detergent
Even the best dishwashing detergent needs the best dishwashing cycle. If you have baked in stains be sure to select a dishwashing cycle that can accommodate this. It's a team effort.