Safe Household Cleaning is reader-supported. All reviews are independent and any products reviewed are purchased by the site owner. To help fund this model, some of the links on the site are affiliate links. If you decide to make a purchase from one of these links, this site will receive some commission. At no cost to you. It helps keeps this place running. Learn more
Better Life Laundry Detergent
Review Score
Ewg Rated
A
Ingredients

Water
Potassium Cocoate
Decyl Glucoside
Lauryl Glucoside
Oleic Acid
Sodium Citrate
Quillaja Saponaria (Soap Bark) Bark Extract
Glycerin
Sodium Carbonate
Citric Acid
Amylase
Protease


Better Life have done it again. This laundry detergent cleans as well as your regular detergent, but has a gentle biodegradable formulation that has been put together with a great deal of expertise.

Outstanding.

Better Life laundry detergent is a gel formula that claims to have the power of traditional detergents but without the harsh chemicals and strong scent. The formula maintains colors and gets whites white. In our machine, it also removed some of the film left behind from other detergents. This extra cleaning was a nice little bonus. The concentrated formula requires much less than the amount of ordinary laundry detergent, but provides the same level of clean, perhaps more.
Who are Better Life?
First, Better Life is a company based in St. Louis, MO, born from two dads who found a need for change in cleaning supplies when they realized all the chemical residue their babies picked up while crawling around. The dads evaluated the average home, and all the areas cleansers can have an impact on the health and wellbeing of inhabitants, especially children. The dads then created Better Life, who manufacture cleaning products made from plant-derived ingredients.
We benefit with cleaning products that work and are safe for people and pets. The company also and manufactures and packages with solar power, recyclable materials, and biodegradable ingredients that help keep the earth safe and sound.
We've reviewed a few of their products before, and I've been extremely impressed with who they are, what they represent and what they are making.
I couldn't wait to try this detergent.
First Impressions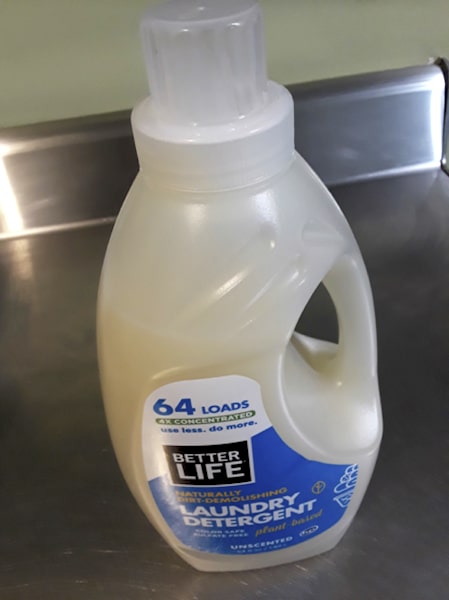 Better Life's laundry detergent comes in a 64-ounce plastic bottle providing cleaning for 64 loads of laundry.
The formula is so concentrated that the bottle itself is dwarfed next to traditional detergents. Much like conventional detergents, the lid is the measuring container.
Instructions call for only half a cup, similar to other brands. However, the cap of Better Life's is much smaller showing a significant positive impact it plays in waste reduction. The packaging is easy to read and provides a list of product ingredients, something not seen in most detergents.
The container provides a measuring cap top and is easy to handle. At only 64-ounce it is much easier to control the bottle compared to alternative brands.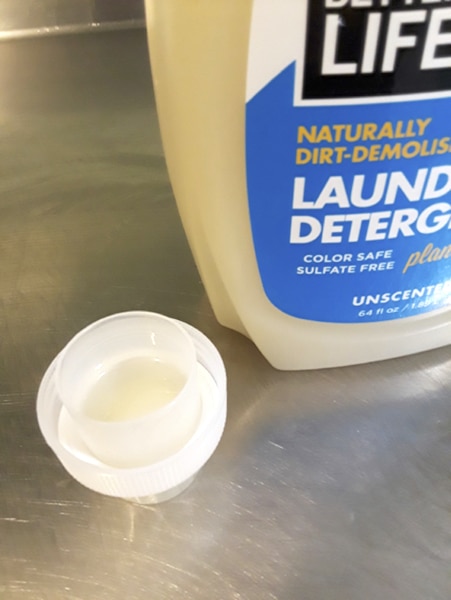 Much like their dishwashing gel, more detergent can be used for more heavily soiled clothes. So far, even with intensely soiled gardening gear, I've only used half the lid.
My entire family suffers from some form of allergy or contact dermatitis, so what I do not want from doing laundry are a scratchy throat and watery eyes. Better Life's formula is pleasant to use and leaves behind only clean smelling clothes.   Due to these family allergies, I used the unscented variety and while there was a slight scent, it was merely a clean smell.  Better Life does have scented formulations but I almost always choose the unscented options if available.
The gel is only slightly cloudy and pours easily into the washing machine. I often empty the lid into the water flow as it fills before putting the clothes in. I am still amazed by the small amount required and how well it cleans, holding itself against other brands. In the long run, I would say it steps up superior.
How does it clean?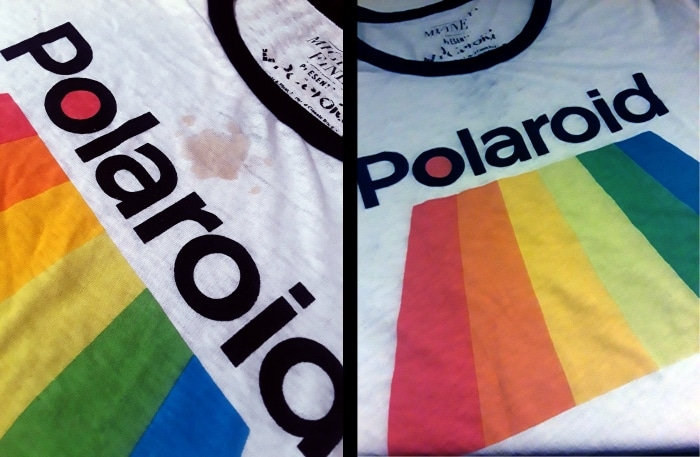 One morning I drank a hot coffee too quickly and one of my favorite shirts fell victim to a coffee stain. I thought this was the perfect trial for this detergent.
Since I was out and about I blotted the stain as much as possible with a tissue and water and had to wait about 5 hours before I got home to wash it.
I'm thrilled that Better Life's cleaned the stain right up. I'm prone to spilling so this wasn't my first coffee stain. However, I usually have to run it through a few loads or put some elbow grease into it to get it completely clean. Even after a few hours drying the stain, my shirt is back to normal.
It's a quite colorful shirt and pretty thin so I really do like how powerful Better Life is without the toxicity.
What's inside the bottle?
The ingredients in Better Life's laundry detergents are proudly displayed on their website and on the bottle.  Already the company is more transparent than 99% of laundry detergent manufacturers out there.
The detergent is a biological formulation – the company have added cleaning enzymes.   While not for everybody, I find these enzymes really boost performance if a company choose to use gentle cleaning agents in the formulation.
The primary surfactant is potassium cocoate, a plant-derived surfactant common in natural cleansers.
Decyl glucoside is derived from corn and coconut oil and used as a cleaning agent.
Lauryl Glucoside is another coconut and corn oil-derived cleaning agent.
Oleic acid is added for consistency while sodium citrate is a chelating agent used to soften hard water and also helps break down mineral buildup.
Quillaja Saponaria bark extract provides lathering for natural-based cleansers. Popularly used in beer production, it's safe enough to ingest.
Commonly used glycerin is added for stain fighting and for helping with buildup removal.
Sodium carbonate is a mineral essential for cleaning and water softening.
Citric acid is a ph balancer and often found in skincare products.
For me, Better Life's Laundry detergent ingredient list holds the product above traditional detergents. Having plant-derived ingredients work as well, if not better, than conventional laundry detergents is a fantastic task. Having a bonus effect of the detergent actually cleaning up the build up other brands left build-up is quite lovely. However, the significantly less plastic needed for the container and the tremendous difference in size of products lids says so much.
Overall, would I recommend it?
I've been impressed with this company's mission born out of parents concerned about the health and wellness of their children. The packaging considered environmentally sound practices and promoted biodegradable bottles. They use solar-powered facilities to make plant-derived products. Such a simple concept and yet they stand as innovators in many ways. With news reports showing how our daily lives impact waterways and the ocean, I can feel good about using Better Life. The product cleans our clothes without harsh chemicals and irritating scents while leaving minimal ecological distress on Mother Earth.
Better Life does a great job of showing exactly what's not found in their products. Although gone, you will not miss alcohol, ammonia, bleach, chlorine, chloroform, ethers, ethoxylates, parabens, petroleum solvents, phosphates, phthalates or sulfates (the infamous SLS/SLES found in many cleaning and bath and body products). The controversial triclosan, a disinfectant found in many cleaning products and found to possibly increase our lowered resistance to infections, is gone.
As with many natural cleaners, Better Life's price may be higher, but the cleaning power is the same, if not better. The small 64-ounce container does 64-regular loads as opposed to our recent choice of 150-ounce detergent that cleans 100 loads of laundry. I would venture to say that if the Better Life detergent is undoing some of the build-up in our machine, it may also be doing so with our clothes.
Over time, it appears our clothes may become cleaner with every load.