Safe Household Cleaning is reader-supported. All reviews are independent and any products reviewed are purchased by the site owner. To help fund this model, some of the links on the site are affiliate links. If you decide to make a purchase from one of these links, this site will receive some commission. At no cost to you. It helps keeps this place running. Learn more
Biopuro Perfume Free Baby Liquid Laundry Detergent
Review Score
Ewg Rated
NA
Ingredients

Water
Potassium Cocoate
Sodium Citrate
Decyl Glucoside
Sodium Lauryl Sulfate
Sodium Olivate
Salt
Hydrolyzed Wheat Protein
Glycerin
Alcohol
Citric Acid


BioPuro baby laundry detergent is an eco-conscious sensitive skin friendly mixture of great washing ingredients with low to no irritancy. It's an easy to use liquid, in-drum formula also with natural wheat proteins to help add extra soothing power.

Excellent washing performance, good stain removal, high skin sensitivity.

BioPuro baby laundry liquid is a sensitive skin friendly, no perfume, no enzyme, kind to the environment organic detergent. One glance at the BioPuro label and your sensitive skin will be singing. Everything you might look for in a sensitive skin friendly detergent BioPuro claim to do.
However, if your skin type is easily irritated, you know such claims do not always guarantee your skin a smooth ride. Which is why we're here to pre-test before you purchase.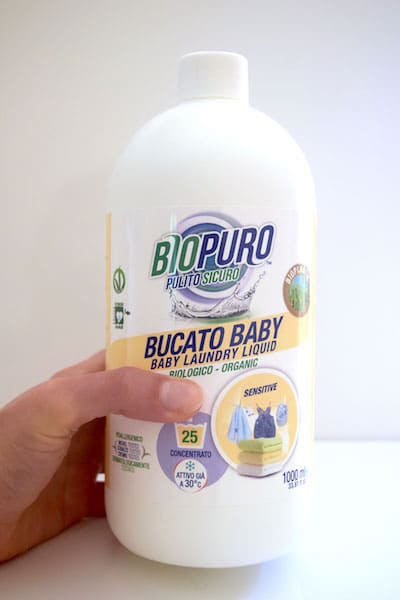 But before we deep dive into BioPuro's baby laundry liquid formula, lets first take a peek at who BioPuro are aka can they be trusted with your sensitive skin?
BioPuro is a brand you can look to for innovative and environmentally friendly detergents.  They're owned by a company called Nivel srl who offer the very same promises in another two well known Italian cosmetics brands – Timama and Biolu.
Their overarching belief is that leading an eco-friendly and sustainable lifestyle depends on our own daily actions. Making their goal to leave a healthier world and a healthy sustainable lifestyle for future generations… and they've been doing it for over 30
years.
BioPuro baby laundry detergent is definitely made by an eco-conscious, time-tested company, however, can they care for your sensitive skin? Let's take a look…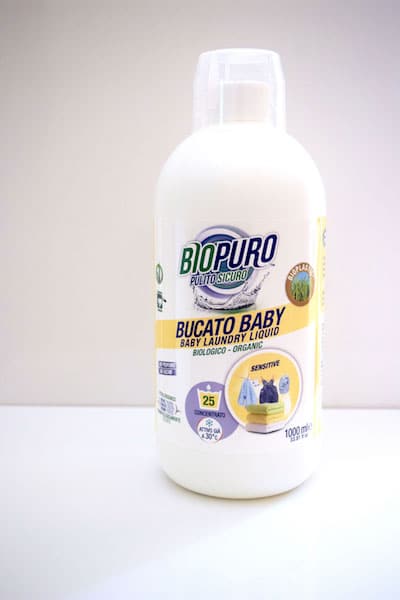 Arriving in a 1000ml white bottle with washing cap, BioPuro's concentrated baby laundry liquid looks and feels somewhat premium.
What I absolutely love love love about this packaging is that, while it looks and feels like plastic, it's actually made of a bioplastic material derived from sugar cane.  It's 100% petroleum free.
Absolutely fantastic!
The promises of love for your sensitive skin are communicated on all sides of the packaging:
No perfume
Sensitive
Hypoallergenic
Dermatologically tested
Organic
Excellent rinsing and no residue on fabrics
With an easy to open threaded cap covered by a clear plastic measuring cup, you have all you need to wash away.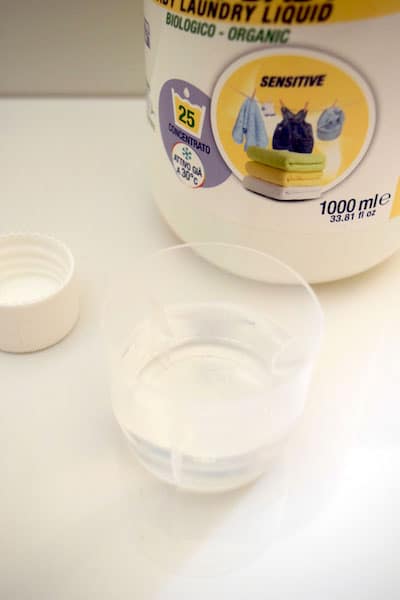 The packaging also has a nifty grid allowing you to select the amount of baby laundry liquid you'll need to use based on:
how stained your wash load is
the hardness of your water.
Oh, and the formula's also claimed to be active at 30 – 60 – 90 o C which roughly equates to 90 – 140 – 195 degrees Fahrenheit.
Bonus fact: You need to use more washing detergent when living in a hard water area. Hard water has a higher mineral content than soft water and these available minerals can inactivate detergent ingredients.
On use BioPuro's baby laundry detergent has a very slight and sweet scent – its pleasant and an unexpected surprise as the only scent you'll smell is actually a happy consequence of the detergent ingredients used in BioPuro's formula.
The gel-like liquid pores easily and the measuring cap can be placed directly into your washing drum for mess-free use.
BioPuro's baby laundry detergent is an absolute ease to use – can its wash performance match up?
In one word yes, BioPuro baby laundry liquid washes as well as standard shop brought washing detergents with more powerful but less sensitive skin friendly actives. There's no residue and clothes feel comfortable with no irritation on wearing. Jean's wash well, white T-shirts wash well, colors wash well.
BioPure's baby laundry detergent is also fair at stain removal. Below you'll find a comparison of 3 common household stains on 2 common types of fabric:
Tea
Tomato ketchup
Soy sauce
All 3 stains were left to dry for 24 hours – making this a pretty tough test, and you can see from the pictures below, BioPuro baby laundry detergent has done exceptionally well. 100% of our tea stain has been removed and a very fair 80% of our tough test stains have also been removed.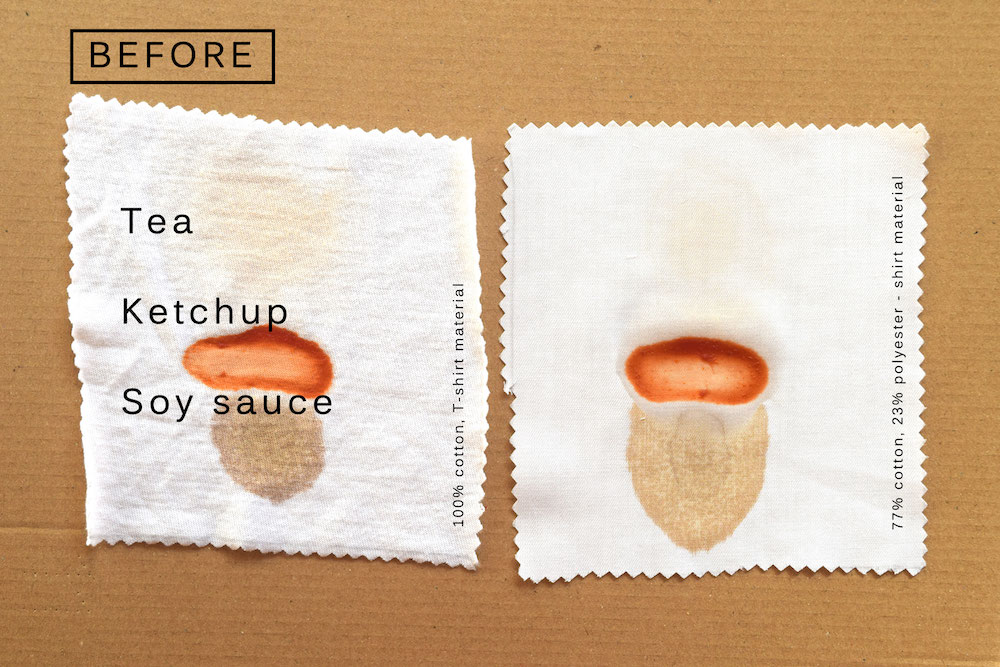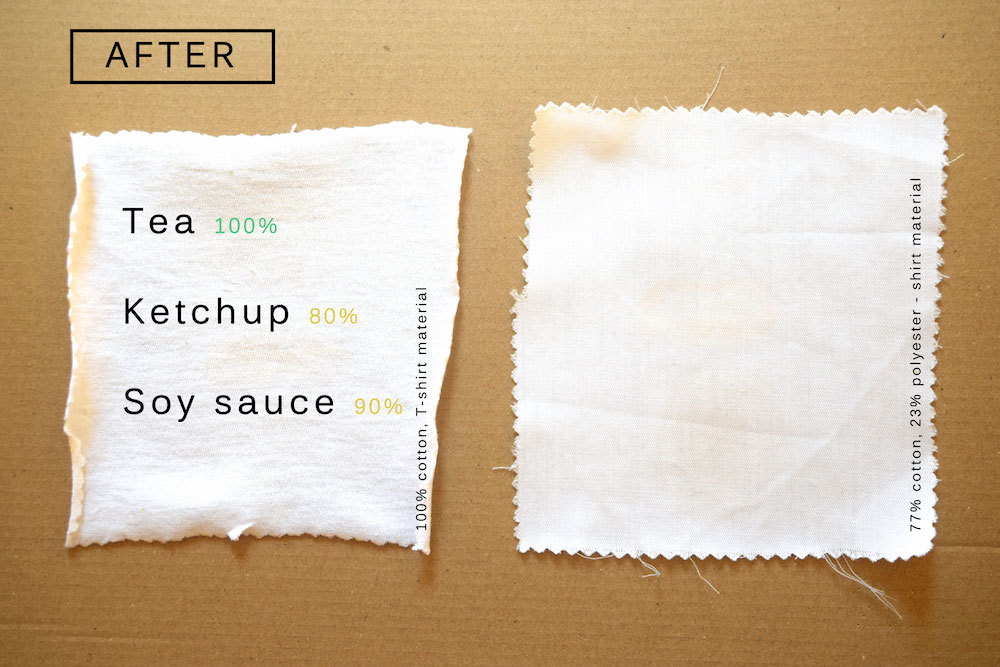 Top marks for BioPuro baby laundry detergent.
With 2 boxes ticked, it's time to dive into the most important question – can BioPuro's baby laundry detergent live up to its sensitive skin friendly promises?
All the ingredients in this formulation are plant-based and biodegradable.  The manufacturers are also keen to stress that the ingredients are Organic, vegan and cruelty-free!
The very first detergent ingredient you'll find on the BioPuro ingredients list is a synthetic surfactant that goes by the name of Potassium Cocoate.
Here are some quick facts about Potassium Cocoate:
It's considered a natural detergent
It's Derived from coconuts
It's Claimed to have low irritancy
It's an anionic surfactant – aka has a negative charge
Anionic surfactants/detergents have great cleaning powers, however, are very commonly associated with the side effect of skin irritancy. Potassium Cocoate is claimed to be the best of both worlds – great cleaning power with low irritancy.
A manufacturer of potassium cocoate (LG Household & Health Care) has compared its irritancy effects to a very common anionic household detergent going by the name of sodium lauryl sulfate (SLS) on human skin. Their results show at a 5% dilution and after 48 hours contact with skin, 70% of potassium cocoate volunteers show a zero irritancy score whereas 0% of volunteers in the SLS treatment group showed no irritancy. Results are similar after 96 hours of contact with skin – 70% of
people in the Potassium cocoate test group show zero irritancy, whereas 0% of people in the SLS group show the same low score.
Potassium cocoate is a great choice for sensitive skin types commonly irritated by the standardly used SLS detergent found in supermarket brought formulas.
The next ingredient is sodium citrate – an additive which can help reduce the hardness of your water i.e. make BioPuro baby laundry liquid work most effectively with no residual soap scum. Great for sensitive skin types.
Out of the remaining 9 ingredients, a further 3 are detergent actives;
Decyl glucoside – non-ionic surfactant
Sodium lauryl sulfate – yes it's that guy!
Sodium olivate – olive-derived surfactant
Decyl glucoside is a non-ionic surfactant – it doesn't have a positive or negative charge automatically – making this a more sensitive skin friendly detergent. In fact, a 2010 irritancy test showed it gave no allergic reaction in a testing group of 105 patients.
Another big tick for your sensitive skin.
Moving onto number 2 – sodium lauryl sulfate – which in all honesty is a sensitive skin curveball. Sodium lauryl sulfate is known to be one of the most irritating anionic surfactants.   It's actually used to purposefully irritate the skin so scientists can test skin soothing actives. When in contact with the skin for significant periods of time, it can also speed up the penetration of other environmentally found irritants and allergens. As SLS is the 5th ingredient on BioPuro's baby laundry liquid list, there's 5th most of this in the formula.   In addition to contact dermatitis, there are contamination concerns with this chemical, but only from certain manufacturers and certain manufacturing methods.  That said, in this formula, SLS is very likely to be used in small amounts as a secondary surfactant i.e. it helps potassium cocoate to be most effective. A potential niggle for extremely sensitive skin types.
Overall a 90% great for sensitive skin detergent formula, now what about the remaining ingredients? Are there any of note?
Indeed, there is 1 – Hydrolyzed wheat protein. This naturally derived active can be used to reduce the skin irritation potential of surfactants. In fact, studies show hydrolyzed wheat protein can noticeably and significantly reduce the skin irritancy of surfactants. A great ingredient for your sensitive skin and one which can hopefully counteract any potential irritancy from BioPuro's small use of SLS.
In summary
Overall BioPuro's baby laundry liquid is a dependable, environmentally conscious and sensitive skin friendly pick for troublesome skin types.
We simply can't recommend this highly enough.