Safe Household Cleaning is reader-supported. All reviews are independent and any products reviewed are purchased by the site owner. To help fund this model, some of the links on the site are affiliate links. If you decide to make a purchase from one of these links, this site will receive some commission. At no cost to you. It helps keeps this place running. Learn more
Mollys Suds Laundry Powder
Review Score
Ewg Rated
A
Ingredients

Sodium Carbonate
Sodium Bicarbonate
Magnesium Sulfate
Salt
Peppermint Oil


This non-biological laundry powder from Molly's Suds is a great product, formulated with a great deal of care and thought.

It's a product that we definitely recommend, although those with highly sensitive skin may check that you don't react with sodium carbonate and peppermint oil. As long as you have no reason to be concerned about these two ingredients, we think you should definitely give this product a try. It cleans well, the ingredients are plant based, it comes in a concentrated formula and Molly's Suds laundry powder proves itself to be a cost-effective solution.

According to the founders of Molly's Suds, consumers are generally careful and concerned about what they are putting
in
their bodies, but not so much about what they're putting
on
their bodies. The reason this is important is, unbeknown to most people, the majority of what we put on our skin gets absorbed.  Including what's on our clothes.  So it's very important to look at all of the cleaning and personal care you're using in your daily life.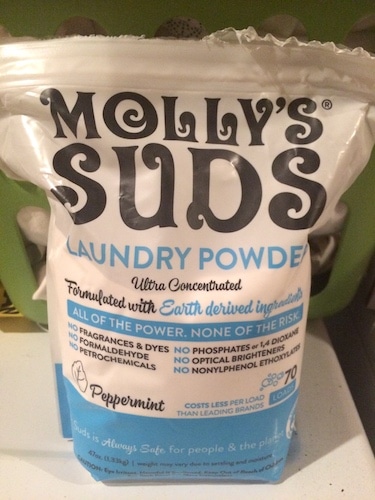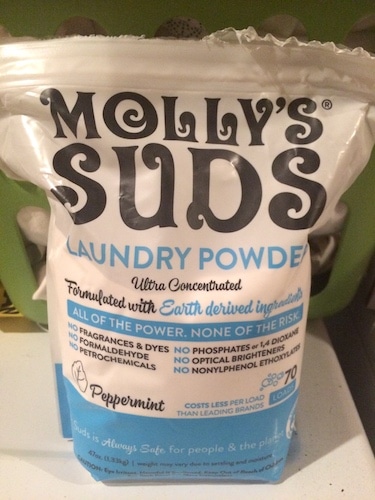 So who exactly are Molly's Suds?
After losing her daughter as a newborn, the founder of Molly's Suds learned that the toxins in the body, from the food we eat to the products we put on our skin and clothes, can transfer to babies in pregnancy and breast milk. These chemicals have a direct impact on the health of our children, and that's why she started a cleaning company that is safe, natural, and uses only non-toxic ingredients.
These are sentiments we obviously agree with.  For example, there's plenty of problems with cleaning products and companies like Molly's Suds are working with the mission to provide safe and non-toxic cleaning products to families.
It's safe to say I was genuinely excited about their mission, their vision and I was really looking forward to giving their laundry powder a closer look.
Molly's Suds Laundry Powder: What's It Like?
To start, we absolutely love the packaging and branding of Molly's Suds. Just from the packaging of the laundry powder, it's easy to tell that a good deal of thought and care has been put into the product, and it definitely showcases the look of a caring, down-to-earth, family-owned company.
The product itself is a powder, that can be used in both High Efficiency and older, traditional washing machines. Simply use the scoop that's provided in the bag and put a scoop of powder into the wash while the water is filled with older machines, before adding the clothes. For HE machines, put a scoop directly into the machine and then fill it up with your dirty clothes. Simple and uncomplicated.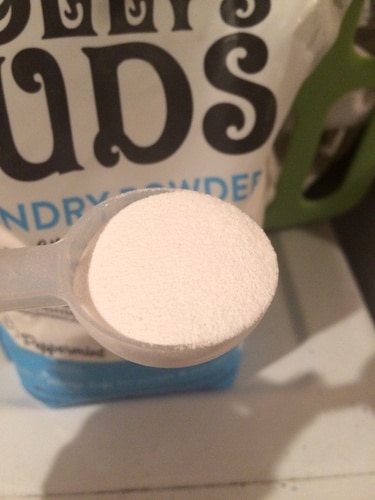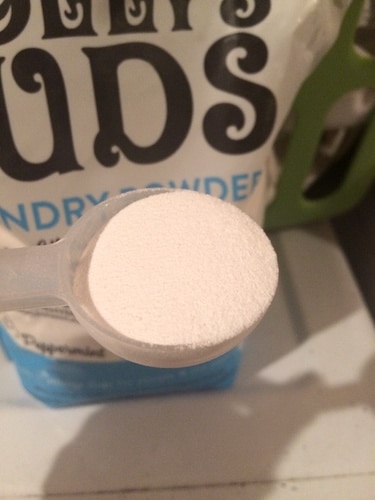 The laundry powder is scented with organic peppermint oil and you can definitely smell the peppermint. It smells incredibly fresh and invigorating and should give the clothes a nice clean scent. For those who are sensitive to fragrances, even natural ones, you may not react well to the scent and should opt for their unscented laundry powder, which is great for sensitive skin and eczema sufferers.
But how well does it wash?
All we did was put a teaspoon of the powder into my full load and let it run as usual. When everything was done and dry, my clothes came out clean and fresh. The gunk and stains from my shirt were gone, so to answer the question of whether this laundry powder actually cleans, the answer is yes it does!
Here's my soiled shirt from dirty to fresh and clean: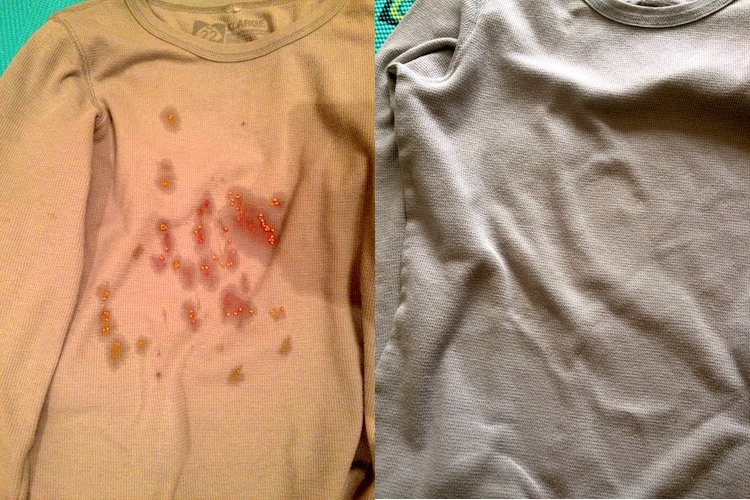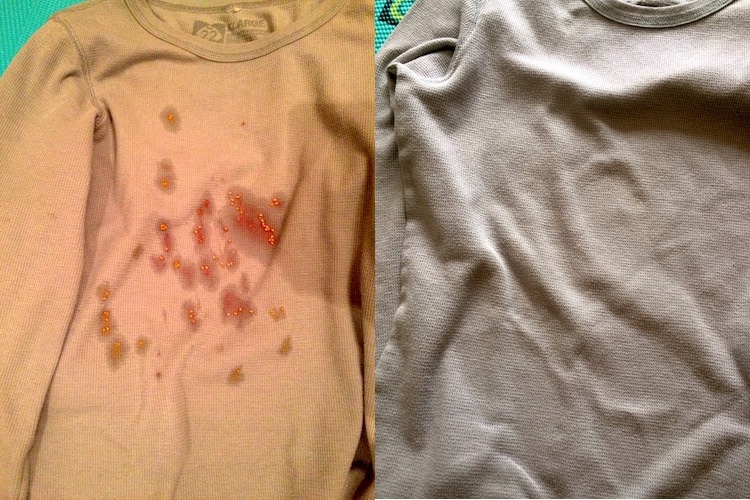 So what's inside the powder – what is it made of?
Mollys Sud's is a non-bio powder containing only a handful of ingredients, and unlike the majority of manufacturers, Molly's Suds have fully disclosed their ingredients.
The full ingredients list is:
Sodium Carbonate (sourced from the Green River Basin in WY) – aka washing soda. A cleaning agent, similar to sodium bicarbonate, and type of inorganic salt.  It helps to soften water, which, if you live in an area with hard water, can help the laundry soap to dissolve properly. It's also biodegradable and very caustic, which means that it has the potential to burn or irritate, with a pH of 11 (neutral PH is 7). When working with this ingredient alone, you need to wear gloves to handle it. If not rinsed well, it may cause skin irritation.  Because it's so caustic, its great at degreasing and removing stains.
Sodium Bicarbonate (baking soda) – Another inorganic salt that doesn't cause skin irritation and you don't need gloves to handle them. It also dissolves faster in water than washing soda.  But it's not as effective at cleaning.  Many people use baking soda (sodium bicarbonate) to clean their teeth and in their homemade natural deodorant recipe because it's a natural odor-buster and pH neutralizer. It helps to clean your clothes, without posing any risk to your skin.
Magnesium Sulfate (heptahydrate) – aka Epsom salt – a bulking agent that can improve the cleaning action and keep the powder dry.  It is also used in laundry powders to help to control the viscosity.  Epsom salts are extremely unlikely to cause irritation – on the contrary – they can actually soothe the skin which is why they are used in baths.
Maris Sal (unrefined sea salt) – in laundry, salt can brighten colors, prevent color bleeding, brighten yellowed fabric, remove blood stains, remove perspiration stains, remove mold or mildew (in the washing machine) as well as act as a natural fabric softener
Organic Peppermint (Arvensis) oil – used for its delicious fragrance, organic peppermint oil is also a natural anti-septic, anti-bacterial, helps to prevent itching and mild skin irritation, and can help to deter mosquitos and fleas. It is a multi-functioning ingredient that will not only make your clothes smell fresh, but can also help to kill bacteria and prevent pests from attaching to and living in your clothes.
Each of these ingredients are considered non-harmful and non-toxic, and rated a 1 on the Skin Deep database.
What else is great about this product?
The other great qualities of the laundry powder from Molly's Suds include the fact that it is highly concentrated and a little goes a long way. One tablespoon is all it takes for a load of laundry, and it is just as effective as the conventional, non-natural kinds. It's also very versatile and allows you to use it in both High Efficiency and older machines, in all water temperatures, and in hard water.
A non-toxic, natural laundry powder that is also cost-savvy, easy to use, and versatile? What a winning combination! 
Conclusion
While each of these ingredients come from natural sources and are all non-toxic, highly sensitive skin may potentially react with the sodium carbonate and the peppermint oil. If you are very sensitive to fragrance, we'd suggest using the unscented version of Molly's Suds laundry powder. If you experience any irritation on your skin and you are not sensitive to fragrance, you may need to find a different natural product made without sodium carbonate.
The laundry powder from Molly's Suds is a great product, formulated with a great deal of care and thought.  It's a product that we definitely recommend. As long as you have no reason to be concerned about these two ingredients, we think you should definitely give this product a try. Add the fact that it's a concentrated formula that only requires one tablespoon per load, and Molly's Suds laundry powder proves itself to be a cost-effective solution.
Washing your family's clothes should not cause harm to your health. There's simply no reason to increase the amount of toxic chemicals in your home when there are great products out there manufactured by companies dedicated to being transparent about their ingredients and delivering non-toxic products that provide the results you need.  Molly's Suds certainly fall into that bracket.
Excellent.