Safe Household Cleaning is reader-supported. All reviews are independent and any products reviewed are purchased by the site owner. To help fund this model, some of the links on the site are affiliate links. If you decide to make a purchase from one of these links, this site will receive some commission. At no cost to you. It helps keeps this place running. Learn more
Biolu Citronella Laundry Liquid
Review Score
Ewg Rated
NA
Ingredients

Water
Sodium Citrate
Coco Glucoside
Potassium Cocoate
Potassium Hydroxide
Sodium Coco-Sulfate
Citronella Oil
Lemongrass Oil
Glycerin
Sodium Bicarbonate
Sodium Chloride
Geraniol
Citronellol

A superbly eco-friendly laundry liquid based on a kind to skin non-ionic surfactant called coco glucoside. A skin friendly laundry detergent with added softening qualities and in-wash lemon-scent. It's the lemon scent that sensitive skin sufferers need to be aware of - if you're sensitive to fragrances you'll probably want to look elsewhere.

A skin-friendly laundry liquid which smells good, can it be true?
Biolu's laundry liquid with organic citronella essential oil seems to think so.
Dermatologically tested, vegan certified SLS and GMO-free, can Biolu's Laundry Liquid deliver for your sensitive skin?
Is it ever ok to use scented laundry liquid when you have eczema, psoriasis, dry skin, sensitive skin or any kind of reactive skin?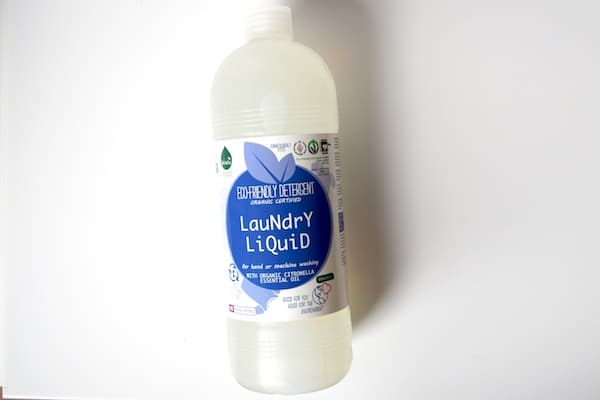 Before we take a look, let's start at the beginning – who are Biolu and should you consider them a trustworthy company to buy from?
Biolu are a brand who specialise in organic detergents and cosmetics.
Unlike other laundry detergent brands, under the Biolu name, you're also going to find – energizing shower gel, velvet touch body wash and intense repair shampoo. Which may at first look appear extremely random – until you realise all washing product – including those you use to shower with, use the same set of ingredients e.g. cleansers aka surfactants, preservatives, conditioning agents, ph adjusters, chelating agents etc.   The essential formulation is the same.
Indeed SLS (sodium lauryl sulfate) is the most common ingredient used in shower gels, it's also the most common ingredient used in laundry detergents.
Biolu are owned by a company known as Nivel who want to make being green, easy.   They understand the problems with today's cleaning industry and are actively promoting their alternative vision.
With over 30 years' experience in the industry, Nivel are committed to offering you innovative and environmentally friendly detergents and cosmetics. Their proudly certified, innovative and eco-friendly brands take their foundations in sustainability and social equity. A commitment which is marked by Nivel's contributions to Tethys Onlus and Research Institute – an organization who aim to protect marine life and the marine life environment.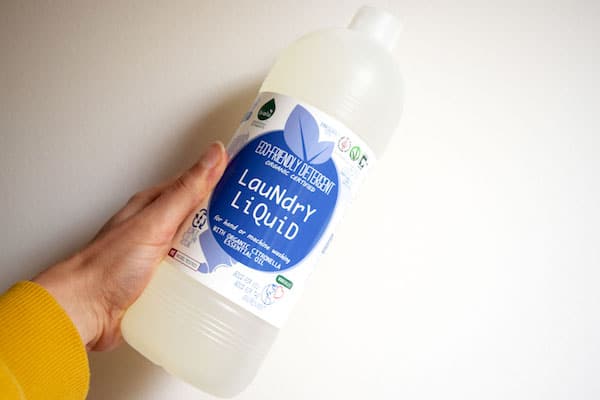 Nivel certainly checks out for eco-friendly credentials but what about their Biolu Laundry Liquid? Can it be as sensitive to your skin as it is to the environment?
In a 1000ml opaque white bottle, Biolu's Laundry Liquid arrives as eco-friendly as can be – with no box packaging, no plastic wrap and no added extras i.e. measuring cups. In a very usable ribbed bottle, the directions are clear, Biolu's Laundry Liquid can be used for hand or machine washing and is promised to be – good for you and good for the environment.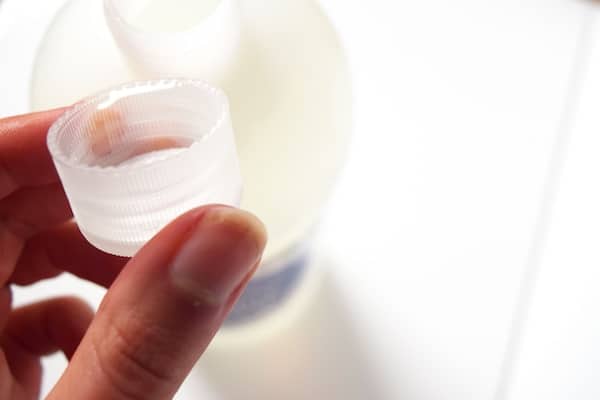 Proudly made in Italy, Biolu's Laundry Liquid contains only vegetable surfactants (a scientific name given to cleansing actives) which biodegrade quickly, easily and completely. With a screw top plastic cap and even a depression on the bottle to show you where to grip, Biolu's Laundry Liquid is easy to dose – just grab a measuring cup, use the dosing directions on the pack and wash away.
The transparent liquid is averagely viscus and smells exactly like lemongrass – which packs a punch in the scent department – this is pretty heady (a potential no-go for very sensitive skin types, especially those allergic to fragrance – we'll speak more about this soon).
Note: One bottle of Biolu's Laundry Liquid should last an average of 14 washes.
Next stop, how does Biolu's Laundry Liquid perform in use? Can Biolu's Laundry Liquid remove stains effectively?
On washing with Biolu's Laundry Liquid you are going to notice a strong perfuming of your wash load. We used as directed 120ml of laundry liquid for a dirty load in hard water. After the wash cycle is complete the very strong scent of lemongrass will greet you on opening… on airing… and on wearing.
Be warned: If you have perfume allergies Biolu's Laundry Liquid is not the one for you.
Biolu's Laundry Liquid, however, performs as expected to very well for wash performance. Our stain test shows tea stains are easily 90% removed with the best performance on mixed natural/synthetic fibres and, as usual, lower performance on 100% cotton fabrics.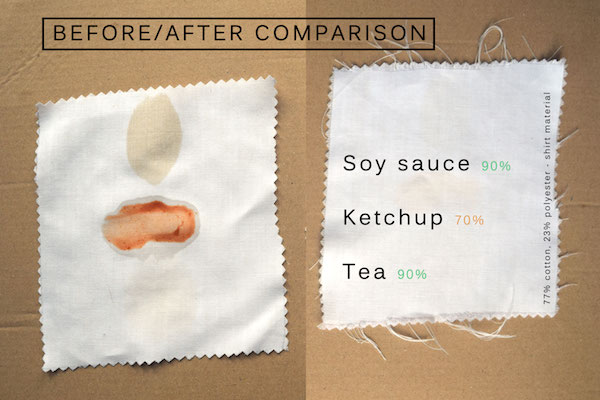 Soy sauce stains are 90% removed and more troublesome tomato stains are 70% removed. Not bad for an eco-friendly laundry liquid used alone.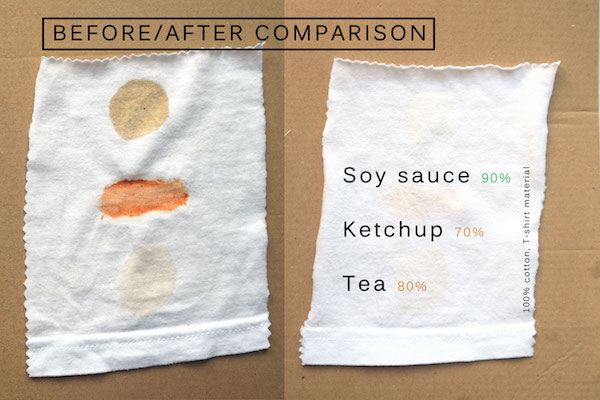 For jeans, white t-shirts, socks and more, Biolu's Laundry Liquid washes well.
Now, what about the ingredients? Biolu's Laundry Liquid uses eco-friendly detergents, but are they also as friendly for your sensitive skin?
First things first.  Biolu must be applauded for being so transparent with their ingredients.  This automatically puts them way ahead of 99% of cleaning product manufacturers out there.
Biolu's Laundry Liquid uses a surfactant system made from 3 naturally derived ingredients:
Coco-glucoside – mild, non-ionic surfactant
Potassium cocoate – liquid soap/anionic surfactant, considered mild
Sodium coco sulfate – anioinic surfactant
Note: Anionic surfactants are the most commonly found in household detergents and are in general the most irritating to the skin. Cationic surfactants are a close second. Non-ionic surfactants are the most sensitive to skin.
Coco glucoside makes a fantastic first cleanser choice for sensitive skin because you guessed it, it's a non-ionic surfactant. The gentlest kind. It's also notably one of the most expensive – great to see Biolu haven't skimmed for the protection of your skin. Irritant patch testing studies show skin reactions to alkyl polyglucoside (of which coco-glucoside is a type) are extremely hard to detect.
Potassium cocoate is also a great inclusion for your sensitive skin. Studies show when skin is exposed to potassium cocoate it shows no signs of irritant dermatitis i.e. dryness, scaling or erythema. This is in comparison to other surfactants such as SLS which it takes the skin 17 whole days to fully repair from.
Finally, sodium coco sulfate which is in 3rd lowest quantity is likely included to boost the foaming ability of Biolu's Eco-Friendly Laundry Liquid. Kind to skin surfactants usually don't foam well, so a small amount of sodium coco sulfate helps to counteract this i.e. helps Biolu's Laundry Liquid to work well.
Biolu's Laundry Liquid also include glycerin which is an ingredient you'll find used in moisturizer. Glycerin is the most commonly used humectant moisturizer.  It attracts water to the skin and, once there, locks it in. Used in Biolu's Laundry Liquid, glycerin is marketed to add a softening effect to your wash load.
Of largest note for sensitive skin types is Biolu's use of lemongrass oils – of which they use 2, a lemon smelling herb and lemongrass essential oil. Although natural, essential oils are troublesome for sensitive skin types. Take a peek at the Biolu's Laundry Liquid ingredients list and you'll see some asterisked ingredients i.e. citronellol, these are allergens which are included in Biolu's Laundry Liquid formula as a consequence of their essential oil use. Due to the strong wash scent of Biolu's Laundry Liquid, these are in a moderate to high concentration. If your skin type's allergic or particularly sensitive we would not recommend Biolu's Laundry Liquid.
Bottom line: This is an excellent high performing laundry detergent made with a real eco-friendly eye.  The formulation is outstanding.  With one caveat – its a very fragrance heavy formulation.  This laundry liquid makes a fantastic eco-friendly choice for slightly sensitive skin types i.e. skin types which are irritated by normal household detergents/SLS containing shower gels but are not allergic to fragrance.