Safe Household Cleaning is reader-supported. All reviews are independent and any products reviewed are purchased by the site owner. To help fund this model, some of the links on the site are affiliate links. If you decide to make a purchase from one of these links, this site will receive some commission. At no cost to you. It helps keeps this place running. Learn more
The best, most effective and greenest floor cleaners on the market today
By the end of this article, you will have found a #1 green, eco-friendly, high safety floor cleaner you love. Green, eco-friendly, high safety floor cleaners often miss the mark. They take an age to dry, remove only 20% of stains, smell truly horrific and leave you running back to the chemicals. With the 2 most regularly cleaned areas of your home being 1) the toilet (88%) and 2) your floors (80%) – now's time to draw a mark in the sand.
Press pause on the dubious floor cleaner you currently use – a cleaner that is unlikely to disclose what's in the bottle – and choose the best, full disclosure floor cleaner from our winning list of 3 below.
After literally hundreds of hours of research and testing conducted by professional cleaners, pharmacists and a prodict formulator, we've selected a round-up of the best 3 products we recommend you use.
What's in this article:
The Winner
Aunt Fannie's Vinegar Wash Floor Cleaner is our first place best floor cleaner. A wonderful mix of natural ingredients that will leave your floors sparkling and ready to walk on in 5 seconds flat. With a simple, streamlined formula of 7 ingredients, quick drying time and a bargain 32-ounce bottle – Aunt Fannie's is doing things differently.
The hero and 100% natural cleaning active is – vinegar. Distilled (aka purified) white vinegar. Yes, you can smell vinegar when using but let an hour pass and any scent is a thing of the past. Our reliable Aunt Fannies describe this as your floors smelling of clean, not of chemicals.
Fact – vinegar was one of the very first antibacterial actives to ever be used. Records dating back to 420 BC speak of Hippocrates using vinegar to effectively care for wounds [1]. In our modern world, it's even being investigated for functions as wide-ranging as an overnight denture cleaner. Vinegar is proven to kill and reduce populations of bacteria and yeast [2]. With a low pH level, it's also extremely effective at dissolving away any water-based/dirt based stains – spilled ketchup, mud, soil, tea, coffee.
And for those grease-based stains – Aunt Fannies contains a mild cleaning active (surfactant) called myristyl glucoside it eats up oil and grease stains and allows them to be dissolved up into water. Fantastic stuff.
Other than these 2 primary actives – the remaining 5 ingredients are essential oils. You have lemon, orange, peppermint, spearmint and a fancy one called litsea which also, by the way – smells lemony. These scents are incredibly mild, mostly disguised by vinegar however also add antibacterial benefits to the overall formula.
Our testing reveals you do not need a lot of this favorite. In fact, one re-soak of a mop head into Aunt Fannie's floor cleaner was enough for an entire kitchen floor. Effective, environmentally safe and budget-friendly.
Aunt Fannie's Floor Cleaner is the one for you if you want a preservative-free, naturally acting floor cleaner and the majority of floor surfaces you're cleaning are tiled or lino/vinyl.
Joint Runner Up
If you're not sure Aunt Fannie's Floor Cleaner is the one for you – then our runner up Babyganics Fragrance-Free Floor Cleaner Concentrate likely is. With the word baby in its name – you can tell straight off the bat what Babyganics Floor Cleaner Concentrate is setting out to achieve. Fantastic cleaning performance with extremely high safety levels. We are beyond impressed with Babyganics Floor Cleaner Concentrate. A cleaning performance that from our extensive testing cannot be matched by any other floor cleaner in the safe, green and eco-friendly cleaner market. A formula with 5 gentle and natural plant-based cleansing actives. A brand whose mission is for fearing less and discovering more.
Yes, this floor-cleaner is marketed at parents with young children, but don't let that fool you. Babyganics Floor Cleaner Concentrate is for everyone – after all if your floors are clean enough for a baby to crawl over – they're clean enough for the 5-second rule to hold true.
Babyganics Floor Cleaner Concentrate is fragrance-free – a winner if you or a member of your family has allergies. Babyganics Floor Cleaner Concentrate works on tiles, vinyl, porcelain, sealed hardwood, carpet and laminate – we're sure the list is even more extensive than what we've tested. The best bit – when you're using Babyganics Floor Cleaner Concentrate you do not have to rinse away – time saver.
The cleaning active in the highest concentration is decyl glucoside. What scientists call a mild non-ionic surfactant. An active which is used in sensitive skin-friendly body wash products. Non-ionic surfactants i.e. a molecule without a positive or negative charge are generally found to be the mildest of all cleaning actives. Some studies even quote the effect on skin as being no different to water.
Babyganics Floor Cleaner Concentrate is for you if you want green, eco-friendly, high-performance cleaning plus all-round sensitivity for allergy sufferers.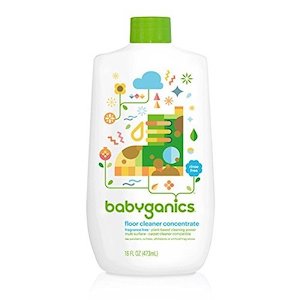 Babyganics Floor Cleaner
Unlike our winner, this is a surfactant based cleaner. This fragrance free formula was a big hit with our reviewers.

Second Joint Runner Up
And if you're still not sold we're sure ECOs Floor Cleaner is the one for you. First stop it smells amazing. Second stop it cleans incredibly well. Third stop it will make your surfaces glisten. Final stop it comes in a handy, convenient, spot treating spray bottle. Goodbye mop and bucket.
ECOs Floor Cleaner is made by a family-owned company who sell their products in 60 countries worldwide and whose product portfolio is over 70% validated by the US Environmental Protection Agency's new safer choice labeling guide. Winning.
The ECOs Floor Cleaner ingredients list reveals a wide range of cleaning actives – very probably THE reason why we're able to rate ECOs Floor Cleaner performance so highly. The first active is alcohol. Alcohol eats up both oil and water-based stains meaning its performance is pretty un-beatable by any other solo active. Following alcohol ECOs Floor Cleaner then uses the same mild surfactant we spoke about in Babyganics Floor Cleaner Concentrate – decyl glucoside. Finally, there's a trio of acids – citric, acetic (found in vinegar) and gluconic.
Gluconic acid is fantastic for tarnish removing, hard water removing and rust removing. Citric acid matches gluconic acid in this performance while also adding effective metal cleaner to its repertoire – as does acetic acid.
ECOs Floor Cleaner is a classic example of when more really is more. Multi-active floor cleaners are often more effective. A combination of high performers to provide exceptional cleaning power on multiple surfaces.
ECOs Floor Cleaner is the one for you if you enjoy a scented product and want effective spot treatment.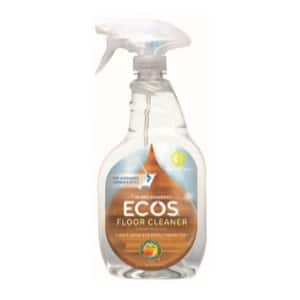 ECOs Floor Cleaner
ECOS floor cleaner features a combination of floor cleaners; alcohol, surfactant and acid. It's only the presence of artificial fragrances that this superb cleaner dropped half a mark.

The Best Floor Cleaners
If the top 3 don't appeal, there's still plenty of great floor cleaners on the market today
If you haven't seen your favorite cleaner listed, check out all our reviews.  And if you still don't find it, don't hesitate to recommend it to us for review.

How we chose the winners
Our number 1 rule – ingredient disclosure. We only review household cleaning products here at Safe Household Cleaning when they tell us and you exactly what's in the bottle. Without a fully revealed ingredients list – there's no way to tell.
Fact – household cleaning product manufacturer are under no legal obligation to do this. Meaning the ones who are immediately stand out.
Once we receive a new product to assess our cleaners and product formulators get to work investigating each product from every direction imaginable – who makes it, what the label promises, what the ingredients do and most importantly – how well it works. No attribute is unturned. No function goes unnoticed. No nasties get to hide.  We've reviewed almost a hundred of these products now, so we're getting good at it!
After thorough testing and research, we finally assign each product a score out of 5.
This allows you to cross-compare any review on our site, quickly.
What to look for in a floor cleaner
Our number 1 rule – a mix of active cleaning ingredients is key. We bet you've already got a fantastic feel for what these cleaning categories are. Aunt Fannie's Floor Cleaner, Babyganics Floor Cleaner Concentrate and ECOs Floor Cleaner demonstrate each well;
Vinegar/acid cleaners
Surfactants (mild and non-ionic is best)
Alcohol
Here's what each is best for;
1. Vinegar/acid cleaners – found in Aunt Fannie's Floor Cleaner and ECOs Floor Cleaner
Acids are best for water-based stain removal i.e. anything which isn't an oil/oily/greasy. They're powerful for mineral deposits (if you live in a hard water area this is you) and rust stains. If in a high enough concentration they can also provide natural antibacterial benefits. A 2013 study published in the Journal of Hospital Infection found acetic acid (the active in vinegar) can be antibacterial in concentrations as low as 0.166% and that its activity is not reduced by evaporation of the formula [3].
2. Surfactants – found in Aunt Fannie's Floor Cleaner, Babyganics Floor Cleaner Concentrate and ECOs Floor Cleaner
Surfactants are superheroes for cleaning as they do what cannot commonly be done. They mix together water and oil. Fantastic for greasy stains removal. Not only do they break down greasy stains, but they also eat them up and if that wasn't enough – they dissolve them away. In general, the gentlest kind of surfactants are considered to be non-ionic i.e. they have no positive or negative change to them. Decyl glucoside, lauryl glucoside and myristyl glucoside are key examples. Both ECOs Floor Cleaner and Aunt Fannie's Floor Cleaner contain only non-ionic surfactants.
3. Alcohol – found in ECOs Floor Cleaner
The primary ingredient in hand sanitizer cuts through both grease and water stains, highly antimicrobial in high concentrations, evaporates away quickly. Floor cleaners based on/high in alcohol are going to be extremely quick-drying, great at both greasy and non-greasy stain removal and good for broad-spectrum (i.e. kills a lot of different types of bacteria, fungi and viruses) antimicrobial benefits [4].
How to use this knowledge as power; what stains are most common on your floors? Is it mud? Greasy residue from cooking? Spilled teas and coffees? What do you want your floor cleaner to be most effective at? Now look at that list of cleaning categories and understand which is your perfect pairing for today's task.
Extras to consider;
Floor cleaners also come with added extras, consider these as appropriate;
Fragrance and essential oils – if you or someone in your household has allergy triggered conditions – avoid.
Colourants – not needed, but make it look pretty. A matter of choice.
Preservatives – free from is possible, our Aunt Fannie's Floor Cleaner is preservative free because vinegar when in high concentrations naturally preserves itself.
How to use a floor cleaner
Be sure to read these extra need to know tips before using your chosen hard floor cleaner;
You often don't need as much as they say! We know this from our hundreds of hours in floor cleaner testing. We've often had to throw away the majority of a dilution.
Sticky feeling of feet when you touch a just cleaned hard surface is an indicator there's too much product in the cleaning dilution you've used. Wipe over again with water.
Prepare surfaces before floor cleaning – a quick brush away of pet dander and dust helps make your final result one that is truly sparkling clean.
Don't use acidic cleansers on un-treated natural wood flooring. Don't use acidic floor cleaners on natural stone floors. Why? Because for example acid cleansers react with mineral deposits and therefore can pull and react with natural minerals found in stone. pH neutral products will keep both surfaces as nature intended.
Avoid using large amounts of fluids on wooden flooring – over time treated wood can become porous and excess water will contribute to swelling and accelerated ageing of your floorboards.
References
[1] Johnston CS, Gaas CA. Vinegar: medicinal uses and antiglycemic effect. MedGenMed. 2006;8(2):61. Published 2006 May 30.
[2] Pinto, Telma Maria Silva; NEVES, Ana Christina Claro; LEAO, Mariella Vieira Pereira  and JORGE, Antonio Olavo Cardoso. Vinegar as an antimicrobial agent for control of Candida spp. in complete denture wearers. J. Appl. Oral Sci. [online]. 2008, vol.16, n.6 [cited  2019-09-26], pp.385-390.
[3] J Hosp Infect. 2013 Aug;84(4):329-31. doi: 10.1016/j.jhin.2013.05
[4] McDonnell G, Russell AD. Antiseptics and disinfectants: activity, action, and resistance [published correction appears in Clin Microbiol Rev 2001 Jan;14(1):227]. Clin Microbiol Rev. 1999;12(1):147–179.