— Our reviewers rigorously test all the products they review to help you find your best cleaning products. If you make a purchase by clicking one of our links, we may earn some commission. However, our reviews are completely independent and our reviewers are unaware of any of these commission agreements.
Did you know – over 100, 000 chemicals are commonly used by Americans during the day to day chores [1]?   And that this statistic is climbing by 1,000 year on year.
While safety testing of individual ingredients is common, safety testing of the whole formula is not always necessary. Add to this mountain that mixtures of these household cleaning products are not tested for safety and that chemicals may be changed by reaction with air, water, plants, heat and more.
Suddenly the health risk from seemingly innocuous all-purpose household cleaners soars.
The cleaning products you use at home matter!
Not just for cleaning, not just for a satisfying shine, not just for hygiene but also for your safety and long term health.
Fact; not every all-purpose cleaner fully disclose the ingredients they're using.
Of those who do – not all will be using generally recognized as safe chemicals.
Here at Safe Household Cleaning we review only products which;
Disclose the ingredient they're using
Are made from actives which current research supports as being safe for general use
We do the hard work so you don't have to.
Of the hundreds of all-purpose cleaners we've considered and the tens of all-purpose cleaners we've tested – 4 are making our best all-purpose cleaners winners list.
In our technical and science founded opinion, these are the best all-purpose cleaners on the market today. Are you ready to enjoy an un-paralleled cleaning performance that is safe for health?
What's in this article:

The Winner – Attitude Citrus Zest All Purpose Cleaner
Made from a shortlist of just 7 ingredients we found Attitude Citrus Zest All-Purpose Cleaner to be highly effective at all types of cleaning while also being gentle and enjoyably lightly scented.  Everything you'd ever want or need from an all-purpose cleaner.
Attitude's tag line of living consciously and on bottle branding of worry-free ingredients tells you exactly what to expect. We can also attest these promises are valid and truthful.
Made from a combination of gentle surfactants – the kind you can find in shampoo and baby wash plus a small amount of alcohol – the cleaning power is impressive. Can it tackle multiple surfaces and stains? Yes, it can. With ease.
The ultra-gentle formula is eco-friendly, hypoallergenic, VOC-free and certified by the national eczema association.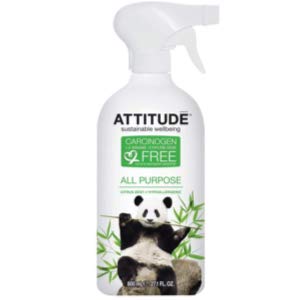 Attitude Citrus Zest All Purpose Cleaner
With only 7 carefully selected ingredients, this highly effective cruelty-free, biodegradable and environmentally safe cleaner is kind to you, your environment and your wallet.

2nd Place – Dr. Mercola's Greener Cleaner Multi-Surface Spray
Dr Mercola has a huge online following plus a reputation for going against the grain of mainstream/widely accepted health guidance. Self-claimed as the #1 natural health website Google wants banned we were excited to trial Dr.Mercola's Greener Cleaner Multi-Surface Spray.
In our view very few other cleaning spray products come close to being this well rounded. All ingredients with no exception are plant and mineral derived. There is no compromise on cleaning performance – we rate it highly. Plus all actives are sustainably sourced and biodegradable. Choose Dr. Mercola's Greener Cleaner Multi-Surface Spray and not only are you choosing your health first, you're also not compromising safety for efficacy. You get both.
JOINT 3rd Place Winner – Method All-Purpose Cleaner
We love Method. A quirky brand that go against the grain of traditional, harsh chemical-based cleaning products.
Method's All-Purpose Cleaner is a purple liquid containing a well-balanced formula that leaves zero residues and cleans outstandingly well. In use, you're going to enjoy a delicate scent and easy grease and grime removal. In fact, if grease stains are your most common household stain – our 3rd place winner is your absolute best non-toxic choice.
All ingredients are naturally derived and biodegradable. Method claim their multi-surface cleaner can put the hurt on dirt – see what we mean about that quirky personality? – and we can whole-heartedly say in support – yes – it works.
Deriving the majority of its cleaning power from commonly used alkalis (more about these soon) plus a widely accepted as safe cleansing surfactant also found in personal care products – its safety is excellent.
JOINT 3rd Place Winner – Cleanwell Botanical Disinfectant All-Purpose Cleaner
In search of an all-purpose cleaner paired with disinfectant benefits? Then CleanWell Botanical Disinfectant All-Purpose Cleaner is the one for you. This is CleanWell's specialty. Boasting over a 99.9% kill rate on germs, CleanWell takes their natural disinfection claims from an ingredient called Thymol – it sounds like thyme because it comes from thyme. Disinfection from the power of an herb.
A study published in the journal of Microbial Pathogenesis in 2016 found thymol to have great efficacy against foodborne bacteria like salmonella [2] – and that it could even help kill off resistant bacteria. Findings backed up by the International Journal of Food Microbiology – which published research to show when used in combination with another natural extract called carvacrol it could also help kill s.aureus bacteria [3] – a germ often found on skin (i.e. picked up also from the environment) and which is the most dangerous of all staphylococcal bacteria when left to grow to out of control levels.
Overall CleanWell Botanical Disinfectant All-Purpose Cleaner is powerful on stains – the only drawback – on shiny surfaces you may be left with some streaks. If you're after a safe all-purpose cleaner that's also powerful on germs – CleanWell Botanical Disinfectant All-Purpose Cleaner is top of our list.
How We Chose The Winners
Left staring at a shelf of all-purpose cleaners promising you the world – how do you decide? When many companies do not disclose ingredients – how do you choose? Imagine looking at 5 different bottles of tomato ketchup without an ingredients list. All look red. All tell you they're tomato ketchup and all promise you to be extra tasty.
This is the challenge in choosing the best all-purpose cleaner.
Here at Safe Household Cleaning, we use science to help make this decision with you.
We review only products that will disclose their ingredients list.
We then dig into the safety of each and every active ingredient used in a formula. Why is it there? What benefits does it have? Is it safe? Is it gentle? Can children be near it? Are you risking your health when using it?
We pair this most important fact up with in-use performance.
Safety first. Cleaning power a very close second.
Thousands of hour's worth of research tells us you do not have to compromise on either. We're here to help make sure you don't have to.
The Best All-Purpose Cleaners
While we love every one of our winners, there's far more choice available should you wish to look for an alternative.
Here are the best non-toxic, gentlest, All-Purpose Cleaners on the market today
What To Look For In An All-Purpose Cleaner
All-purpose cleaners are a little like a 2-in-1 shampoo and conditioner. They're designed to do a little bit of everything. A tough ask.
While many household cleaners specific to bathroom or kitchen areas focus on cleaning actives which excel at removing 1 specific stain or which can clean hard surfaces without leaving streaks (i.e. high alcohol or solvents). All-purpose cleaners must contain cleaning actives that can do a little bit of everything.
The solution – a very specific kind of active ingredient called a surfactant also paired with multiple cleaning actives – more about these soon.
Surfactants are unique molecules that have a head that dissolves in water-based stains and a tail which dissolves in oil-based stains. As any stain you will ever encounter fits into 1 of these 2 boxes – surfactant cleaning actives are the best choice for an all-purpose household cleaner.
Take a look at the actives in our best all-purpose cleaners list;
The #1 winner – Attitude Citrus Zest All Purpose Cleaner – contains 1 gentle surfactant called caprylyl myristyl glucoside
2nd place – Dr. Mercola's Greener Cleaner Multi-Surface Spray – contains the same surfactant as our winner caprylyl capryl glucoside plus lauramine oxide
JOINT 3rd place winner – Method All-Purpose Cleaner – laureth-7, decyl glucoside and lauryl glucoside
JOINT 3rd place winner – CleanWell Botanical Disinfectant All-Purpose Cleaner – citric acid plus small amounts of sodium lauryl sulfate
Now while surfactants are extremely effective at removing all kinds of stains, dissolving them up and washing them away – they tend to lack power for stubborn, in-built stains like tarnished taps/rust/limescale. These stains contain mineral deposits. Acids can help break them down effectively so you can wipe them away effortlessly.
Out of the all-purpose cleansers we've reviewed the following also contain an acid cleaner;
JOINT 3rd place winner – Method All-Purpose Cleaner – citric acid
JOINT 3rd place winner – CleanWell Botanical Disinfectant All-Purpose Cleaner – citric acid – the first ingredient after water (!)
In fact, our joint 3rd place winner CleanWell Botanical Disinfectant All-Purpose Cleaner contains most acid. If you have stubborn limescale or rusty stains – it's the one for you.
Note; citric acid can also be powerfully antiseptic, just 2-3% is effective for the treatment of burn wound infections including those which are resistant to drugs like antibiotics. A paper published in the Journal of Infection and Public Health in 2013 adds to this describing citric acid as "simple, reliable, non-toxic, effective and economical" [4]
Then comes alkaline cleaners, these are most helpful for removing oily stains – remember how we mentioned Method All-Purpose Cleaner was one of the best we've ever tested for removing greasy stains? Top ingredients in their formula are;
Potassium Hydroxide
Sodium Carbonate
Both of which are alkaline cleaners. Can you see how ingredients matter?
Dr. Mercola Healthy Home Greener Cleaner Multi-Surface Spray also contains a smaller amount of sodium carbonate.
And our final cleansing active contained in the winner of our all-purpose cleaners review – alcohol which is a kind of solvent. Alcohol cuts through grease and because of its low boiling point and it evaporates away before streaking. Our best of class winner – Attitude Citrus Zest All Purpose Cleaner contains it.
What should you look for in an all-purpose cleaner?
#1 – Look for a good blend of gentle surfactants like the ones we've mentioned
#2 – look for a combination of cleaning actives to tackle multiple stains at once – this really is THE key to a fantastic all-purpose cleaner – look for an acid or alkaline cleaner – or even both!
How To Use An All-Purpose Cleaner
The very point of an all-purpose cleaner is that it's easy and breezy to use. No need to buy, store and switch between multiple cleaning products. No need to worry about the mixing of household cleaners releasing toxic chemicals. No need to carry 5 different bottles to your kitchen and bathroom on a deep cleaning day. Simple. Effective. Fuss-free.
To use an all-purpose cleaner simply spray directly to your hard surfaces and wipe away.
Note; sometimes the extra bits you use to clean with matter – for instance, we've always found balled up newspaper works best on mirrors.
Extra tip; If you'd prefer to clean floors with a mop and bucket you can also dilute all-purpose cleaners into the water, dunk and swipe. Job done.
References
[1] CANCER AND THE ENVIRONMENT. What You Need to Know. What You Can Do.  By the U.S. Dept. of Health AND Human Services, the National Institutes of Health, National Cancer Institute & National Institute of Environmental Health Sciences 
[2] Antibacterial and efflux pump inhibitors of thymol and carvacrol against food-borne pathogens. Hanene Miladia, Tarek Zmantara et al. Microbial Pathogenesis Volume 99, October 2016, Pages 95-100
[3] Antimicrobial activity of free and liposome-encapsulated thymol and carvacrol against Salmonella and Staphylococcus aureus adhered to stainless steel. Juliana Both Engela, Caroline Hecklera et al. International Journal of Food Microbiology Volume 252, 3 July 2017, Pages 18-23
[4] Acetic acid treatment of pseudomonal wound infections – A review. B.S.Nagobaa, S.P.Selkar et al. Journal of Infection and Public Health
Volume 6, Issue 6, December 2013, Pages 410-415