Safe Household Cleaning is reader-supported. All reviews are independent and any products reviewed are purchased by the site owner. To help fund this model, some of the links on the site are affiliate links. If you decide to make a purchase from one of these links, this site will receive some commission. At no cost to you. It helps keeps this place running. Learn more
Method All Purpose Cleaner
Review Score
Ewg Rated
C
Ingredients

Water
Potassium Hydroxide
Sodium Carbonate
Sodium Gluconate
Laureth-7
Citric Acid
Polymeric Red
Polymeric Blue
Fragrance
Decyl Glucoside
Lauryl Glucoside
Linalool


Method All-Purpose Naturally Derived Surface Cleaner is a quite outstanding cleaner. It has no problem tackling some of the more difficult cleaning jobs in a household. The well-balanced formula leaves no residue and no harsh chemicals on surfaces.

If you're not sensitive to fragrances, I can't recommend it highly enough.

Method All-Purpose-Naturally Derived Surface Cleaner is advertised as a nontoxic product, safe to use around family or friends.  Their products are purported to be created specifically to not harm the environment, and in order to do this, the company intentionally used chemicals derived from natural sources.
Created by two friends, Eric Ryan and Adam Lowry while in college, Method has grown into a multi-product international business.   They understand the problems with today's cleaning product industry and have been a multi-certified enterprise.
Their certifications include:
Benefit Corporation (B Corporation) it meets high standards of social and environmental performance along with legal accountability and public transparency.
Cradle to Cradle certified as well it adheres to a continual improvement process in five categories listed as stewardship of water, social fairness, management of carbon, renewable energy, material utilization, and material health.
We've encountered the company before, having reviewed their dish soap and their dishwasher tabs.  While we loved the approach of the company, especially their ethos, we found both products could have gentler formulations.
Hopefully, this All-Purpose cleaner is the killer product we know they can make.
First impressions…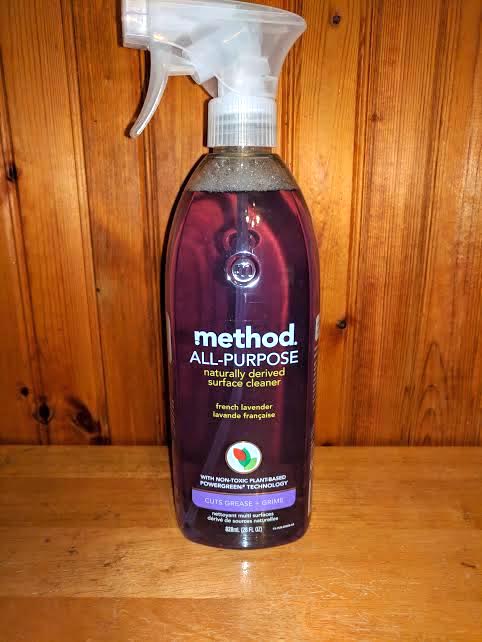 The product comes in a transparent plastic bottle. What I loved about the very elegant packaging was
The ingredients are disclosed clearly.  Regular readers of this site will know, this is not normal in this industry.
The container articulates the company's philosophy. For a company to even have a philosophy other than marketing spiel is amazing.
They also explain exactly what surfaces they recommend using the product on;   counters, tile, stone, wood and glass.
I bought the French Lavender scented product.  The liquid inside is a purple trasluscent liquid, to convey an image of lavendar no doubt. Ideally, I'd have bought a fragrance-free version, but I no such version exists.
Surprisingly, I couldn't smell lavender initially – however, the smell does develop over time.
How does it clean?
I chose a variety of surfaces to test drive the product.
Overall it did an exceptional cleaning job. I became most impressed with how quickly it dissolved grease and grime and how easily with just a paper towel and swiping I could remove it. Wiping my hand across the surface after cleaning the surfaces felt squeaky clean. Living on the Gulf Coast near Houston, the oil refineries leave a mist of oil droplets in the air that cover most all our surfaces.  Even inside the house. Finding a nontoxic cleaner that will quickly remove this oil film is tough, but Method All Purpose Cleaner did just that.
Surface 1 Shower
Soap scum below the soap dish often takes scrubbing to remove. With this product after one spritz and using a sponge it literally just wiped away. No scrubbing what so ever became needed.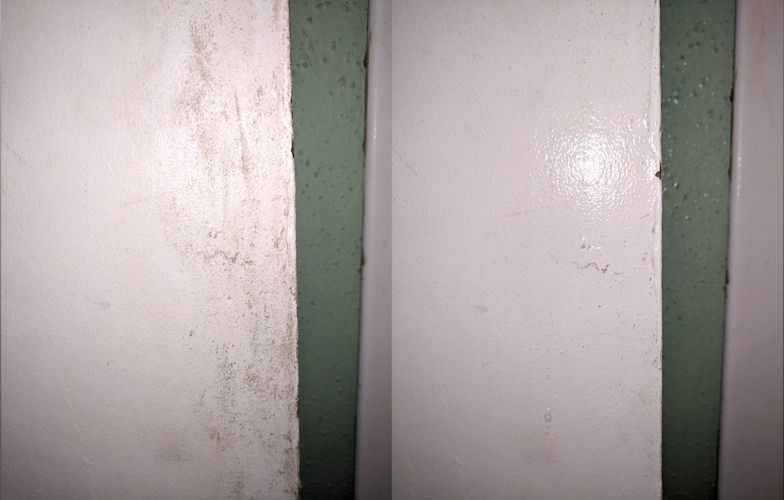 Surface 2 Kitchen Cabinets
An oil film often builds up on cabinets near a stove or range hood. Unseen and nearly transparent it will coat the area. I took a knife and scraped some of the oil goo off (super bright white spots on dark background). Then I spritzed with the Method All-Purpose-Naturally Derived Surface Cleaner. I used paper towels to wipe off the cleaner.
On the flat portions, it had removed the oil scum. I used a sponge on the textured parts.
Surface 3 Dirty Area Around Door Knob
I spritzed a bathroom door where wet hands had left a swath of grime. With a sponge, one swipe removed the grime and grease.
Surface 4 Computer Monitor
Computer monitors gather dust and moisture spots over time. I spritzed it, and the surface easily cleaned with a paper towel.

Surface 5 Garage Door
My steel garage door develops algae growth because of the Houston climate and oil refineries.  Oily soot had built up over time too.  It has been especially prevalent since Hurricane Harvey in the fall of 2017. I spritzed it and wiped with a paper towel. It dissolved about 90 percent of it. A light green sheen remained so I spritzed again, and the second round of paper towel swiping took care of it.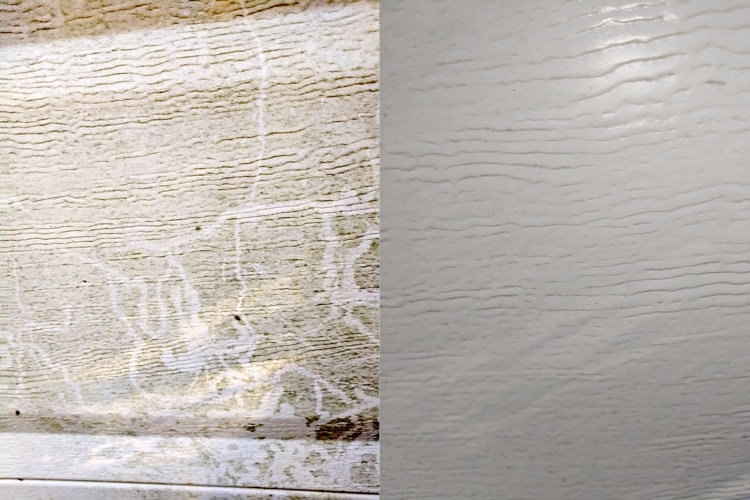 It has excellent cleaning power.   What is it made of?
The company claims to use nontoxic plant-derived ingredients, and for the most part, it does do that.
The 3 main surfactants are Decyl Glucoside, Lauryl Glucoside and Laureth-7.   All 3 are synthetic yet gentle biodegradable detergents derived from plant sources.  It's remarkable that it cleans so well given how gentle these three surfactants are.  For such an effective cleaner, I was genuinely expecting to see some really harsh cleaners inside.
In fact, the only genuinely disappointing ingredients in this formulation is the fragrances and colorings.
In addition to the generic Fragrance, the company has added linalool. Linalool is known to cause contact dermatitis in some people.  In fact, the presence of contact dermatitis is so bad that the EU has mandated that manufacturers must explicitly label the fragrance if it's added to a product.
In addition, the company has added red and blue colorants to give the product its distinctive purple.
I find the fragrances and dyes so disappointing as, aside from the cosmetics, they are needless.  They add nothing to the cleaning power  They don't make the product last longer.  They just make it look purple and smell nice.  Fragrances are volatile compounds.  Too much exposure can cause asthma or asthma-like symptoms.
I'm personally not sure that it's worth the risks for such little rewards.
Do I recommend it?
If you're not sensitive to fragrances then yes, unequivocally I recommend it.  The cleaning power is absolutely outstanding, and the majority of the formulation is gentle and biodegradable.  It's cruelty-free.  It doesn't contain ingredients known to alter your hormones.  Or give you cancer.  It's free of phosphates.  There's little risk of contamination with 1,4 Dioxane or other extremely harsh chemicals.
It's almost perfect.
If you're not sensitive to fragrances, I can't recommend it highly enough.