Safe Household Cleaning is reader-supported. All reviews are independent and any products reviewed are purchased by the site owner. To help fund this model, some of the links on the site are affiliate links. If you decide to make a purchase from one of these links, this site will receive some commission. At no cost to you. It helps keeps this place running. Learn more
Puracy Natural Laundry Detergent
Review Score
Ewg Rated
F
Ingredients

Alcohol Ethoxylates (C12-15)
Water
Decyl Glucoside
Lauryl/Myristyl Glucoside
Glycerin
C10-16 Alcohols
Cocamidopropyl Betaine
Lauramine Oxide
Borax
Protease
Amylase
Mannanase
Lipase
Zinc Ricinoleate
Glyceryl Oleate
Carboxymethyl Inulin
Calcium Chloride
Citric Acid
Sodium Citrate
Propanediol
Benzisothiazolinone

Puracy's natural laundry detergent is a great step towards using natural, environmentally conscious products in your home. This detergent is uniquely formulated with many plant-based cleansers, and it does an amazing job of cleaning the dirtiest of laundry loads. However, the product does contain some harsh synthetic chemicals as well, which conflict with the company's 'free and clear' promise.

If you're environmentally-conscious and hoping to transition your household to a biodegradable laundry detergent, then Puracy's Natural Laundry Detergent may be just what you are looking for.  This plant-based natural, bio-washing laundry detergent is a product of the Puracy company.
Founded in Austin, Texas, Puracy's goal is to create safe, natural products that are environmentally safe and also effective.   I like the sound of these guys already.   Although they're a small company, they already carry an entire range of household products developed by a team of PhD chemists based on their goals.
They develop their products exclusively from plant-based materials, natural fragrances, and minerals.
All Puracy products are produced in the U.S. For every Puracy purchase, the company works with local Austin organizations to donate natural and organic products to families who are less fortunate.
Puracy are a company who understand the myriad of troubles with modern cleaning products.   They have rejected the traditional approach of non-disclosure of ingredients while using cheap toxic chemicals and hoping we wouldn't notice.
In actual fact, on their website, Puracy has an in-depth searchable database of all of the ingredients used in their many products. This is pretty amazing. Every single ingredient in all of their products is included with an in-depth explanation of each and a list showing which Puracy products each ingredient can be found in. Linked sources are provided for each ingredient so interested customers can read more.
I couldn't wait to actually try their products.
With an intro like that, could the reality possibly live up to the dream?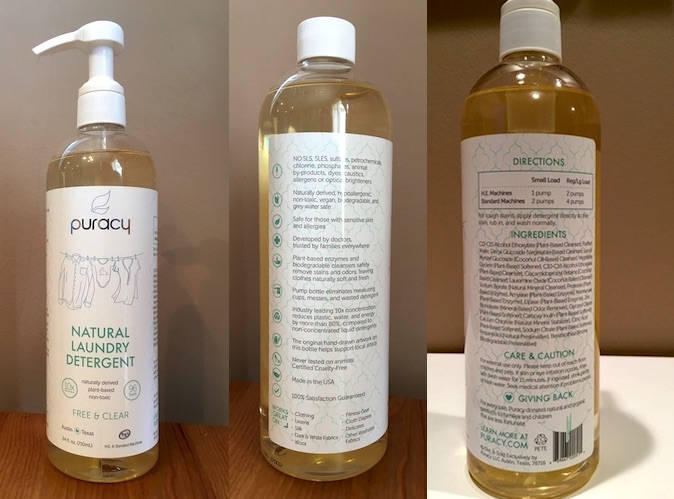 The product comes packaged as a liquid detergent in a plastic bottle. Included with the purchase is a pump top lid for ease of use. The label is simple:  white with green and gray text. There is a hand-drawn image of laundry hanging on the line, which does elicit thoughts of freshness and simplicity.
Information is attractively displayed, and the simple green lettering and graphics give it an eco-friendly feel. However, the bottle is plastic which isn't the most environmentally friendly choice in packaging. It is labeled with recycling number 1, so at least it can be included in your recyclables when you've finished the bottle.
The packaging boasts that this product is highly concentrated, market-leading levels of concentration, which helps to reduce waste by over 80%.
On the back of the label, there is a list of symbols with more information on other features of this product. These include a certification for cruelty-free testing, a statement that this is safe for those with sensitive skin and allergies, a note that the artwork supports local artists and more. I really liked this part of the label. It's easy to skim quickly to see the unique features of this product.
Nice packaging, what about the detergent?
The detergent is a light yellow liquid. It has a light scent that isn't very strong. But I have to be honest, I don't like the scent. It smells a little like a cleaning product or perhaps a natural soap. It's not terrible, but I didn't find it pleasant either.  It's a personal preference rather than anything sinister.  And it is a very light scent so it's not overpowering in any way.
So how does it wash?

I tested out Puracy's natural laundry detergent on a load that included some workout clothes and some of my four-year-old's really dirty clothes. One of her dresses was filthy from playtime at preschool, and I was skeptical it would come out clean. But I'm pleased to say everything came out sparkling clean! The clothes did not have any fragrance after washing, but they did smell fresh.
My washing machine is a traditional washing machine, but this product can also be used with a high-efficiency machine. Washing a regular load in a standard machine required four pumps; a similar load in a high-efficiency machine would only need two. I did really like the use of the pump top, and I'm glad Puracy included this. I always feel like liquid detergent ends up running all over the bottle when you use the top to measure, and that is wasteful. The pump top is in keeping with Puracy's philosophy of being environmentally conscious.
The directions on the back of the bottle say this detergent can also be used as a stain remover by applying directly to stains and rubbing in before washing. I'd love to try out this feature since the load of clothes I washed came out so clean.
This 24 oz. bottle is designed to last through 96 loads. I believe this number is assuming you are washing regular loads in a high-efficiency machine. With a standard machine, I think you'd get 48 loads from this one bottle. Either way, it's fairly reasonably priced, especially for a natural detergent. The 24 oz. bottle runs $16.14 on Amazon, so that amounts to only 17 cents per high-efficiency load and 34 cents per load in a standard machine. Those amounts are for regular to large loads of laundry. If you wash smaller loads, you'll need less and it will last longer.
The company have a vision, the detergent works.  How is it formulated?
The formulation of this detergent is very… interesting…
C12-C15 Alcohol Ethoxylate – a plant-based surfactant (cleanser).  It's an alternative to the sulfates you may have read about that often trigger allergies.  This is a biodegradable chemical. However, despite the fact that this chemical is plant-based, it's a really high production chemical.  With some less discerning manufacturers, there's a contamination risk with other chemicals that can cause asthma, allergies, and even cancer.
Purified Water
Decyl Glucoside – a vegetable-based surfactant.  This is also bio-degradable and carries a very low risk of allergies
Lauryl/Myristyl Glucoside – another very gentle surfactant that is coconut-oil based
Vegetable Glycerin – a gentle plant-based softener
C10-C16 Alcohol Ethoxylate – another biodegradable plant-based cleanser.  Even though this is plant-based, there is some evidence that this ingredient can cause irritation. It is also toxic to sea life, and like the C12-15 variant, there is a risk of contamination with really harsh chemicals that can cause cancer.
Cocamidopropyl Betaine – The label describes this as a coconut-based cleanser. It is a biodegradable cleanser, but it also won contact allergen of the year in 2004.
Lauramine Oxide – a very gentle coconut based biodegradable cleanser and softener
Sodium Borate – aka Borax – a natural mineral cleanser. Borax is great at fighting stains and boosting the cleaning power of a detergent.  It is often used in natural homemade washing detergents. As long as clothes are fully rinsed, there should be no risk in using a product containing Borax.  Just keep it out of reach of kids.
Protease – a gentle, plant-based enzyme that aids cleaning
Amylase  – another enzyme often found in laundry detergents
Mannanase – another enzyme often found in laundry detergents
Lipase – another enzyme often found in laundry detergents
Zinc Ricinoleate  – a gentle mineral-based odor remover
Glyceryl Oleate – a gentle plant-based softener
Carboxy Inulin  – plant-based softener and ph adjuster.
Calcium Chloride –  a gentle, mineral-based stabilizer
Citric Acid – derived from lemons – used to soften and adjust ph levels
Sodium Citrate  – a gentle plant-based softener
Propanediol – a natural preservative that may irritate.  Clothes must be well-rinsed.
Benzisothiazolinone – a synthetic preservative with high potential to irritate.  It is also highly toxic to sea life.
That's an awful lot of ingredients.  And while the use of plant-based, biodegradable ingredients is sound, I wish they hadn't added Benzisothiazolinone.  This family of chemicals has been responsible for an epidemic of allergies and many manufacturers have switched to alternatives.  I'm a member of a facebook group of allergy sufferers, and the reactions can be extreme.
The surfactants and softeners have been formulated with a great deal of pride and care with some excellent well chosen gentle ingredients.  It's just odd that the Benzisothiazolinone is in there.
Would you recommend it?
Yes, I would recommend it but with some reservations. Puracy does a great job getting clothes fresh and clean. It's easy to use and the pump helps eliminate wasted product.
I love that most of the ingredients are plant-based and that there are several gentle, natural softeners included. The ingredients are plant-based instead of petroleum-based. This is potentially a great thing.
However, there are a one or two questionable ingredients that I really wish weren't included, especially benzisothiazolinone.
If you're used to traditional, chemical-laden detergents, then Puracy would be a great alternative for you.  You know exactly what you're washing with, and they've taken great care to make sure the detergent performs well, smells great and is kind to the environment.   But if you have an allergy to the 'thiazolinones', then this may not be the product for you.