Safe Household Cleaning is reader-supported. All reviews are independent and any products reviewed are purchased by the site owner. To help fund this model, some of the links on the site are affiliate links. If you decide to make a purchase from one of these links, this site will receive some commission. At no cost to you. It helps keeps this place running. Learn more
The Most-Eco Friendly Dish Soaps, Dish Washing Soaps and Washing Up Liquids That Actually Work
The last thing you want to do when washing the dishes is to hurt your skin. Yet many dish soaps do exactly this. They're made up of harsh detergents and irritating add-ins like fragrance which firstly – are eating away at your skin barrier and secondly – are allowing in potentially harmful allergens.
How do you do better?
How do you choose a dish soap which is kind to you plus kind to the environment?
Fact; dish soaps work because they mix together oil and water. It sounds simple – but in nature, there aren't many ingredients that can do this.
Strong detergents eat away a lot of oil i.e. grease build-up. However, your skin's top layers are also oil-based – and so good for the dishes can mean harmful for your body health.
Instead of relying on harsh detergent actives, there are clever workarounds. The chemistry of combining mild detergents to create a dish soap which has – in science terms – synergistic power. Meaning 1 + 1, no longer equals 2, instead, it equals the power of 4 (!)
If you're looking for a bottle of carefully formulated dish soap, one which is kind to your body, safe as can be, while also packing a punch to your burnt-on food stains, you're in the right place.  After reviewing hundreds of cleaning products, and putting our favorite dish soaps to the test, you're about to discover 5 best dish soaps which fit this brief perfectly.
They'll be no turning back once you discover our winning 5;
What's in this article:
The Winner – Aspen Dish Soap
Smells great, looks great, cleans great.  Aspen Natural Dish Soap  goes above and beyond. Made by a Canadian based company that are EcoCert approved, EWG ranked and certified by the leaping bunny. There are accreditations galore.
The first ingredient on Aspen's list is… salt (!) or sodium chloride to be specific. Salt is used in detergent products to impact the thinness/thickness of a formula, to increase/boost foaming and to improve what scientists call 'wetting properties'.
Here comes that extra important, synergistic science.
Wetting properties refer to how well a liquid can dissolve in water and how well it can lower the surface tension between liquid and solid.[1]
These are both especially important properties as when both are maximized – cleaning performance is excellent.
The actual detergents used in this formula – lauryl glucoside and coco glucoside are both known as mild and sensitive skin-friendly. In fact, a common aka cheap but not so skin-friendly detergent called Sodium Laureth Sulfate (SLES) may be improved in mildness by addition of lauryl glucoside[2].
Overall an excellent formula, with excellent cleaning performance – dishes look and smell fantastic.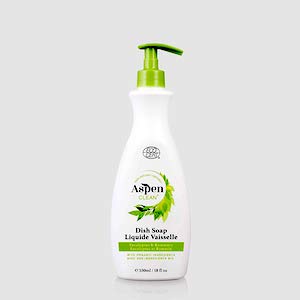 Aspen Natural Dish Soap is on sale now
A combination of salt and gentle surfactants makes Aspen Dish Soap a gentle yet extremely effective dish soap that is kind to you, your environment and your wallet.

2nd Place – Biokleen Free & Clear Dish Liquid
Biodegradable, extremely affordable, cruelty-free, plant-based and exceptionally effective at cleaning. Biokleen Free & Clear Dish Liquid is a clear stand out in washing performance – it can even tackle burnt on tray cheese plus microwaved, made in a mug brownie cake.
Biokleen Free & Clear Dish Liquid uses a combination of 5 detergents. To put that into context our 1st place winner uses 2. A combination of detergents can mean;
More effective cleaning power – due to detergents having different cleaning capabilities
Use of strong detergents can be made less irritating to skin
And that #2 is what's happening here. Biokleen Free & Clear Dish Liquid in fact uses one of those strong, yet usually irritating detergents we just spoke about – Sodium Lauryl Sulfate (SLS).
Take a read of this quote from a paper published in the Journal of Surfactants and Detergents in 2015, this quote refers to the combination of a mild/low skin irritation detergent i.e. cocobetaine/ cocamidopropyl betaine being paired with a stronger/high skin irritation detergent i.e. SLS;
"This combination is designed to change the surface properties. An example of such a combination is a mixture of cocobetaine and sodium lauryl sulfate (SLS) as the primary surfactant, which reduces the irritation of the skin and mucous membranes, strengthens the feeling on the skin, and increases the organoleptic sensations" [1]
Bottom line; Biokleen make clever use of this science. They use SLS for ultimate cleaning performance, and yet they also use a higher amount of cocamidopropyl betaine to reduce skin irritation.
This is science in action.
For cleaning power as good as you've ever seen – choose Biokleen Free & Clear Dish Liquid.
The three tied 3rd placed dish soaps
They really are all that good (!)
Attitude's Natural Dishwashing Liquid – a must try for those with sensitive skin. 2nd active on the list is oat flour – an active studied to have anti-inflammatory, anti-itching and skin soothing benefits. Hypo-allergenic, pH balanced, non-irritating, fragrance-free and VOC free. This is sensitive skin love through and through.
The Honest Co. Dish Soap – you might need a little more of it to accomplish your cleaning tasks but the ingredients are mild and skin sensitive, plus have minimal impact on the environment. In fact ingredients you'll be using in this dish soap are also food grade actives.
The Honest Company Baby Dish Soap – a very similar formula to The Honest Co. Dish Soap but this time around – even milder due to lack of fragrances. Again you need to use more of it. For everyday washing, it's spot on. For baked in food gunk – try our 1st or 2nd place winners.
How We Chose The Winners
Here at Safe Household Cleaning – we do things differently.
We've spent literally hundreds of hours reviewing and assessing cleaning products.  Every single one of the dish soaps reviewed on this site has been expertly tested and thoroughly researched.
In addition, we have certain criteria that must be met before we'll put do these reviews.  For example, we won't review a dish soap if the manufacturer won't disclose the ingredients. And there are still far too many who don't. With these ingredients in mind, we use pharmacists, product formulators and dermatologists to assess the overall formulation of the product.  While in use performance is paramount – many dish soaps can have fantastic cleaning performance with the sizeable compromise of poor skin safety plus poor environmental impact.
Our findings are based on science – you can't argue with that.
At Safe Household Cleaning, we are cutting through this fog. As you're here reading this with us now, we're sure you already understand ingredients are just as important as how well a dish soap works.
We open the science lid on ingredient safety.
The Best Dish Soaps and Washing Up Liquids
While we love every one of our winners, there's far more choice available should you wish to look for an alternative.
Here are the best non-toxic, gentlest, All-Purpose Cleaners on the market today
What To Look For In Dish Soap
How do you know if a dish soap is kind to the skin? How do you know if a dish soap is safe to use? How do you know if a dish soap will work?
While there are an infinite amount of dish soap ingredients to choose from, the #1 ingredient which makes most difference to all 3 of these questions is the detergent selection aka the surfactants.
Take a look at this list below. It's a summary of all detergents used in the 5 best dish soaps we've reviewed here;
Lauryl Glucoside – non-ionic, mild detergent
Coco Glucoside – non-ionic, mild detergent
Cocamidopropyl Betaine – zwitterionic, mild detergent, foam booster
Sodium Lauryl Sulfate – anionic detergent, skin irritant
Lauramine Oxide – non-ionic, considered to be skin safe i.e. doesn't denature/change the shape of skin proteins
C10-16 Alkyl Glucoside – non-ionic
Caprylyl Capryl Glucoside- non-ionic
Cocamidopropyl Hydroxysultaine – amphoteric, mild detergent
Sodium Methyl Cocoyl Taurate – anionic detergent, considered mild
Sodium Lauroyl Sarcosinate – anionic detergent
There are only a few different families or classes of surfactants and as you can see many of the types used in the best dish soaps we've selected are non-ionic. This is because non-ionic surfactants are in general especially mild to skin, non-sensitizing and safe to use for almost all skin types.
Tip #1 in finding the best dish soap that's friendly to your skin – look for non-ionic surfactants. If you find one that's not on the list, Google its name to check.
Extras matter. Many of the best dish soaps on our list also use partnering extras. These add back skin conditioners to help compensate for detergent takeaways. Ingredients like;
Glycerin
Aloe vera
Oat flour
All have soothing and hydrating properties which help care for your skin while washing.
Final tip; if you see a formula using only an anionic detergent like Sodium Lauryl Sulfate – avoid it. Anionic detergents are some of the harshest to skin. If they're not mixed with other detergents, the formula will likely have excellent cleaning power, but for great risk of skin health.
How To Use A Dish Soap?
While it's pretty self-explanatory there are some extra considerations to bear in mind when using your best dish soap;
You need only a very small amount. In fact, most of the dish soaps on our list call for just 1 tablespoon/3 teaspoons of dishwashing liquid into a standard skin of hot water. An extra way to care for the environment – be sure you're using just enough.
Hot water is best – hot water makes everything work more quickly (science in action), this means burnt on grilled cheese/in a mug brownie cake and more can wash off cleanly, with just 1 quick soak.
Add your dishwashing liquid to running water – do you remember how we talked about wetting properties of a detergent? For any detergent to work well it needs to be mixed evenly with water. A great way to ensure this is to add your detergent as your sink of water fills. Then wash away.
References
[1] Effect of Sodium Chloride on the Surface and Wetting Properties of Aqueous Solutions of Cocamidopropyl Betaine. Katarzyna Staszak, Daria Wieczorek, Katarzyna Michocka. J Surfactants Deterg. 2015; 18(2): 321–328.
[2] A new formula for a mild body cleanser: sodium laureth sulfate supplemented with sodium laureth carboxylate and lauryl glucoside. Y. Takagi M. Shimizu Y. Morokuma et al. The International Journal of Cosmetic Science, Volume 36, Issue 4, August 2014, Pages 305-311
[3] Potential health benefits of avenanthramides of oats. Mohsen Meydani. Nutrition Reviews, Volume 67, Issue 12, 1 December 2009, Pages 731–735