Safe Household Cleaning is reader-supported. All reviews are independent and any products reviewed are purchased by the site owner. To help fund this model, some of the links on the site are affiliate links. If you decide to make a purchase from one of these links, this site will receive some commission. At no cost to you. It helps keeps this place running. Learn more
Sonett Orange Power Cleaner
Review Score
Ewg Rated
NA
Ingredients

Water
Coco Glucoside
Lauryl Glucoside
Sodium Lauryl Sulfate
Alcohol
Sodium Citrate
Fragrance
Limonene
Linalool
Citronellol
Geraniol


Sonett Orange Power Cleaner may be fully biodegradable, petro chemical free and manufactured with the latests eco friendly guidelines. But the actual formulation is a bog standard set of uninspiring cleaners with added fragrance. Lots and lots of fragrance.

If you're not sensitive to fragrances, don't have any heavy duty cleaning requirements and like to know what is in your cleaning products then maybe this would do. Otherwise, for the rest of us, there's plenty of variety out there that offer less allergens and greater performance.

Disappointing.

Sonnet is a company we've reviewed a number of times and I love what the company stands for.  So I was really looking forward to trying their Orange Power Cleaner.
The moment I received this product in the mail, I knew that I was dealing with something small but mighty.   As soon as I removed the bottle from its packaging that I'd be working with a formula overflowing with strong scents. Despite the ample tape and plastic wrap cradling Sonett's Orange Power Cleaner on its journey to my post office box, I could already smell the thick orange scent.
Talk about orange power.
Regardless of the smell, I was still intrigued from the second I saw that this cleaner was specifically designed to tackle heavy-duty grease messes; ready to give Sonett's product a shot, I wanted to learn a bit more about its origins before I got down to business.
Let's check out Sonett and what they're all about.
Sonett has seen a great deal of growth since its founding in 1977 as one of the first ecologically-minded cleaning product manufacturers. Based near Lake Constance in Deggenhausen, Germany, Sonett's products are now readily available in nearly all European countries.
Recently, countries outside of Europe have shown increased interest in Sonett, too, so the company has certainly been successful in expanding its reach.
Prior to Sonett's inception, Johannes Schnorr conducted scientific experiments in the 1960s to determine the influence of synthetic laundry detergents on drinking water pollution. As the essence of life, Sonett's founders held great respect for the earth's water and aimed to create cleaning products which would limit negative ecological impacts.
To this day, Sonett refrains from including petrochemical raw materials, enzymes, or any other products developed via genetic engineering.
First impressions are everything, and Sonett's research-heavy, eco-friendly company seems like one that I'm eager to support. I'm hoping that this will hold true, so what does the product look like?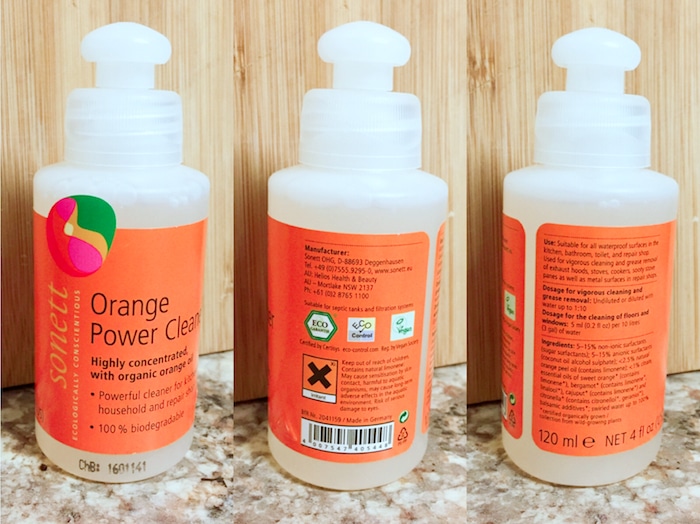 The package in my post office box was small and unobtrusive, so much so that I was surprised a cleaning product could fit inside at all! However, once I read the label and recognized that this product is meant to be diluted in water for work on most surfaces, I realized that the bottle's small, 4-ounce size shouldn't fool me.
While there was no seal beneath the cap to maintain freshness (or to withhold the powerful orange scent that exploded into the room while I was trimming through the wrapping), the packaging itself was incredibly secure.
Sonett's Orange Power Cleaner has a slightly viscous consistency and is nearly transparent. The push-top dispenser's opening is rather wide, though, making it difficult to dispense only a drop or two at a time (which would be incredibly useful given that this product is manufactured in a concentrated form and needs to be carefully diluted).
Most notable is the formula's smell, a strong orange scent with a hint of chemical odor. In fact, after cleaning with it for a while, I was reminded of orange-flavored cough syrup—not a pleasant association.
Despite the strong scent and the ominous warnings on the product's packaging, I'm excited to put this heavy-duty cleaner to the test and see just how powerful it is against some of the toughest messes.
Sonett claims that the Orange Power Cleaner is great for an abundance of surfaces, including greasy workshops. While I don't have anything quite so messy at my disposal, I frequently consider the kitchen my workshop. I immediately remembered the stubborn stains beneath my stovetop burners and thought, "If anything can do the trick, it's this."
Touting itself as a bathroom cleaner as well, I hoped that the highly-concentrated formula could do something about the stains along the sides of my bathtub. Sure, I might have been expecting a couple of miracles, but the only way to find out what this Power Cleaner was made of was to get right to work.
Unlike most bathroom cleaners, this concentrated liquid isn't a spray cleaner out of the box, but rather a highly concentrated liquid that needs diluting.  You can make your own spray cleaner from it quite easily.  It's an approach I love, and I hope more manufacturers follow suit.  Why transport water around the world when we have an abundance at home!
So after following the manufacturer's dilution recommendations, I started with something easier—bright orange, hardened sauce stains on my stovetop surface. A single squirt of undiluted product onto a cleaning sponge yielded a perfectly clean stovetop. Without water to dilute the product, however, scrubbing felt like using a dry sponge. Although it's a bit more trouble, I much preferred creating a small amount of product diluted in water for the rest of my cleaning endeavors.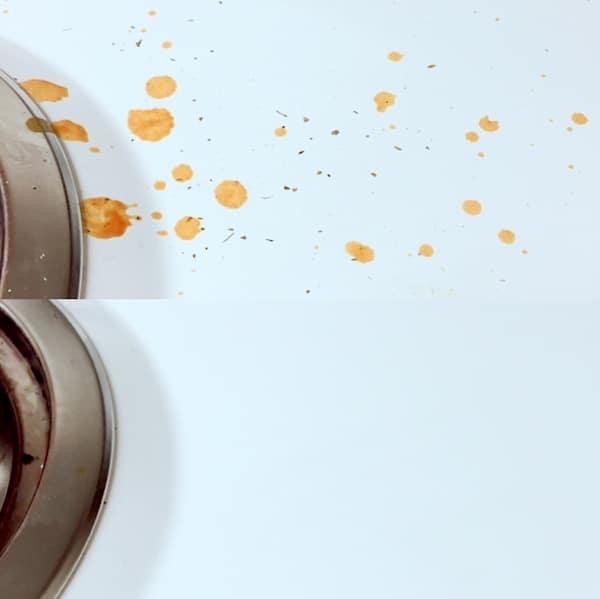 Unfortunately, I wasn't too far into my work on the soiled stove burners before I noticed a tingling in the palms of my hands. While this cleaner didn't outright burn my skin, there was certainly something wrong. I washed up with soap and water, waited a few minutes, and wondered if the discomfort had only been in my imagination when the sensation subsided.
Another try yielded red palms and an increasingly obvious burning sensation—needless to say, I had to postpone the rest of my cleaning until the following day when I could buy some gloves.
Up until that point, I had tried a few different times to rid a single burner of its soot and grime, but to no avail. (There was some success, though!) Note that the results you see are after about 5 to 10 minutes of vigorous scrubbing. Actually, my arms are still a bit sore.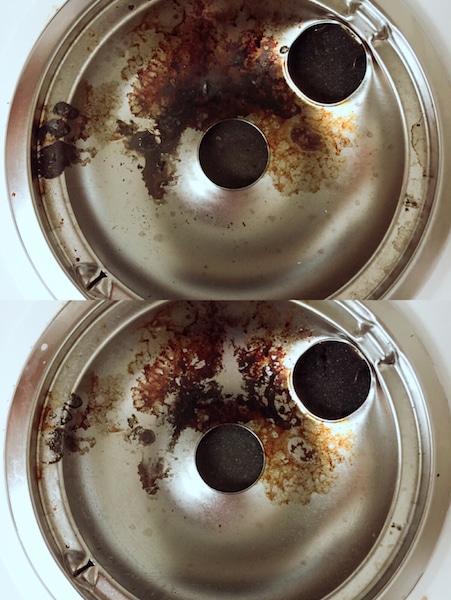 Either I was incredibly desperate for this cleaner to work or I was just feeling stubborn, but with gloves in hand the following morning, I tried one last time to tackle that stubborn stovetop burner. During my final attempt, I didn't dilute the cleaner—instead, I added a couple of squirts to a damp sponge and even let the cleaning froth sit on the burner for a short time before scrubbing away.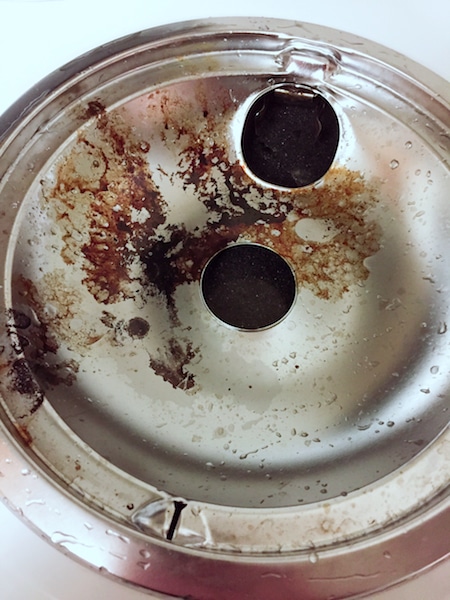 Moving on, then! Colored shower gels frequently make an appearance in my bathroom, meaning that the occasional stain will appear in my bathtub. Like the sauce stains on my stovetop, they didn't last long against my sponge filled with Orange Power Cleaner solution.
The grout stains, on the other hand, were more stubborn. Whereas Sonett's product at least made a small dent on the burner buildup, I only succeeded in dislodging a small piece of my grout with too-furious scrubbing.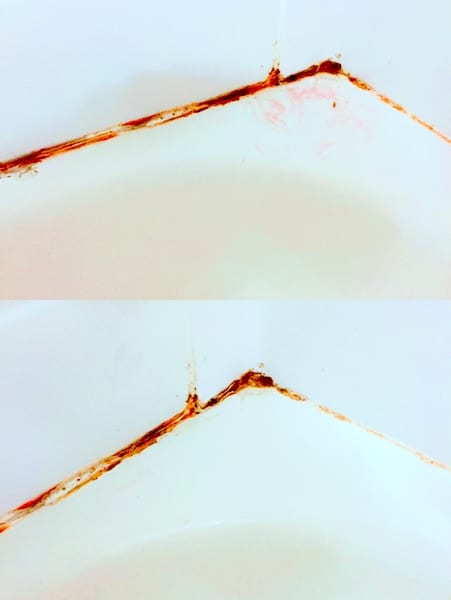 I suppose it just wasn't meant to be.
Finally, I wanted to give the Orange Power Cleaner one last chance to prove its usefulness, so I thought I'd try to get rid of the streaks left on my mirror from another cleaning product.
To my delight, the Power Cleaner worked incredibly on my mirror! I was unable to take a picture which did justice to my glass's transformation, but trust me—I'll probably use this for all my window cleaning from now on.
Not a streak in sight!
My semi-harrowing experience is behind me, but it's only made me all the more curious about the ingredients behind Sonett's Orange Power Cleaner. Let's check them out.
I headed to the Sonett Orange Power Cleaner product page for an ingredients list so that I wouldn't have to squint too long at the tiny label and even smaller warnings and declarations on the product's packaging. Don't get me wrong, the fact that Sonett discloses their ingredients at all is a momentous leap over 90% of their competition.  But this is seriously small writing, I couldn't really read it but the website was much better.
As expected from Sonett, the ingredients are biodegradable, derived from plants and is free of any carcinogens, phosphates, 1,4 dioxanes, synthetic colorants, synthetic preservatives, enzymes, petrochemical surfactants and contain no bleaching agents.
As a headline list of ingredients, it's clear that this is a company that innately understands the troubles with today's cleaning industry, and are actively doing something about it.
In more detail, however, the ingredients certainly raised a few eyebrows.
Aqua
Coco Glucoside
Lauryl Glucoside
Sodium Lauryl Sulfate
Alcohol
Sodium Citrate
Parfum
Limonene
Linalool
Citronellol
Geraniol
Is there anything to look out for in this ingredients list? Unfortunately, the answer is a definite "yes."
The use of fragrances is quite astonishing really.  Limonene, Linalool, Citronellol and Geraniol are all fragrances known to cause contact dermatitis.  In fact, they are so prone to cause contact dermatitis that the EU mandates that they are listed separately from the usual Fragrance you see on most cleaning or personal care products.
Aside from contact dermatitis, fragrances are typically airborne volatile compounds.  Airborne allergies aren't pleasant, as anyone who suffers from hayfever can tell you, bringing on asthma type symptoms in many of us.  So make sure you use this product in a well-ventilated room.  Very well ventilated preferably.
And while the two prime surfactants; Coco-Glucoside and Lauryl Glucoside are gentle but powerful detergents, the use of Sodium Lauryl Sulfate (SLS) did raise my eyebrows.
One study published in the International Journal of Toxicology recommends that SLS concentrations remain less than 1% in products where extended contact with the skin could occur. Sonett doesn't disclose the exact amount of SLS in their Orange Power Cleaner, but we know from the information provided on the product page that it could be anywhere from 5% to 15%.
On Sonett's website, it's recommended to use gloves while using this product—the label itself doesn't mention this. I doubt that many people are more likely to read online warnings rather than the warnings on the product itself. I certainly didn't, and my hands paid the price.
So, what's the bottom line?
Unfortunately, it's not too good.
While I may have been somewhat forgiving of only a few stray irritants in the context of stellar product performance, I can't recommend the Orange Power Cleaner as much more than a standard household cleaner for surfaces such as stovetops, counters, mirrors, or glass. However, given the problems found within the formulation and the inconvenience of measuring out a dilution, I'm hesitant to make even this recommendation.
Because the product did work on some surfaces and because I was particularly impressed with its ability to clean my dirty bathroom mirror without streaks, I'm still going to give Sonett's Orange Power Cleaner two stars out of five. I can't say that I recommend this product, especially not for those with sensitive skin, but it wasn't a complete flop.
I'm definitely disappointed, but hey, it was worth a shot!