Safe Household Cleaning is reader-supported. All reviews are independent and any products reviewed are purchased by the site owner. To help fund this model, some of the links on the site are affiliate links. If you decide to make a purchase from one of these links, this site will receive some commission. At no cost to you. It helps keeps this place running. Learn more
Bean & Lily At Home Surface Cleaner
Review Score
Ewg Rated
NA
Ingredients

Water
Laureth-7
Sodium Propionate
Dimethyl 9-Decenamide
Sodium Citrate
Fragrance


While Bean & Lily's At Home Surface Cleaner smells great and has been formulated with a great deal of care attention the cleaning performance is merely adequate. I've seen better-performing products that cost less.

If Bean & Lily removed the laureth-7, disclosed their fragrance ingredients, and amped up the cleaning power of this spray a bit, I'd definitely give it another chance.

Welcome to Safe Household Cleaning, where you'll find fair and thorough reviews of household cleaning products, including ingredients analyses using scientific data.
Our mission is to find the safest, gentlest, and most effective cleaning products. We only review products with fully disclosed ingredients lists, because if you don't know what's in a cleaner, there's no way to verify its safety or environmental impact.
We examine the background of each company, evaluate their claims, test product performance in real-world conditions, and share the highs and lows of the chemicals in each product.
Today we're reviewing Bean & Lily's At Home Surface Cleaner, in Grapefruit Rosemary Lime scent.
According to the manufacturer, this spray cleaner is safe for people, pets, and the planet, effective, pH-neutral, and "does no harm."  It's also free of alcohol, sulfates, dyes, bleach, ammonia, chlorine, MIT, BIT, artificial fragrance, formaldehyde, and gluten.
But in the world of cleaning products claims are barely regulated, and talk is cheap. Let's take a look at the company background, cleaning performance, and ingredients of this spray cleaner.
About Bean & Lily
Bean & Lily's At Home Surface Cleaner is sold and distributed by Blue Rule Inc. Blue Rule is a North Carolina-based holding company for Bean & Lily, an all-natural products line offering a glass cleaner, floor cleaner, bathroom cleaner, laundry products, and clothing.
Katy Minner, the president and co-founder of Bean & Lily, formerly worked in the flooring industry. After discovering methods for developing unique, pH-neutral cleaning products, she started Bean & Lily together with Richard Barber.
Their mission statement and promise is "Do the Job. Do no Harm." They claim that their pH-neutral products don't pit, mar, or haze surfaces.
Bean & Lily not only lists the ingredients on all their products, they also explain the purpose of each ingredient on their website. This is an excellent choice for transparency, and the company clearly holds itself to a high ethical standard.
It's uncommon to encounter cleaning products that are pH-neutral, and Blue Rule Inc. holds a trademark for their PH ADVANTAGE product brand.
At this point, I'm still not convinced there's any advantage to pH-neutral surface cleaning sprays, but let's see how the At Home Surface Cleaner works.
First Impressions of Bean & Lily At Home Surface Cleaner
Bean & Lily At Home Surface Cleaner comes in a 24 fluid ounce (710 ml) clear spray-top bottle with attractive, minimalist label design. It's also reusable and recyclable.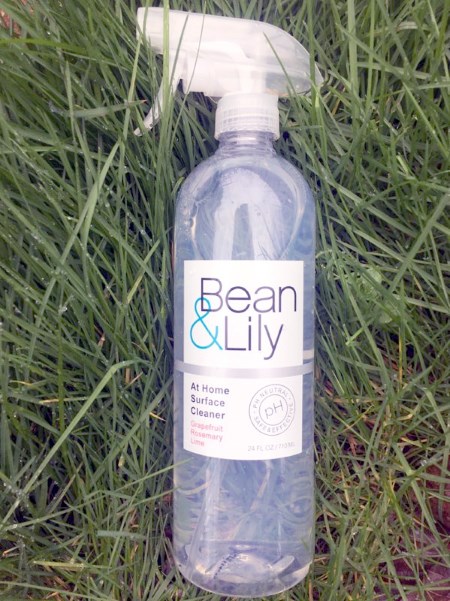 The sprayer has a "spray" and "stream" mode. The spray is extremely fine with good coverage, and the stream setting is powerful.
The package directions advise that this cleaner doubles as a degreaser, and can be used on any surface besides glass. It's safe and effective for metals, plastics, wood, painted surfaces, natural stone, and other countertop materials.
The Grapefruit Rosemary Lime fragrance is very pleasant. It reminds me of a craft cocktail made with gin, which is slightly ironic considering that this spray cleaner is alcohol-free.
It's the best-smelling spray cleaner I've ever smelled, and the scent is subtle, so it should be fine for people who prefer minimal fragrance.
Real-World Performance Review
It had been a week or so since I had cleaned around the house, so I started with the bathroom sink. I sprayed, waited, and wiped with a paper towel, and the sink came clean. So far, so good.
The next job was a bamboo kitchen cart.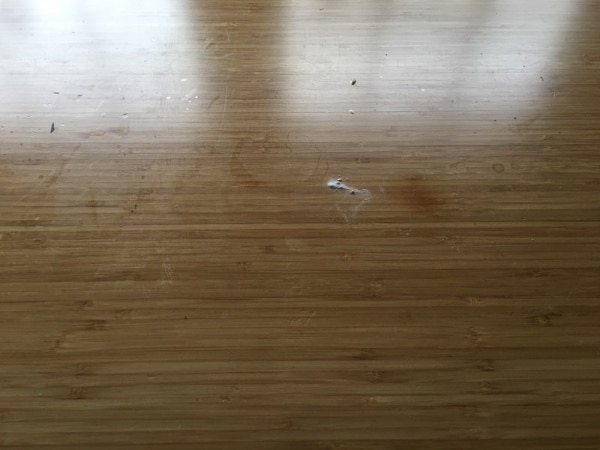 As you can see there are coffee cup rings, cooking oil residue, and other miscellaneous kitchen leavings.
After several sprays and a few passes with paper towels, the cart was shiny and free of residue. It also smelled fabulous. I did notice that the performance, while adequate, was not outstanding here. For a relatively small job, this took a fair amount of cleaner and more passes than I would have expected.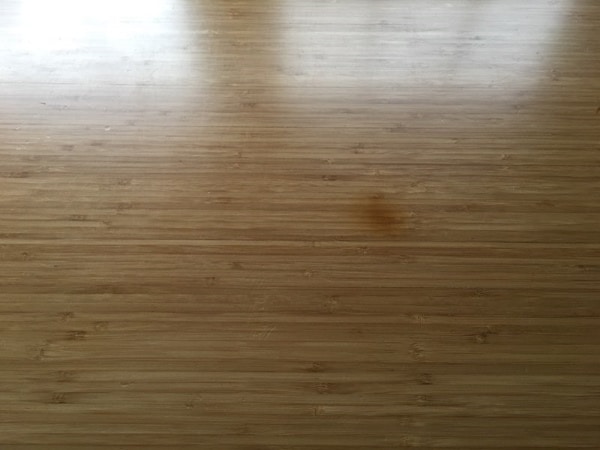 I saved the most difficult task for last.
Somehow, the door to my washing machine had become grimy and dusty and had accumulated a considerable amount of dirt on the handle.
However, after four or five pumps of atomized At Home Surface Cleaner and the application of some elbow grease, the washer door was pristine once again (and smelled like happy hour at a hip, pricey cocktail establishment).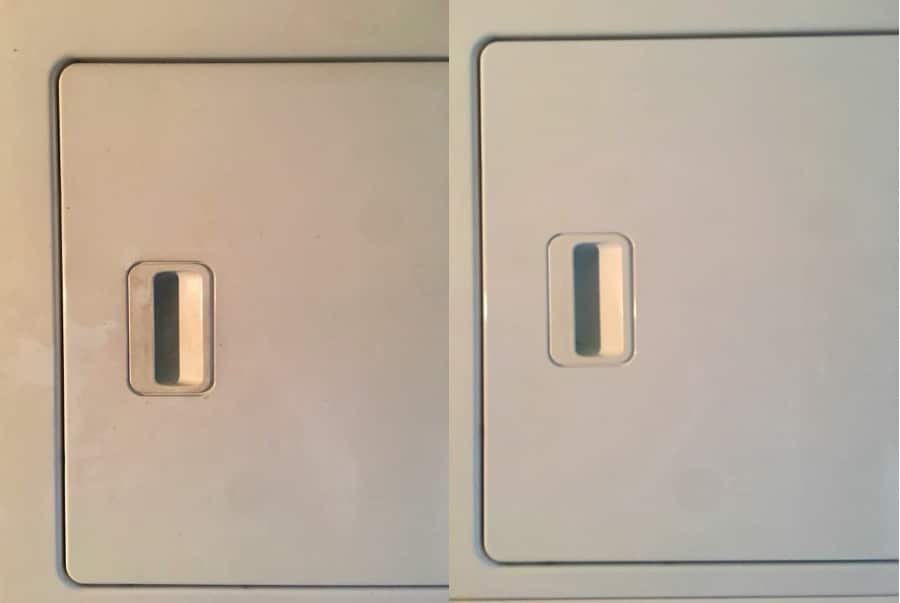 Overall, the performance was adequate, but not amazing. Perhaps if you have antique furniture or expensive countertops the gentle pH-neutral formula could be a winner, but I've seen better performance from less expensive products.
Ingredient Review
As natural cleaning products go, Bean & Lily's At Home Surface Cleaner has a rather exotic formulation, with several ingredients rarely found in cleaning products. I was prepared to be impressed, but different isn't always a good thing.
Highs
Dimethyl 9-decenamide is an amide surfactant derived from palm kernel, canola, or soybean oil. It's a readily biodegradable surfactant that gives water improved solvent properties. Bean & Lily's dimethyl 9-decenamide is certified not to contain 1,4 dioxane.
Sodium propionate is the sodium salt form of propionic acid, an organic acid produced during the chemical degradation of sugar. It's a food grade preservative that is commonly added to products to prevent mold growth. It's minimally irritating to skin, has low aquatic toxicity, and is generally recognized as safe as a food additive by the United States FDA.
Preservatives are where lots of cleaning manufacturers go wrong, so I was pleased that Bean & Lily chose sodium propionate–a suitable, safe preservative–for their spray cleaner.
Lows
"Natural fragrance" isn't really an ingredient, it's a catch-all term. At Safe Household Cleaning, we are all about full ingredient disclosure.  So it's rather disappointing to see a company disclose most of their ingredients, then hide the fragrance behind a bucket term like "natural fragrance." While they do claim that they don't use artificial fragrance ingredients, I still think they should go the distance and disclose everything.
Laureth-7 is a plant-derived non-ionic surfactant, an alcohol ethoxylate made from lauric acid (which is derived from coconut or palm oil). It's included for its foaming and detergent properties.
Although Bean & Lily's laureth-7 is certified not to contain 1,4 dioxane, this ingredient is rated "D" by the Environmental Working group because it has very high acute and chronic toxicity to aquatic life, and some impurities are known to cause genetic defects, cancer, and reproductive toxicity.
Do I Recommend It?
I wanted to like Bean & Lily's At Home Surface Cleaner, but I can't recommend it. This company got a lot of things right, but the undisclosed fragrance formulation and the inclusion of laureth-7 are marks against this product as far as I'm concerned.
If you are cleaning very old, very expensive, or other special surfaces, perhaps the pH 7 formulation makes sense. Otherwise, I don't see the point since plenty of low-pH products (like vinegar or acetic acid, which has a pH of 2.4) are also gentle on most surfaces, and clean more effectively.
To be blunt, the cleaning performance is merely adequate. I've seen better-performing products that cost less.
I do love the scent though. If Bean & Lily removed the laureth-7, disclosed their fragrance ingredients, and amped up the cleaning power of this spray a bit, I'd definitely give it another chance.