Safe Household Cleaning is reader-supported. All reviews are independent and any products reviewed are purchased by the site owner. To help fund this model, some of the links on the site are affiliate links. If you decide to make a purchase from one of these links, this site will receive some commission. At no cost to you. It helps keeps this place running. Learn more
Dr. Mercola Healthy Home Greener Cleaner Multi-Surface Spray
Review Score
Ewg Rated
NA
Ingredients

Water
Caprylyl Capryl Glucoside
Lauramine Oxide
Sodium Gluconate
Sodium Carbonate
Grapefruit Seed Extract
Peppermint Oil


Very few other cleaning spray products come close to being this well-rounded.

Hopefully, other companies will learn from what this product does correctly: excellent and versatility and performance, sustainably-sourced and carefully chosen plant- and mineral-derived ingredients, and full ingredient disclosure.

Outstanding.

Not all household cleaning products are safe for you, your family, or the environment
. An increasing number of people are realizing that without a full ingredients list from the manufacturer, there's just no way to know what you're putting in your home or in your environment. This market segment demands ingredient disclosure,
and it's still all too rare.
It's the reason why we only review products with a full ingredients list; we check out the company, try to understand the philosophy behind the product, test the performance, and evaluate the highs and lows of the ingredients on all the products we review.
Our latest review is the Greener Cleaner Multi-Surface Household Spray (Fresh Citrus) made by Dr. Mercola's Healthy Home line of products.
According to the manufacturer, this multi-surface household spray will "cut through grease, dirt, grime, and other complex organics" leaving household surfaces fresh and clean. Rather than phosphates, volatile organic compounds (VOCs), or other harsh chemicals, it exclusively contains plant- and mineral-derived ingredients. It is free of dyes, and its fragrance is from the essential oils.
Dr. Mercola has quite the following online, so I was looking forward to seeing what their products are all about.
About the company
Dr. Mercola Healthy Home is a household product line produced under the direction of Dr. Joseph Mercola, DO. Dr. Mercola is an osteopathic physician (board-certified in family medicine) who sells a wide variety of health-oriented products, including food and nutritional supplements and personal care products. All of his products are claimed to be sustainably sourced and to contain only safe, healthy, and non-toxic ingredients.
The Healthy Home product line encompasses dozens of products from durable goods, to bath tissue and bamboo towels for the kitchen, to laundry additives and detergents, and kitchen and bathroom cleaning products. All of the Healthy Home Greener Cleaner products we examined disclosed their ingredients; good job, Dr. Mercola!
Along with the ingredients and performance, it's always nice to know what sort of company you are supporting by purchasing a product. Are they committed to healthy products and green solutions, or are they an outfit that primarily sells conventional products and sometimes engages in greenwashing?
First impressions
The Multi-Surface Household Spray comes in a hefty 32 fl. oz. (946 ml) sprayer with instructions and the usual list of cautions (basically: don't swallow it, inhale it, or give it to children as a toy) and manufacturer claims (tough on dirt, etc).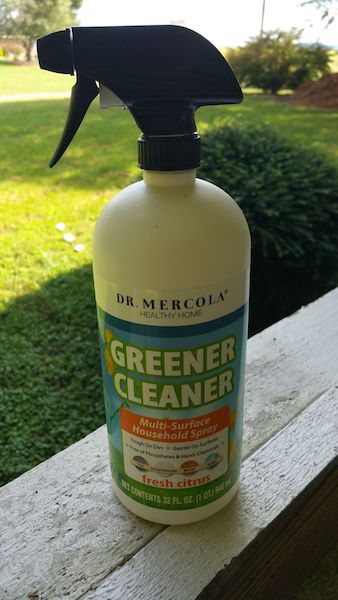 The 32-ounce sprayer is at the larger end of the usual range for household cleaning sprays, which is nice from a value standpoint. The sprayer bottle performed well and offers both a "spray" and "stream" setting.
The cleaner is not recommended for use on porous surfaces (such as unsealed stone) or electronics, but is fine for wood, ceramic, stainless steel, sealed stone, glass, and most other surfaces.
The cleaner smells pleasantly of peppermint, mostly. A hint of grapefruit or citrus afternote lingers, but – despite the "Fresh Citrus" scent on the label – mint is definitely dominant.
Since the scent is quite mild and comes exclusively from essential oil ingredients, it's probably fine even for people who don't normally buy scented products.
And how does it clean?
For an easy warmup, I started off with a bamboo kitchen cart that was just barely dirty enough (with crumbs from cooking, some olive oil, and perhaps some mixed drink residue) to need a cleaning spray in the first place as opposed to a damp paper towel.
Hardly a challenge for the spray at all. A little bit of Greener Cleaner went a LONG way, and the mild mint-citrus smell following the cleaning was pleasant. The kitchen cart was rather shiny afterward, perhaps due to the essential oils.
The next trial: cleaning up a not-small grease puddle on the marble countertop that definitely requires cleaning spray.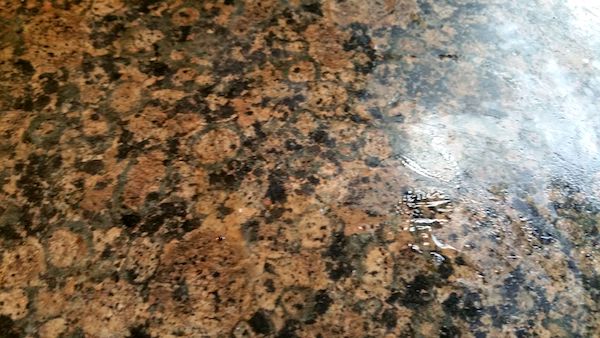 Observations: again a little bit goes a long way, and the surfactants are definitely adsorbing on all cylinders – not even a little bit of grease was left and very little elbow grease (none, really) was expended.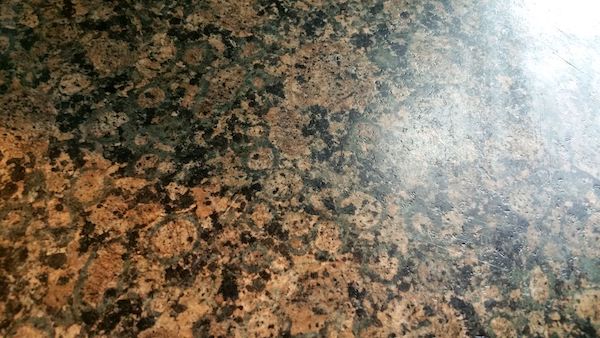 Speaking of elbow grease, here's a porch rail that's seen better days. The dirt and pollen are practically a part of the paint at this point.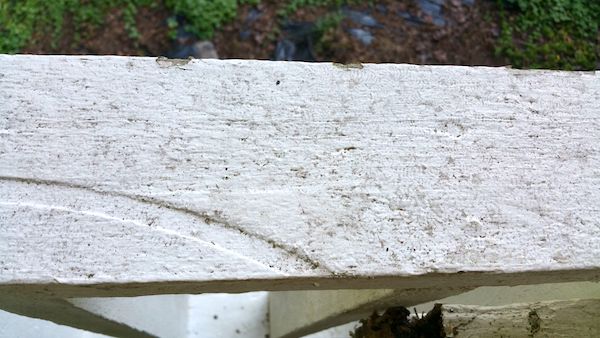 The results aren't perfect, but it's enough to show that the Multi-Surface Household Spray stands up to tough jobs. It's probably time for another coat of paint or some pressure washing, anyway.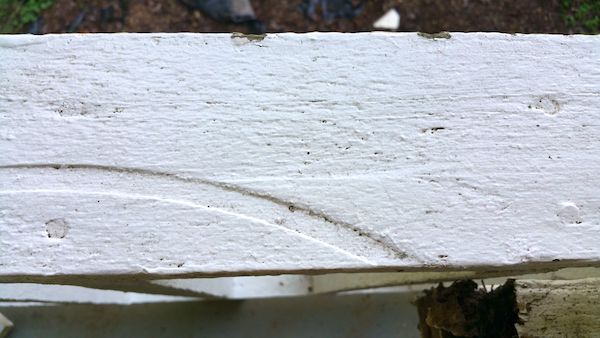 Last, I cleaned a dirty mirror to check out the glass cleaning performance of the spray.
For a multi-surface cleaner as opposed to something made specifically for glass, the performance here was quite remarkable. I did notice it wasn't easy to fully remove the cleaner, but that may be because I limited my testing to paper towels only; the packaging recommends bamboo kitchen towels from Dr. Mercola. (Balled-up newsprint always works best in my experience.) Anyway, with the versatility and overall efficacy in other areas in mind, the glass performance was far better than adequate.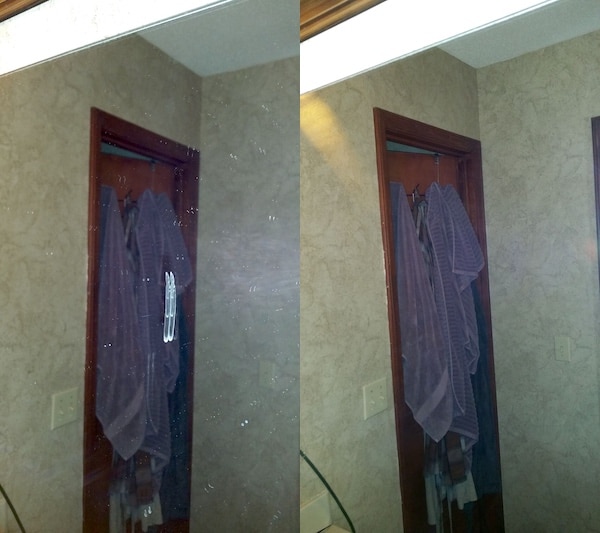 It cleans well, what's inside the bottle?
The cleaner contains only 8 ingredients.  All of them plant or mineral based.  All of them biodegradable.  All of them disclosed.
The 3 cleaning agents are especially gentle for such an effective cleaner:
Capryl glucoside: a mild vegetable-derived nonionic surfactant
Lauramine oxide: a gentle nonionic surfactant, emulsifier, and foam builder with antimicrobial properties; derived from coconuts.
Sodium carbonate: a mineral-derived alkaline cleaning agent and solvent.
There's also a gentle, biodegradable plant-derived chelating agent in there – Sodium gluconate.
The other ingredients of note are essential oils, added I expect primarily for fragrance but they'll also provide some antimicrobial properties too.
For such an effective cleaner, this is quite a remarkable ingredients list.  Chosen with extreme care and expertise.
So do I recommend it?
Yes, I recommend Dr. Mercola's Greener Cleaner Multi-Surface Spray without reservations. Very few other cleaning spray products come close to being this well-rounded.
Hopefully, other companies will learn from what this product does correctly: excellent and versatility and performance, sustainably-sourced and carefully chosen plant- and mineral-derived ingredients, and full ingredient disclosure.
Outstanding.