Safe Household Cleaning is reader-supported. All reviews are independent and any products reviewed are purchased by the site owner. To help fund this model, some of the links on the site are affiliate links. If you decide to make a purchase from one of these links, this site will receive some commission. At no cost to you. It helps keeps this place running. Learn more
Better Life All Purpose Cleaner
Review Score
Ewg Rated
C
Ingredients

Water
Decyl Glucoside
Lauryl Glucoside
Disodium Cocoyl Glutamate
Quillaja Saponaria (Soap Bark) Bark Extract
Sage Extract
Lemon Oil
Orange Peel Extract
Methylisothiazolinone


This product cleans very very well. The vast majority of the ingredients are chosen with a great deal of care, attention and expertise. Plus, you only need one product to clean every room of your house!

For a product made with such philosophy to contain MI is almost a mystery to me and I can only speculate that the use of MI doesn't have the same stigma in the USA as it does in Europe. Hopefully, this changes soon as this is otherwise an outstanding product.

Almost perfect, but with one glaring mistake.

A cleaner for this, a cleaner for that. In the bathroom alone, most people use around 5 different cleaners and disinfectants. Not to mention the various towels, scrubbing tools, gloves, and masks needed to do the job and protect yourself from the harmful fumes and toxins. What a chore! Wouldn't it be nice if you only needed one product?
With simple, plant-derived ingredients that pack a powerful cleaning punch, Better Life's All-Purpose Cleaner is here to save the day.
Better Life Company
Better Life was born out of two dads' concern and desire for their kids to live in a safe and clean environment—including child-safe cleaning products. Major brands like Method, Mrs. Meyer's, Green Works, The Honest Company, and BioKleen claim to be child-safe. But Tim Barklage and Kevin Tibbs discovered these companies hide at least 2–and sometimes 3–toxic chemicals in their products.
Determined to create a cleaning product with absolutely no toxins landed them a successful deal on the hit TV show Shark Tank to launch their business.
Better Life proudly claims to be free of dyes, alcohol, synthetic fragrance, sulfates, or ethoxylates. And, all Better Life's ingredients are from plant-based sources, which make them safe for waterways, marine life, and kids!  They understand the problems with the cleaning industry, understand the need to disclose their ingredients and they understand what they need to do about it.
Sign me up! I couldn't wait for the product to arrive.
What is the product like?
The All-Purpose Cleaner comes in a simply-labeled bottle, but the trendy bright green letters grab your attention. The spray head comes with it but the bottle is shipped with a regular cap for quality purposes. This unscented option smells very similar to conventional cleaning liquid, but there is no scent during use.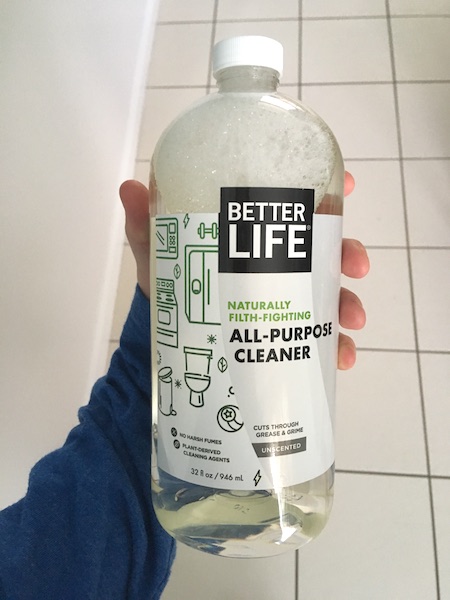 The Showdown
The All-Purpose Cleaner says it can be used in all rooms of the house, garage, and yard, and almost any surface (as long as the surface is washable). It's tough enough to clean grease off your car and gentle enough to use on your baby's toys. The directions simply say to spray and wipe!
My husband and I are new home-owners, and for about two months we have played the mysterious game of "what is this stain?" and "how do we get rid of it?" I have tried just about everything to remove them. And though I stay away from the chemical-laden name-brand cleaners, I used them out of desperation. However, I had no luck with the conventional cleaners. I gave up… until Better Life!
The Bathroom
I was most excited to use the All-Purpose Cleaner in the bathroom. The sink had a disgusting, yellow, crusty ring around it and the metal was foggy and dull. Better Life's cleaner removed most of the crusty ring with just one wipe. Although it took a little extra scrubbing to get the metal shining again, the cleaner worked better than any conventional cleaner!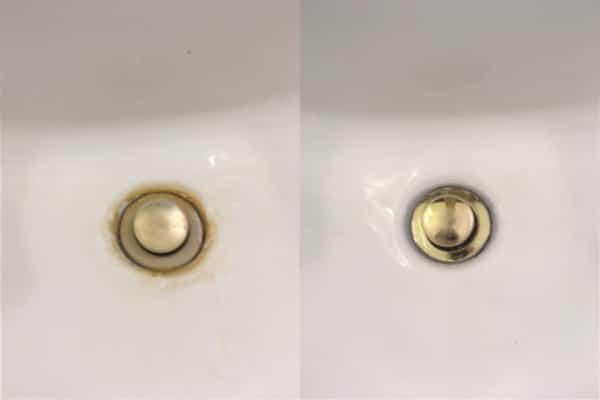 The shower tub used to have a sliding door, but after removal, there was a tacky (literally and figuratively!) silicone coating on the rim of the tub. We had tried all our cleaning solutions but determined we needed a specific silicone remover. Of course, that minor project was quickly forgotten. With the arrival of the All-Purpose cleaner, I was determined to try again. And guess what… it worked! The cleaner practically dissolved the silicone upon application and scraped off easily with a knife. No sticky residue and no gross old silicone. Whoa!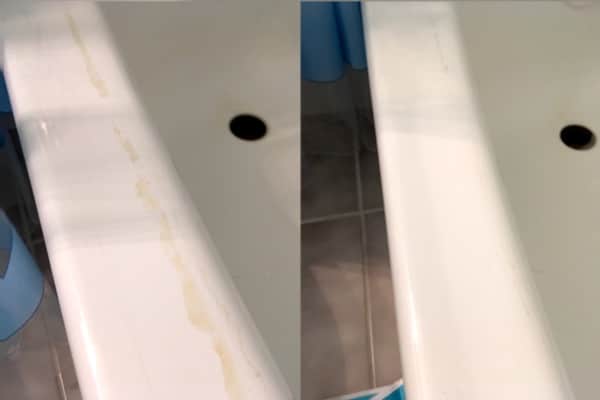 But by far, the toilet has given me the most frustration. The dark, moldy-like water ring in the bowl simply won't go away. Countless applications of name-brand sprays, cling-gels, and even a 2-liter of Coke later, the ring smugly remains put. Better Life to the rescue! One–just one–application of the All-Purpose spray and the bowl was sparkling clean. It was jaw-dropping glorious.
The Kitchen
Almost giddy from the bathroom success, I ran into the kitchen to try the All-Purpose Cleaner on any and all surfaces. It absolutely met my expectations and quickly removed grease, gunk, and germs. The greasy splatters on the stove were instantly gone with no residue, the sink cleaned easily, and the surfaces look polished.
With such drastic results in the bathroom, I was a little disappointed that the All-Purpose cleaner didn't have the same stain removal power in my kitchen. While I love the idea of our white sink, it has never been picturesque. Although the cleaner did slightly reduce the size, the big brown stain at the bottom remained put. Similarly, the previous owner's stove stains stuck around, even after several applications of the cleaner and thorough scrubbing. That being said, Better Life's All-Purpose Cleaner doesn't specifically advertise stain removal (there are other products for that). So while there's unfulfilled promise, it was puzzling that the stubborn bathroom stains lifted instantly and the kitchen stains didn't budge.
The Carpet
The final test was our white living room carpet. Though we had the carpet cleaned before we moved in, there were few persistent yellow and brown stains we couldn't cover with furniture.
The speed at which the All-Purpose cleaner worked was almost comical. I sprayed the stain and looked away to pick up my rag. By the time I turned around, it had disappeared! I had to feel the carpet for wetness to find where the stain had been and didn't even have to scrub!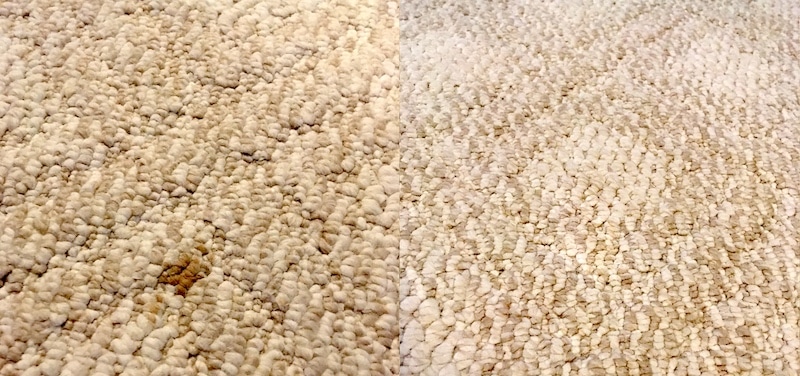 What about the germs?
Better Life's All-Purpose Cleaner definitely worked to remove most visible stains. But what about the germs? Will it really kill the viruses that we can't see?
I'm no chemist, but co-founder Kevin Tibbs is! Watch their Shark Tank demonstration to see how Better Life's All-Purpose spray almost completely eliminates the germs from raw chicken juices, while the leading competitor leaves the surface still dangerously contaminated.
What's In It?
The founders of Better Life had a valid concern: how beneficial are conventional cleaning products if they are dangerous to be touched or ingested?
Like many parents, I keep all my cleaning supplies locked away for fear my children accidentally ingesting them. But if you read the fine print, many products recommend washing away the product's residue with soap and water before it is "safe."
The cleaning solution that is supposed to make my infant's toys safe and germ-free actually makes them dangerous to touch or put in her mouth.
How scary and backward is that?
Instead, Better Life uses a variety of plant-derived ingredients:
Purified water
Decyl and lauryl glucoside: a gentle pair of surfactants cleaning agents derived from corn and coconut oils
Disodium cocyl glutamate: a gentle cleaning agent from plant-derived amino acids and coconut oil
Quillaja saponaria bark extract: powder from the Quillaja Saponaria tree's inner bark, known for its foaming properties when mixed with water; used as a cleaning agent
This is a refreshing list of safe ingredients to put a parent's heart at ease.
And then, there at the end, they've added a preservative that fills me with dread.
This ingredient has been all but phased out in European cleaning products.  The reason?  It's a volatile compound that is responsible for a contact dermatitis epidemic.  It has the dubious honor of being awarded contact allergen of the year in 2013.  There are a number of support groups on social media for sufferers – the reactions are that bad.
For this ingredient alone, EWG gives Better Life's All-Purpose Cleaner a C grade, but ranks all other ingredients as safe.
Quite why they've added it I'll never know.  There are so many gentle alternatives.  There still doesn't seem to be the stigma in the USA of adding the "isothiazolinones"  in products as there is in e.g. Europe or Australia.
Hopefully, this changes soon.
What's the verdict?
This product cleans very very well.  The vast majority of the ingredients are chosen with a great deal of care, attention and expertise.  Plus, you only need one product to clean every room of your house!
For a product made with such philosophy to contain MI is almost a mystery to me and I can only speculate that the use of MI doesn't have the same stigma in the USA as it does in Europe.  Hopefully, this changes soon as this is otherwise an outstanding product.
Almost perfect, but with one glaring mistake.