Safe Household Cleaning is reader-supported. All reviews are independent and any products reviewed are purchased by the site owner. To help fund this model, some of the links on the site are affiliate links. If you decide to make a purchase from one of these links, this site will receive some commission. At no cost to you. It helps keeps this place running. Learn more
Attitude All Purpose Citrus Zest Cleaner
Review Score
Ewg Rated
A
Ingredients

Water
Caprylyl Myristyl Glucoside
Alcohol
Terpineol
Decanal
Allyl Hexanoate


Attitude All Purpose Cleaner doesn't exaggerate when it says it can tackle multiple surfaces and it cleared a broad selection of stains and dirt from my home.

From algae and mud to soap scum and mayonnaise, it's certainly diverse in terms of its cleaning capabilities. All with an ultra gentle formulation.

Overall, this eco-friendly all surfaces cleaner is an outstanding addition to any household.

When it comes to cleaning products that act as the cornerstone of your daily routine, a good multi surfaces cleaner is crucial.
Ideally, the all-purpose cleaner you choose will deliver great aesthetic benefits, shift stains, and banish germs.
As one of the quirkier eco-friendly alternatives, Attitude's All Purpose Multi-Surfaces Cleaner is an enticing prospect.
Attitude is one of the world's biggest "natural" cleaning products brands. Aside from its impressive range of cleaning solutions, it covers personal care, pets, and more.
With products available in 44 countries, Attitude's aim is to produce household essentials that are free from harm. They're ideal for vegans, those with allergies, and individuals who want to take an environmentally-conscious approach to their way of life.
The visionaries behind the company's products inject empathy and understanding into everything they produce. When you browse through each cleaning fluid, it's clear that the designers are selling multi-surface cleaners they'd only ever feel happy with using themselves.
First Impressions: Attitude All Purpose Cleaner Packaging and Branding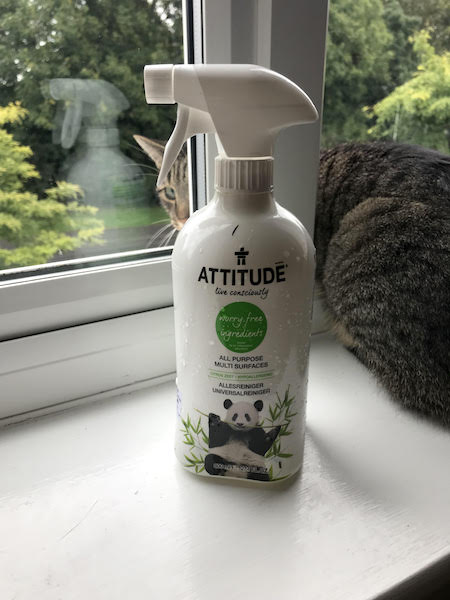 There's no denying that Attitude manages to take a cute approach towards its branding, without appearing too sickly.
The All Purpose Cleaner is an excellent representation of this. Complete with a panda and leaves, it effortlessly includes emblems that solidify the company's commitment to supporting nature.
Unlike many other cleaning product manufacturers, it steps away from garish colors and makes the most of white spaces. While giving each logo space to breathe, it shows that it is:
Certified for a reduced environmental impact
Co2 neutral
Safe for vegans to use
That it hasn't been tested on animals
That's quite a few accolades to include on the side of one bottle.
From a consumer perspective, having all of that information immediately available is vital. If you want to know that your all-purpose cleaner has a low Co2 impact, doesn't harm animals, and is certified as being environmentally sound, you don't want to have to dig around for information.
At the back, there's a statement making it clear that Attitude's All Purpose MMulti-SurfacesCleaner is free from carcinogens such as 1,4 dioxane orethylene oxide.  The fact cleaning product manufacturers have to even tell you their products won't cause cancer is ludicrous and highlights how deep the problems are with this industry, but at least its one less worry when choosing a company like Attitude.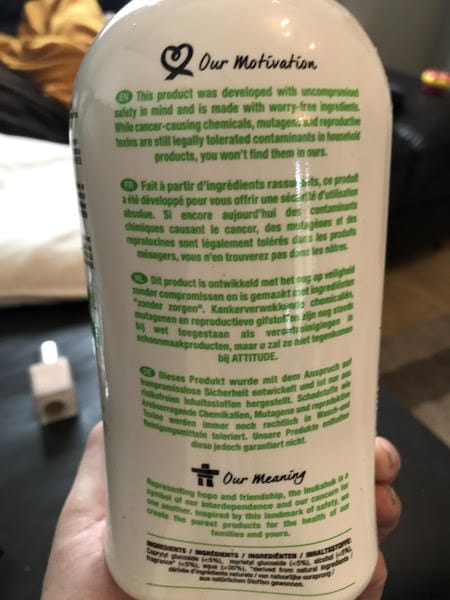 What's inside the bottle?
Although the primary purpose of any cleaner is to clean, I don't think I'm alone in craving one that has a scent to it as well. There's something satisfying about creating dazzling surfaces, followed by an aroma that rewards your efforts.  It's purely cosmetic of course, and too much perfume can cause asthma or asthma-like symptoms.  Remember, a perfume is a volatile compound.    But I do like a good scent in my cleaning products, and as we'll see later, Attitude have chose the gentlest fragrances imaginable.  Attitude do offer a fragrance-free edition for anyone sensitive to fragrances.
Just as the front of the bottle states, there is a light citrus scent to Attitude's All Purpose Multi-Surfaces cleaner. When I say light, I mean it is incredibly light. It's a slight whiff of citrus, but if you prefer your cleaners not to smell overpowering, then it's ideal.
It's also worth highlighting that it lacks the vinegar-like smell that many eco-friendly multipurpose cleaners seem to finish. As a result, you don't feel quite so overpowered when using it.
As for the appearance, it comes out somewhat soapy and seems to remain that way after you scrub using a soft sponge. However, if you follow up your efforts using another sponge that features water only, you can get rid of the soapy residue with few problems.
Is Attitude All Purpose Multi-Surfaces Cleaner up to the Job?
In order to give Attitude All Purpose Multi-Surfaces Cleaner a fair trial, I used it on a variety of surfaces.
First, and most obviously, I tested it in my kitchen. My counters are dark, which meant I had to use it against Siracha sauce; which is incredibly orange. Naturally, the all-purpose cleaner from Attitude was effective in combatting it.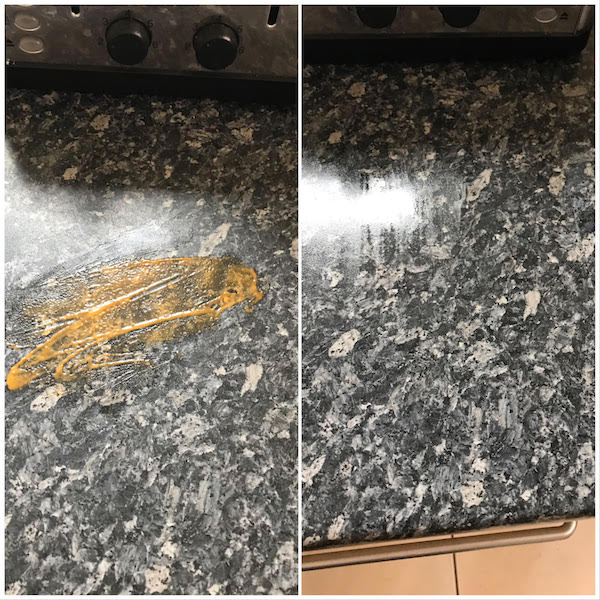 My next battle was with my exterior windowsills and doors. As a slight side note, I didn't allow them to reach their previously dirty state; it was my partner, Whom I just moved in with. As you can see from the before and after photo, while the windows were covered in dirt and algae, the door was plastered in both.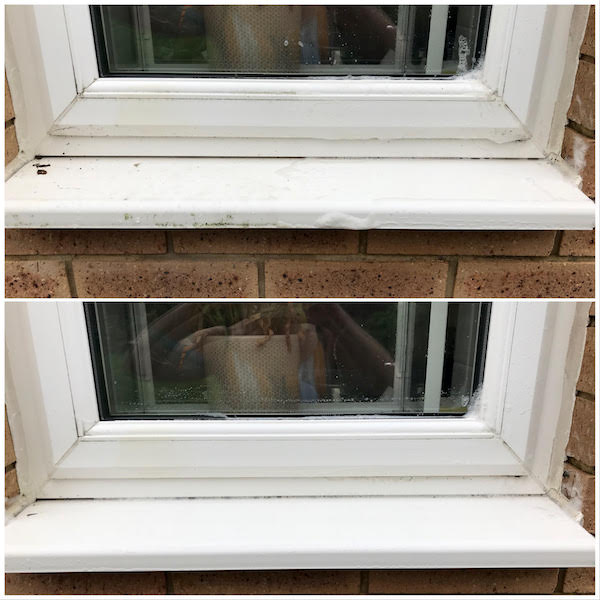 I then decided to try and budge some of the makeup-related stains that build up on our wooden kitchen doors. Again, it didn't take much effort for the Attitude All Purpose Multi-Surfaces cleaner to remove the dirt. I used a standard soft sponge and didn't leave the cleaner to soak for long.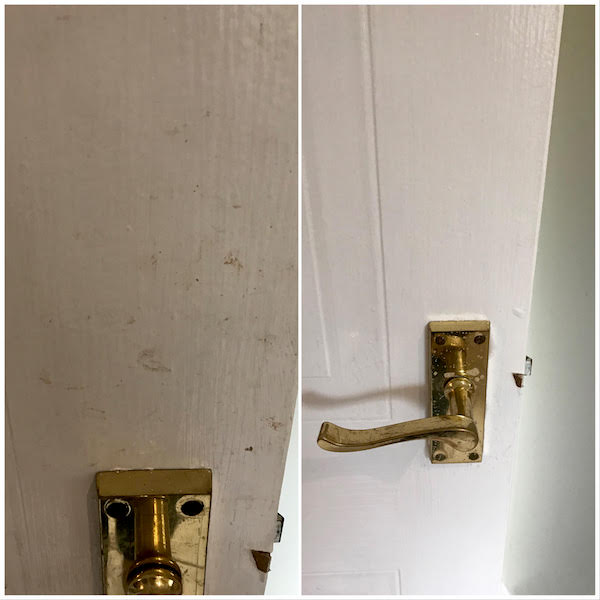 Finally, there was the general soapy grime that was lurking at the back of my sink. The cleaner had no issues in lifting the dirt from there and required very little effort on the scrubbing front.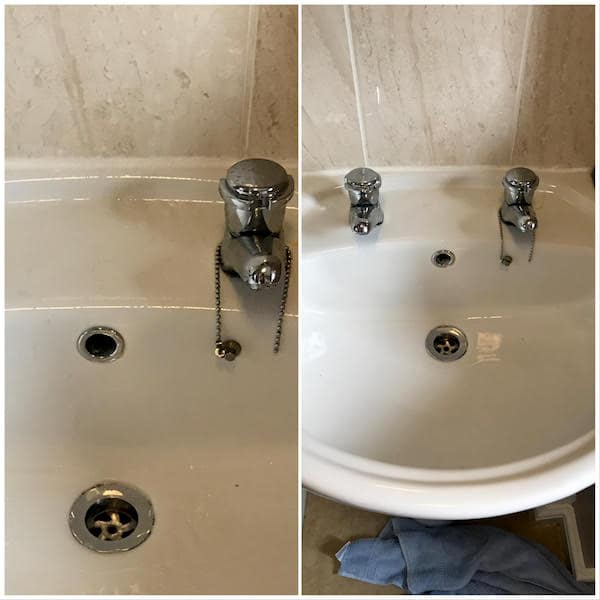 In conclusion, it appears to combat mess on an array of surfaces, both indoors and outdoors. However, it's also worth examining how it fares on the ingredients front.
How is the Attitude All Purpose Multi-Surfaces Cleaner formulated?
Like any manufacturer we review on this site, Attitude provide full ingredient disclosure with their cleaning products.  This automatically puts them above about 90% of this industry, who aren't legally obliged to tell us the ingredients, so don't.
Attitude go one step further, however, and even tell us the relative percentages of these ingredients in their formulation.  i.e.:
Caprylyl Glucoside (<5%)
Myristyl Glucoside (<5%)
Alcohol (<5%)
Fragrance* (<5%) *Derived from Natural Ingredients
Aqua (>30%)
First, it's interesting to see that the fragrance is derived from natural ingredients. Reading the website, I found that the fragrance was actually made up of 3 compounds; Terpineol, Decanal and Allyl Hexanoate.  They are 3 of the least intrusive, gentlest fragrance ingredients imaginable.  That would suggest why the citrus smell is so subtle.
The two cleaning agents, Caprylyl Glucoside and Myristyl Glucoside, are gentle, biodegradable, plant-derived non-ionic surfactants.    Indeed they are so gentle they are often found in baby cleaning products.
Alcohol is infinitely useful in combatting bacteria and viruses, and I'm convinced it must help with cleaning too, breaking down oils and dirts in combination with the cleaning agents.
As always, it's worth noting that you shouldn't leave Attitude All Purpose Multi Surfaces Cleaner within reach of children. The ingredients discussed here have a history of long clearance periods when ingested directly, so store them safely!
Would I use Attitude All Purpose Multi Surfaces Cleaner again?
It's a yes on all fronts with Attitude All Purpose Multi Surfaces Cleaner. It doesn't exaggerate when it says it can tackle multiple surfaces and it cleared a broad selection of stains and dirt from my home.
From algae and mud to soap scum and mayonnaise, it's certainly diverse in terms of its cleaning capabilities. None of the ingredients appear to act as worrying allergens, and the smell isn't offensive. It could possibly benefit from a slightly stronger hit of citrus, but that really is a minor complaint.
Overall, this eco-friendly all surfaces cleaner is a worthy addition to any household.