Safe Household Cleaning is reader-supported. All reviews are independent and any products reviewed are purchased by the site owner. To help fund this model, some of the links on the site are affiliate links. If you decide to make a purchase from one of these links, this site will receive some commission. At no cost to you. It helps keeps this place running. Learn more
CleanWell Botanical Disinfectant All Purpose Cleaner - Lemon Scent
Review Score
Ewg Rated
NA
Ingredients

Water
Citric Acid
Copper Sulfate Pentahydrate (Bluestone)
Lemon Oil
Sodium Citrate
Sodium Lauryl Sulfate
Thymol


If you're looking for a disinfecting spray then CleanWell Botanical Disinfectant All Purpose Cleaner is an excellent choice.

I would prefer a gentler surfactant, but this cleans well, uses biodegradable plant-based ingredients, smells nice and is made by a business with a conscience.

The performance is simply excellent.

CleanWell is a manufacturer specializing in disinfectant sprays and wipes.  The company are worth checking out as, unlike the majority of other disinfecting sprays, all of CleanWell products contain thymol.
Thymol is "an active, botanically derived ingredient that's a natural antiseptic and breaks down quickly, so it doesn't harm our ecosystem."
Thanks to the inclusion of thymol, all CleanWell products boast an efficacy of over 99.9% for killing germs.
CleanWell says they test every product thoroughly, and they have a "no secret ingredients" policy. The full ingredients list for every product is readily available from the company.  Regular readers of this site will know that we only review products that have full transparency with the ingredients inside.  How else can you assess the impact the product will have on you, your family and your environment?
In the realm of cleaning products, there is virtually no legislation in the EU or US requiring that manufacturers disclose ingredients. Unfortunately, many companies don't have your best interest in mind – there are very real problems with many of the undisclosed ingredients lurking in cleaning products.  And companies like CleanWell are actively forcing change
CleanWell may not be a heavy-hitting brand with household name recognition when it comes to cleaning products, but their sprays and wipes are available at big box stores. It's nice to see products with natural and fully disclosed ingredient lists on the shelf, competing with the big brands.
The company definitely stack up.  What about the product?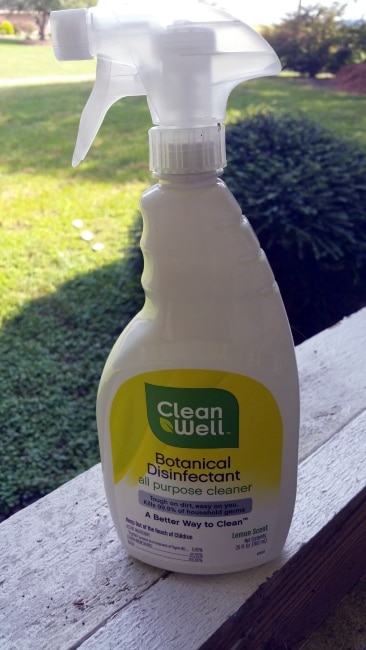 CleanWell Botanical Disinfectant (Lemon Scent) is an all-purpose cleaner for use "throughout the home" that is especially suited to bathroom cleaning and other areas that require disinfecting and deodorizing.
Unlike many cleaners, disinfectants are registered and regulated in the US by the Environmental Protection Agency (EPA) – so we trust the packaging claim that CleanWell All Purpose Cleaner "kills over 99.9% of household germs, specifically Influenza A, Rhinovirus, Staphylococcus aureus, Salemonella enterica, Pseudomonas aeruginosa, and Escherichia coli on hard nonporous surfaces."
This botanical disinfectant comes packaged in a standard 26 fl. oz. (768 ml) sprayer bottle. The sprayer is made of all recyclable plastic including the sprayer top, and the adjustable nozzle includes a "spray" and a "stream" position.
The packaging says this spray is for cleaning "throughout the home and tougher stains on sinks, countertops, glazed tiles, stovetops, toilet seats, floors and more."
There are two different ways to use the spray: for cleaning, "Wet the surface and wipe clean. For stubborn stains, let stand for a few minutes."
To disinfect and deodorize, wet the surface (after spot testing) then simply leave for ten minutes to air dry – no wiping or rinsing is required, not even for children's toys or food contact surfaces.
The spray is lemon scented, but the primary fragrance note is definitely thyme. It smells unusual, but not unpleasant, and goes nicely with the lemon. Because 100% of the fragrance in the Botanical Disinfectant is derived from natural essential oils, and it is fairly mild and doesn't linger, this probably won't irritate people who typically prefer unscented products.
How does it clean?
I used paper towels for all of these cleaning performance trials.
Test number one: cleaning a bathroom sink.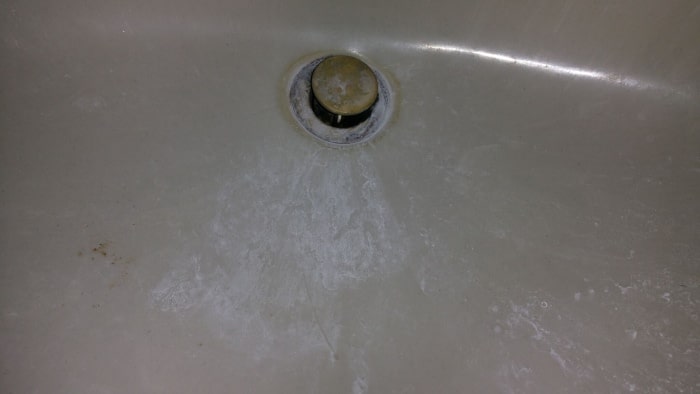 CleanWell Botanical DIsinfectant spray passed test one with flying colors. The sink was shiny and smelling fresh after a quick spray and wipe-down.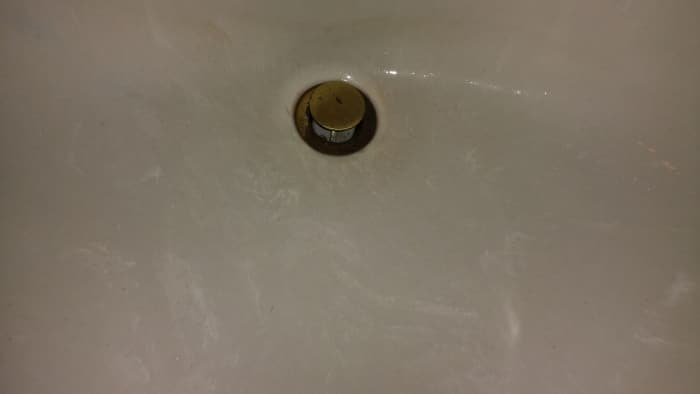 Next up was the stove, spattered with various oils and other drippings related to cooking.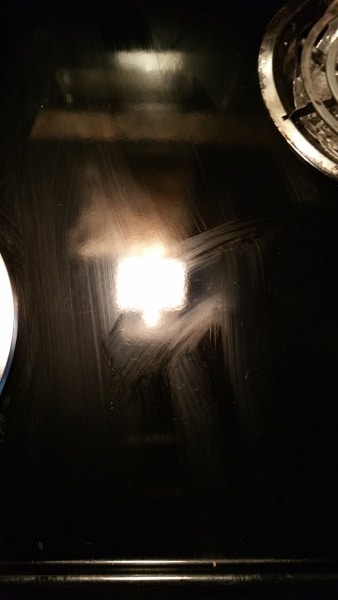 The cleaning performance here was adequate, but you will notice that some streaks remained. Applying more spray, and using more paper towels (wet or dry), did not help one bit. Although the picture exaggerates the issue quite a bit, it would appear that for shiny black surfaces the Botanical Disinfectant cleaner spray isn't the best choice in the world if you want a high level of streak-free shine.
Here's a porch rail that needs to be pressure-washed or maybe even repainted; it's got years of dirt and pollen that have practically become part of the paint.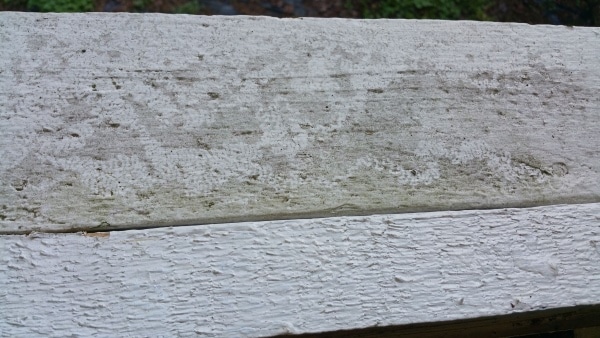 The spray did a great job here; I sprayed heavily, let it sit a few moments, and with minimal wiping work the grime just came right off.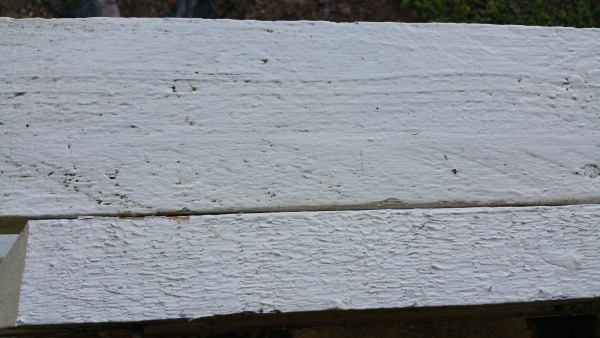 Again I'm impressed by the cleaning power of the Botanical Disinfectant. Spray, wipe once, and done.
Look at all that dirt and grime!
It cleans well.  What's inside the bottle?
The main cleaning detergent in this all-purpose cleaner will be familiar to most readers – Sodium Lauryl Sulfate – SLS.   This is a popular surfactant in everything from shower gels, shampoos, dish soaps and laundry detergents.  It's even used in toothpaste.  While it's an effective cleaner, it is an artificial cleaner that can cause skin and eye irritation.   Cleanwell uses SLS from plant sources but I personally prefer to use other cleaning agents where possible.  This is industrial mass produced stuff that can be contaminated with 1,4 Dioxane and few studies exist of the effects of it as an airborne spray.
The company have added Sodium Citrate to adjust the ph levels of this cleaner, and it also acts as a chelating agent.
CleanWell Botanical Disinfectant cleaner is, as the name suggests, an antibacterial spray.
Once upon a time, antibacterial cleaners were in fashion and an ingredient called Triclosan was generally used to disinfect.  It was subsequently found that exposure to Triclosan could disrupt our hormones, so there are much stricter guidelines in place now.   Antibacterial cleaners were also linked with increases in asthma and allergies and several studies concluded that they actually increased bacterial resistance over time.  Rendering their antibacterial properties ineffective.
I personally avoid antibacterial sprays, but if you insist on using one CleanWell have taken a novel approach with their formulation.  They've used:
● Thymol 0.05% (as a component of thyme oil): this monoterpenoid phenol is as effective for disinfecting as bleach but much safer.
● Copper sulfate pentahydrate (bluestone) (mineral derived water mineralizer): fungicidal and antibacterial properties. EWG rated: C.
Perhaps it is surprising that a naturally-derived essential oil from an edible herb like thyme could take on dangerous microbes like Staphylococcus and Salmonella, but it's true: the EPA and CDC rank thymol as equivalent to bleach, an "intermediate-level disinfectant". This means that thymol "kills mycobacterium, most viruses, and bacteria with a chemical germicide registered as a 'tuberculocide' by EPA."
One common product most people are likely familiar with that contains thymol is Listerine. Thymol is one of four essential oils found in the popular mouthwash.
As a naturally-derived monoterpenoid phenol, thymol does not carry the same respiratory, skin contact, and toxicity concerns that bleach does: thymol is an EPA Category IV disinfectant (lowest concern) whereas a 5.25% solution of sodium hypochlorite (bleach concentrate) belongs to Category I (highest concern).
Speaking of safety, unlike bleach thymol won't create poisonous gases if you accidentally mix it with other common household cleaners!
Do I recommend it?
If you're looking for a disinfecting spray then, yes, I recommend CleanWell Botanical Disinfectant All Purpose Cleaner.
I would prefer a gentler surfactant, and I have to be persuaded as to why we need disinfecting sprays, but this cleans well, uses biodegradable plant-based ingredients, smells nice and is made by a business with a conscience.
The performance is simply excellent.
If you need a disinfectant spray that doubles as an all-purpose spray cleaner this is the way to go.