Safe Household Cleaning is reader-supported. All reviews are independent and any products reviewed are purchased by the site owner. To help fund this model, some of the links on the site are affiliate links. If you decide to make a purchase from one of these links, this site will receive some commission. At no cost to you. It helps keeps this place running. Learn more
Aunt Fannie's Vinegar Wash Floor Cleaner
Review Score
Ewg Rated
A
Ingredients

Vinegar
Myristyl Glucoside
Lemon Oil
Litsea Cubeba Oil
Orange Oil
Peppermint Oil
Spearmint Oil


Aunt Fannie's blew us away with their unique take on natural cleaning. By using ingredients that preserve good bacteria while eliminating the bad, Aunt Fannie's helps maintain a balanced living environment.

This floor cleaner is particularly impressive, packing a powerful punch against dirt and grime while using wholesome ingredients. While it does smell strongly of vinegar, it's a good-clean scent.

If I wanted a sea breeze, I'd head for the ocean...

A lot of mess ends up on your floors! And it's not just the stains you can see or the sticky spots you can feel under your socks. It's also all the germs and dirt brought in on your shoes and slowly spread around the house by your feet as time goes on.
Yuck!
Here to save the day is a floor cleaner by a company new to us: Aunt Fannie's.
As far as "natural" cleaners, Aunt Fannie's might be as pure and natural as they come! Their Vinegar Wash Floor Cleaner made some big promises we were itching to test!
Who is Aunt Fannie's?
Aunt Fannie's has a very unique niche in the natural cleaning market: using ingredients that aren't just the naturally-derived form of harsh conventional cleaners, but using ingredients that work with good microbes to support an overall healthy living environment.
When founder Mat Franken's son suddenly developed life-threatening allergies, eczema, and more, he immediately began the process of removing all processed foods and plastics.
While this helped, it didn't solve the problem. As Mat puts it, "the chemicals and crap we took out of the family diet were still in our broom closet."
Mat discovered that conventional and even "natural" cleaners went too far. They wiped out all bacteria, good and bad—almost like an antibiotic.
This created a disrupted living environment for his son, who needed good microbes in order to thrive.
The answer to his son's hyperactive immune response was to use non-disruptive ingredients that adapted to the other naturally-occurring organisms in the environment.
The house was clean, his son was cured, and Aunt Fannie's was born.
This is a message that is unique, resonates with me personally and aligns so well with what we're striving to promote with this site.  Like every company we review, this is a company who proudly disclose their cleaning product ingredients.  Like the majority we review, they understand the problems with today's cleaning product industry.  They understand that, at its most irresponsible, the industry is causing e.g. asthma or respiratory issues, contact dermatitis, numerous long term environmental issues, hormone disruption and even cancer.  Like many companies we review they choose their ingredients with care and attention,  avoiding phosphates, fragrances etc etc.  But balancing their ingredients at a microbial level.  I personally haven't seen anything like this.
And I'm sold…
First Impressions
Aunt Fannie's Floor Cleaner comes in a cute little 32 ounce pour bottle. The back label was a little confusing—many of us can't readily define what a microbiome is or why we should care—and Aunt Fannie's website doesn't do a great job of describing it, either.  (For the record, it's a group of good microorganisms that fight against bad bacteria).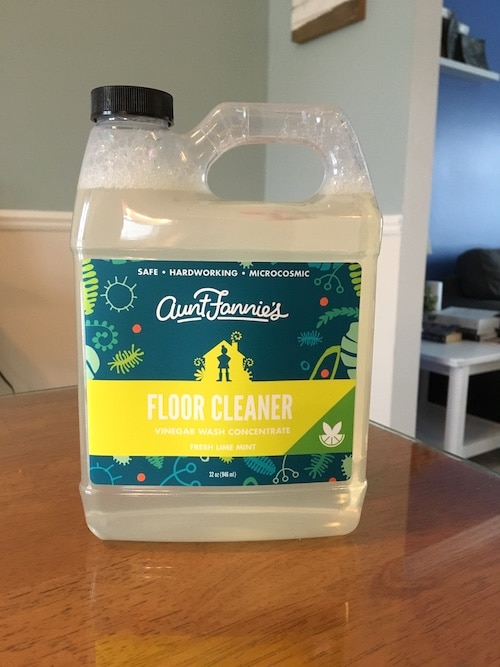 The liquid is cloudy, but the bubbles were very promising!
The cleaner comes in four different scents, and I got the Fresh Lime Mint. Since the main cleaning agent is white distilled vinegar, it definitely smelled of vinegar. A few notes of peppermint and lime came through, but I had to pay close attention to detect them.
On with the cleaning!
The directions say to use ½ cup of cleaner to 2 gallons of water. Soak the mop head in the solution and repeat as necessary. I typically clean my kitchen floor with a cleaner in a spray bottle (I like to apply cleaner directly to trouble spots) and a flat mop, so I hadn't done this method in a number of years!
The Kitchen Tile
Although I have a big messy kitchen floor, two gallons of cleaning solution felt excessive. I halved the amount (1/4 cup of cleaner to 1 gallon of water) and soaked the mop head as directed.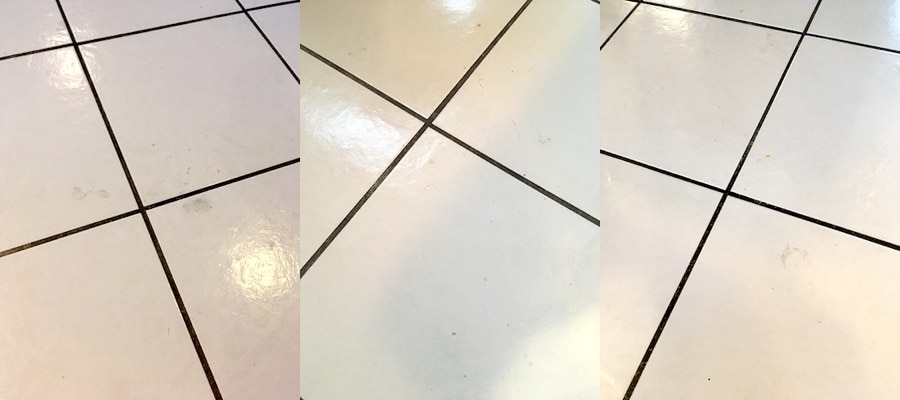 Ready and optimistic, I began to mop my white kitchen tile. I was pleasantly surprised at how well the cleaner did at immediately getting rid of most trouble spots. I also pleased that the cleaner dried very quickly; I could walk over it within seconds of mopping!
I did have to scrub extra hard around my children's chairs to get up the crusty bits of food—this is why I like the direct application of my spray bottle!—and sometimes I still had to bend over and pick away the remaining bits of food. You can see in the picture on the right that there is still some dried food around the table leg.
As I continued to mop, my kitchen definitely smelled of vinegar. The peppermint was barely noticeable and the lime was undetectable. However, it wasn't an unpleasant smell and it was hardly perceptible within an hour. Aunt Fannie's describes this as "smelling clean" instead of smelling like chemicals.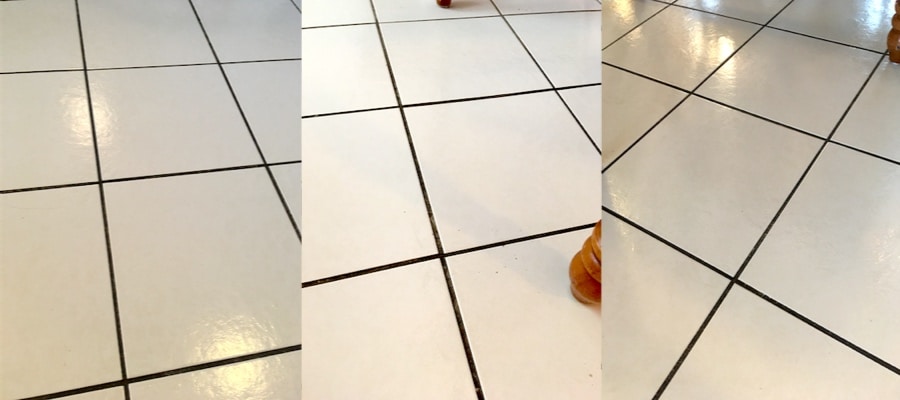 The cleaner worked great! It worked so well, in fact, that I only had to soak the mop head once in the cleaner; the rest went down the drain. While it was nice to have such an effective cleaner, I felt like I was wasting it. Next time I'll know to use even less (or maybe put it in a spray bottle!).
The Bathroom Vinyl
I also tried the cleaner on our patterned bathroom vinyl floor. It cleaned fine; the same as the kitchen. However, the floor stayed wet for longer (about a minute) and the smell of vinegar in the smaller enclosed space was less forgivable.
But overall, it worked well on vinyl.
It works great!  What's in it?
Although I was excited about the results of the cleaner, I got even more excited after seeing the ingredients!
Aunt Fannie's is all about keeping the good bacteria present while eliminating the bad. They definitely follow through on this mission with the ingredients that they've chosen!
The cleaner contains two primary cleaners: white distilled vinegar and myristyl glucoside.
Vinegar is natural cleaner and disinfectant that has been used for thousands of years. Because it is acidic, it can dissolve mineral deposits from stainless steel, glass, mirrors and other smooth surfaces.  It dissolves grease and grime and is safe for those with sensitivities to use.  It also displays potent anti-microbial and anti-inflammatory activity against E coli and C albicans
Myristyl Glucoside is a mild sugar surfactant derived from plants like coconut, corn, and potatoes, and is also safe for those with sensitive skin.
The blend of oils for this particular scent includes lemon, litsea cubeba, orange, peppermint, and spearmint. Note, these are fragrant essential oils and extracts, these can cause respiratory effects and skin irritations. Since this product is a concentrate, be sure to follow the instructions for dilution and make sure the room is well ventilated when using.
That said, these oils haven't been chosen at random.  Litsea Cubeba has known health benefits, while orange and peppermint have antibacterial and antiseptic properties.   Spearmint has been shown to kill bacteria that cause foodborne illnesses, including E. coli and Listeria.
Overall, I was super pleased with the ingredients! There are no preservatives, the surfactants are gentle, the vinegar helps preserve the good bacteria while the oils and vinegar have proven antibacterial and antiseptic properties.
Would you recommend this product?
I would absolutely recommend this product! Aunt Fannie's mission to preserve a balanced living environment makes tons of sense. But unlike some companies who claim to keep things natural while sneaking in some harmful conventional ingredients, Aunt Fannie's follows through with their promise.
Their ingredients are well-chosen, non-disruptive, and effective. I could see myself trying a number of Aunt Fannie's products!
The biggest downsides to the product are it does smell strongly of vinegar and the blend of oils may cause effects for those with sensitivities.
I did have to scrub extra hard to remove tough spots and dried foods, but this was expected with the recommended mopping technique.
Well done, Aunt Fannie's!