Safe Household Cleaning is reader-supported. All reviews are independent and any products reviewed are purchased by the site owner. To help fund this model, some of the links on the site are affiliate links. If you decide to make a purchase from one of these links, this site will receive some commission. At no cost to you. It helps keeps this place running. Learn more
Method All Floor Cleaner - Squirt and Mop
Review Score
Ewg Rated
D
Ingredients

Water
Alcohol Denat
Methoxyisopropanol
Laureth-7
Phenoxyethanol
Fragrance
Sodium Citrate
Limonene
Methylisothiazolinone
Benzisothiazolinone
Citric Acid

On the surface an all-round floor cleanser with benefits. It looks fantastic, smells delightful, works and is kind to the environment. Not just kind - but certifiably kind. It does, however, contain 2 notable allergens - limonene and methylisothiazolinone - if you suffer from allergies or have known allergies to either of these ingredients - method floor cleaner is not for you.

A floor cleaner which:
Looks like a work of art
Is good for your health
Is kind to the environment
And works.
This is the inspiration behind every Method product.
With a no-go ingredients list and a smile-inducing splash of personality – can all 4 promises be achieved in 1 modestly sized product?
Can you really squirt, mop and be done?
Is Method All Floor Cleaner a holy grail product if you have allergies?
Let's find out…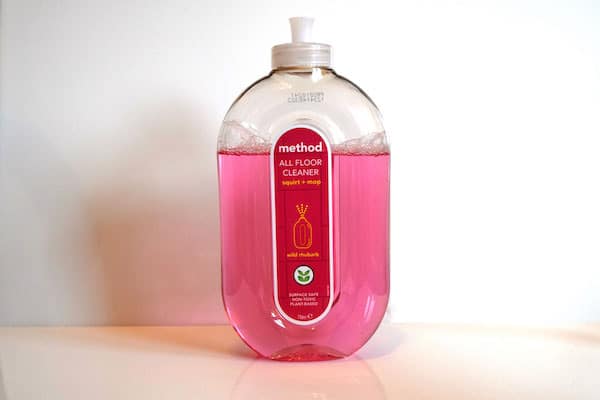 First stop: Who makes Method All |Floor Cleaner and are they a reputable, time-tested company?
Visit Method's website and you're going to want to keep reading because Method is quirky, fun and refreshing – this is clean reinvented.
Founded in 2000 by superheroes (self-proclaimed! Trust us, you have to read this stuff) Adam and Eric on an idea to flush away toxins from cleaning products.
for home care to be gentler than a thousand puppy licks
After Methods launch in 2000, it was just 2 short years before Method became nationwide, sold in the likes of Target.
These are seriously impressive credentials.
At Methods heart is their tagline
look good do better
An ethos which is firmly reflected in Methods products, testing, development and business practices.
In fact, all the ingredients Method use are 'comprehensively assessed by a leading research firm to ensure their safety for people and the environment'. They're also Cradle to Cradle certified – an endorsement that means every material and process used to make their products is done at maximum material reutilization.
A big yes for the environment.
We've reviewed a number of their products now.  They understand the issues with today's cleaning product industry and are offering an alternative approach.
Method talks the talk and, most importantly, walk the walk.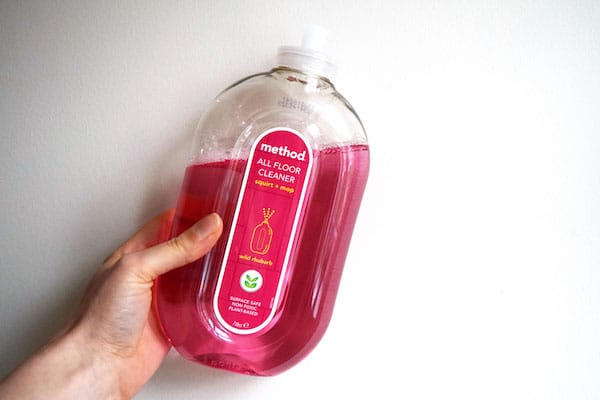 Now what about Method's All Floor Cleaner, is it a shining example of Method's look good do better ethos?
Arriving in a 25 fl oz/739ml bottle, Method All Floor Cleaner is bright, bold and dare we say – exciting!
I actually ordered the rhubarb scent, which I've since found out is a UK only scent.  Which is a shame as I prefer to review more widely available editions.  That said, only the scent is different in the various floor cleaners.  The core product remains the same.
The slick front label explains this is quirt and mop, this is wild rhubarb flavor, this is surface safe, non-toxic and plant-based.
With an ergonomically designed bottle, picking up and using this beauty is straightforward and intuitive. The pull-up nozzle also means you'll never misplace the cap – where oh where has it gone?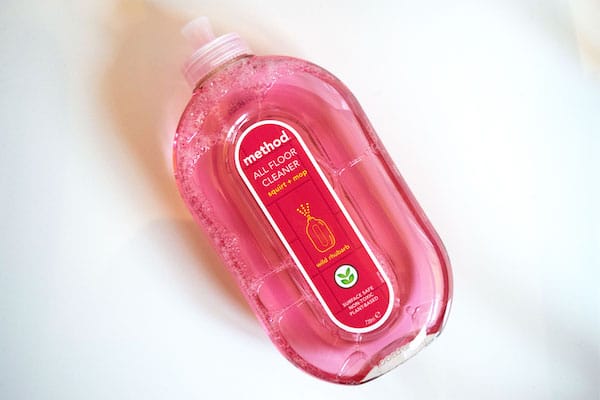 Method All Floor Cleaner looks great and promises even greater things – can it deliver?
To use Method All Floor Cleaner, you literally step by step follow the squirt and mop principle. There's no pre-dilution, no messy mop squeezing, no lugging of a heavy mop bucket. You squirt method all floor cleaner onto the stone, laminate or tiled floor you want to clean and you mop with long strokes. And let us tell you – this is enjoyable.
The wild rhubarb cleaner we tested is a dream scent.
This is not floor cleaner, this has to be a premium scented candle in disguise?
You can use Method All Floor Cleaner with just a mop and it works well.  We also used Method All Floor Cleaner with a wet mop – pre-wetting the mop means less floor cleanser can dissolve into your mop and therefore more floor cleaner for your floor. This also means you use less Method All Floor Cleaner – another win for the environment.
Not only does Method All Floor Cleaner has a dream scent, once which we have to quote them on
This is rhubarb in its birthday suit fresh + tart just like the day it was plucked from the ground. Hold the custard.
Method All Floor Cleaner works well, works with no fuss and leaves behind clean floors and a clean feel.
In use bit done – now what about methods ingredients list – is it as clean and environmentally safe as they promise you?
Before we go into detail, know this, cleaning products companies are under no legal obligation to fully disclose their ingredients lists. Method does.  Which automatically puts them in the top echelons of cleaning product manufacturers.
This particular formula houses just 12 ingredients:
Aqua – aka water
Alcohol Denat – alcohol is a solvent which cleans and cuts through grease
Methoxyisopropanol – a solvent – works similarly to alcohol
Laureth-7 – non-ionic detergent with low foaming properties – derived from natural ingredients
Phenoxyethanol – a preservative
Parfum – fragrance – more about this soon
Sodium Citrate – pH adjuster also used for "next time cleaning benefit" i.e. makes it harder for stains to stick around on hard surfaces
Limonene – an allergen
Methylisothiazolinone – a preservative
Benzisothiazolinone – a preservative
Citric Acid – a pH adjuster also used for "next time cleaning benefit"
Colorant – as it says – this adds color
From an ingredients point of view, we know Method has the credentials to prove their environmentally friendly sourcing of all the above ingredients. There are no harsh bleach based actives.  Method All Floor Cleaner instead works with solvents and gentle detergents. Ones which can be made from natural ingredients.
Check, check and check!
Now, onto that delightfully smelling fragrance.  A quick visit to Method's website and you will learn all fragrances which method use are a 'blended composition… partly essential oils + partly synthetic ingredients'.  They are also 'free of phthalates, NPEs + other dirty ingredients; non-toxic in use; free of carcinogens; tested for skin irritation + allergies'. This statement, however, does not mean it will not cause allergy – just that it is tested for allergy.
Now to bring your attention to a 2nd ingredient on the list – limonene. This ingredient is a natural component of essential oils, it also has some anti-bacterial benefits. Limonene is a known allergen – if you are allergy-prone method all floor cleaner is not the best pick for you.
In addition a preservative method use – Methylisothiazolinone can also provoke an allergic reaction. Because Methylisothiazolinone is being used in many consumer products – allergy rates to  Methylisothiazolinone are increasing. The more times you're exposed to Methylisothiazolinone, the greater your chances of developing an allergy to it. Studies tell allergy rates to methylisothiazolinone in Germany increased from 2.3% to 3.9% from 2009 to 2011. The same study also reports the UK has risen from 0.9% to 4.9%.
If you or close family members are allergy-prone, Method All Floor Cleaner is not a perfect product.
The fragrance I can kind of understand.  I much prefer fragrance free personally.  But the Methylisothiazolinone, well it's almost unforgivable in this day and age to expose people to this ingredient.  It's a volatile compound too, an airborne allergen.  Airborne allergens can cause asthma type symptoms in sufferers.   I've followed a Facebook support group for people allergic to this preservative.  Some of the reactions are frightening.  
Method all floor cleaner has impressive and beautiful credentials for environment and safety.  It cleans really well.  And yes, admittedly, it smells amazing.
Why they added the MI is beyond me.