Safe Household Cleaning is reader-supported. All reviews are independent and any products reviewed are purchased by the site owner. To help fund this model, some of the links on the site are affiliate links. If you decide to make a purchase from one of these links, this site will receive some commission. At no cost to you. It helps keeps this place running. Learn more
Earth Friendly Products ECOS Floor Cleaner
Review Score
Ewg Rated
B
Ingredients

Water
Alcohol Denat
Potassium Sorbate
Decyl Glucoside
Citric Acid
Acetic Acid
Gluconic Acid
Fragrance


ECOS smells amazing and cleaned our test floors extremely well. Except for the Natural Fragrance, all the other ingredients are expertly chosen to deliver an effective clean with natural ingredients. It worked wonders not only on stubborn messes but also to restore the revitalizing shine to a dull floor.

Be sure to test this product on a low-traffic area to see how slippery it will make your floor and avoid any accidental falls!

Otherwise, bravo ECOS!

With all the gross (and often dangerous!) bacteria tracked in on our shoes, a floor cleaner has got to get down and dirty.  It has to effectively disinfect harmful bacteria, dissolve dirt and grease, remove stains, and leave a sparkling finish.
The old-fashioned mop and bucket days may soon be behind us. Standing spray mops are increasingly popular for their convenience and effective clean. Unfortunately, the cleaning agents are often filled with toxic chemicals and fragrances.
ECOS offers an excellent alternative to rigorous cleaning routines and harsh chemicals.
Their Lime + Sage Floor Cleaner comes in a spray bottle for easy spot treatment or total floor cleaning.
Best of all, it contains top-grade fully disclosed ingredients that don't slack on the cleaning power.
I was thrilled to try this product!
Who is ECOS?
This isn't the first ECOS product we've reviewed.
For the uninitiated, however, ECOS is a family owned and operated business who utilize their team of mothers, fathers, chemists, and visionaries to make safe, affordable, and powerful natural cleaning products.
ECOS has an impressive range of products, from laundry, kitchen, and bathroom, to baby formulations.
They sell their 200 products in over 60 countries worldwide!
The United States Environmental Protection Agency (EPA) has a new Safer Choice label to guide families in search of safer cleaning products. 70 of ECOS's products proudly bear this new certification, and with the highest amount of certified Safer Choice products in the US, they were designated as the EPA's Safer Choice 2017 & 2015 Partner of the Year.
ECOS takes their passion for sustainability one step further by manufacturing their products in carbon-neutral plants powered by renewable energy while following Zero-Waste guidelines.
Wow! I was very excited to try this floor cleaner from such an extraordinary company.
ECOS's Floor Cleaner comes in an attractive 22-ounce bottle. It advertises a plant-powered quick clean for hardwood, laminate, and tile floors. While it's not quite as versatile as some other floor cleaners we've reviewed, these three popular surfaces allow for plenty of cleaning opportunities!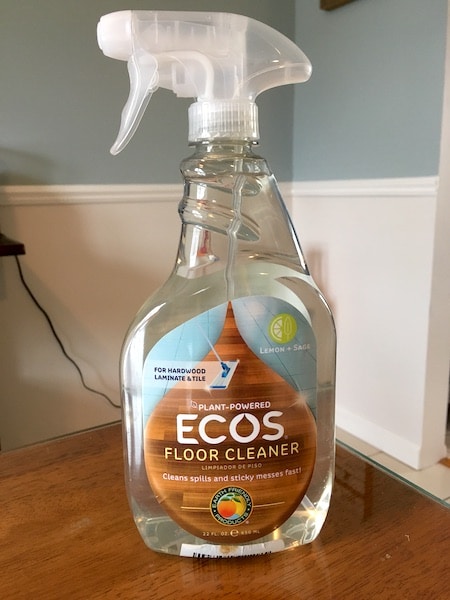 While I try to buy unscented products, this one only comes in a Lemon + Sage scent. Many products that add fragrance to mute the alcoholic content end up with an overwhelming odor, but this scent was light and pleasant!
I actually enjoyed spraying this product!
The only thing I could dock the first impression on is the value—each 22 ounce bottle retails for about $10. The bottle says you can use it two ways: for spot cleaning or total floor cleaning. It may be practical for spot cleaning grease or hard stains, but this product will be gone in no time if used primarily for total floor cleaning.
Now to the cleaning…
Let's get started!
For spot cleaning, the directions say to spray affected areas and let sit for a few minutes, then wipe clean with a mop or rag. For total floor cleaning, spray sections and mop as you go.
My nice white tile kitchen floor is a great exposition for floor cleaners. The obvious large and colorful food splatters practically leap off the floor. But what really makes my floor look dirty—and what is easily overlooked—is the grayish haze that slowly overwhelms the beautiful shine.
When it's clean, my tile sparkles and glistens so brightly it could be in a magazine… until my husband's muddy shoes trek their usual path to the dinner table at night!
My kids eat just about everything I put in front of them; steamed broccoli is one of their favorites, so they have it almost every day for lunch. Unfortunately, the floor is constantly littered with little leftover florets, thoroughly adhered to the tile. It's amazing how hard these spots are to remove!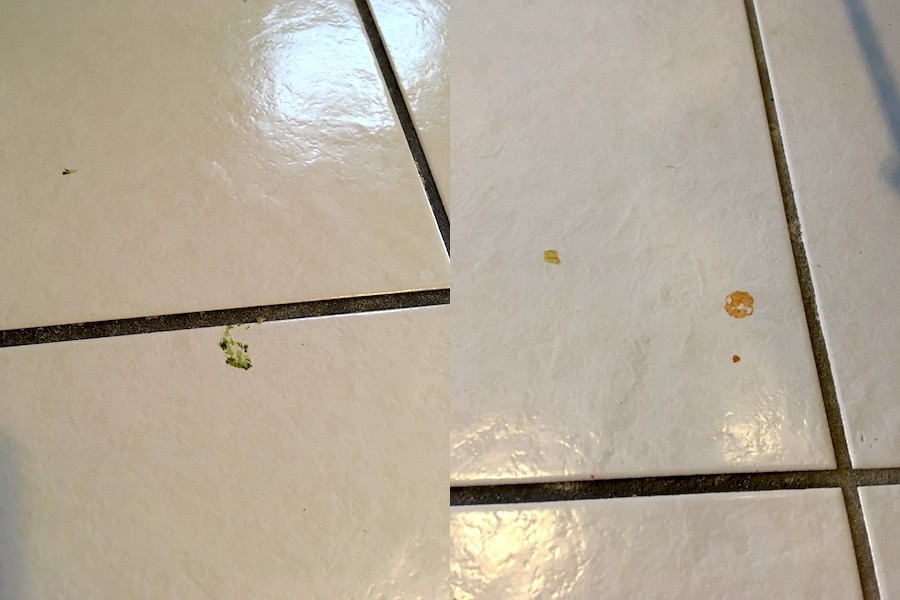 I also tried out the floor cleaner on days-old crusted pasta sauce and sprayed a large section of my floor to see if it brought out the tile's wonderful shine.
The directions to let the product "sit for a few minutes" were pretty vague. I was only able to let the product sit for a minute (little children make cleaning floors tricky!), but I was beyond impressed with how easily the broccoli florets and pasta sauce wiped clean! It was the easiest spot cleaning I've ever done for these types of messes.
The cleaner wipes away hard messes and disinfects even better if you're able to let it sit longer!
The large section turned out beautifully. Sparkling and glistening, I knew my floor had a good deep clean. And the light citrus scent was the cherry on top to another successful product!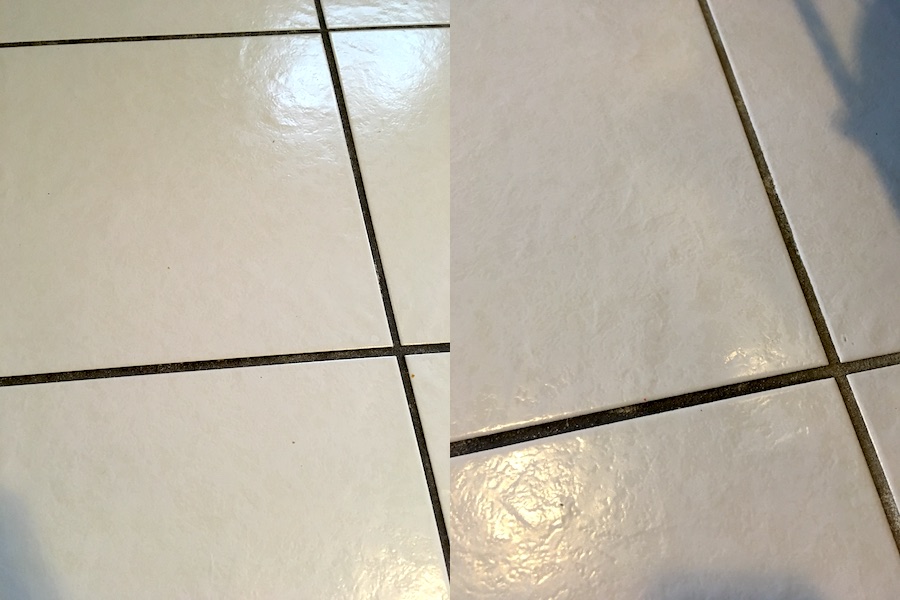 However, one word of caution: this product made my floor incredibly slippery! We don't wear shoes in the house, and my two-year-old had several major wipe-outs while running in his socks. (Thank goodness he thought it was funny!) I also had to tread carefully for fear of slipping.
Additionally, it took about a day for the slippery residue to subside, so test this product in a low-traffic area before using it. Even spot cleaning could be dangerous since you may not anticipate a slick spot.
This product checked all the right boxes! But do the ingredients measure up?
One thing that I love about this ECOS label is the ingredients list. Typically pretty boring, this list is helpful and insightful for ingredient critics. For every ingredient listed, ECOS includes a short explanation of its source and why it's in the product.
Let's take a look at what's inside.
The cleaning agents in this product are very interesting indeed:
Denatured Alcohol is a corn-derived solvent used to disinfect, dissolve dirt, and evaporate quickly. A lot of floor cleaners contain an alcohol like this because of these very properties. – it stops dirt and germs in their tracks but allows you to walk across the surface immediately.
Decyl Glucoside is a surfactant derived from corn and coconuts. It's biodegradable, non-ionic, and gentle on the skin.
Acetic acid is a plant-based vinegar that naturally fights grease and grime, and it's safe for those with sensitivities. Paired with alcohol denatured, this product packs a powerful cleaning punch!
Gluconic acid occurs naturally in fruit, honey, and wine.  It's an effective cleaner of mineral deposits, has antiseptic properties as well as being a strong chelating agent.
We're basically talking alcohol, vinegar and a very gentle plant-based surfactant.  It doesn't come much more natural than that.
Potassium Sorbate has been added to preserve the product. Both denatured alcohol and potassium sorbate are known to dry out skin and can even cause contact dermatitis, so wear gloves when using this product.
Alcohol Citric acid, derived from citrus fruits, and gluconic acid, found naturally in honey and wine, work together to properly adjust and maintain the pH of the product.  Possibly to help neutralize the acidic vinegar.
Most of these ingredients are passing with flying colors, but then comes the dreaded ambiguous ingredient: Natural Fragrance.
ECOS surprisingly does not disclose what fragrances are used or where they come from. No other information about fragrances is provided online, either. This is the typical behavior of most manufacturers of personal care and cleaning products, and is problematic for those with sensitivities to scents.  We tend to forget that fragrances are volatile compounds, can cause contact dermatitis, and can even cause asthmatic symptoms for some people. To not disclose the fragrances used is to the detriment of the consumer.
If you are sensitive to fragrances, this product is probably not for you.
Do you recommend it?
All things considered, I would recommend this product. Except for the Natural Fragrance, all the other ingredients are expertly chosen to deliver an effective clean with natural ingredients. It worked wonders not only on stubborn messes but also to restore the revitalizing shine to a dull floor.
Be sure to test this product on a low-traffic area to see how slippery it will make your floor and avoid any accidental falls!
Otherwise, bravo ECOS!