Safe Household Cleaning is reader-supported. All reviews are independent and any products reviewed are purchased by the site owner. To help fund this model, some of the links on the site are affiliate links. If you decide to make a purchase from one of these links, this site will receive some commission. At no cost to you. It helps keeps this place running. Learn more
Attitude Natural Floor Surfaces, Tiles & Wood Cleaner
Review Score
Ewg Rated
NA
Ingredients

Water
Caprylyl Myristyl Glucoside
Sodium Gluconate
Tetrasodium Iminodisuccinate
Saponin
Terpineol
Decanal
Allyl Heptanoate


Attitude's Floor Surfaces cleaner is a gentle solution for combating dust bunnies, kitchen muck, spider webs and other common culprits of floor dander. The ingredients are largely derived from plant and mineral sources. Natural citrus replaces strong artificial perfume or fragrances, leaving a fresh scent behind.

We found in our tests that this cleaner didn't leave our wood floors shiny, you'll need a separate polish for that, but the cleaning power was excellent.

As an added bonus, the product is not tested on animals, uses recycled plastic containers, and is created using renewable energy.

Absolutely delightful.

Attitude's motto is "live consciously", a slogan which adequately represents their company vision and mission statements.
Why use products on your body or in the air you breathe that contain legally tolerated amounts of cancerous or otherwise harmful ingredients?
It's the kind of thing we should all be thinking about more often.
This family-owned Canadian company set out to create a line of products that work just as well as those with synthetic ingredients at affordable prices.   Their staff includes a Ph. D. biochemical engineer and their cleaning formulas are produced in their own in-house lab (!)
The floor surfaces cleaner is one of many products featured by Attitude – and we've already reviewed a number of them.
Their body care products are Environmental Working Group (EWG) verified, meaning a US non-profit organization has classified them as free from contaminated/restricted ingredients in their database, confirmed all ingredients were disclosed and passed tests for microbial contamination.
Household cleaners are not yet apart of the EWG mission, although they are also made with non-toxic, "worry-free" formulas, and are ECOLOG certified for reduced environmental impact. Attitude routinely checks public databases for updates on chemical safety from the scientific community – something all companies should be doing.
The makers of household cleaners are not legally obliged to disclose the ingredients of their products.  Unlike personal care products.  But Attitude discloses anyway.  Possibly because of their "worry-free" formulas.     And aside from the human health aspect, this cleaner is biodegradable and PETA certified (proud member of PETA's Beauty Without Bunnies!) with a healthy and sustainable planet in mind.
No wonder they disclose their ingredients!
This is a company who understand the harm caused by their industry, and are doing something about it.
The company checks out.  What about the product?
This particular product is "citrus zest"-scented with natural citrus and fruit, although Attitude's other bathroom cleaners come in fragrance-free options.
True to their eco-friendly narrative, the bottle is made from high-density polyethylene (HDPE) #2 recycled plastic.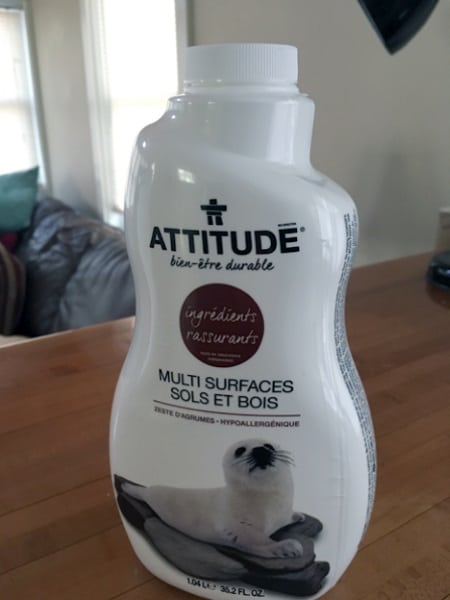 Directions are displayed on the bottle. To clean floors or other surfaces:
Mix 60 mL (1/4th cup) cleaner with 4L (1 gallon) of cool tap water
Apply to the floor.
No water rinse necessary.
For especially tough spots, apply the concentrated product to floor directly and wipe with a sponge (although not recommended for hardwood).
To clean toilets:
Pour concentrated product directly into toilet and brush.
Let's give it a go, shall we?
I first tested this product on my bathroom tiles and laminate (hardwood) floor. I'm embarrassed to say I don't remember the last time I cleaned my floors, and in the corners, it shows!
An important note: I am routinely at work in the evenings when the cleaning crew comes through the hallways. At least once a week, and sometimes twice, a very strong floor cleaner is used throughout the entire building. The chemical scent is so overpowering and that it immediately gives me a headache and I need to open the window regardless of how much below freezing the temperature is. Like many of our readers out there, I have a low tolerance for chemical odors. I wish more companies realized there are suitable alternatives to toxic cleaners that need don't leave your employees in tears (literally).
Here are my floors with accumulated dander and water marks: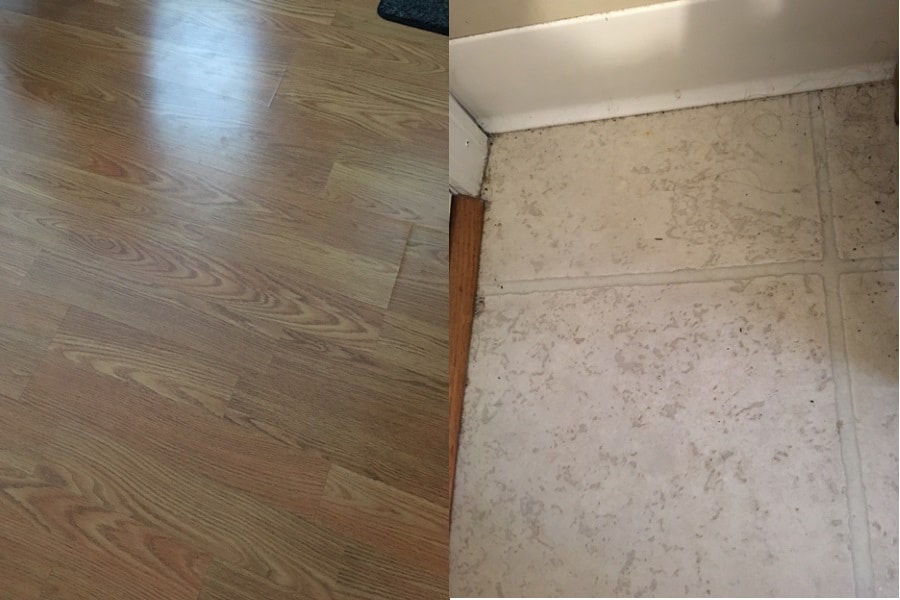 I added about 60mL of cleaner to roughly 4L of warm water as specified on the bottle. I was instantly taken back by the smell – a very clean, lemon-fresh scent that was not at all overpowering.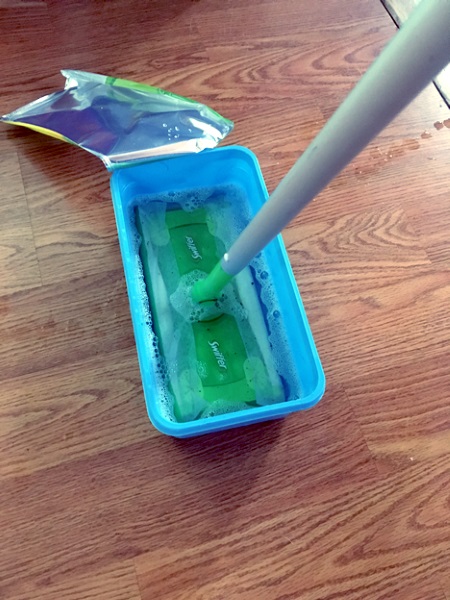 I used my Swifter and applied a coating throughout the house.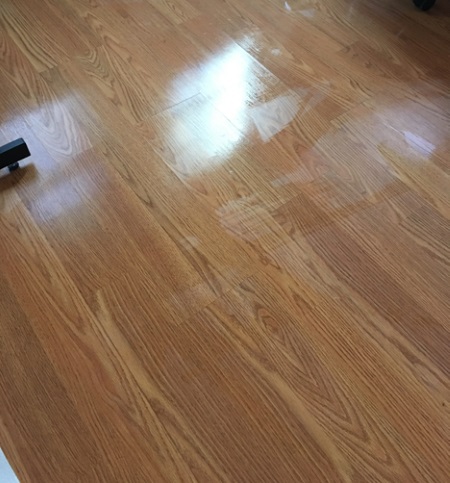 Finished, dried product: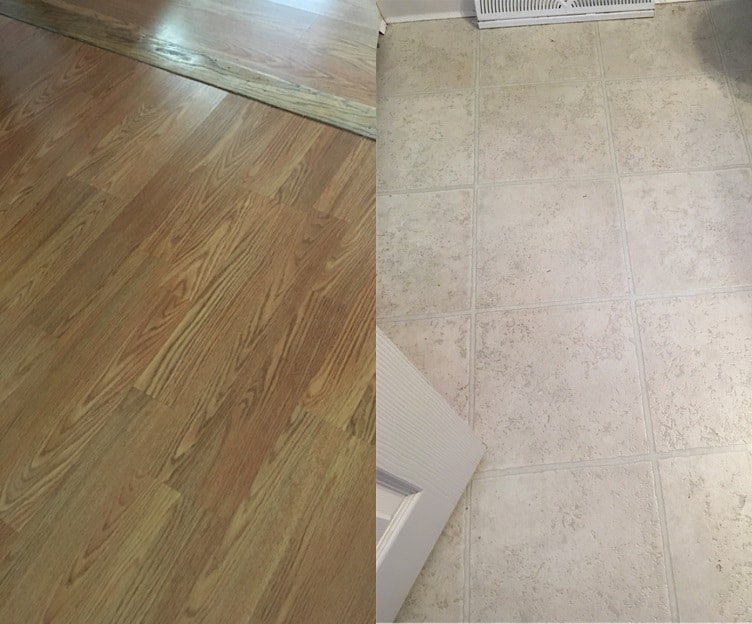 Floors are definitely cleaner with most watermarks removed. However, they are a bit dull-looking. It is clear that this solution does not double as a polisher.
I also gave the toilet application a try by pouring in about 20 mL, and was pleasantly surprised by how the concentrated cleaner suds up: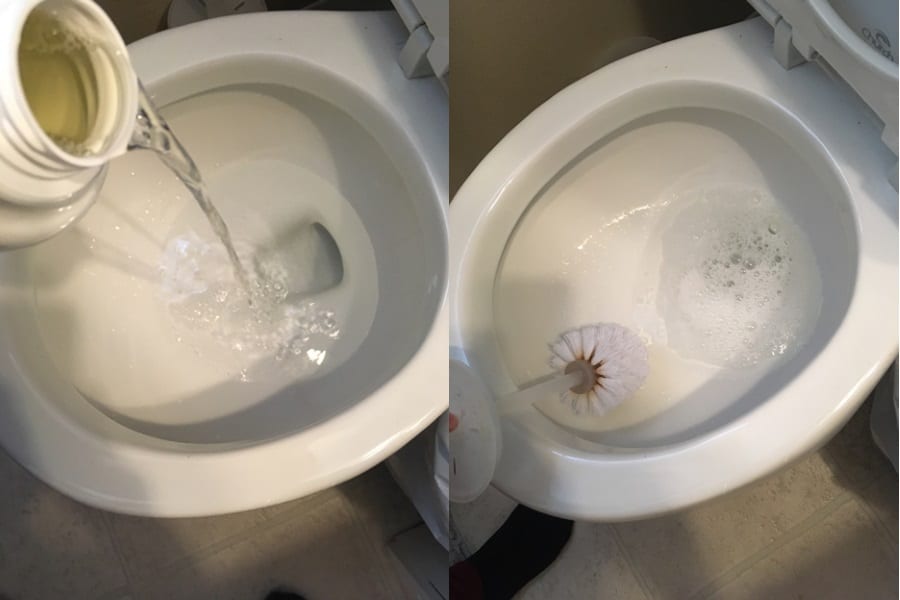 I love it! What's in it?
We noticed the ingredients on the bottle are different from those on the website. The bottle indicates "fragrance" was added whereas the website specifies terpineol (citrus), decanal (citrus), and allyl heptanoate (fruit).
Attitude pledges to use ingredients with little-to-no allergens defined by the European Commission. They test their products in labs using the Human Repeat Insult Patch Test, not exactly a scientific test but perhaps qualitatively informative.
In addition to the fragrances,  the website lists saponin as an ingredient, but this is not listed on the actual bottle. Saponins are a natural soap-like compound found in plants. These compounds work as detergents because they are part carbohydrate and water-soluble, and part sterol and fat-soluble. Many of the beans we eat, and even quinoa, contain low levels of saponins.
The plant-derived non-ionic surfactants (caprylyl glucoside, myristyl glucoside) are less likely to cause skin irritation over other types.
Other ingredients include sodium gluconate and sodium iminodisuccinate, biodegradable water softeners and conditioning reagents.
Now let's discuss Attitude are absolutely delighted to tell is what is NOT in this cleaner: Volatile Organic Compounds (VOCs), 1,4-Dioxane, Ethylene Oxide, Carcinogens, Phenoxyethanol, Parabens, Formaldehyde Releasers, Phthalates,  Triclosan or hormone disruptors).
Fragrances aside, this is about as gentle as they come.
Considering the cleaning power of this floor cleaner, this is some achievement.
This won't polish wood floors, but that aside, this is a very capable cleaner made with some extremely well thought out ingredients.
Absolutely delightful.