Safe Household Cleaning is reader-supported. All reviews are independent and any products reviewed are purchased by the site owner. To help fund this model, some of the links on the site are affiliate links. If you decide to make a purchase from one of these links, this site will receive some commission. At no cost to you. It helps keeps this place running. Learn more
Babyganics Fragrance Free Floor Cleaner Concentrate
Review Score
Ewg Rated
A
Ingredients

Water
Decyl Glucoside
Sodium Lauryl Glycol Carboxylate
Lauryl Glucoside
Lauramine Oxide
Methylglycinediacetic Acid
Potassium Cocoate
Sodium Citrate
Phenoxyethanol
Caprylyl Glycol


Babyganics Floor Cleaner Concentrate's is an outstanding performer. It cleans well and has been formulated with a great deal of care and attention.

It contains five plant-based cleansers, along with several other biodegradable and naturally-derived ingredients, have more cleaning power than anything else I've tested in the safe, green, eco-friendly cleaner space.

Other companies take note. This floor cleaner concentrate has carved out a niche for itself, and it could well be one of the best in its category for a long time.

Welcome to Safe Household Cleaning, where you can learn about the best household cleaning products for you and your family.
At Safe Household Cleaning, we only review products with fully disclosed ingredients lists from the manufacturer. If a product doesn't have every single ingredient listed openly on the package, we won't consider it.
Plenty of manufacturers talk about being green, eco-friendly, or safe, but we know that the real test of these qualities is what's in the bottle. Since most countries don't require manufacturers to disclose cleaning product ingredients, buyers must beware.
Luckily more companies are catching on, so we review the steadily growing list of home cleaning products that disclose their ingredients. We break down each product and ingredient according to overall safety and performance so that you can make better decisions.
This review is for Babyganics Floor Cleaner Concentrate (Fragrance-Free), a concentrated multi-surface floor cleaner that's paraben-free, sulfate-free, phthalate-free, and contains no fragrances.
About Babyganics
According to their website, Babyganics "creates products parents need to create a world where their babies are free to develop, thrive and grow boldly."
Babyganics is distributed by KAS Direct LLC, a private holdings company. KAS Direct does business as Babyganics, and they don't have any other brands. Babyganics grew 277 percent from 2011-2014, landing it on the INC 5000 list of fastest-growing private companies. The company's revenue in 2013 was over $30 million!
It is worth noting that, in 2016 KAS Direct lost a class-action lawsuit alleging that their Babyganics label charged premium prices for products consumers expected to be 100% organic (and were often labeled organic), but instead contained synthetic chemical ingredients.
Since that was a few years ago, we can only hope they've cleaned up their act since then.
Also in 2016, mega-corporation SC Johnson acquired Babyganics.
In my opinion, SC Johnson makes some terrible products that lack vision, direction or responsibility.  While we do prefer to support smaller companies who offer green cleaning products exclusively, the corporate ownership of Babyganics doesn't automatically mean their products are negatively affected.
First Impressions
Babyganics Floor Cleaner Concentrate (Fragrance-Free) comes in a 16 fluid ounce (473 ml) screw-top bottle with a foil seal.
The packaging is attractive, and the label art evokes a cycle like the water cycle or perhaps the four seasons.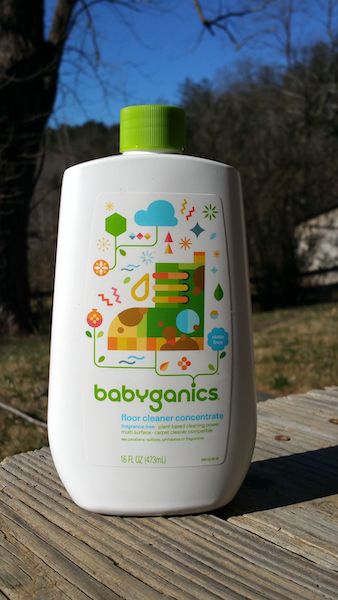 According to the packaging, this fragrance-free cleaner is plant-based, multi-surface compatible, and even works as a carpet cleaner. The instructions state that "a little bit goes a long way." For routine cleaning use 1 ounce per half-gallon of warm water, or 2 ounces for heavy cleaning jobs.
Babyganics recommends spot testing before you use the cleaner, so you can know how your surfaces react. You don't have to rinse this cleaner.
Real-World Performance Review
You can predict how safe a cleaner will be from the ingredients list, but it's impossible to know how well it actually works until you test it in real life.
I was impressed by the fact that you can use Babyganics Floor Cleaner Concentrate on the following surfaces:
Tile
Vinyl
Porcelain
Sealed hardwood
Carpet
Laminate
My first test was to clean the linoleum tiles in my kitchen and bathroom. I added two capfuls (about 1 ounce total) to a half-gallon of water and got my sponge mop ready. This cleaner foams a lot!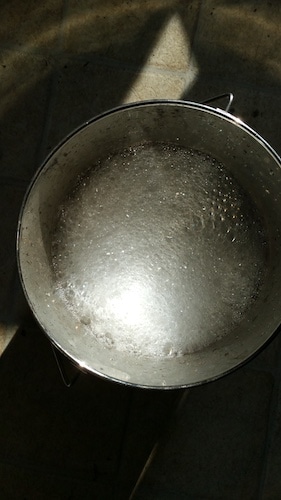 As you can see, the linoleum was pretty dirty…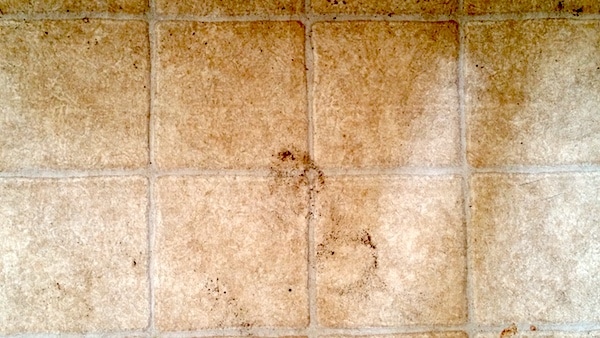 But the Babyganics cleaner removed the soil effortlessly.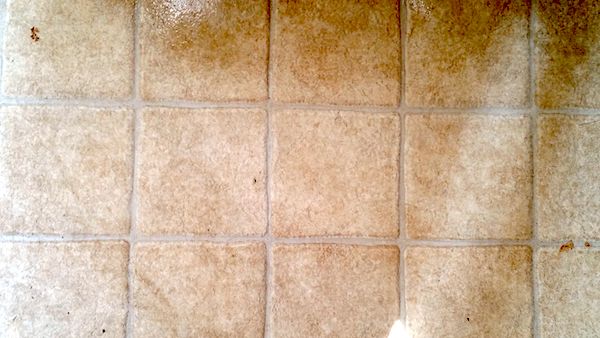 My next step was cleaning the sealed hardwood floors throughout the rest of my house.  The floor cleaner performed excellently, removing the grime and adding shine: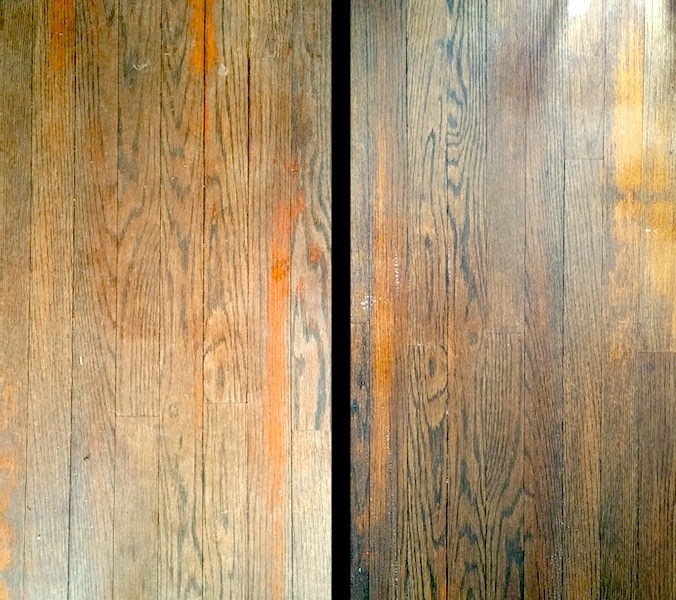 I only had two surfaces to test, but that didn't stop me from verifying Babyganics' claims that their product handles a variety of surfaces. The Floor Cleaner Concentrate also performed excellently on rugs (close enough to carpet) and porcelain shower tiles.
In a word, the performance is outstanding.
I see no reason not to use this as a heavy-duty all-purpose concentrate cleaner, not just a floor cleaner. Another excellent aspect of this product is that you don't have to rinse it, which is rare for such a strong cleaner.
Ingredient Insights
The cleaning power of Babyganics Floor Cleaner is beyond impressive, but at Safe Household Cleaning, we value the ingredients list just as much as the performance. All the cleaning power in the world is no good if a product poisons your family, your home, and the environment.
One look at the ingredients list is all it takes to know this floor cleaner concentrate was professionally formulated by a chemist who understands how to maximize cleaning power without compromising on safety.
Highs
Babyganics is setting a high bar for other green cleaner companies to meet. They've got several green ingredients I've never seen in another cleaner before. Six of the nine ingredients are plant-derived, and all the ingredients are readily biodegradable.
The main cleaning agents are decyl glucoside, sodium lauryl glucose carboxylate, lauryl glucoside, lauramine oxide, and potassium cocoate.  They fulfill overlapping functions, providing excellent performance in a less harsh formulation compared to a formula using large amounts of a single cleanser.
Methylglycinediacetic acid (MGDA) is an interesting addition. It's high-tech but biodegrades quickly, making it an ideal choice for a green cleaning product. MGDA boosts the soil-removing power of the floor cleaner even if your water is "hard."
Caprylyl Glycol provides gentle antibacterial properties to this expertly formulated cleaner.
Lows
There are almost no downsides to any of the ingredients, but I certainly wouldn't recommend bathing in it. Phenoxyethanol, a glycol ether, can cause eye irritation and may be a sensitizing allergen. Most glycol ethers are toxic to humans.
My suggestion to Babyganics: replace the phenoxyethanol with a proven eco-friendly, safe, green preservative e.g. an essential oil, plant extract, or organic acid — or a combination of two or more of these choices.
That said, phenoxyethanol is hardly a dealbreaker. There are always some trade-offs in cleaner formulation. No matter how green and environmentally friendly, the more effective a cleaner is, the less we want to expose our eyes, skin, and respiratory system to it.
Do I Recommend It?
Yes. I highly recommend this floor cleaner concentrate. It's not just for floors, either. Since you can use it on tile, vinyl, porcelain, sealed hardwood, carpet, or laminate, it's practically a heavy-duty all-purpose cleaner.
It doesn't take the place of a general-purpose kitchen spray or bathroom spray, but I won't hesitate to mix up a batch of this concentrate for heavy-duty jobs that aren't on the floor. I love the fact you don't have to rinse it, either.
Babyganics Floor Cleaner Concentrate's five plant-based cleansers, along with several other biodegradable and naturally-derived ingredients, have more cleaning power than anything else I've tested in the safe, green, eco-friendly cleaner space.
I hold green cleaning companies to a high standard, so I did find one area for improvement. But its no deal-breaker.  You'll find phenoxyethanol in soaps, shampoos and other personal care products.  This is a floor cleaner!
Other companies take note. Babyganic's floor cleaner concentrate has carved out a niche for itself, and it could well be one of the best in its category for a long time.