Safe Household Cleaning is reader-supported. All reviews are independent and any products reviewed are purchased by the site owner. To help fund this model, some of the links on the site are affiliate links. If you decide to make a purchase from one of these links, this site will receive some commission. At no cost to you. It helps keeps this place running. Learn more
The Honest Co. Dish Soap
Review Score
Ewg Rated
A
Ingredients

Water
Cocamidopropyl Hydroxysultaine
Sodium Methyl Cocoyl Taurate
Sodium Chloride
Lauryl Glucoside
Glycerin
Sodium Lauroyl Sarcosinate
Sodium Benzoate
Aloe Vera
Potassium Sorbate
Lavender Oil
Sodium Laurate
Wild Mint Oil
Trisodium Ethylenediamine Disuccinate
Citric Acid
Linalool

Almost perfect. It washes well, relatively safe to use in the home and safe to use in the home, and minimal impact on the environment compared to its non-eco friendly competitors. If it was slightly more concentrated we'd be looking at a 5 star review.

The Honest Company was one of the innovators – one of the first stress the importance of using sustainable, environmentally friendly ingredients in cleaning products. They understood the problems with the industry and formed a "wellness brand". A brand with an intense focus on delivering household and personal care products that provide effective results without the harmful chemicals found in similar products.
Essentially, the kind of products we spend our time sourcing and reviewing!
The company was founded by actress, Jessica Alba, after she noticed that there was not a singular brand that produced such products and was completely transparent about what went into them.
"I founded The Honest Company because I wanted safe, effective products that perform.
After all, you shouldn't have to choose between what works and what's good for you."
– JESSICA ALBA, FOUNDER
This isn't our first foray into The Honest Co. cleaning products – we reviewed their baby dish soap not too long ago.  And while we loved their philosophy, that particular dish soap wasn't strong enough to use for household cleaning.
Hence this review of their regular dish soap.  I chose the Lavender Field scent, but there is an unscented option if needs be.
First impressions – how did the bottle look
This soap came in a beautiful container, designed by Jin-Woo Prensena. It's labeling clearly reflects the Honest Company's core values of being a safer choice to the alternatives. It states that it is made without SLS/ SLES, dyes, synthetic fragrances, or Methylisothiazolinone .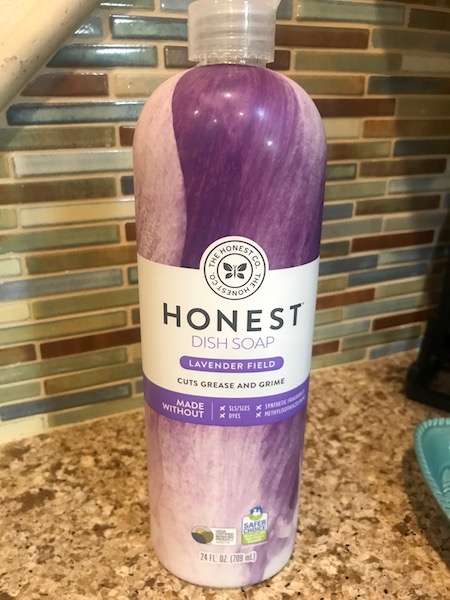 The container also has the endorsements from the USDA Biobased Product and meets U.S. EPA Safer Product Standards.
The back label states that this plant-based dish soap is designed for sensitive skin while also cutting through grease for honestly clean dishes, pots, and pans.
In theory, the idea of creating a product that is gentle on skin, while also eliminating grease and stuck-on food sounds wonderful.
In reality, such a product is hard to find. So how did The Honest Co. Dish Doap stack up?
I feel that this product did exceptionally well on everyday dishwashing tasks.
I used it for conventional cleaning jobs as well as the harder ones. My first use of this product was on a pan I used to make cinnamon rolls.
The liquid was clear and somewhat watery.
Like other soaps made by this brand, I found myself using more of it to accomplish the task at hand. Below are the before and after shots.  (Please pay no attention to the beaten and battered state of my pans- they get used quite frequently)
This soap did as well as others when used for this job. No soaking was necessary. I simply poured a little on the pan, lightly scrubbed, and voilà!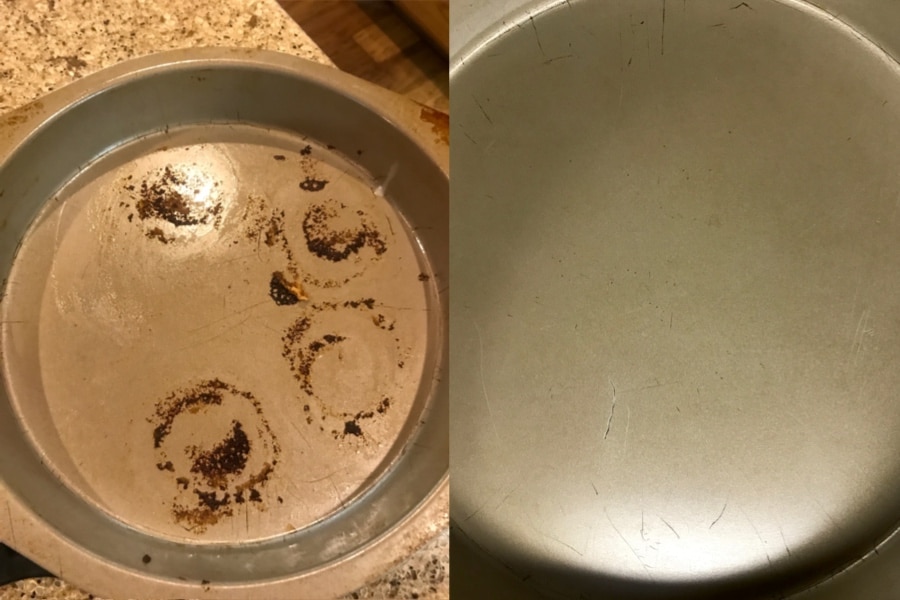 I must add that the lavender scent was so wonderful! I left my pans out to air dry, and my husband noticed the smell from the other room. With that said, it is not overpowering, but rather a fresh light fragrance that smells as natural as having fresh cut lavender in the kitchen.
The second task I tried the soap out on was a bit less conventional. I have an old, worn out flat top electric stove. Food will sometimes get cooked on, and the recommended cleaners are typically full of harsh chemicals.  It's hard to tell in most cases as they won't reveal what's in them!
Here I have poured a bit of the soap onto my dull and dirty glass cooktop.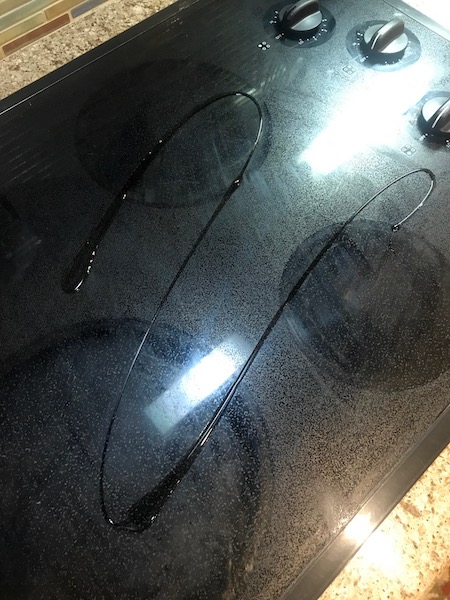 Next, I scrubbed the stovetop with a brush and let it set for about 10-15 minutes.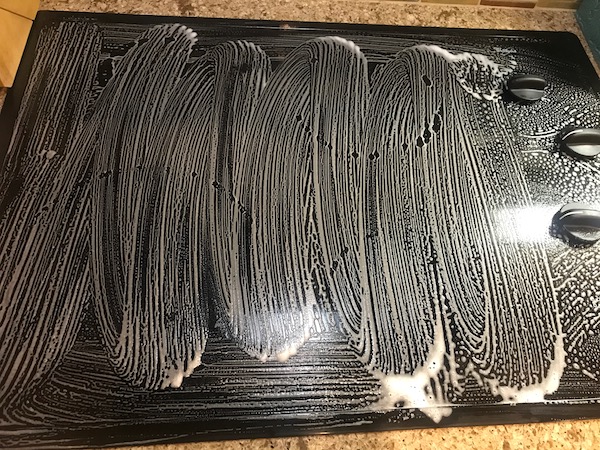 Finally, I wiped the cooktop down with a wet towel. I must say that this picture does not do it justice! The finnish was like a mirror in all areas except for the ring around the bottom right and the foggy bottom left burners. The left burner is dull because I tried scraping it with a razor- I do not recommend.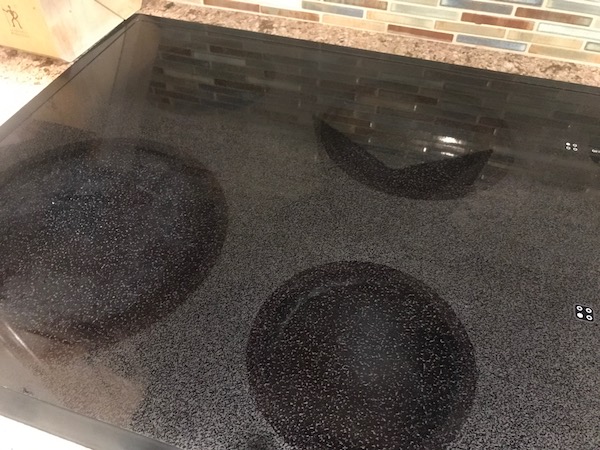 My third item to try cleaning with the dish soap was a platter used to cook a mexican chicken casserole. I had to soak this dish overnight and use a substantial amount of soap on.
It did wash clean, and I am in love with the scent that is left on my dishes.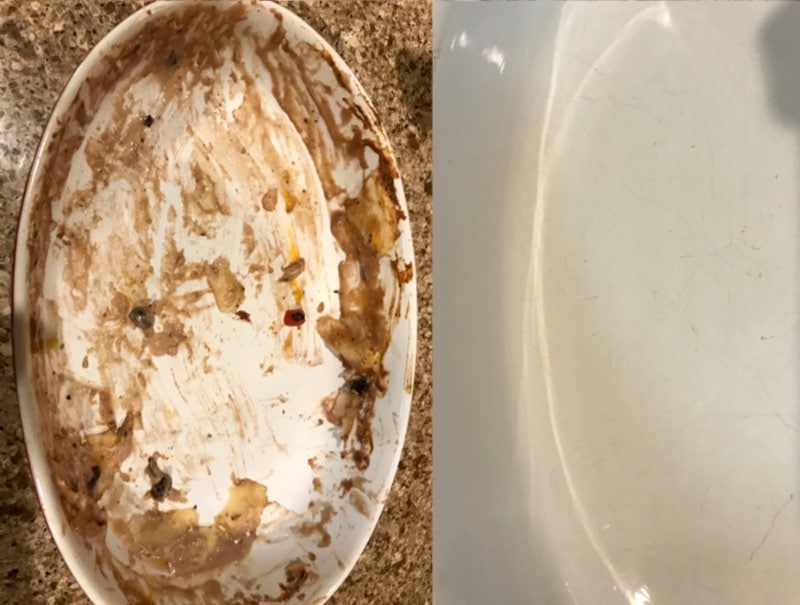 So it washes well.  Is it really gentle on the skin?
The dish soap contains a relatively large number of gentle surfactants (cleaning agents):
Cocamidopropyl Hydroxysultaine
Sodium Methyl Cocoyl Taurate
Sodium Chloride
Lauryl Glucoside
Sodium Lauroyl Sarcosinate
While they are scary looking, they are actually anything but.   These are plant-derived biodegradable surfactants that are exceptionally gentle on the skin.
The company has even added Aloe Vera to help protect and hydrate your skin while washing.  That said, I'd still recommend wearing gloves as this is a cleaning product and an effective one at that.
Trisodium Ethylenediamine Disuccinate, a chelating agent, has been added to help soften hard water.  In the past, harsh chemicals were used for this but the Honest Co. have chosen their ingredients with a great deal of care and attention.
Even the preservatives, Sodium Benzoate, and Potassium Sorbate, are food grade.  Companies like McDonald's have used them for years to prevent mold growth in e.g. shakes.  That said, Sodium Benzoate has been known to cause contact dermatitis in some people.  Hence the need for gloves!
In fact, the only ingredients that are particularly noteworthy are the fragrances.  The Honest Company do not use artificial fragrances and have added both Mint and Lavender extracts to this formulation.  But even natural fragrances can cause issues and the company has listed Linalool as present in the formula.  Linalool occurs naturally in many essential oils, such as mint, and has a soft, sweet scent.  It can also cause contact dermatitis.  The EU mandate that all manufacturers indicate if its present in a formula as the prevalence for contact dermatitis is so high.
If you're sensitive to fragrances or asthmatic, I'd choose the fragrance-free option.
So do I recommend it?
I would definitely recommend this product.
I feel that this product definitely delivers on being an effective cleaner, safe to use in the home, and minimal impact on the environment compared to its non-eco friendly competitors.