Safe Household Cleaning is reader-supported. All reviews are independent and any products reviewed are purchased by the site owner. To help fund this model, some of the links on the site are affiliate links. If you decide to make a purchase from one of these links, this site will receive some commission. At no cost to you. It helps keeps this place running. Learn more
Mrs Meyers Clean Day Dish Soap
Review Score
Ewg Rated
C
Ingredients

Water
Sodium Lauryl Sulfate
Lauryl Glucoside
Lauramine Oxide
Fragrance
Glycerin
Lavender Oil
Orange Oil
Quillaja Saponaria (Soap Bark) Bark Extract
Aloe Vera
Polysorbate 20
Tetrasodium Glutamate Diacetate
Citric Acid
PEG-5 Cocoate
Methylisothiazolinone
Benzisothiazolinone


Overall, Mrs. Meyer's Clean Day Dish Soap smells absolutely amazing and cleans very well too.

Unfortunately, there are one or two ingredients in there you should be aware of before buying.

If you are prone to contact dermatitis, anything from the cleansing agents to the essential oils to the preservatives could be a trigger for you. Meyers may be an alright option for the Average Joe, but if you have skin sensitivities, you might want to keep looking.

If you are dying for some good aromatherapy, use at your own risk and be sure to glove up.

Responding to the needs of consumers who want to know what's in the products they're buying,
some makers of cleaning products are now disclosing their ingredients
; Meyers is one of these brands.   We wouldn't actually review their products if they didn't – how could we – but this company even have an
ingredient glossary
on their website.
This review is designed to give you an overview of Meyer's dish soap and its cleaning ability, but also a breakdown of the ingredients and whether they are likely to be healthy for you and for the environment.
Who are Mrs Meyers?
As a brand, Mrs. Meyer's Clean Day positions its cleaning products as green, responsible, effective, and made to make cleaning more enjoyable with powerful, garden-inspired scents. Regular readers may already by familiar with Meyer's and may have seen our reviews of their multi-surface cleaner and laundry detergent.
The makers of Meyer's dish soap emphasize its "plant-derived ingredients", including "natural" essential oils, aloe vera, glycerin, and soap bark extract.
They state that the formula is free of parabens and phthalates, MEA and DEA, glycol solvents, chlorine and formaldehyde, and artificial colors.
The bottles are made with at least 25% post-consumer plastic and are stamped with the Leaping Bunny to show that their product meets strict international cruelty-free standards. The "grease-cutting" product is advertised as biodegradable.
Let's dive into the soap's likability, cleaning ability, and ingredient list to see if it lives up to the hype.
First Impressions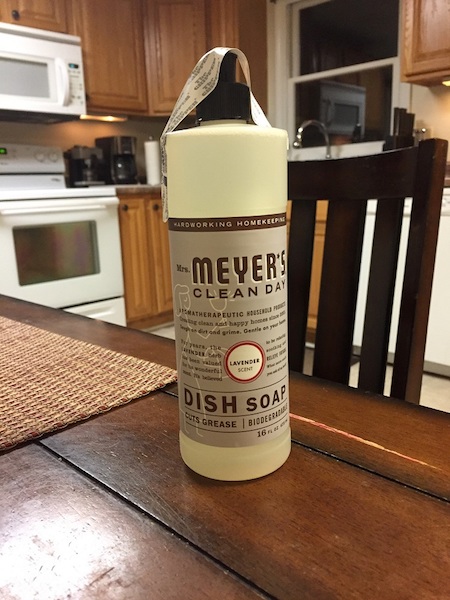 Mrs Meyer's uses clean, bold branding, but they also pay attention to the details. A marquee across the top of the label reads "HARDWORKING HOMEKEEPING" in all caps. Against the mostly light-gray background, there is a white stick-figure woman holding a cloth in one hand and a clinking wine glass in the other, a satisfied smile on her face.
This dish soap is another of Meyer's trademarked aromatherapeutic household products, and the scent does not disappoint. I found myself wanting to do dishes so that I could fill my kitchen with the deliciously pungent aroma—seriously. They claim the scent is lavender, though I think their essences of lavender, orange peel, soap bark, and aloe somehow smell more like a delicious apple cobbler… Either way, I'm not mad and as you can see, I've used quite a bit of it since I got the soap a week ago.
Will it clean your dishes?
To test out Meyer's dish soap, we did a simple comparison with a popular name-brand dishwashing liquid. Below you will find my Greasiest Dish of the Week, a large breakfast skillet covered in bacon grease and dried on pieces of bacon. I'm sorry, but I don't know the Vegan equivalent of this test.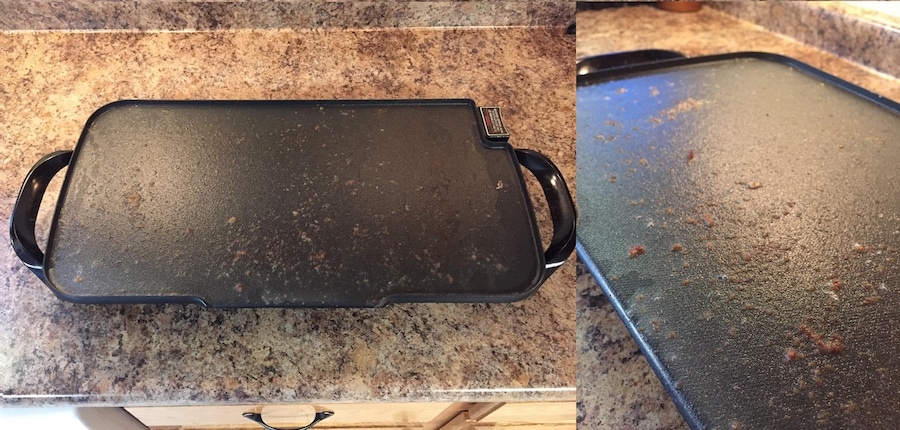 I washed the left side with Mrs. Meyer's soap and the right side with the competitor's, applying the products in similar amounts directly to the cooking surface and scrubbing with a sponge. I did only one round on each, and scrubbed until it looked as if the dish was clean.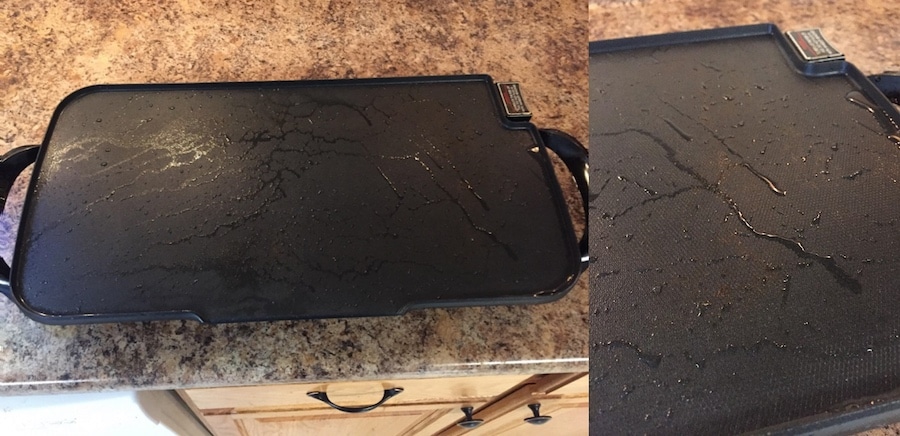 As you may be able to see, Meyer's actually did a better job of cleaning the skillet on the first go. There is still some reddish grease on the competitor side (shown).
I used one side of a paper towel to wipe down the Meyer's side (left), and the other side to wipe down the competitors. Here, you can more clearly see the grease that was left over on the non-Meyer's side (right).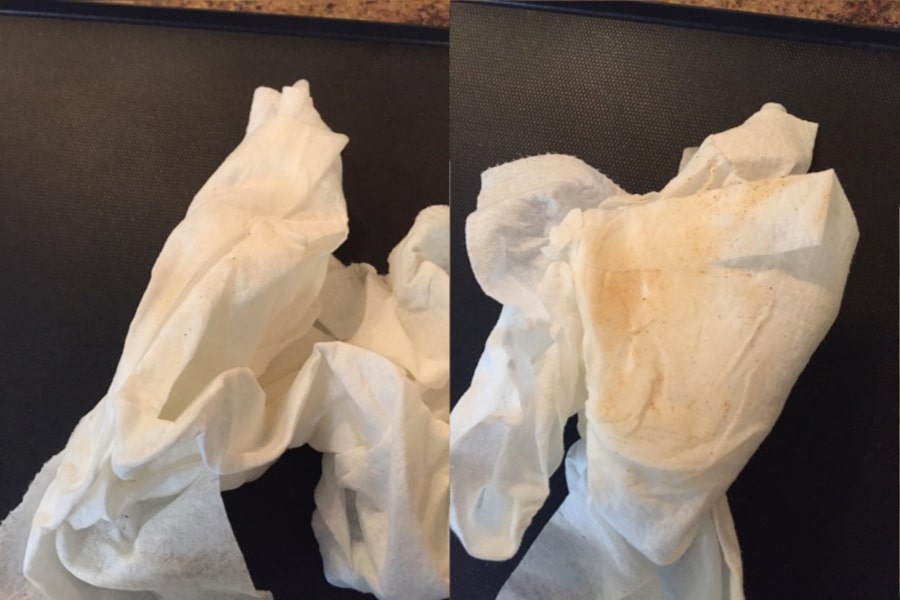 Now, this is far from highly scientific, but I do promise that I played fair when administering this test. The Meyer's website even states that their products outperformed other "green" brands and did similarly to, or better than, national brands, according to independent testing.
I guess we can just add this test to the list!
It cleans well… but will it cost your skin or the environment?
We took a hard look into the cleaning agents in this soap to break down the risks. For the most part, they are low, but those prone to contact dermatitis or other skin sensitivities may want to be careful.
The primary cleansing agent in Meyer's Clean Day dish soap is sodium lauryl sulfate (SLS), an anionic surfactant (oil- and dirt-trapper).  As described in other reviews, the science says that SLS is a generally safe, though often-misunderstood ingredient due to misreporting of scientific data. SLS in a dish soap is unlikely to cause irritation for most people: it has a low absorption rate into the skin and dish soap is a rinse-off product, meaning it will have minimal contact with skin.
If yours is particularly sensitive, you may want to look for formulas with gentler surfactants like alkyl glucosides, though even these are not without their reported risks. If the environment is your concern, fear not, because SLS is biodegradable and breaks down quickly in the environment.
The other surfactants used in Meyer's dish soap are lauryl glucoside and lauramine oxide. These are considered to be very gentle, are plent derived and biodegradable.
Essential and natural… that has to be good, right?
For those curious, here is a quick consumer product vocab lesson for you. If you don't already know, the "essential" part of essential oils refers to the fact that they are the distilled "essence" of plant products mixed with base oil; It's not a reference to any importance to human health. "Natural" is a term often used in marketing to imply safety or healthiness, but natural does not guarantee the health or safety of any ingredient.
Would you want to wash your hands with all-natural essence of poison ivy?
Probably not.
As such, not all plant extracts are safe and beneficial, and some can even be harmful if used wrong.
Back to the aromatherapy ingredients in Meyer's dish soap: fragrance, lavender oil, orange peel oil, soap bark extract, and aloe leaf.
"fragrance" on a label can mask a slew of undisclosed ingredients that may or may not cause sensitization, allergic reactions, and contact dermatitis. Some fragrances even contain cancer-causing formaldehyde, but we can rest easy knowing that Meyer's products are proudly formaldehyde-free.  Fragrances are volatile compounds too, and too much exposure can cause asthma or asthma-like symptoms.
Lavender oil is a known potential allergen and has been shown to cause contact dermatitis. If that's not an issue for you, know that lavender oil is not considered a threat to the environment.
Orange peel oil is a skin irritant (at least in its pure form), but can be used as a fragrance ingredient up to recommended concentration levels and is not an inhalation hazard. Based on the label alone, we can't really know exactly how orange peel extract is used.
Quillaja, or soapbark extract, is actually used to treat skin sores, itchy scalp, dandruff, and other skin conditions, although more evidence is needed to prove how effective it actually is.
As for aloe extract, don't let the recent news scare you: Aloin, a chemical contained in whole-leaf aloe extract, has been shown to cause cancer in rats—but only when ingested. Mrs. Meyer's Dish Soap may smell delicious, but I don't think we have to tell you that you probably shouldn't drink it. Do make sure to keep it away from children and pets, as you would with any other cleaning product.
The concern about preservatives…
At the end of the ingredient list is methylisothiazolinone, also known as MI or MIT. MI is a controversial and volatile biocide that is sometimes used as a preservative.
It has been known to cause allergic reactions, contact dermatitis, and sensitization of the skin, especially with leave-on products. Experts have determined that products containing up to 0.01% do not pose a sensitization risk, but reports of severe reactions persist.
Many consumers, including those on this Facebook group, call for the discontinuation of MI and spend time and money avoiding products that contain it. In 2013, the American Contact Dermatitis Society named it "Allergen of the Year", a label given to allergen's they feel warrant more attention based on popularity and tendency to cause CD.
Dish soap rinses off, and therefore might cause less irritation than, say, a lotion containing MI, but those who have had reactions before will want to be very cautious.
As for benzothiazolinone—also not great. Its sensitization potential, along with the fact that it's a suspected environmental toxin, earn this preservative a moderate health risk rating by the Environmental Working Group's Skin Deep Cosmetics Database.
Do we recommend it?
Overall, Mrs. Meyer's Clean Day Dish Soap smells amazing and cleans very well.
I would attest that the scent is intoxicating enough to fire your therapist (don't—this is not actual mental health advice), except that I'm a little stressed out by the ingredients.
If you are prone to contact dermatitis, anything from the cleansing agents to the essential oils to the preservatives could be a trigger for you. Meyers may be an alright option for the Average Joe, but if you have skin sensitivities, you might want to keep looking.
If you are dying for some good aromatherapy, use at your own risk and be sure to glove up.