Safe Household Cleaning is reader-supported. All reviews are independent and any products reviewed are purchased by the site owner. To help fund this model, some of the links on the site are affiliate links. If you decide to make a purchase from one of these links, this site will receive some commission. At no cost to you. It helps keeps this place running. Learn more
Attitude Natural Dishwashing Liquid
Review Score
Ewg Rated
A
Ingredients

Allyl Hexanoate
Avena Sativa (Oat Kernel Flour)
Coco Glucoside
Lauryl/Myristyl Glucoside
Raspberry Ketone
Sodium Chloride
Sodium Citrate
Sodium Gluconate
Triethyl Citrate
Water


It's plant-derived. Biodegradable. The ingredients are gentle. It washes well.

All things considered, I'd definitely recommend it. Especially for those with sensitive skin!

It's the end of a long day and the sink is overflowing with dishes. If you're one of the
35 million Americans who suffer from sensitive skin or eczema
, this chore might be your least favorite. Cracked, itchy, dry skin is not a pleasant reward for completing the daily task.
But wait! Attitude's Natural Dishwashing Liquid may be the answer to your dishwashing woes.
Using only, what they term, worry-free ingredients that help protect a damaged skin's barrier, this dishwashing soap advertises being:
Hypoallergenic (a term that has been abused so much, it means little, unfortunately)
pH balanced (so it doesn't strip away the protective oils on your skin)
It certainly sounds promising! Let's find out if this soap is all it claims to be.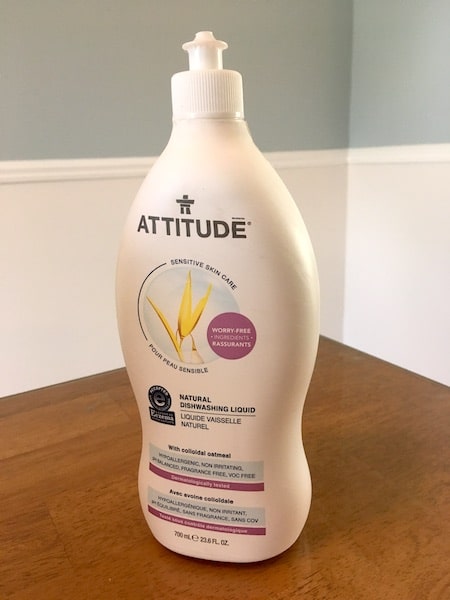 The Attitude Company
Attitude's motto is to live consciously for yourself, your family, and the planet. They utilize the highest eco-friendly practices to produce their products. Packaged in the most recyclable plastic, their ingredients are worry-free–no cancer-causing chemicals, mutagens, or endocrine disrupters–and are all from vegetable or mineral-based sources.
Everyone likes an amazing company, but does the dishwashing liquid deliver the promised stellar results?
What is the product like?
Attitude's Natural Dishwashing Liquid comes in simple, unassuming packaging and is mostly scent-free.
Two of its ingredients–raspberry ketone and allyl hexanoate–are derived from raspberries and pineapples.
Combined, they smell mildly like fresh pears, but this scent is barely noticeable when mixed with water.
The liquid is clear and has a standard dishwashing liquid consistency.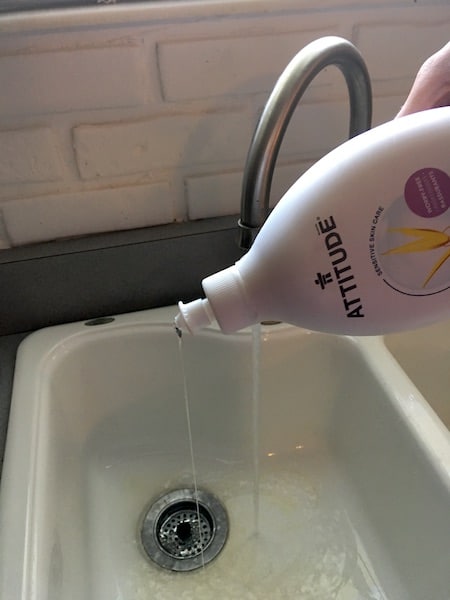 Attitude claims their dishwashing liquid is "tough on grease and food residue while staying gentle on your fingers." The dishwashing liquid is also:
Dermatologist-tested
Certified by the National Eczema Association
Free of cancer-causing ethoxylated surfactants like 1,4-dioxane and ethylene oxide
Made with plant-derived surfactants
Contains colloidal oatmeal to keep skin soft
I was genuinely excited to give this a try!
Does it actually work?
The directions listed on the bottle recommend using 2 mL of soap per liter of hot water. This translates to about 3 teaspoons of dishwashing liquid to your standard sink of hot water. You'd get about 45 sudsy sink-fulls from one bottle of liquid.
The soap is not designed for automatic dishwashers, but that's ok–this good stuff should be saved for your hands!
I tested Attitude's promise that the soap is tough on grease but gentle on hands by cleaning three dirty surfaces:
a favorite coffee mug with old and dried coffee stains
a greasy cookie sheet
a greasy glass Pyrex pan.
The Three Tests
First up was the old coffee mug.
These stains are from lightly rinsing the mug before popping it in the dishwasher. The repeated heat from the dishwasher has strongly set the stains; they barely scratch off with a fingernail. No match for a little TLC and Attitude's dishwashing liquid, the stains were gone within a few scrubs of the sponge.
Test one: check!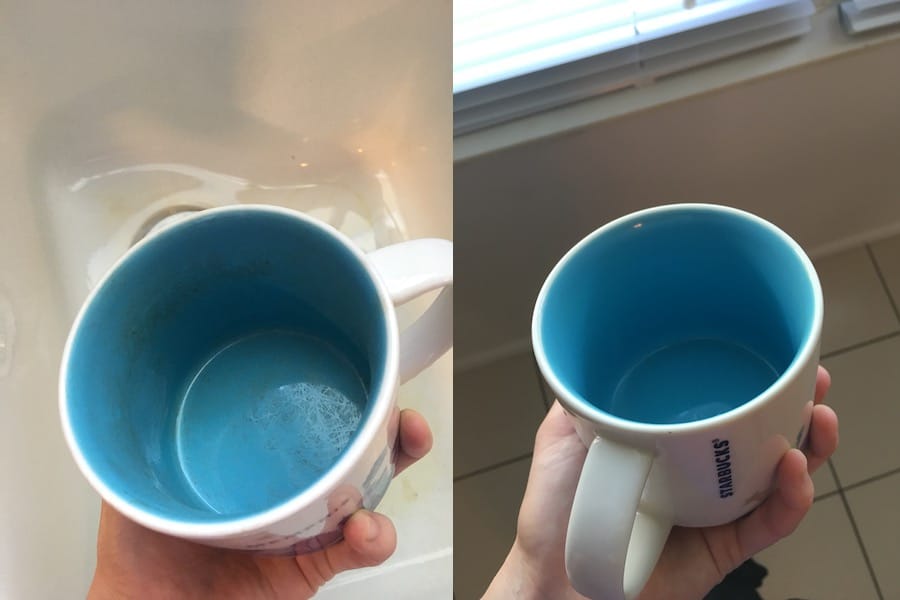 Next was the cookie sheet.
This faithful cookie sheet looks dirty even when it's clean, but it's the perfect test to see if the soap removes hard grease stains.
The dishwashing liquid easily removed the greasy cooking spray after a few wipes. However, it poorly removed new staining from the cooking spray and didn't remove any old grease stains. In fact, I needed to add a dab of the dishwashing liquid and elbow grease to free up the new stains. While the new stains did eventually come off, it took extra effort.
Test two: a check for grease removal but not for easy stain removal.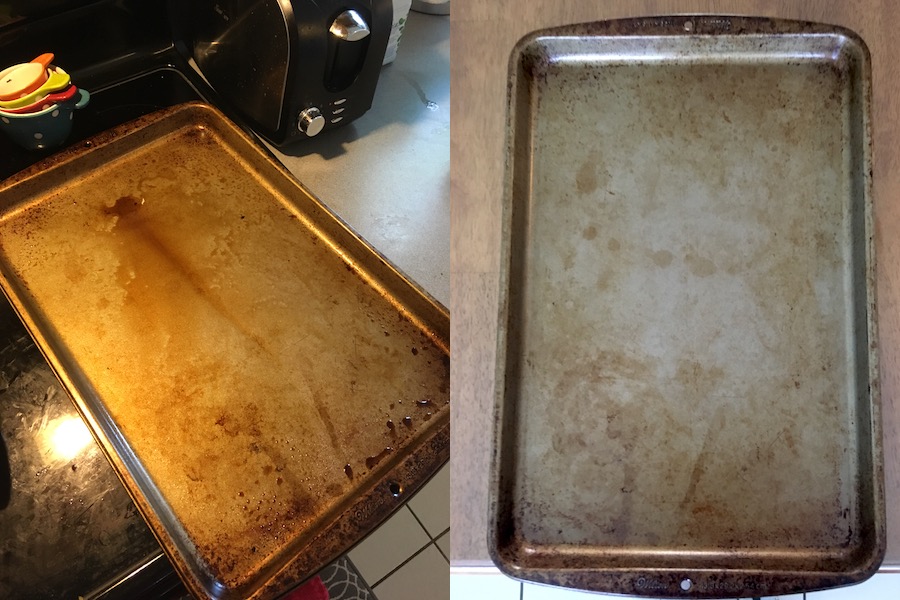 Finally, the glass Pyrex pan with hardened cooking spray. This was to test for any water stains on glassware after drying. Again, the dishwashing liquid excellently removed the cooking spray but this time the hardened stains lifted easily! After drying, the pan was sparkling clean with no drippy water stains.
Test three: check!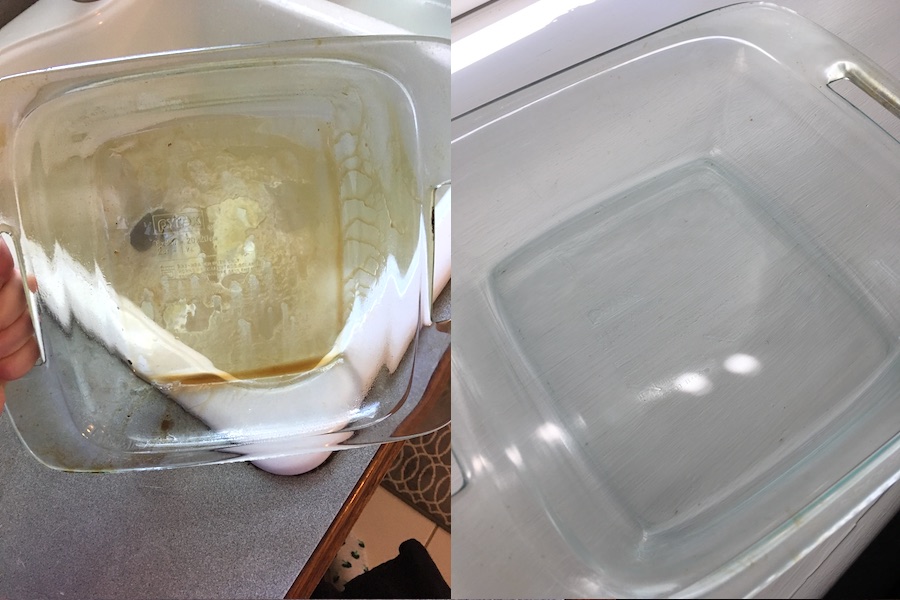 What's in it?
With that kind of amazing cleaning power, are there really no harsh chemicals? Pretty simple and safe, these ingredients come from sustainable, natural sources but still kick grease and residue to the curb.
The soap contains relatively few ingredients.  Obviously, Water is the most prominent ingredient.  Sodium Chloride features in abundance too.  The surfactants, Coco-glucoside and Myristyl/Lauryl glucoside are ultra gentle.
The most surprising ingredients are the skin conditioners and emollients.    Attitude have added:
Avena Sativa Flour – aka colloidal oatmeal.
Raspberry Ketone – a skin conditioning agent derived from raspberries.  They give raspberries that aroma and is often added to cola, ice cream and cosmetics.
Allyl Hexanoate –  an emollient commonly found in food stuff as a pineapple flavoring.
The star of this sensitive-skin dishwashing liquid is the ingredient: colloidal oatmeal.  You'll often find it in personal care products designed for eczema.   It is made by finely grinding oats to extract their protective and water-holding elements. These elements are suspended in the liquid to better absorb into skin, promote its protective barrier, and keep skin soft. Additionally, colloidal oatmeal helps soothe the itch not only from eczema and rosacea, but from sunburn, poison ivy, and bug bites.
There's no excuse to avoid the dishes now!
What's the verdict?
This is an excellent product, but there are a few caveats.
Attitude's dishwashing liquid receives high marks for its grease removal and skin protection. It's as effective as conventional cleaners in removing the top layer of grease and leaves dishes free of water stains. The soap also fulfills Attitude's promise of skin protection: my skin was significantly softer and smoother than before I washed the dishes.
However, stain removal was not always easy and took extra time. While the suds bubbled nicely as the sink was filling, they almost completely disappeared once grease washed into the dishwater. It took trial and error to determine the best scrubbing tool before stains began to wash away, but tougher stains still needed a dab of extra dishwashing liquid for removal.
At the end of my dishwashing experience, the soap became most effective when I used the dishwashing liquid in a foaming soap pump. It foamed nicely and one pump was plenty to wash several very dirty dishes and remove stains.
It's plant-derived.  Biodegradable.  The ingredients are gentle.   It washes well.
All things considered, I'd definitely recommend it.  Especially for those with sensitive skin!