Safe Household Cleaning is reader-supported. All reviews are independent and any products reviewed are purchased by the site owner. To help fund this model, some of the links on the site are affiliate links. If you decide to make a purchase from one of these links, this site will receive some commission. At no cost to you. It helps keeps this place running. Learn more
Method Dish Soap Lime and Sea Salt
Review Score
Ewg Rated
NA
Ingredients

Water
Sodium Lauryl Sulfate
Lauramine Oxide
Decyl Glucoside
Lauryl Glucoside
Glycerin
Ethanol
Sodium Chloride
Citric Acid
Methylisothiazolinone
Methylchloroisothiazolinone
Fragrance
Benzyl Salicylate
Citral
Hexyl Cinnamal
Limonene
Polymeric Blue
Polymeric Yellow

This product cleans well and it smells great. It's made with cruelty free ingredients, and does use naturally derived ingredients, but there are a number of issues, particularly for sensitive skin sufferers. The fragrances and preservatives are known allergens and if you are of a sensitive disposition, you may want to look elsewhere.

Who are Method?
Methos are a new company to me, so I read up on them with interest.
They are part of a growing set of start-up companies who are aware of the problems with today's cleaning product industry and are trying to do something about it.
Cradle to Cradle certification involves creating formulas that have been assessed for safety to humans but also contribute to the healthy environment. This certification includes packaging and its design.  Method have obtained B corporation status which can only be applauded.
They also have company philosophy of no animal testing and using no animal by-products.
They are also climate-conscious and have reduced carbon emissions when creating their product lines. They use alternative energy at company sites and even fuel their trucks with biodiesel.
The company created a Method green sourcing process to have zero waste manufacturing. If you purchase a product here, you can rest assured the company has done everything possible to make it green and environmentally safe. Or at the least balanced the ingredients.
I couldn't wait to try their products to be honest!
What is Method Lime and Sea Salt like?
The Method Dish Soap comes in a transparent bottle with a pump top that dispenses the green soap.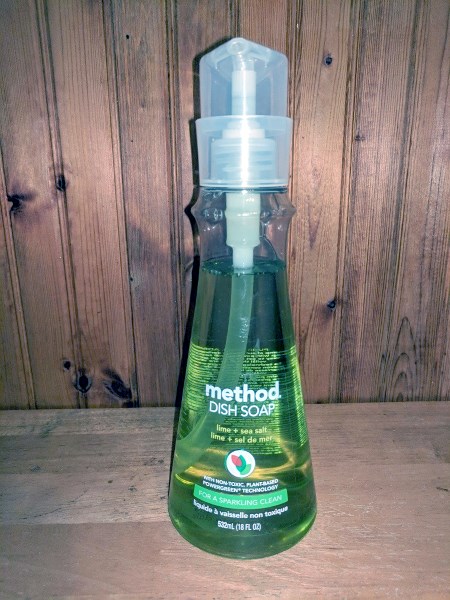 Its labeling remains unobtrusive, making certain the soap itself gets all the attention.
One slight criticism of the packaging is you must find a magnifying glass to read the back of the packaging – especially the ingredient list on the label.   They are a rarity in that they disclose their ingredients – but I'd have liked to have seen these ingredients a little more clearly.
What's inside the bottle?
The dish soap is a bright green translucent liquid. One small squirt of the pump handle and a lovely engaging, fresh citrus smell rushes to greet you.
In anticipation of using the soap, I soaked some ordinary dishes with regular food waste in the sink overnight.
The dishes were from a regular family meal of pasta, and the cups contained dried milk and soda.
Remarkably, the dishes didn't need much soaking. Within an hour the dishes were done.
Once dried the dishes had that squeaky-clean feel when you know all the grease has disappeared. Plastic-ware, which often feels slightly oily despite repeated washings, had the squeaky-clean feeling as well.
I embarked on some other experiments.
Dried greasy barbeque caked pan, bowls, plates, utensils
The BBQ sauce was easily cleaned.  Even the baked in sauce on the roasting pan.
A frying pan used for frying okra.
With just a few swipes with the brush and sponge the frying pan was clean.
The 40-year-old pan did brighten somewhat and had clean patches down to the original metal alloy, but the product did not remove previous stains.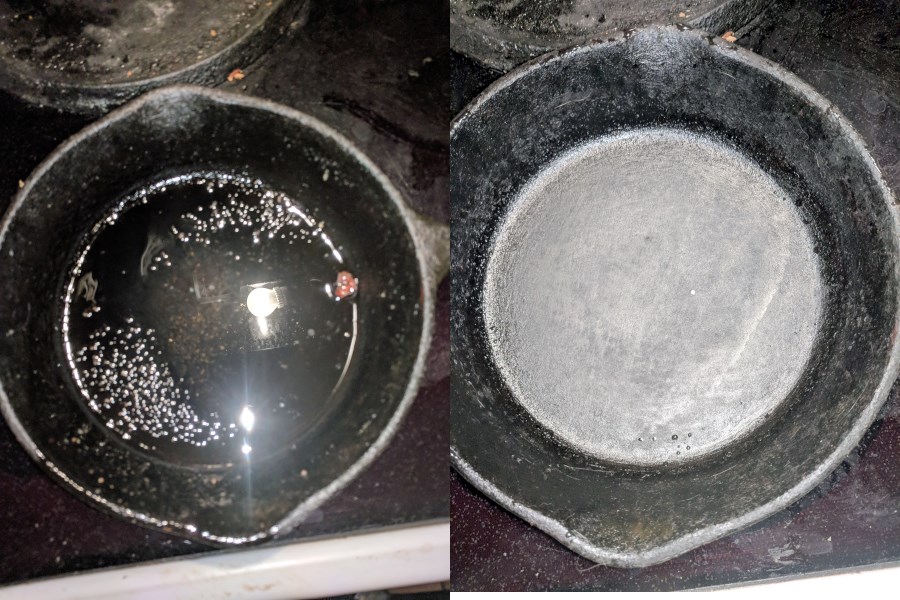 A microwave dish used to make popcorn
Microwave popcorn can cake the dish in a brown sticky film.  A quick was with a sponge returned the microwave to its natural condition and made for an easy cleanup. It cleaned the plate well too.
A clay cookie sheet
This sheet had a brown brown build-up from repeated use.
While the soap didn't remove all of the stains, it loosened some and left no greasy residue.
The cleaning performance of this soap is outstanding.  However, some people may be bothered by the lack of lather.  There is a lather here, but not as much as you get from regular supermarket dish soaps.  This will bother some people, although in truth the lather is cosmetic.  The upshot is, this dish soap has a powerful cleaning action, even on long time stains.
So how is this made?
Method Dish Soap Lime and Sea Salt Dish Soap purports to contain plant-based nontoxic ingredients.
The reality was surprisingly different.  The main cleaning agents is Sodium Lauryl Sulfate (SLS).  SLS is relatively well known as you'll find in many shampoos and personal care products.   Its effective but harsh.  I'd recommend wearing gloves if you have sensitive skin.
The other surfactants are lauramine oxide, decyl glucoside and lauryl glucoside which are all gentle but effective biodegradable plant-based cleaners.
Aside from glycerin, there isn't much in the way of conditioning agents for your skin.  Which is surprising as the company have added a synthetic unlabelled fragrance to the mix.  We do know that the fragrance contains Benzyl salicylate, Citral, Hexyl cinnamal and Limonene.  The EU have mandated that any product on sale within the EU must list these fragrances if it contains them.  There's 26 in total that must be listed, all because they are known allergens.
And last, and definitely least, the formula contains Kathon CG.  Kathon CG is registered tradename for two unpronounceable preservatives used in combination – methylisothiazolinone & methylchloroisothiazolinone.  These two synthetic preservatives prevent mold growth in the liquid.  They are also responsible for, what dermatologists have called, an epidemic in contact dermatitis.  Methylisothiazolinone, contact allergen of the year in 2013, has numerous facebook support groups for people who react to this ingredient, and some of the allergic reactions are alarming, to say the least.  It's a volatile compound too, meaning it could be airborne when using it.  Airborne allergies are no joke as anyone with hay fever will attest to.  The UK press raised awareness on the effects of this ingredient a few years ago and many manufacturers responded by removing it from their formulas.  I only wish Method followed suit.
Do we recommend it?
The product remains extremely powerful at dealing with ordinary household kitchen grease and food. It also smells great.
Looking under the hood and we can see why.  The fragrances and preservatives are surprising to say the least.  Even the main cleaning agent is powerful but a known sensitizer.  At the very least, it would be wise to wear gloves would be wise to use gloves.  This dish soap contains industrial strength ingredients – a major surprise given the company credentials.
This isn't the worst formulation we've seen.  There are no ingredients known to cause cancer, asthma, or alter your HistrionicsHystrionics aside I would hazard a guess that your current cleaners do.  You have no way of knowing in the majority of cases though, they won't tell you what's int product.
But a company who produces itself on creating more responsible products ought to be a bit more responsible about what's in the product.  There are far better alternatives to the preservatives and fragrances.  They've even used artificial dyes.
With a few tweaks, this could be an excellent cleaner.  But all in all, I'd recommend you look elsewhere.