Safe Household Cleaning is reader-supported. All reviews are independent and any products reviewed are purchased by the site owner. To help fund this model, some of the links on the site are affiliate links. If you decide to make a purchase from one of these links, this site will receive some commission. At no cost to you. It helps keeps this place running. Learn more
Puracy Dishwasher Packs
Review Score
Ewg Rated
NA
Ingredients

Sodium Citrate
Sodium Carbonate
Sodium Percarbonate
Alkylpolyglucoside C8-16
Sodium Metasilicate
Protease
Polyvinyl Alcohol
Carboxymethyl Inulin
Amylase


Puracy Natural Dishwasher Detergent Packs are top quality. They've been formulated with vision and expertise. They clean well. They are gentle on you and your family. And they won't break the bank.

As good as it gets.

If you're searching for a naturally-derived alternative for your dishwasher detergent, the company Puracy is a good place to look.
We've already reviewed several Puracy products including their natural dish soap and laundry detergent. So far we've been fairly impressed with their ability to formulate environmentally-friendly, safe, and healthy home care products.
The term 'natural' gets thrown around quite a bit these days, however, there are no regulations governing the use of the word 'natural' as it's applied to the products you buy.
What we really love about this Austin based company is their commitment to transparency. All Puracy products have every ingredient listed — not something you see on many home care products.
All that being said, let's take a closer look at Puracy Natural Dishwasher Detergent Packs and see how they stack up when it comes to ingredient formulations and performance.
First impressions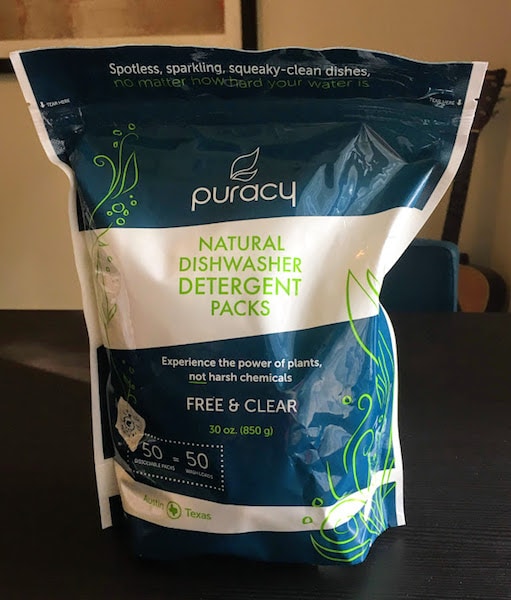 The product comes packaged in a resealable plastic bag that contains individually-packaged dishwasher detergent packs.  I only wish Puracy, and 99% of the industry, would look to plastic-free alternatives for their packaging.  But for what it is, its very attractive.
The main design on the front of the packaging is minimal, stylish, and contains a short and sweet tagline that sums up Puracy's goal.
"Experience the power of plants, not harsh chemicals."
The back of the package has quite a bit of useful information about the product. Most importantly, a full list of ingredients is clearly labeled.
Aside from the ingredient transparency, I was also impressed by Puracy's 100% satisfaction guarantee.
The detergent packs were neatly packaged and looked quite sturdy. Inside the lining of the packaging, the detergent itself looks like a white powder with some darker speckles interspersed throughout.
Interestingly, the powder itself did not look uniform in shape. The grains of the powder varied somewhat in shape and size — perhaps a consequence of its naturally-derived ingredients.
The detergent packs had a pleasant and fresh smell — not overpowering like other detergent packs that I've tried.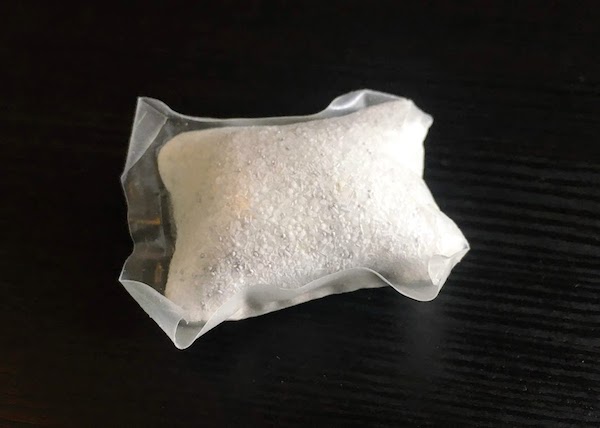 I was surprised to see no dedicated fragrances or essential oils included in the ingredients. The clean, fresh scent is simply a byproduct of the cleansers included in the ingredients. After realizing that, I'm even happier to be trying this plant and mineral-based detergent.
After reading over the packaging and experiencing the fresh smell of these detergent packs, I was excited to try them out.
How does it wash?
Luckily I had the perfect challenge to put the Puracy Natural Dishwasher Detergent Packs to the test. After a long three day weekend filled with barbecuing, I had a load of dishes covered in barbeque sauce.
I placed a detergent pack in my dishwasher and ran it as I usually do for a full load of dishes. I really appreciated the ease of adding a detergent pack compared to the liquid detergent I typically use.
After the cycle was complete, I opened the dishwasher and inspected the results. I have to say, I was impressed.
Many times my current liquid dishwasher detergent leaves food residue on my plates and silverware unless I thoroughly rinse them before loading into the dishwasher. I didn't see any hint of food residue left on my plates or silverware, even the plate I didn't rinse as a test.
Overall, the cleaning power of the Puracy Natural Dishwasher Detergent Packs exceeded my expectations.

How is it formulated?
In an attempt to promote transparency and take back the often misused 'natural' label, Puracy has created its own definition of what natural means to them. This is definitely reflected in their product formulation.
The product is a powder (as opposed to a liquid) which I often prefer for environmental reasons – it seems ludicrous to ship water based products around the country – and then add them to water.
The dishwasher packs are cruelty-free and the vast majority of the ingredients are plant derived and biodegradable.  They are biological detergents, in that they contain the cleaning enzymes Protease and Amylase.
The cleaning agents, Sodium Carbonate, Sodium Percarbonate and Sodium Metasilicate, are all gentle cleansers.  And the rest of the formulation has been selected with vision and a great level of detail.  Even the soluble film enclosing each pack, Polyvinyl Alcohol, is a plant-derived biodegradable ingredient.  If you're an ingredient nerd like me, its really worth checking out the source of that ingredient!
None of the ingredients are volatile, are unlikely to cause either cancer or asthma and are extremely unlikely to be cross-contaminated with a genuinely nasty ingredient such as 1,2 Dioxane.
This is a company who understand the problems with today's cleaning product industry, and are actively doing something about it
Bottom line
Puracy Natural Dishwasher Detergent Packs are top quality. They've been formulated with vision and expertise.  They clean well.  They are gentle on you and your family.  And they won't break the bank.  If only they'd use different renewable packaging.  That aside, these are as good as it gets.