Safe Household Cleaning is reader-supported. All reviews are independent and any products reviewed are purchased by the site owner. To help fund this model, some of the links on the site are affiliate links. If you decide to make a purchase from one of these links, this site will receive some commission. At no cost to you. It helps keeps this place running. Learn more
Better Life Naturally Crumb Crushing Dishwasher Gel
Review Score
Ewg Rated
A
Ingredients

Water
Potassium Cocoate
Sodium Citrate
Coco Glucoside
Sodium Silicate
Decyl Glucoside
Quillaja Saponaria (Soap Bark) Bark Extract
Glycerin
Sodium Carbonate
Xanthan Gum
Sorbitan Oleate
Amylase
Protease
Citric Acid


Their dishwashing gel has been formulated with a great deal of care and expertise. It's fully plant-based, is gentle on you, your home and environment and actually works.

I honestly can't recommend this gel highly enough. Bravo Better Life! We'll be seeing much more of you!

Take a look.

The curiously named Better Life Naturally Crumb Crushing Dishwasher Gel is a natural cleaning gel that quickly takes on some of the most stubborn dish debris.
Better Life claim that this super concentrated formula requires almost half the amount of the average dishwasher gel, while also provides the same level of clean without harsh chemicals.
The company also provide full disclosure of their ingredients.
This was a product I had to take a look at.
So who is Better Life?
Better Life, a company based in St. Louis, MO, was born from two dads watching their toddlers crawl across the floor. The toddlers were picking up dirt and dust, as toddlers do, but the dads were also very conscious that the toddlers were picking up residue from cleaning products. The dads didn't know what was in these products, and they became concerned.
This epiphany forced the two dads to create a company with cleaning products made from plant-derived ingredients.
The resulting business aims to provide cleaning products that work, are safe for people and pets. Cleaning products that created and packaged with solar power, recyclable materials, and biodegradable ingredients that help keep the earth safe and sound.
The company sounds great. Now to the gel…
Better Life's Dishwasher gel comes in a 30-ounce plastic bottle which provides cleaning for around 60 loads. The formula is both concentrated and includes spot free dishes. The red, white and black packaging is simple and easy to read.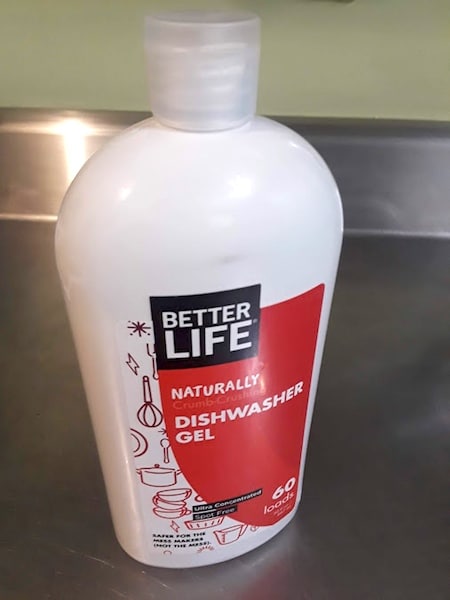 The container is an easy open flip top squeeze bottle. The product only requires a tablespoon of formula for most dishwasher loads, a little more if there are more dishes or heavily soiled dishes.
I live in an area with hard water, and we often have to demineralize the buildup in our dishwasher. What I noticed after a few washes are the massive mineral deposits from past washings were slowly dissolving. Within a week of Better Life use, they disappeared. Some of those left behind were easily scrubbed away after removing clean dishes, while the dishwasher was still warm.
The claims were correct too – a tablespoon will do.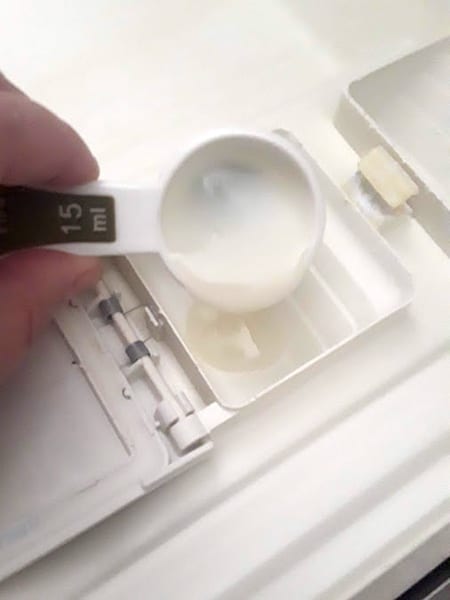 I only needed to fill to the first line of my dishwasher – other brands require filling the container and the extra uncovered compartment. I often prefer dishwasher tablets over liquid – primarily because it seems pointless to ship liquids when its much more economical to ship powders. But Better Life have done a great job of reducing the liquid as much as possible.
I'm pretty sensitive to chemicals, so I am well aware of scratchy throats and watery eyes from most cleaning products. Better Life's formula lacks any scent. The gel is slightly cloudy to white in color and squirts easily into the dishwashing liquid container of our dishwasher. The smaller amount needed entirely blew me away, and I remained skeptical for the first few loads, but once I realized how effective it was, I was sold.
This formulation works amazingly well. We recently got rid of several foggy glasses due to mineral build up. We had scrubbed and tried various methods for cleaning with no success. It took only a cleaning with Better Life to defog some items we held on to. Take a look.
I would contend that Better Life's dishwashing liquid is environmentally sound and lacks the strong chemical irritants of mainstream dishwashing cleaners. Outside of the pleasant lack of irritants to skin, nose, and throat, Better Life's dishwasher liquid cleans well, very well. It unclouded several of our dishes that we had just resigned to be cloudy, even with a rinse aid. It cleaned spme mineral spots on glassware that our previous tablets had put there.
I am a fan.
So what is it made of?
The ingredients in Better Life's dishwashing gel is fully formulated from plant-based ingredients. It's also cruelty-free. The gel is free from VOCs, hormone disruptors, won't cause asthma and is free from any major causes of contact dermatitis.
What it does contain are gentle biodegradable surfactants such as Potassium Cocoate, Sodium Citrate, Decyl Glucoside and Coco Glucoside. It contains natural stain removers such as Soda Ash and Sodium Silicate to prevent spots. Perhaps the most interesting cleaning agent is a plant extract called Quillaja Saponaria bark extract. Comes from the inner bark of the soapbark tree. This bark can be ground into a powder and is known to provide some lathering for natural-based cleansers. It is even used as an additive for beer, so it is safe to ingest. I've never seen it before, and if this is an example of how effective it is, I hope to see it again soon!
Interestingly, the liquid also contains cleaning enzymes. These enzymes work with the cleaning agents and help break down the dirt and grease in your dishes. You find these enzymes in a lot of laundry detergents, they do the job that many harsh mass produced cleaners do, but some people can suffer from contact dermatitis if they come into contact with them.
In Summary
Their dishwashing gel has been formulated with a great deal of care and expertise. It's fully plant-based, is gentle on you, your home and environment and actually works.
I honestly can't recommend this gel highly enough. Bravo Better Life! We'll be seeing much more of you!
Take a look.