Safe Household Cleaning is reader-supported. All reviews are independent and any products reviewed are purchased by the site owner. To help fund this model, some of the links on the site are affiliate links. If you decide to make a purchase from one of these links, this site will receive some commission. At no cost to you. It helps keeps this place running. Learn more
Biokleen Auto Dish Powder - Free And Clear
Review Score
Ewg Rated
A
Ingredients

Sodium Carbonate
Sodium Sulfate
Zeolite
Sodium Silicate
Sodium Citrate
P(AA/NaHS03)_Na Salt
Hydrogen Peroxide
Amylase
Protease
Grapefruit Seed Extract
Glycerin
Sodium Chloride


Biokleen have made a concerted effort to formulate their Free and Clear Auto Dish Powder with ingredients that are safe for consumers, the environment and animals alike. And for that, they deserve enormous credit. But the fundamental purpose of a cleaner is to clean. And unfortunately, this didn't perform well in any of our tests.

All-in-all, this is not quite a top quality product and there are likely better alternatives out there.

Biokleen are an old favorite of ours. We've reviewed their bathroom cleaner, laundry detergent and dish liquid before. They're a company we're always drawn to as they fundamentally understand the issues we're seeing in the cleaning industry today.  And they are incredibly proud of their formulations, shouting from the rooftops about the ingredients they add to their products.  99.9% of the industry could learn a thing or two from this.
So who are Biokleen?
Biokleen was conceived in the 1980s by a man named Jim, a former chemical supply sales executive who was "disturbed" by the side effects he'd seen in customers and colleagues from exposure to toxic chemicals. After being fired for his passion for unearthing the truth about such chemicals, he embarked on his own mission to create products that use less toxic ingredients.
According to their website, the Biokleen company is committed to "harnessing the power of nature to produce plant and mineral based home care products that work".
This review will explore these claims and investigate Biokleen Dish Powder's cleaning chops.
First Impressions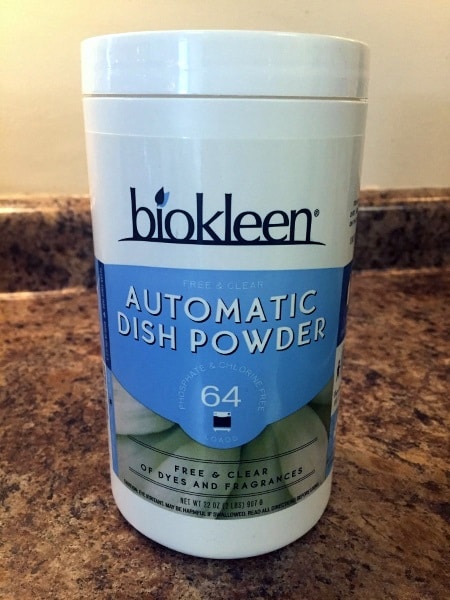 Unlike most dishwasher detergents, this is neither a tablet or a liquid, but rather a powder.  I personally much prefer powders (or powdered tablets) for environmental reasons – why ship liquids all over the world when we can get them from our faucet?
As for this particular powder, its a white unscented powder.  Not that I recommend that you sniff it  – several of the ingredients are eye and throat irritants, so don't get too close.
The label says it is free of dyes, fragrances, phosphates and chlorine, and vows "no animal testing or ingredients". Both PETA and Cruelty-Free International list Biokleen as a cruelty-free company.
How well does Biokleen clean dishes?
I'll cut to the chase…not great. We're talking lots of soap residue and leftover food requiring additional washes. For disclosure's sake, I have a functional dishwasher of the Amana variety and I've used numerous different things in it, from gel packs to solids to other powdered products, and all have performed reasonably well.
The directions on the back say to use 1 tbs for a standard dish load, and 2 tbs for hard water or heavy loads.
Below, you'll see comparisons between the dirty dishes on the left and "clean" dishes on the right. The first is an oven pan that had been sitting out for at least a day. I soaked it using Mrs. Meyers dish soap overnight and rinsed before putting it in the dishwasher. As you can see in the photo on the right, there was quite a bit of dried on soap scum left on the pan after washing.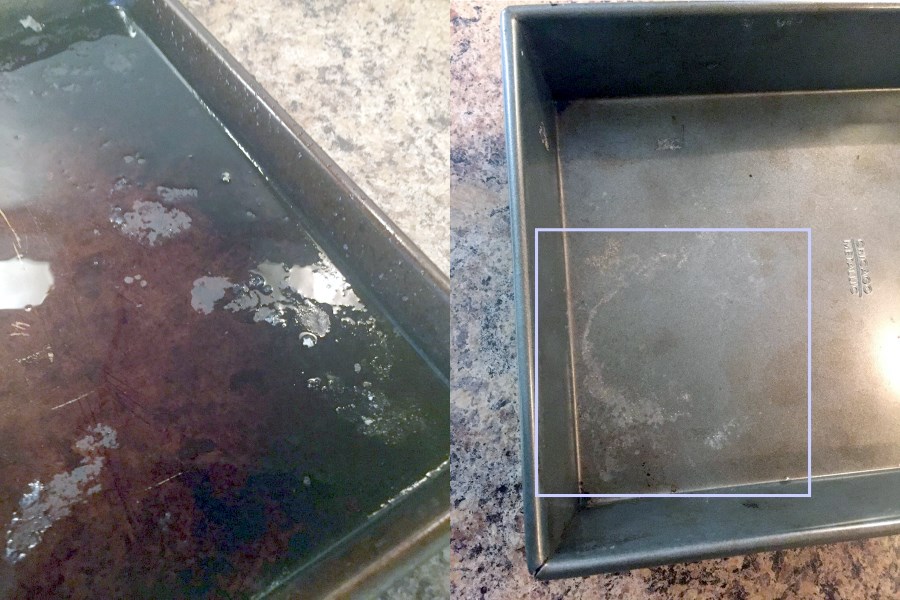 Below is the before-and-after of a nonstick pan. I also soaked this overnight and gave it a quick rinse before putting it in the machine. I don't know about you, but I would not cook on that "after" pan (right) without washing it again. There were some spots of soap residue and even a few small pieces of dried-on food left.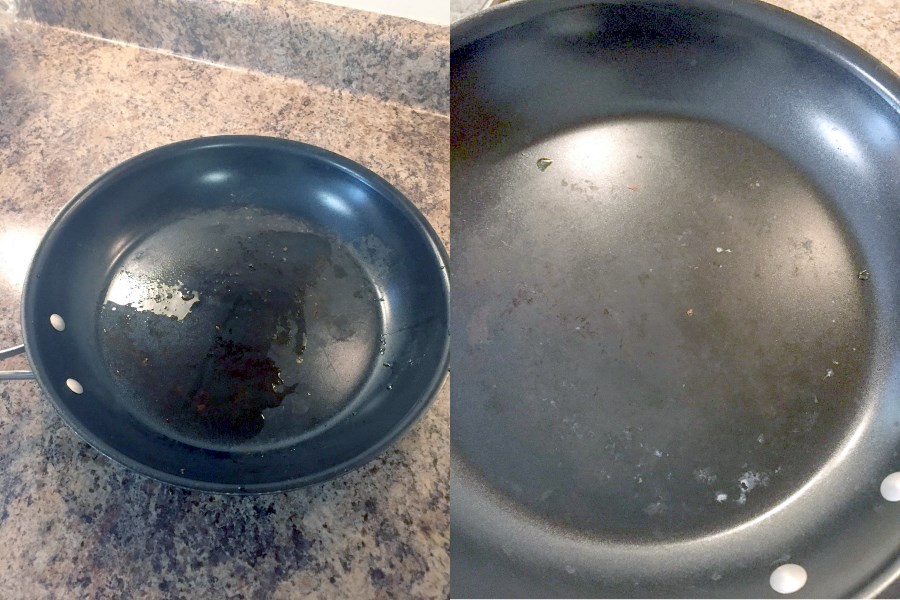 I don't have a Before for this last one because I assumed that a glass wouldn't be much of a challenge for the dish powder… I was not right. What you're seeing there are coffee grounds left around the glass, and yes, I rinsed it first.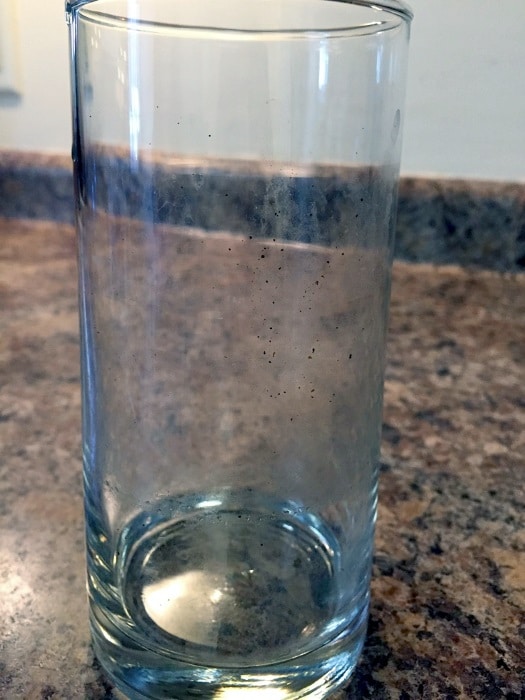 I had to wonder, did the dish powder do anything at all? I actually went back and made sure I read the directions correctly a couple of times.
Biokleen, what happened? We were all rooting for you!
Let's explore the possibility that you might still consider doubling the dosage and using Biokleen dish powder anyway, as long as it's gentle enough on your health and the environment. After all, what's a little extra elbow grease if it means being kind to our bodies and the Earth?
Putting aside the extra water we're using to rewash these dishes, let's see if the ingredients in this formula make Biokleen dish powder a responsible choice.
Does the formula add any sparkle to a lackluster performance?
The most prominent ingredient, sodium carbonate or "washing soda" is a weak mineral base, similar to baking soda but with a stronger alkaline pH. Sodium carbonate is a green choice because its components are found naturally in the environment. Therefore, small amounts introduced over time are not expected to have any environmental impact. In terms of risk to human health, it can be irritating to the eyes, throat, or skin, especially when it's encountered in the concentrated powder form, but in general, it's considered to be safe.
Don't sniff or ingest the stuff, and keep it away from kids and pets.
Additional cleaning power is provided by sodium sulfate – an extremely gentle cleaner.
The formula is a biological formula, with the addition of cleaning enzymes.
This isn't a lot of surfactants or cleaning agents by modern standards.
There's a couple of unique offerings in the formula that even I had to look up.  The company have added zeolites (minerals to act as chelating agents ie to help "soften" hard water).  But without more info on the types of mineral used it's hard to understand more – they may just be there to act as an anti-caking agent.  These are naturally occurring and typically biodegradable so the environmental impact is likely minimal.
And while the formulation is fragrance-free, tucked away at the end of the ingredients list is citrus grandis, or grapefruit seed extract. There is evidence that grapefruit seed extract may be contaminated with impurities, some of them cancer-causing substances like formaldehyde, chloroform and dioxins. That all depends on the type of extract used, and how it's manufactured.  However, it is known to cause contact dermatitis
Is Biokleen Dishwash Powder worth it?
It is clear that the folks at Biokleen have made a concerted effort to choose ingredients that are safe for consumers, the environment and animals alike.  And for that, they deserve enormous credit.  But the fundamental purpose of a cleaner is to clean.  And unfortunately, this didn't perform well in any of our tests.
All-in-all, this is not quite a top quality product and there are likely better alternatives out there.