Safe Household Cleaning is reader-supported. All reviews are independent and any products reviewed are purchased by the site owner. To help fund this model, some of the links on the site are affiliate links. If you decide to make a purchase from one of these links, this site will receive some commission. At no cost to you. It helps keeps this place running. Learn more
Grab Green Automatic Dishwashing Detergent Pods - Fragrance Free
Review Score
Ewg Rated
B
Ingredients

Sodium Citrate
Sodium Carbonate Peroxide
Sodium Sulfate
Sodium Carbonate
Sodium Silicate
Linear Alcohol Ethoxylate
Hydrated Silica
Sodium Polyaspartate
Amylase
Subtilisin
Polyvinyl Alcohol


Grab Green Automatic Dishwashing Detergent Pods is a bio based cleaner that not only cleans well, it contains some of the most gentle ingredients we've yet seen in dishwasher pods.

Excellent.

Grab Green's fragrance-free dishwasher pods were designed for people who prefer not to expose themselves to overpowering scents or harsh ingredients, while still expecting residue-free and sparkling clean dishware.
The company claims their product matches Cascade Pacs® Cascade Complete® AND Cascade Platinum® in lab tests, suggesting it's an equally powerful cleaning agent despite using plant and mineral derived ingredients.
Green products such as these give you the impression you are making a healthier life choice for both you and the environment.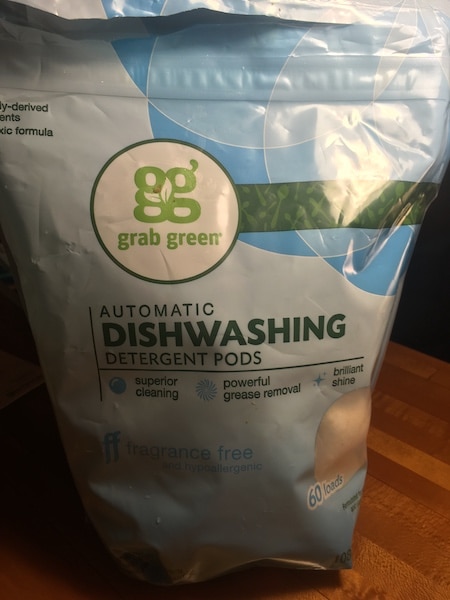 At the end of the day, can they meet the average consumer's needs?
Grab Green makes serious promises to their customers. They claim to have invested in non-toxic but powerful ingredients that are designed to clean the toughest of stains. This is in contrast to conventional suppliers who include phosphates, bleach, and other corrosive chemicals in their products.  Many of these companies don't even include a full ingredient list on their products. Suspicious!! Take a gander next time you are in the grocery store.  We won't review anyone who won't provide their ingredients.  How else can you determine if a product is fit for use in your home?
Grab Green stays true to their name and practices green choices, including using recycled parts and not testing on animals. This company values new ideas and creative solutions and is one of the first to use solvent-free degreasers and Velcro pouch sealers.
They offer a wide variety of cleaning items including laundry detergent, dryer sheets, bleach alternatives, cooking cleaners, dish soap, degreasers, all-purpose cleaners, hand soaps and room fresheners. Many come in fragrance-free flavors.
Let's see what all the fuss is about.
The dishwasher pods come in a pack of 60 which makes for a quite dense bag.
The pods themselves smell a bit strange – not emitting a chemical scent exactly – but a strong odor nonetheless and not what we would have expected for a fragrance-free product.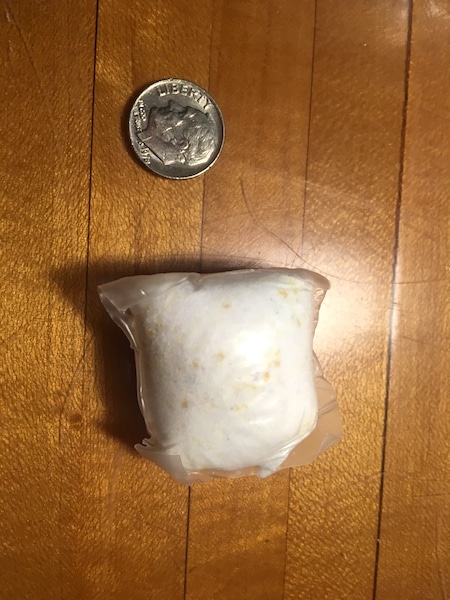 The plastic pouch is re-sealable with Velcro, which works very well and easier to seal than Ziploc edges which sometimes refuse to align.   I would have loved to see the company go plastic-free here – it's not like pods need to be stored in plastic – but one step at a time…
The instructions are a breeze. Way easier than scrubbing dishes by hand in the sink (exhausted just thinking about it).
Step 1: Use one pod per load
Step 2: Place pod in dishwasher
Step 3: Reseal bag for freshness
Got it.
Time for the moment of truth. How well can the pods clean a typical load of dishware?
This week my plates saw burritos, cheese, peanut butter, sticky fruit juice, pasta sauce and oil (there's a constant battle in my kitchen to fend off the ants, fyi).
I don't know about you but there's not much circulation in my dishwasher when it's shut and it creates an anoxic, moist environment. Food items start to ferment quickly and I'm pretty sure the microbes start throwing miniature ragers. Can these pods restore order to my smelly dishwasher of chaos?
Thank goodness! Plates are shiny and clean, and glass is sparkling! There is 99% reduction in food particles.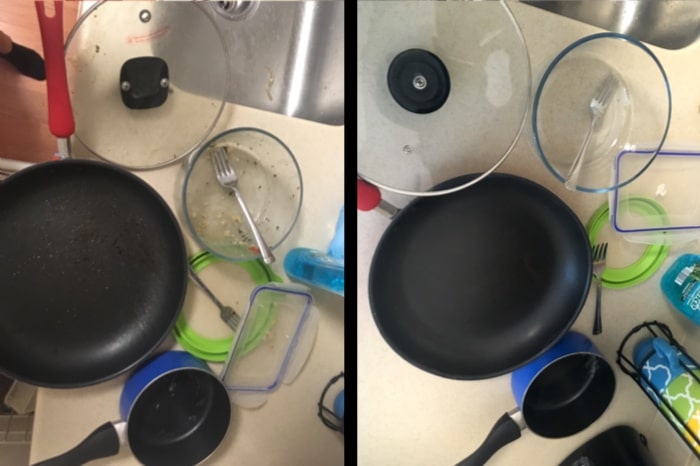 So which chemicals were used to clean these dishes so well and what is their mechanism of action?
The active cleaners in the formula are sodium citrate, sodium carbonate peroxide, sodium silicate, and linear alcohol ethoxylate.
These are all relatively gentle, biodegradable plat/mineral derived cleaners.  There are some contamination concerns with a detergent like linear alcohol ethoxylate, and it can irritate, but this is a dishwasher detergent, not a hand cleaner.
Sodium Citrate is also a chelating agent, and like Sodium silicates/carbonates, used for softening water, adjusting pH and preventing mineral deposits during washing. Sodium sulfate is synthetically produced and used as a thickener in the pods.
In lieu of chlorine bleach, sodium carbonate peroxide is used to combat microbial pathogens. It is effective because it breaks down into the powerful hydrogen peroxide molecule – a natural antimicrobial reagent used inside our own cells.
It is worth noting that this is a biological cleaner – enzymes such as amylase and subtilisin have been added to the formulation.  I often prefer biological formulas as they can provide that extra cleaning "oomph" which gentler formulations often can't provide in isolation.
Even the outer film, Polyvinyl alcohol, is a biodegradable plant-derived ingredient.
This is an impressive formulation.
This is an impressive cleaner.