Safe Household Cleaning is reader-supported. All reviews are independent and any products reviewed are purchased by the site owner. To help fund this model, some of the links on the site are affiliate links. If you decide to make a purchase from one of these links, this site will receive some commission. At no cost to you. It helps keeps this place running. Learn more
Better Life Glass Cleaner
Review Score
Ewg Rated
C
Ingredients

Water
Decyl Glucoside
Lauryl Glucoside
Methylisothiazolinone


If we were to judge Better Life Glass Cleaner on cleaning power alone, this would be a top recommendation. We're also impressed that this cleaner contains only four ingredients.

The fact that one of those ingredients is MI is still baffling. This is a company who are averse to using toxins in their products. It doesn't add up.

Hopefully, as awareness grows and more studies are conducted, MI will be phased out of their products.

The guys at Better Life are back with a glass cleaner that promises to polish any glass surface!
This isn't the first Better Life product we've reviewed, and it won't be the last.  I love this company, their understanding of the problems with today's cleaning industry, and what they're doing about it.
To be honest, Glass surfaces are frequently overlooked in my house because they get dirty again in a matter of minutes. I was excited to have an excuse to clean some windows and mirrors!
But before we dive into our review, let's take a look at how this great company began.
Who is Better Life?
Better Life started when friends Tim Barklage and Kevin Tibbs became parents and realized the cleaning products they used on their children's toys were actually not that clean. Tibbs, a chemist, realized even the trendy eco-friendly and claimed safe-ingredient brands like Method and Biokleen were hiding what they call toxins. So the friends set out to begin a company that provided purely-safe cleaning products.
After securing a successful deal on the TV show Shark Tank, Better Life has been steadily climbing the ranks in the natural cleaning market, and for good reason. Their innovative products are plant-derived, eco-friendly, and actually work!
I've used Better Life products in the past and have loved them, so I was excited to try this product!
How does it look?
The 32-ounce bottle is relatively plain and unassuming, but a few witty phrases like "Naturally Smudge-Smacking" and "I can see clearly, wow!" jazz up the simple label.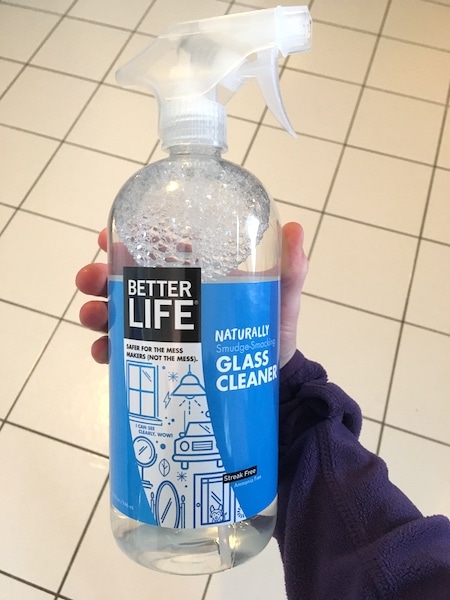 The glass cleaner is scent-free, which is always a checked box for me. Although I'm not generally sensitive to scents, it's always easier to not worry about scented ingredients. I was also pleasantly surprised to see only four ingredients on the label, which left extra room to promote Better Life's non-toxic cleaning vision. More on that later!
How well does it work?
Let's get cleaning!
The label says to spray and wipe clean almost any glass surface including plexiglass, tinted windows, and auto glass. Chrome, acrylic, and mirrors are other recommended surfaces. I was happy to see so many options; versatility is always a win in my book!
Windows
I tried the cleaner on my bay window first. My children like to smudge fingers and noses on the window panes as they coo at the cars and dogs on the street below. Lots and lots of handprints were present, but unfortunately, my camera only wanted to document our neighborhood's first snowfall instead.
While I couldn't capture the before and after of my windows, the good news is Better Life's cleaner worked immediately to remove all the fingerprints! Streak-free, no smudges, and no second application needed. Success!
Glass Kitchen Table
I love my glass table when it's clean! Unfortunately, that's not very often.
I recently reviewed a different glass cleaner that did not remove the everyday food build-up on our table; I had to scrub away most of the mess before even spraying the glass cleaner. I decided to give Better Life's glass cleaner the same challenge: an un-wiped table with dried yogurt smudges, oily chicken nugget smears, and sticky clementine splotches.
To my great joy, Better Life's glass cleaner won the battle of the yucky messes! The cleaner wiped away all the smudges and stickiness, leaving behind a sparkling surface on the first try. I wish my pictures did it justice.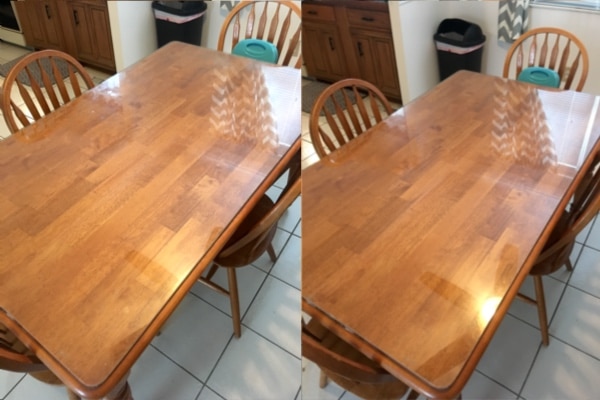 Bathroom Mirror
Our bathroom mirrors get routinely neglected. There's usually not enough time to clean every surface, so I prioritize the "dirty" ones. With Better Life's glass cleaner in hand, it was time to give our mirrors a little treat.
Water stains, toothpaste flecks, and fingerprints were very obvious (although difficult to properly document). But the sparkling clean was even more impressive! Leaving behind a beautiful streak-free surface with no extra scrubbing, Better Life's glass cleaner will become an easy addition to my regular cleaning routine.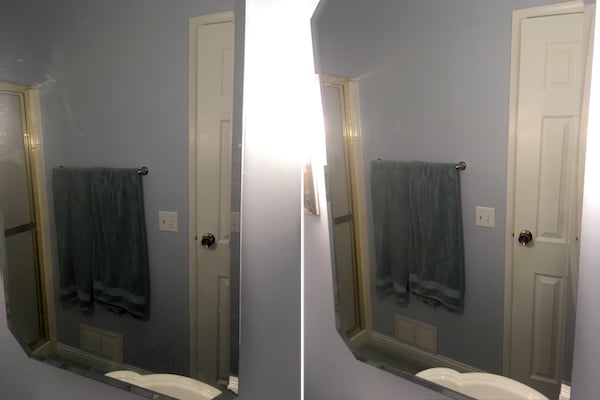 What's in it?
It's always nice to see a natural cleaner work like the conventional brands, but how safe are the ingredients?
As previously mentioned, I was happy to see only four ingredients listed:
Water
Decyl Glucoside
Lauryl Glucoside
Methylisothiazolinone
Decyl and lauryl glucoside are non-ionic surfactants derived from corn, coconut, and palm kernel. They are mild and gentle cleansers that are friendly to those with skin irritations and allergies. Because they are plant-derived, they're also very biodegradable.
So far, so good, so simple.
But the final ingredient listed is Methylisothiazolinone (MI).
MI is a synthetic preservative that I've encountered a lot over the years.  None of them particularly impressive.  It was once almost ubiquitous in products as it was so effective at preserving personal care and cleaning products.  Then gradually, dermatologists started to notice what they called an epidemic of contact dermatitis cases.
According to Dr. Jennifer Cahill, MI is the leading cause of allergic contact dermatitis in Australia, where reactions were so widespread in 2013 it was considered an epidemic. Despite the growing awareness of MI's hazardous nature, it remains a common preservative in American products.
It's more heavily controlled in the EU where public awareness is higher.  It's banned completely for use in leave-on cosmetic products and heavily controlled in how much can be used in other products (0.01 percent).
The issue I have with the inclusion of this ingredient is, while it's not a leave on product, MI is a volatile compound.  Meaning it is airborne after use, and exposure to airborne allergies is not a pleasant experience for allergy sufferers.  And the reactions of this chemical can be particularly harsh as any of the Facebook support groups for allergy sufferers can testify.
It's a shame that an all-around great product is polluted (literally) with even a small amount of MI.
(Bonus note: MI appears to be the preservative of choice for Better Life products, especially for products in spray bottles. Be sure to check your labels!)
Would you recommend it?
Performance wise I heartily recommend this product.  It contains no phosphates, no ingredients likely to cause cancer, no 1,4 dioxanes, its fragrance and cruelty-free.  There's a lot to like.
I'm also impressed that this cleaner contains only four ingredients.
The fact that one of those ingredients is MI still baffles me.  For a company so adverse to "toxins", the inclusion of this ingredient beggars belief.
Hopefully,  as awareness grows and more studies are conducted, MI will be phased out of their products.