Safe Household Cleaning is reader-supported. All reviews are independent and any products reviewed are purchased by the site owner. To help fund this model, some of the links on the site are affiliate links. If you decide to make a purchase from one of these links, this site will receive some commission. At no cost to you. It helps keeps this place running. Learn more
Ecoegg Laundry Egg for Sensitive Skin
Review Score
Ewg Rated
NA
Ingredients

Sodium C12-C16 Olefin Sulfonate
Sodium Carbonate
Calcium Carbonate
Sodium Bicarbonate
Sodium Metasilicate
Dodecyl Alcohol, Ethoxylated
Cellulose Gum
Sodium Citrate


Ecoegg's Laundry Egg is a fantastic revolution in affordable, natural, sensitive skin friendly washing detergent. Approved by the National Eczema Foundation and Allergy UK our analysis of Ecoegg's ingredients supports the Ecoegg Laundry Egg as being great for sensitive, allergic and reactive skin types.

However, it should be noted a separate stain remover is a necessity for heavily soiled clothing - read our full review for details.

Imagine finding a washing detergent which was kind to your skin and kind to your purse. On the quest for a sensitive skin friendly washing detergent, you've likely found "kind to skin" formulas at extortionate prices.
The natural Ecoegg Laundry Egg could be about to change this.
Supported by the National Eczema Society and Allergy UK with an average cost of under $0.05 per wash – can Ecoegg Laundry Egg get you the best of both worlds?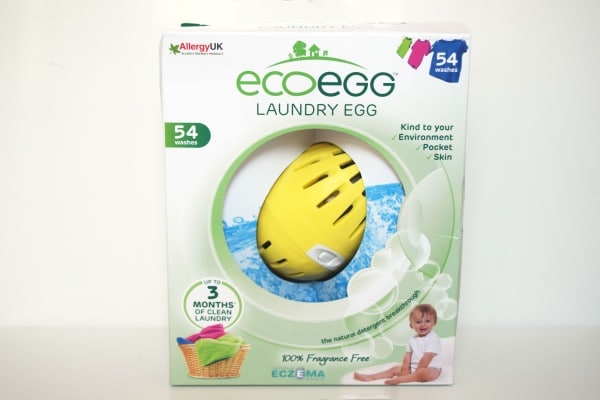 First stop: Who makes Ecoegg Laundry Egg? Are they sensitive skin experts?
Ecoegg Laundry Eggs are simply and very transparently owned by a UK based company called Ecoegg limited.
Founded in 2008, Ecoegg's company mission is to help everyone live clever. They aim to do this by making eco-friendly products without harsh ingredients which are environmentally friendly and good for your health.
Great promises.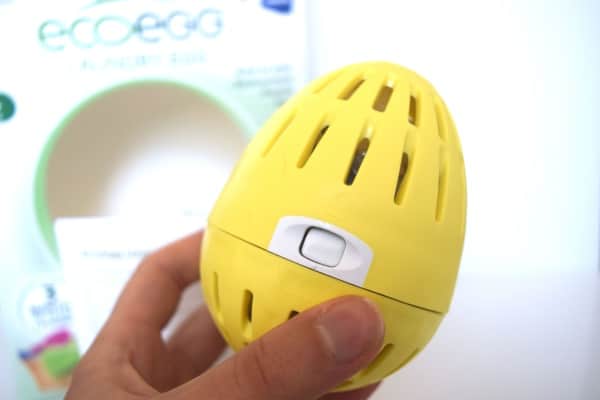 Bottom line: Ecoegg understands the problems with today's cleaning industry and wants to revolutionize the way you think about traditional household products.
Ecoegg's environmental commitments are extremely clear and comprehensive. Being friendly to your environment, your household and your skin is Ecoegg's mission. The fact the ingredients Ecoegg use are approved by the National Eczema Foundation and Allergy UK appears intimately tied to this.
With a 10 year company history and counting, Ecoegg are set to offer you something different from the ordinary. Next stop – is the Ecoegg Laundry Egg a product of quality?
Arriving in a recyclable cardboard box and claiming to be the natural detergent breakthrough, Ecoegg Laundry Egg comes in 2 sizes – a 54 wash format and a 720 wash format.
The largest format Ecoegg claim to last for 3 years – wow!
The Ecoegg Laundry Egg is (as the name may have led you to already conclude) an egg-shaped device with balls of natural washing detergent sat inside.
On arrival, these balls are housed in a biodegradable bag which, after the first washing, dissolves away. This is ingenious. And for environmental reasons, I much prefer the use of powders (or compressed powders) over liquids. Why transport 100-ounces of water about when it comes out your tap?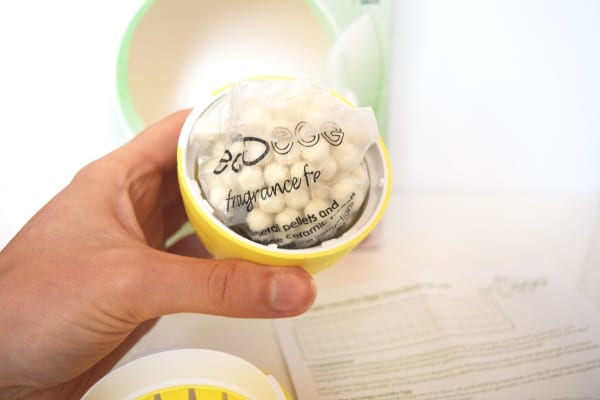 The Laundry Egg is opened by pressing a small white button found around the 'belly' of Ecoegg's Laundry Egg. In reality, you only need to use this once the inside pellets have been used up – Ecoegg Laundry Egg is refillable.
Ecoegg Laundry Egg's washing instructions are simple, pop it inside the drum of your wash and press start. They also instruct you not to use the Laundry Egg in a wash temperature of over 60 C/140 F and not to use in a drying cycle. Ecoegg also instructs not to use their Laundry Egg on delicate fabrics.
The inside 1-page instruction leaflet states 'while the Ecoegg Laundry Egg works well on most everyday stains, as with conventional washing detergents there may be the occasional stains that require extra attention'.
A perfect point for us to test the Ecoegg Laundry Egg's real-life stain removing powers. Does Ecoegg's Laundry Egg really match up to an everyday washing detergent or to that point – a sensitive skin friendly washing detergent?
To test we purposefully stained 2 type of fabric, a 100% cotton t-shirt in white and a cotton-polyester work shirt in white. You can see how these swatches started out below. All 3 stains were left to dry-in overnight.
Results time; you can see in the below pictures Ecoegg Laundry Egg has moderate to weak stain removal performance. Soy sauce is almost 100% removed but tomato stains lurk significantly as do tea stains. In comparison to other sensitive skin friendly washing detergents (ones we've tested), Ecoegg Laundry Egg stain removal performance is not comparable.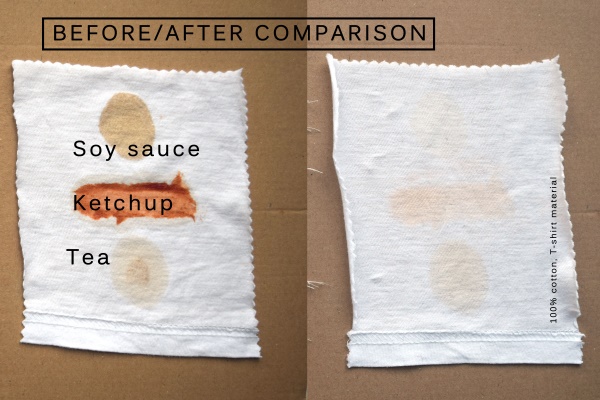 Ecoegg do sell stain removers separately and in their instructions recommend using a stain remover on hard-to-wash-out stains.
After washing jeans, t-shirts and jumpers alike fabrics feel clean and in our tests caused no irritation against my skin. That said, stain removal performance vs. other sensitive skin friendly detergents is lacking – a separate stain remover is a necessity for stained clothing.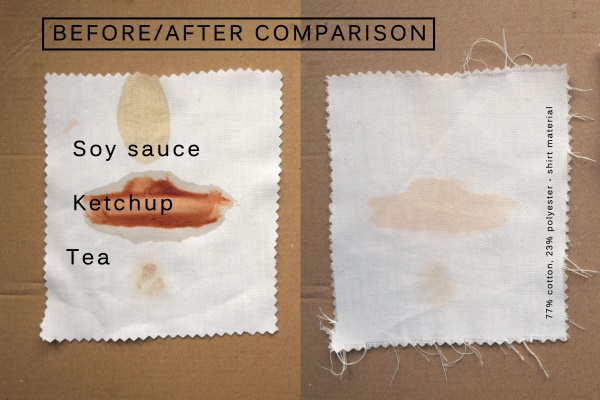 Now onto the exciting bit, what is Ecoegg's Laundry Egg made from? Is it really that different to a standard washing detergent?
Inside the 1-page instruction sheet, you'll find a brief scientific explanation of how Ecoegg Laundry Egg works.
There are 2 kinds of pellets housed inside Ecoegg's Laundry Egg;
Tourmaline ceramic pellets – said to weaken adhesive forces between dirt and fabric
Mineral pellets – which ionize oxygen molecules and can then penetrate deeply into fabric lifting away grime and dirt
Note: Ecoegg also claim the mineral pellets have a natural softening effect on fabrics – therefore no additional laundry softener is needed – this is fantastic news as fabric softeners are a common trigger for sensitive skin types.
The ingredients used in these pellets are:
34% – Sodium C12-C16 Olefin Sulfonate – a mild surfactant
23% – Sodium Carbonate – helps soften water by binding to hard water minerals which can deactivate detergents
15% – Calcium Carbonate – filler, abrasive agent
10% – Sodium Bicarbonate aka baking soda – alkali which can help soften clothes to allow stain removal, fizzes in water which helps lift dirt
8% – Sodium Metasilicate – strong alkali, can also react with oils/grease to form soap
7% – Emulsifier – used to make pellets
2% – Cellulose Gum – as above
1% – Sodium Citrate – a chelating agent used to help soften hard water
Surfactants such as sulfates are known to roughen skin and therefore disrupt your skin integrity – a process which reduces your skins barrier properties and can, therefore, lead to sensitive skin flares. Sodium C12-C16 Olefin Sulfonate as a milder detergent is significantly less likely to cause such reaction.
Ecoegg's Laundry Egg uses 2 strong bases aka ingredients which cause the pH of water to become alkaline. It's believed alkaline water helps to remove acidic food stains, so stains made by foods like soda, wine, soy sauce, pasta and fruit juices.
However, stains made from foods like spinach, kiwis and beetroots – alkaline foods may require an acid product to remove them.
Ecoegg's Laundry Egg, however, can also help clean your clothes by using oxygen as an oxidizing agent. Essentially when a stain ingredient is oxidized it becomes colorless – the dye ingredient is broken down (i.e. its chromophore) and therefore a stain is no longer colored.
As many of the ingredients used in Ecoegg's Laundry Egg are used to soften water, they help prevent surfactant scum aka soap scum from being deposited onto fabrics – this is especially helpful for sensitive skin types.
Overall, the ingredients Ecoegg use make a great choice for sensitive skin friendly washing.
While Ecoegg's Laundry Egg stain performance is not ideal, for everyday washing with only light staining it makes a fantastic, purse-friendly choice for those of us with sensitive skin.
With better stain removal abilities, this would have been a clear 5/5 review.