Safe Household Cleaning is reader-supported. All reviews are independent and any products reviewed are purchased by the site owner. To help fund this model, some of the links on the site are affiliate links. If you decide to make a purchase from one of these links, this site will receive some commission. At no cost to you. It helps keeps this place running. Learn more
Earth Friendly Products ECOS Shower Cleaner
Review Score
Ewg Rated
A
Ingredients

Water
Alcohol Denat
Decyl Glucoside
Sodium Citrate
Sodium Gluconate
Citric Acid
Potassium Sorbate
Aloe Vera
Tea Tree Oil
Lavender Oil

Earth Friendly Products ECOS Shower Cleaner has good cleaning power, easily removing soap stains. The formula is gentle too, relying on plant-derived compounds including tea tree, aloe vera and lavender oil. There are a couple of ingredients that can cause contact dermatitis - so wear gloves when using this. If you are looking for a more powerful cleaner to remove refractory buildup, however, I would look elsewhere.

Most of the life on our planet is absolutely dependent on plants and their chemical photosynthetic products derived from sunlight energy. We depend on plants for food, oxygen, energy, shade, beautiful gardens, etc… Why not also harness the power of plants to clean our bathrooms?
That's exactly what Earth Friendly Products have done with their ECOS Shower Cleaner.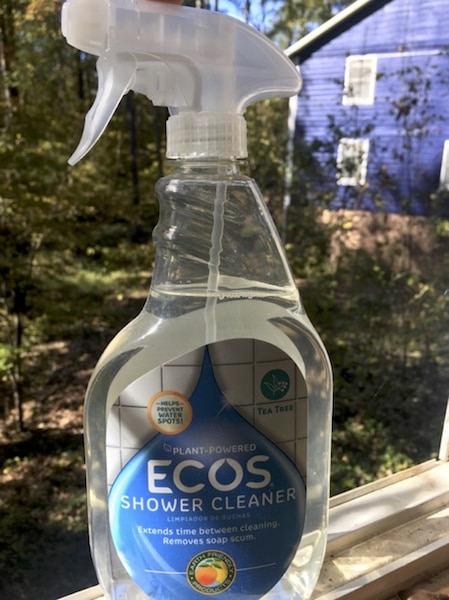 ECOS' Shower Cleaner uses plant-derived ingredients, with the intention of making it non-toxic to people, pets and the environment. ECOS is interested in making this green lifestyle affordable and efficient, and true to their green nature they operate from carbon-neutral facilities relying 100% on renewable energy following zero waste guidelines.
Earth Friendly Products is aware of the troubles with today's cleaning industry, and they are actively doing something about it.  This company doesn't believe green needs to be expensive or reserved only for the upper class.  We all want our loved ones to be out of the way of harsh chemicals and corrosive reagents. Unfortunately, most of us don't always realize what's inside of our products. (Reminder: always read the labels! We don't review products that don't disclose their ingredients).
Interestingly, the Environmental Protection Agency (EPA) of the United States government has recently put together a "Safer Choice" label to point families interested in healthy living to safe, non-toxic products. Earth Friendly Products have been designated the EPA's Safer Choice partner of the year twice – in 2015 and 2017. Those are some impressive credentials.
Their products are used worldwide in over 62 countries, with a whopping 72 "Safer-Choice" certified products. In addition to this tea tree bathroom cleaner, ECOS offers laundry detergents, dish soap, baby cleaners, all-purpose cleaners, and toilet and pet cleaners.
The fact they make cleaners safe for babies is a pretty darn good indication that these ingredients are as mild as can be.
They also produce a natural drain cleaner – which is the first I've heard of a green drain product. You mean I don't have to use traditional drain cleaners containing bleach and lye next time!?
Time for the moment of truth.
The plastic spray bottle comes in 22 ounces. The bottle proudly states this product may extend time in between cleaning and removes soap scum.
"See the clean. Feel the love."
For cleaning purposes, directions state to spray directly onto the tub, tiles, fixture or glass and clean with any wiping item of your choice (paper towels, rag, cloth). To use for protection against water/soap spots, you are instructed to spray directly onto surfaces after showering or bathing. Let it soak in and naturally wash off the next time you shower.
I tested this product out as a general cleaner. It was applied to porcelain sink with metal fixtures that was stained with toothpaste, makeup, and coffee in its recent past. You can see a concentration of scum near the sink drain and obvious soap debris on the faucet.
The spray bottle head is very high quality; I have used many bottles that break quickly after use. This one feels heavy duty and effortlessly releases a large amount of liquid.
Upon use, the scent of lavender and tree oil is extremely apparent – so much so that I started to sneeze almost immediately after spraying. Some people are more perceptive to these plant fragrances than others, and this is definitely something to keep in mind if you are one of the sensitive folks.
I enjoyed the scent as it brought the freshness of the outdoors into my bathroom!
The cleaner works well to remove soap scum – the faucet is sparkling after use.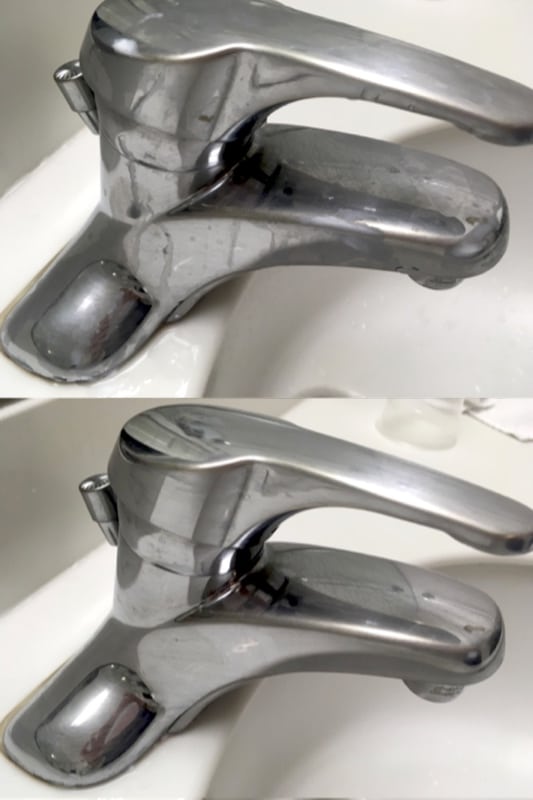 However, I noticed that the cleaner didn't remove the sprinkled makeup particles. In fact, it spread them around the drain and caused them to be even more noticeable.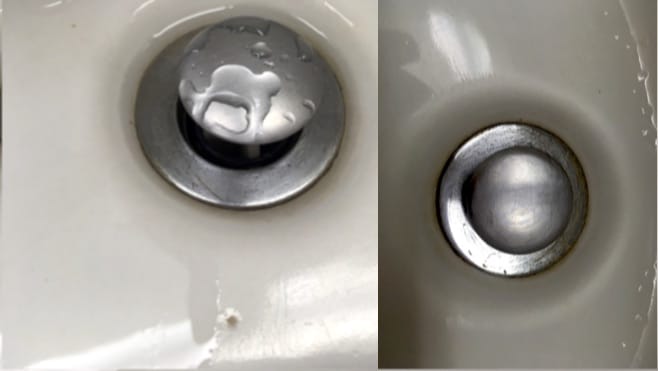 The cleaner was apparently not designed to remove this type of non-biological dander.
Tree oil, you say? Tell me more.
We have reviewed many eco-friendly projects before, but we haven't yet seen a product with tree oil as an active cleaning ingredient.
Impressively, nine out of ten ingredients are plant-based/derived, with three in their actual raw form: aloe vera, lavender, and tree oil. These natural compounds have been used for centuries for their cosmetic and medicinal purposes.
While the formula is officially fragrance-free, this means fragrances haven't been added to the formula.  However, these oils do contain fragrances, so if you're sensitive to fragrances you may want to look elsewhere.
In addition to tea tree oil, the two other surfactants in this formulation are Denatured Alcohol and Decyl Glucoside.  Both are plant-derived and biodegradable.    Denatured Alcohol contains both cleaning and antiseptic properties.  You'll often find some form of alcohol in spray cleaners due to its cleaning power and the fact it evaporates so quickly.  That said, alcohol can dry the skin, or even irritate if in direct contact with the skin, so use gloves when cleaning with this product.  Also, bear in mind that alcohol is a volatile compound, so be sure to use this cleaner in a well-ventilated room.
In addition to the cleaning agents, the cleaner contains a couple of plant-derived chelating agents to help soften hard water.  They have also added Citric Acid to adjust the ph balance of the formula.
So far so good.
The one non-plant based compound is potassium sorbate and is commonly used for food preservation. It may cause contact dermatitis in some people, but used at concentrations below 0.5% they don't appear to be significant irritants.
If my sick niece coughs all over the sink and then I head in to clean with this product before brushing my teeth, what are the chances those germs are still alive and ready for me? Tea tree oil is a natural antiseptic that combats bacteria, viruses, mites, and fungi, so chances of me catching those nasty germs after using this product are likely low. Tea tree oil can aggravate sensitive skin and can cause allergic dermatitis reactions even at low concentrations in products (5-10%), something to be aware of.
Aloe gel is widely used a topical and sometimes medicinal reagent with reports of antidiabetic, anticancer and antibiotic activity, although the chemical has caused allergic reactions in certain cases. Similarly, lavender oil is commonly used as an antibacterial and antifungal reagent in addition to its cosmetic and fragrant purposes.
Do I recommend it?
Overall I enjoyed this product – it removes soap stains well relying on natural and powerful compounds including tea tree, aloe vera and lavender oil.   The formulation is excellent too, primarily using plant-based biodegradable ingredients.  There are a couple of ingredients that can cause contact dermatitis – so wear gloves when using this.   If you are looking for a more powerful cleaner to remove refractory buildup, however, I would look elsewhere.
EPA certified plant-based soap-scum cleaner
Completely natural: no dyes, phosphates, parabens, phthalates
Uses tea tree oil as active ingredient – may cause skin irritation
Extends time between bathroom cleanings