Safe Household Cleaning is reader-supported. All reviews are independent and any products reviewed are purchased by the site owner. To help fund this model, some of the links on the site are affiliate links. If you decide to make a purchase from one of these links, this site will receive some commission. At no cost to you. It helps keeps this place running. Learn more
Eco Me Glass Cleaner
Review Score
Ewg Rated
NA
Ingredients

Water
Acetic Acid
Caprylyl Capryl Glucoside
Sodium Lauryl Glycol Carboxylate
Lauryl Glucoside
Essential Oils

Eco-Me's Glass Cleaner hits a home run on some surfaces and strikes out on others. Grime and dirt were effectively wiped away on glass surfaces but stuck around on mirrors. Streaking was also a problem unless the towel was completely dry. The ingredients in this product are wonderful, effective, and safe with the exception of an undisclosed mix of essential oils. This was a great cleaner on the right surface, but not consistent enough when compared to the top performers.

Eco-Me is a company that
we've reviewed before
, and it won't be the last! This company makes products with high-quality ingredients that deliver great results.
Today we are reviewing their glass cleaner, and given how much I loved their previous offerings, I couldn't wait to get started!
Who is Eco-Me?
Eco-Me was born in 2006 out of need and concern. Founders Robin Kay Levine and Jennifer Mihajlov saw the need to remove harmful chemicals from their homes when Levine's sister was diagnosed with breast cancer at an early age.
After researching environmental factors as possibly contributing to this diagnosis, the team realized that toxins from everyday products were leading to an increase in disease.
Together, Levine and Mihajlov created Eco-Me, a company that creates products that focuses on family health and wellness. They use premium quality ingredients that deliver a safe and effective clean.
The company also carries the GreenSeal.org ECO SCALE certification. This is a nonprofit organization that holds high standards on toxicity, packaging materials, and more to help customers easily identify high-quality, safe, and eco-friendly products.
Sounds like a great company! I couldn't wait to get the product!
How does it look and smell?
Eco-Me's Glass Cleaner comes in a large 32-ounce bottle featuring the distinctive Eco-Me tree front and center.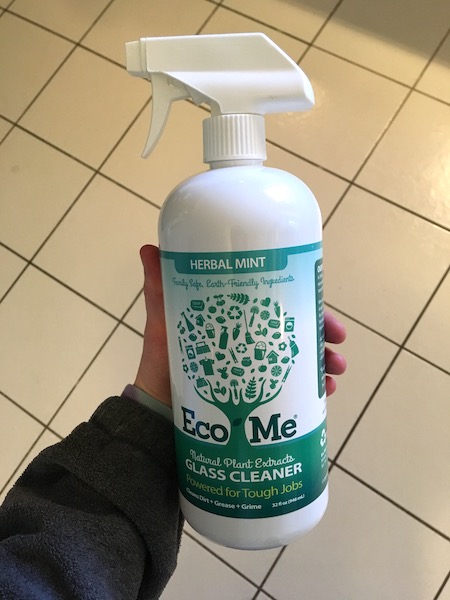 It promises to clean dirt, grease and grime from windows and mirrors with their natural, plant-derived formula.
I try to buy products that are fragrance-free to avoid flaring up my sensitivities but this only comes in an Herbal Mint scent.
The fragrance is very unique: mint, an undetectable combination of herbs, and vinegar. Thankfully, it isn't an unpleasant scent or very strong, and the scent wipes away with the cleaner.
Perhaps I received a damaged bottle, but the spray head is very flimsy and frustrating to use. Given how large the bottle was, I needed a sturdy spray head.
Otherwise, the bottle was appealing, informative, and got me excited about using the product!
Let's get cleaning!
The directions say to shake well, spray, and wipe with a dry cloth.
One thing I did notice about this glass cleaner in comparison to others I've reviewed is I did need to use a completely dry cloth in order to get a streak-free shine. Once the cloth became damp, it was harder and harder to wipe away all the streaks.
I went through three times the cloths I normally use when cleaning my windows!
This could possibly be because the product doesn't have alcohol in it—an ingredient that allows evaporation for a quicker streak-free finish.  Whatever the reason, it didn't exactly appeal.
Glass Kitchen Table
First up was my kitchen table. This is always the toughest job for the glass cleaners I review. Sticky honey, spilt milk, finger smudges, and other questionable substances are frequently present on my table.
The cleaner cut through almost all the smudges, stickiness, and grime on the first swipe! I only had to reapply to select extra-tough spots.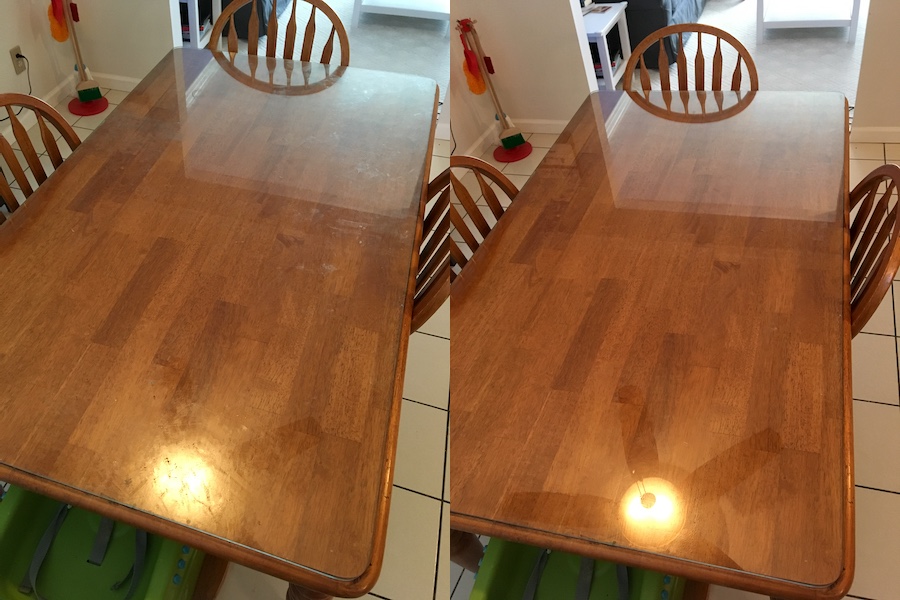 Look at that sparkling shine!
Kitchen Windows
The window right above my kitchen sink is easily overlooked during routine cleaning. Then a day comes when I can't stand how dirty it is! Today was one of those days, and I was so glad to have a new cleaner to try.
The cleaner did completely remove the splotches and dirt from my window, but I had to work harder for that streak-free shine than I did for the kitchen table; I had to spray certain areas three times to get the window completely clean, and I had to change my cloth to a dry one in order to remove the streaks.
I have to say, I have tried better.
Glass Doors… inside and out!
Curious about how the cleaner would work on the outside of windows, I moved on to my glass doors. Cleaning the inside of the doors was a breeze. The outside of the doors was a different story.
The normal outdoor buildup of pollen, dirt, and water stains required some extra spraying and scrubbing to remove. I needed to change my cloth to a dry one about halfway through cleaning.
But once everything was clean and dry, the glass doors looked so amazing that a picture couldn't do it justice.
Mirrors
Last… and unfortunately the least impressive was the bathroom mirror. The cleaner hardly worked any better than water at removing stains. I had to pick away dried toothpaste dots and it was difficult to keep the product from streaking.
I have to say, it was a disappointing finish to a test that started out wildly successful.
Do the ingredients stack up?
The results of my test were a toss-up. Eco-Me's Glass Cleaner had several big wins and several surprising failures. But my approval of any product is dependent on the ingredients.
Eco-Me does strive to educate their customers on their ingredients by giving a very brief explanation of each ingredient in the product. This automatically puts them ahead of most of the industry – most of whom won't even disclose what's in their products.
Inside this product are:
Water
Acetic Acid
Caprylyl Glucoside
Sodium Lauryl Glucose Carboxylate
Lauryl Glucoside
Natural Plant Essential Oils
Acetic Acid is vinegar, one of the most natural cleaning solutions that have been used for thousands of years. Its acidic properties dissolve grease and grime without damaging surfaces. Best of all, it's safe for those with sensitivities to use!
Caprylyl and Lauryl Glucoside are non-ionic surfactants derived from the fatty alcohols and glucose found in vegetables. Its gentle cleansing properties are safe for those with skin sensitivities.
Sodium Lauryl Glucose Carboxylate is derived from the glucoside of corn and coconut, but there isn't much information on the substance. No studies report negative side effects, but it also hasn't been reviewed by the Cosmetics Database or EWG. As a foaming agent, this ingredient is a natural replacement for sodium laureth sulfate, also known as SLES, a huge eye and skin irritant.
Finally, the product is scented with an undisclosed mix of essential oils. Especially since this is a mix of oils, this is problematic for those with sensitivities to scents. Worse, leaving the consumer with a vague title is conforming to the typical behavior of conventional cleaning and personal care companies.
Scents–even essential oils–are volatile compounds that can cause asthmatic effects, contact dermatitis, headaches, and other irritating symptoms like uncontrollable sneezing.
With how hard Eco-Me fights against the current of conventional companies, it's baffling and disappointing that they don't give full disclosure on fragrances.
What's the verdict?
This product had about equal highs and lows.
It cleaned some surfaces amazingly well; other surfaces it barely did a thing. I also had to frequently change my cleaning towel in order to avoid streaking. That adds up to a lot of extra laundry or paper towels!
With the exception of the undisclosed essential oil mixture, the ingredients were spot on. I couldn't be happier with the selection: tried and true vinegar, safe and gentle cleansers, and a respectable replacement for SLES.
I would recommend this product but it may not be an all-purpose glass cleaner. I'll be using this product frequently for my kitchen table though, which isn't really what it was created for.