Safe Household Cleaning is reader-supported. All reviews are independent and any products reviewed are purchased by the site owner. To help fund this model, some of the links on the site are affiliate links. If you decide to make a purchase from one of these links, this site will receive some commission. At no cost to you. It helps keeps this place running. Learn more
Better Life Kitchen and Bath Scrubber
Review Score
Ewg Rated
NA
Ingredients

Water
Calcium Carbonate
Decyl Glucoside
Potassium Cocoate
Cetyl Alcohol
Coconut Oil
Cetearyl Alcohol
Xanthan Gum
Methylisothiazolinone

I highly recommend Better Life's Kitchen and Bath Scrubber, with one major caveat. It contains Methylisothiazolinone (MIT). It's such a shame that this ingredient persists in cleaning products. MIT aside, the formulation is outstanding, the performance is stellar, I'm pleased with the value, and it's a great comfort to know that I'm supporting a company with eco-friendly values aligned with my own. Without MIT this is a 5-star product. Hopefully, we'll see future iterations with this ingredient removed altogether.

My kitchen is well-loved, to say the least, so I'm always happy to find another eco-friendly product to help me keep it clean.
If you're familiar with the hit television series Shark Tank, you may have heard of the company Better Life. We've tried numerous products of theirs before, and we've never yet been disappointed.
I couldn't wait to give their Kitchen and Bath Scrubber a whirl.
Meet Better Life.
First things first, of course—before I could dive into my kitchen-rescuing adventures, I needed to learn a bit more about Better Life and their unscented, eco-friendly products.
Founded by two dads and lifelong friends in 2008, Better Life came to be when Tim Barklage and Kevin Tibbs watched their little ones do what kids do best—crawl on the floor. They recognized that the household products they used so diligently to clean their surfaces of dust and dirt that might be dangerous to their children and could leave a dangerous residue of their own.
As a formulation chemist, Tibbs set to work on developing products that perform well while remaining safe to use. Now, Better Life is based in St. Louis, Missouri and goes above and beyond to ensure that their products protect the health of children, parents, pets, oceans, and the planet.
This is a company that understands the inherent problems with today's cleaning industry and are doing something about it.
Better Life's company mission is exactly in line with the goals of health-conscious and eco-friendly households, so we're off to a great start. Onto the product itself!
The 16 oz bottle isn't one of the sleekest and most flattering packaging designs that I've seen, but the bright, bold colors on the label and the clever cheekiness in the directions put me in a good mood that had me ready to give this product a shot right out of the box.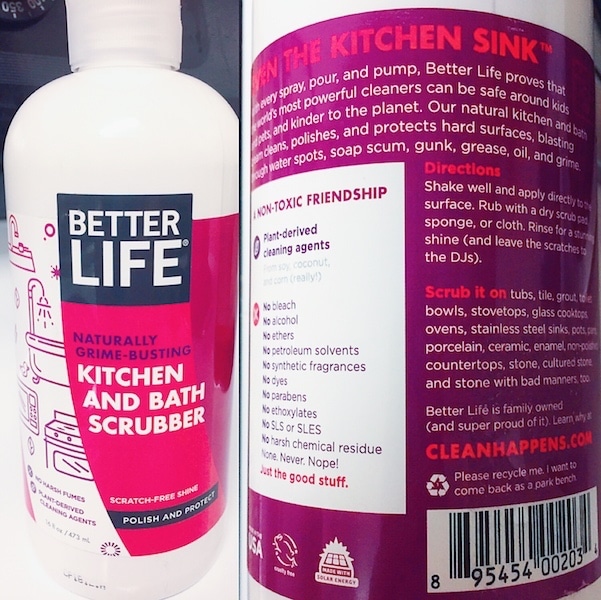 Thankfully, the bottle came with a seal to prevent any goopy messes in transit and to keep the ingredients fresh.
At first glance, I was surprised by the scrubber's appearance—instead of a clean and transparent liquid, the product itself resembled something like Elmer's glue. Its consistency was thinner, though, making it a breeze to wipe across the nasty surfaces it's made to tackle.
And now, what you've all been waiting for—the scent. We all know how difficult it is to find effective cleaning products without scents that will leave our nostrils tickling, twitching, and burning, but Better Life has done a pretty good job with this product. Touching the tip of your nose to the bottle's open cap will certainly yield you a whiff of something, but it's not overbearing, and it's not perfumed.
It's just, well, clean.
And when I wasn't actively sniffing at the bottle cap to see if Better Life's no-scent advertising was too good to be true, I didn't notice a smell at all. When used in the small amounts needed for my cleaning tasks, this scrubber didn't foul up my air or leave any lingering odors in the kitchen. Perfect!
It's not scented, and the label's claims seem promising—let's see how it works.
My bathroom's been on the more pristine side of things lately, so I set this kitchen and bath scrubber to use in the spots that needed it most—my sink, stove, refrigerator, and coffee pot. The bottle advertises a long list of surfaces that don't stand a chance against this product: tile, stovetops, ovens, stainless steel sinks, pots, pans, porcelain, countertops, and stone, to name a few.
It didn't take long for me to find some places that could use a good scrubbing. I started with something easy and worked my way up to the more difficult tasks. First, I pitted Better Life's Kitchen and Bathroom Scrubber against the soap scum and grime on my sink, accumulated beneath my sponge and bottles of soap and dish detergent after a few too many vigorous dishwashing sessions.
Just like the instructions recommended, I applied the scrubber directly to the scummed-up steel and wiped it down with a dry cloth. (I used microfiber, but I'm sure other materials would work well, too.) I didn't need much elbow grease to have these stains gone in a jiffy, and a quick wipe with a damp paper towel finished up the job with a satisfying finish.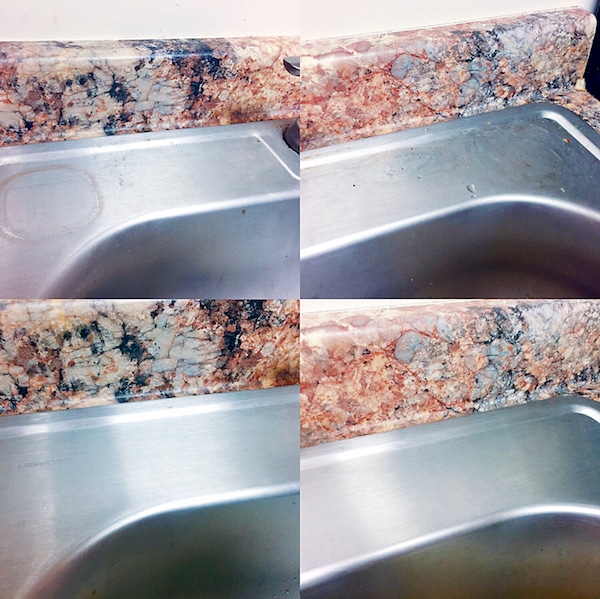 Next was the dried queso splattered across my stovetop. Yes, I'll admit that I did this on purpose just so I could have another challenge for my scrubber at the end of taco night. Good news—it passed the test. Just like my sink, my stovetop was left looking pristine.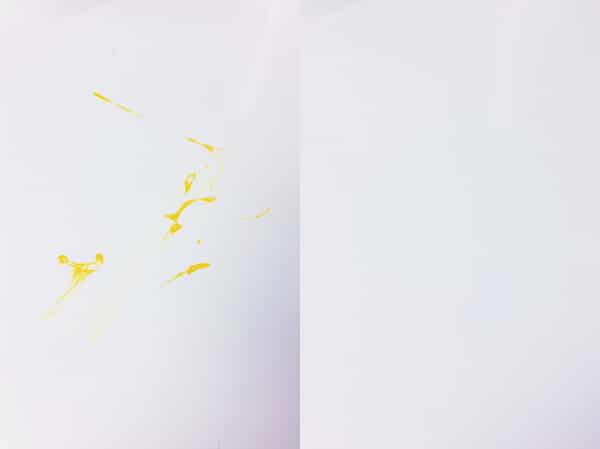 I was particularly intrigued by the fact that this product can be used on pots and pans, but because I had diligently cleaned my dishes (for once), I didn't have too much to test it out on. My coffee pot, however, is made of stainless steel and hasn't been given the TLC it deserves after providing me with caffeinated sustenance each morning. Water spots from haphazard washes and a line of rust and coffee gunk (ick) littered the pot until the scrubber took care of everything. Removing these stains was a piece of cake.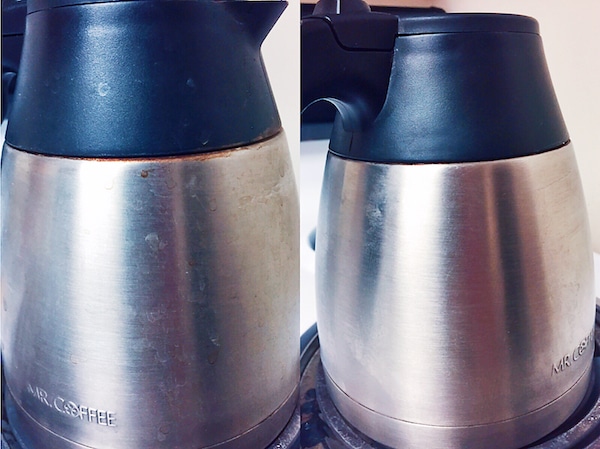 I saved the most difficult jobs for last: a shelf in my refrigerator that had fallen prey to a leaking bottle of chocolate syrup and one of the burners on my stovetop. Other cleaners hadn't been able to stand up to liquid chocolate hardened by the chill of the fridge, but Better Life's product knocked it out of the park! I was so relieved to finally have this shelf clean again. No more soda cans and condiment bottles sticking to this chocolate stain and tracking it all over my countertops.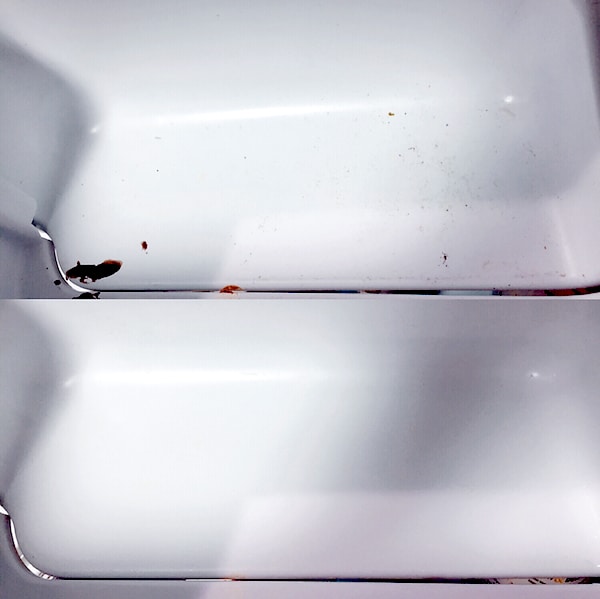 The only thing that this kitchen and bath scrubber couldn't completely tackle was this burner full of rust, grime, and who-knows-what. My stovetop hasn't gotten a truly deep clean since I moved into this apartment, so this was truly the ultimate test.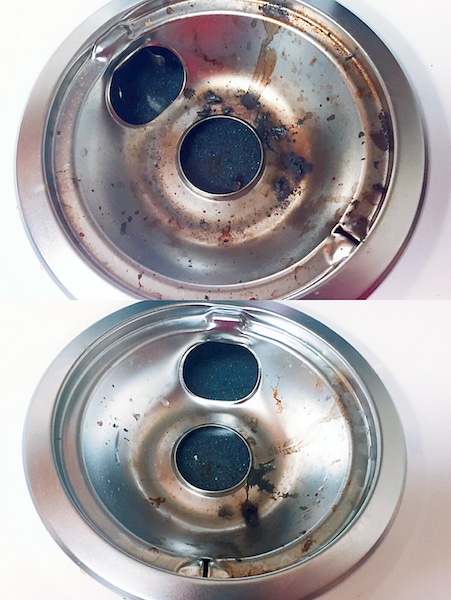 While the scrubber definitely made a huge improvement, I wasn't left with the shimmery clean surface I had hoped for. Still, the fact that I was using only a dry cloth and not a scouring pad meant that this product did a lot of work with not much friction and that by itself is pretty impressive.
Overall, I was incredibly happy with the results, and I can't wait to use Better Life's kitchen and bath scrubber the next time my bathroom needs some polishing.
What is it, exactly, that makes this scrubber so effective? Let's take a look at the ingredients and find out.
As always, I'm relieved to find products that love their formulations so much that they have to brag about them unlike the majority of their peers. Not only are the ingredients listed on the bottle (thanks, Better Life!), but they're explained on the product page in even greater detail.
There are essentially three gentle plant-based biodegradable surfactants in this formulation: decyl glucoside, coconut oil and potassium cocoate.  The latter is derived from coconut oil.
In addition, the company has added calcium carbonate which acts as a gentle abrasive.  Calcium carbonate is found in rocks and minerals and you've probably ingested it before – it commonly used to relieve heartburn and indigestion.
Natural occurring waxes have been added to thicken the formula, in addition to xanthan gum.
All in all, this list looks pretty good, full of vegetable-based ingredients that are used as dirt-tackling surfactants. Each ingredient has a purpose—nothing extraneous beefs up the formulation to cause potential hazards. In fact, many ingredients are also commonly used as food additives or in cosmetics production, which is a good sign that they've been deemed plenty safe for human contact and even consumption.
But alas, there is one downside to this formulation.  And for some of you, it's pretty significant.
In addition to the plant-based ingredients, there is a single synthetic preservative – Methylisothiazolinone (MIT).   The preservative used to be ubiquitous in personal care and cleaning products, until there were numerous reports of a contact dermatitis epidemic.  As a result of the bad press, a swathe of companies vowed to cease using it.   The reactions are potentially pretty severe if you do react to it and it's such a shame that this tarnishes what is otherwise a superb formulation.
If you aren't sensitive to it, the Toxicology Data Network composed by the National Institutes of Health has some more detailed information about MIT's effects on human health. According to numerous peer-reviewed studies, it has been deemed safe for MIT to be used in concentrations not exceeding 0.01%. Better Life's website and the ingredients list on the bottle states that their Kitchen and Bathroom Scrubber contains less than 0.01% MIT.
Last but not least, how's the overall value?
MIT aside, I love this product, and with an advertised sale price of $6.99 (regular price is only a dollar more), it's well worth the cost! Since the bottle isn't transparent, it's hard to judge just how much product I used for my kitchen cleaning endeavors. However, it was pretty clear that a little goes a long way, so I imagine that the bottle will last me quite a while.
To back me up, Better Life confirms my expectations on their website. They pride themselves on the value of their products, ensuring that their homemade formulations are not only more effective but also last longer than the traditional brand names.
Because Better Life's ingredients don't include any volatile organic compounds (which are popular in many "traditional" cleaning formulas and are often abbreviated VOCs), their products won't vaporize once they leave the bottle. This means that you'll need less product for the job. As an added bonus, it's comforting to know that the lack of VOCs in Better Life's products means better air quality for your home.
In summary
If you aren't sensitive to MIT, I highly recommend Better Life's Kitchen and Bath Scrubber. It's such a shame that the ingredient persists in cleaning products.  Otherwise, the formulation is outstanding, the performance is stellar, I'm pleased with the value, and it's a great comfort to know that I'm supporting a company with eco-friendly values aligned with my own.
The fact that I had to put a disclaimer in my recommendation is sad, and I do hope Better Life drop the use of this preservative completely, and use something far less sensitizing.