Safe Household Cleaning is reader-supported. All reviews are independent and any products reviewed are purchased by the site owner. To help fund this model, some of the links on the site are affiliate links. If you decide to make a purchase from one of these links, this site will receive some commission. At no cost to you. It helps keeps this place running. Learn more
Biokleen Glass Cleaner
Review Score
Ewg Rated
A
Ingredients

Water
Vinegar
Caprylyl Capryl Glucoside
Lauryl Glucoside
Sodium Methyl 2-Sulfolaurate
Laureth-7
Glycerin
Grapefruit Seed Extract
Orange Peel Extract
Orange Oil
Sodium Sulfate


We can't recommend Biokleen Glass Cleaner highly enough. As well as cleaning exceptionally well (as well as the leading ammonia-based products according to our tests), it has been manufactured using renewable energy sources, is cruelty-free and is made exclusively with plant and mineral based biodegradable ingredients.

What else could you look for in a glass cleaner?

Biokleen is a small business-owned product that has stayed within the family for two generations. The company's inspiration dates back to the 1980s when the founder witnessed firsthand the caustic side effects of toxic products while working at a chemical supply company.
Decades later, this family is still committed to producing non-toxic and effective cleaning alternatives.
Beyond glass cleaners, Biokleen offers a wide variety of household cleaning solutions (many of which we've reviewed before) including laundry detergent and odor removal cleaners, dish liquids and automatic cleaning powder, bathroom cleaning agents (such as the one we are about to review), carpet/stain removers, septic cleaners, and pet products. Quite the list!
This is a company we have a definite soft spot for. This business understands the issues with today's cleaning industry – in fact, their owner has seen it first hand – and like so many companies nowadays – they are offering a viable alternative.
Today we will review their glass cleaner – a vinegar-based solution for use on hard surfaces around the house.
What did I receive in the post?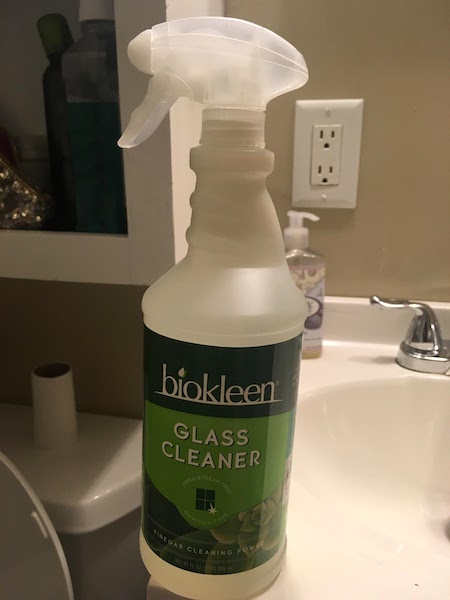 This hearty bottle comes in 32-ounce portions – that's almost 1 liter of cleaning solution for $5.19 USD – a shockingly low price for the volume.
The nozzle and bottle are durable, with the bottle having the added bonus of being recyclable.
The bottle's label is loaded with information about product use, how it was generated, and Biokleen's mission. This was a nice touch; many products I commonly see in the grocery store have little information on their label as if less information would paradoxically be more useful to us consumers.
The label specifies the product will be successful against dirt, pollution, smoke and grease. You are warned to keep it away from children as it can cause eye irritation upon contact (more on that below). It furthermore indicates that if accidentally ingested, it's not a completely disastrous situation, as you can simply drink plenty of water to dilute and flush it through your system. Yay for non-toxic ingredients!
Directions:
Spray directly on a hard, shiny surface
Quickly wipe with a lint-free rag until dry. Repeat if necessary.
Let's do this…
I tested this product on my bathroom sink fixture. The stainless steel has numerous water spots and soap/toothpaste residue marks that can be seen below: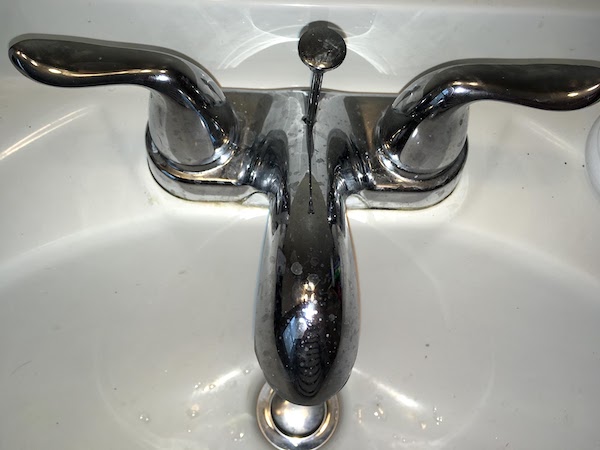 On the left side, I used my usual generic ammonia-based cleaner: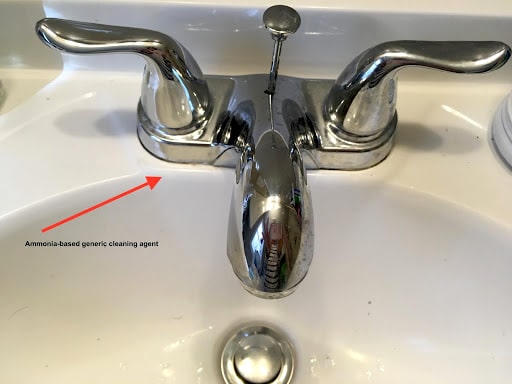 On the right, I applied Biokleen's glass cleaner: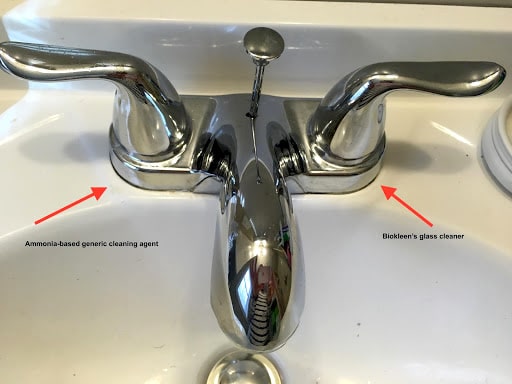 This vinegar-based cleaner worked just as well as my ammonia-based representative. All watermarks successfully removed. Biokleen's glass cleaner smelled very strongly of vinegar, which was a sharp contrast to the ammonia-based cleaner (reminiscent of cat litter ☹).
Before this, I have exclusively used ammonia-based glass cleaners for polishing my fixtures, mirrors and porcelain. I typically needed to coordinate my ammonia and bleach use so I didn't inadvertently poison myself. That is still something to be aware of with vinegar, as vinegar plus chlorine bleach can also cause chlorine gas, which may result in respiratory complications.
In short, don't use bleach in combination with other types of cleaners!
After this trial run, I realized vinegar works very well, and I don't see a reason to go back to artificial chemical-based alternatives.
Ok, so it cleans well – what's in it?
The first two ingredients on the list are water and white vinegar. Vinegar is created from fermented foods and generally considered safe to ingest with the main degradation byproduct acetic acid, responsible for the strong odor, in concentrations <10%.
Although historically it has been used as an antibiotic, nowadays it's more so used in food products and as cleaners.
Importantly, as I mentioned earlier, it shouldn't be mixed with chlorine bleach as this can be toxic (Biokleen's vinegar products do not contain chlorine).
The plant and mineral-based surfactants include caprylyl/capryl glucoside, lauryl glucoside, sodium sulfate, sodium methyl 2-sulfolaurate, and laureth 7. These are gentle surfactants, the harshest of which is probably Laureth-7 – certainly for irritation potential.  While mild compared to e.g. the Sodium Lauryl Sulfate, this can sting if it gets in the eye, can cause contact dermatitis and is also harmful to aquatic environments.  That said, to put some perspective on this, it is biodegradable and a lot less irritating than many of the cleaning agents you use in your shampoos and shower gels.
The remaining ingredients should sound very familiar: grapefruit and orange extract/oil.  These extracts will probably be added to provide fragrance.   And these fragrances are both volatile and have irritant potential.  So while the company are quite right to point out that the cleaner is free of artificial fragrances, if you're particularly sensitive to fragrances, you still may want to look elsewhere.
And that's just about it!   There is glycerin present, a food-grade cleaning agent.
For such a powerful cleaner, this is a remarkable set of ingredients.
It is worth noting that,  in addition to fully disclosing their ingredients, this company also highlights components that are NOT added to this product though may be commonly added to other comparable cleaning products, including:
petroleum by-products
bleach
sodium lauryl sulfate
and the 129 EPA priority pollutants that are actively monitored and regulated in United States.
Do I recommend this product?
I can't recommend Biokleen Glass Cleaner highly enough.  As well as cleaning exceptionally well (as well as the leading ammonia-based products according to our tests), it has been manufactured using renewable energy sources, is cruelty-free and is made exclusively with plant and mineral based biodegradable ingredients.
What else could you look for in a glass cleaner?