Safe Household Cleaning is reader-supported. All reviews are independent and any products reviewed are purchased by the site owner. To help fund this model, some of the links on the site are affiliate links. If you decide to make a purchase from one of these links, this site will receive some commission. At no cost to you. It helps keeps this place running. Learn more
Bentley Organic Bathroom and Shower Cleaner
Review Score
Ewg Rated
NA
Ingredients

Water
Alcohol Denat
Citric Acid
Decyl Glucoside
Aloe Vera
Lauryl Betaine
Lactic Acid
Orange Peel Extract
Grapefruit Seed Extract
Limonene
Fragrance


There's a lot to like about Bentley Organics Bath and Shower Cleaner and there's a lot to like about Bentley Organics. The ingredients have largely been chosen with a great deal of care and attention. It's as environmentally friendly a cleaning product as I've seen. And it performs the cleaning duties admirably.

I just wish they'd produce a fragrance-free option. Then it would be my idea of perfection.

No matter how many bathrooms you need to tackle when cleaning, they all deserve a decent degree of attention. It's unreasonable to expect that the areas which keep us clean can fall into a state of dirtiness themselves.  And while there are a number of good bathroom cleaners out there, its always good to try a new company's product for the first time.
Bentley Organic Shower & Bathroom Cleaner isn't the most well-known product, and Bentley Organic aren't the best-known company, but they are definitely worth a further look.
Bentley Organic is a British company that has a five-year history of making earth-friendly soaps.  According to their literature, they prioritize the environment while making each product. Their entire ethos involves making organic and pure cleaning products that work with the planet, not against it.  This isn't a company who are scared to disclose the ingredients in their cleaning products unlike the majority of their peers.
After taking its official place on the eco-friendly cleaner stage in 2010, Bentley Organic continues to strive toward achieving Soil Association certification for each cleaner.
It won the Queen's Award for Enterprise in 2007, which is quite a significant business accolade in the UK and abroad.
While the company's history is promising and impressive, do their products match their aspirations?
First impressions: Bentley Organic Shower & Bathroom Cleaner's packaging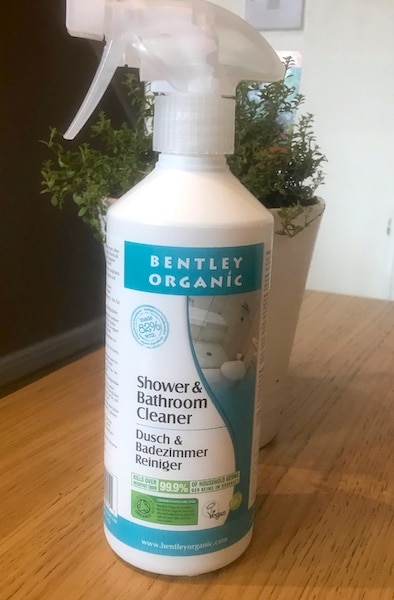 Although the company's branding doesn't stand out against its competitors (this isn't big budget tv brand), the packaging does provide a reassuring amount of detail.
The front clearly states the following important information:
82% of the ingredients are organic
It kills 99.9% of germs
It's vegan
It has Soil Association certification
Just by reading the front, you have a clear admission of what they stand for, how effective it is, and whether it's both animal and eco-friendly.
So far, it ticks a lot of positive boxes.  This is a company that understands the problems with today's cleaning product industry and are actively, in their own way, doing something about it.
The bottle also proclaims that the product contains no bleach, phosphates, or sulfates.
While this is all well and good, there are plenty of other potential nasties in cleaning products.  These are relatively generic claims these days.
The packaging also focuses on some of the bacteria it kills, two of which are highly relevant to bathroom and hand hygiene. It's effective against listeria, e-coli, and salmonella.
Both e-coli and salmonella having a strong connection with diarrheal diseases and an easy spread through poor hand hygiene, knowing the cleaner works against them is important.
If you're passionate about maintaining the Earth's integrity when choosing a cleaner, you'll love the way the Bentley Organic Shower & Bathroom Cleaner highlights how its use won't affect fish. When washing cleaners away, there's always a risk that you'll affect the nearby water supply. As this one doesn't have a negative effect on local watercourses, you can use it guilt-free.
The company stacks up, the packaging is descriptive.  What's inside the bottle?
Upon spraying the cleaner, I didn't really detect a smell.  However, when I got a bit closer there was one that is subtle and natural.
Personally, I don't like cleaners that are too scent-heavy. I prefer fragrance-free every time.  It's because of this that I don't mind the Bentley Organic Shower & Bathroom Cleaner smelling a little weak.
Upon spraying it, it wasn't as foamy as other products I've tried.  But that, thankfully, didn't affect the performance.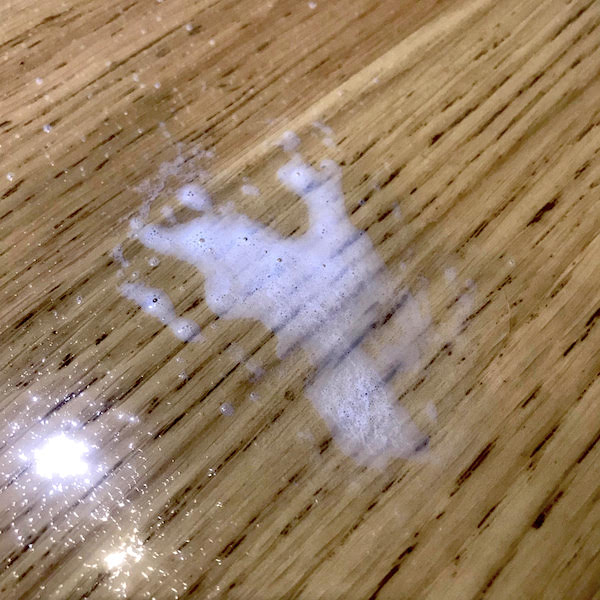 How well does it clean?
To test whether Bentley Organic Shower & Bathroom Cleaner is effective, I used it on the following surfaces:
My shower tray, which has some grime stains
A bathroom sink featuring the usual toothpaste stains
A bathroom surface, which looks as though it's home to both makeup and soap stains
My family bath, which gets dirty quickly
My shower tray
The shower tray
My shower is possibly one of the cleanest areas in my bathroom, but it does feature some subtle grime stains.
Following the product's instructions, I sprayed Bentley Organic Shower & Bathroom Cleaner liberally across the tray and left it to settle for 30 seconds. It didn't take much effort to scrub the grime stains away, although they were quite light. Upon rinsing, there wasn't much surfactant left over, which I always love.
The toothpaste stains that plague my bathrooms
In both my en-suite and family bathroom, toothpaste stains run rampant. I've pictured them both separately below. It's clear that the family bathroom is home to the worst culprits.
Once again, I followed the manufacturer's instructions and allowed the cleaner to settle in before scrubbing. Using a gentle sponge, I attempted to remove the toothpaste stains and they came away beautifully.

The messy stain-filled surface in my family bathroom
Depending on the brand you use, makeup stains can become difficult to move. Their pigmentation and oil mean they're more likely to spread and become challenging to tackle, which makes the correct use of surfactant in a cleaner important.
I'm assuming Bentley Organic Shower & Bathroom Cleaner has plenty of surfactant in it, as I didn't have any problems removing oily makeup. The remainder of the stains (which I honestly can't identify) also moved. I didn't have to spend much time rinsing, and much like when I cleaned my shower, the surfactant didn't sit around for too long.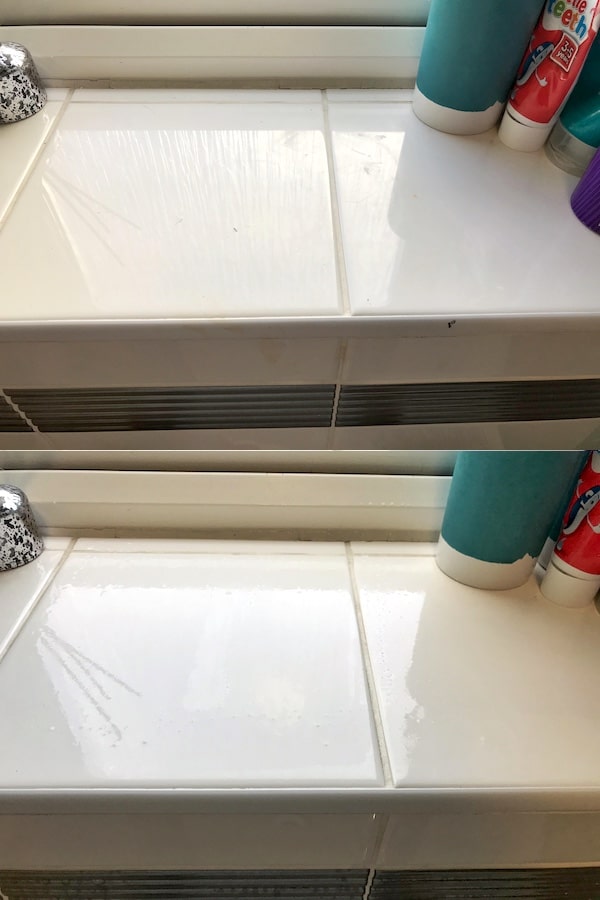 The bath in my family bathroom
From soap through to general grime, everything seems to cling to the surface in my family bathroom.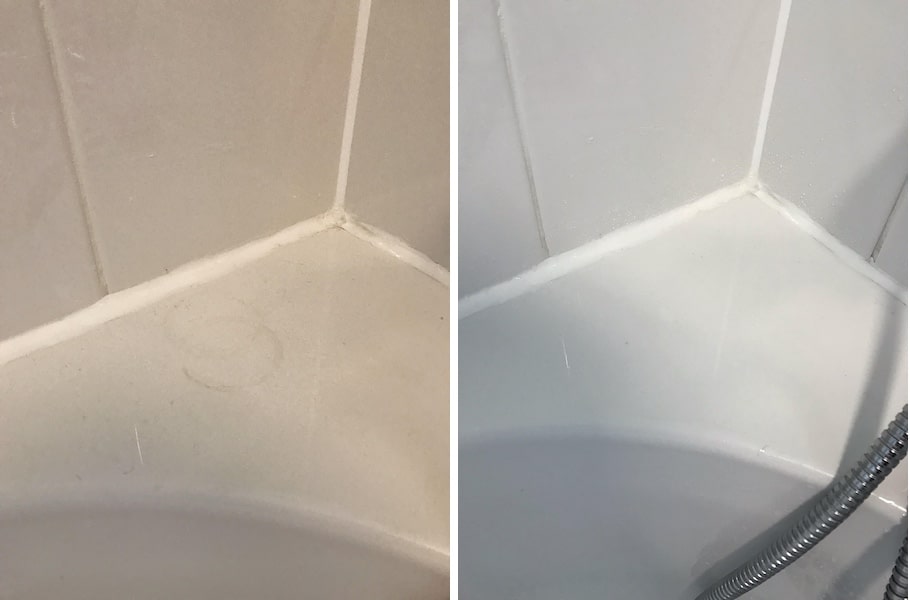 As a large surface area to clean, my bath usually requires repeated circular motions with a cloth or sponge. What I like about the Bentley Organic Shower & Bathroom Cleaner is that it doesn't seem to let dirt shift from one area to another too much. After rinsing it all away, here are the results:
It's clear that the Bentley Organic Shower & Bathroom Cleaner is effective.
Examining what was inside the bottle was my next task.
How is Bentley Organic Shower & Bathroom cleaner formulated?
The two main surfactants in this formulation are Decyl Glucoside and Lauryl Betaine.  Both are gentle plant-derived surfactants with minimal potential to cause contact dermatitis. Decyl Glucoside is a non-ionic alkaline surfactant and the addition of Citric Acid to the formula is likely to adjust the ph of the formula to more neutral levels.
Lactic Acid is possibly the most interesting ingredient in the formulation.  Lactic Acid is a plant-derived acid typically made by combining enzymes with a carbohydrate such as sugar or glucose.  We produce it ourselves during exercise.  When oxygen levels are low, our body produces the acid to break down carbohydrates for energy.  It's a fascinating ingredient. In cleaning products, it's great at descaling as well as acting as a preservative and antibacterial agent.  It has a pretty low irritant potential too, but I'd still wear gloves when using it.  I'd also try to avoid getting it in my eyes as alcohol and eyes don't mix.
The main component of this spray cleaner is denatured alcohol, and I'd definitely be using gloves and avoid getting alcohol in my eyes.  Alcohol is great at dissolving dirt and oils and it evaporates fast making it ideal in a spray cleaner.  That said, I'd use this product in a well-ventilated room.  Alcohol is a volatile compound and can induce asthma type symptoms if you're allergic to it.  It's also dangerous to inhale the fumes of denatured alcohol as it metabolizes to acetone, a known carcinogen, in your system.   Just use this product sensibly.
Bentley Organics have also added a couple of extracts in this formulation in the form of orange and grapefruit.
Both of these ingredients possess a nice perfume and antibacterial properties.  However, they both contain a lot of fragrances too.
Fragrance-free this product is not.
Which becomes even more evident with the final two ingredients – Limonene and a more generic Fragrance.  While both of these final ingredients are organic, they both have a high potential to cause contact dermatitis.
Limonene is a fragrance extracted from citrus peel.  Such is its propensity to cause contact dermatitis, the EU has mandated that it (and 26 other ingredients) are listed separately to the generic fragrance. If can also experience an oxidative reaction when exposed to air for too long. When the reaction occurs, it acts as a respiratory irritant.
And while the final ingredient – Parfum – is organic, it's frustrating to see it added in this cleaner.  The cleaner doesn't have a strong smell for one.  And one of the most frustrating elements of any product that uses the word Parfum is that it rarely explicitly states what the perfumes are.
If you 're sensitive to fragrances I would definitely look elsewhere.
That said, fragrances aside, this is a very impressive cleaner.  The ingredients have largely been chosen with a great deal of care and attention.  It's as environmentally friendly a cleaning product as I've seen.  And it performs the cleaning duties admirably.
There's a lot to like about this cleaner and there's a lot to like about this company.
I just wish they'd produce a fragrance-free option.  Then it would be my idea of perfection.