Safe Household Cleaning is reader-supported. All reviews are independent and any products reviewed are purchased by the site owner. To help fund this model, some of the links on the site are affiliate links. If you decide to make a purchase from one of these links, this site will receive some commission. At no cost to you. It helps keeps this place running. Learn more
The Honest Company Bathroom Cleaner
Review Score
Ewg Rated
NA
Ingredients

Water
Citric Acid
Decyl Glucoside
Lauryl Glucoside
Lauramine Oxide
Alcohol
Laureth-7
Lemon Oil
Cedar Wood Oil
Isopropyl Alcohol
Amyl Cinnamal
Hydroxycitronellal
Amyris Balsamifera Bark Oil
Anisaldehyde
Benzyl Acetate
Gamma-Decalactone
Gamma-Nonalactone
Geraniol
Ionone
Isoamyl Salicylate
Methyl Anthranilate
Decanal
Limonene

While The Honest Company Bathroom Cleaner promises so much, the cleaning power was mediocre at best. And the sheer quantity of fragrances in there had our reviewer wheezing and sneezing.

The Honest Company manufacture a number of cleaning products, a number of which we've reviewed before.  The Bathroom Cleaner seems particularly popular within their range, and as I'm such a fan of the company, I couldn't wait to get started with this one.
Who Is The Honest Company?
The Honest Company is a natural household product company dedicated to caring for families and the environment.
Founder, Jessica Alba, recalls her childhood of persistent illnesses and allergic reactions. While pregnant with her first daughter in 2008, Alba noticed there were few options for baby products without synthetic chemicals or fragrances.
After her daughter's baby shower, Alba washed newly-received outfits in a laundry detergent recommended by her mother and she immediately broke out in hives. Alba began to panic, fearing her daughter would have the same sensitivities and reactions she did, only worse.
With renewed passion, Alba surged ahead to create a natural baby product company and launched The Honest Company in 2012 with 17 products in the diapering category.
The FDA has just a handful of chemical bans; Europe has over 1,300. The Honest Company goes beyond Europe's standards and operates by their NO List, which contains 3,000 chemicals and materials they choose not to use in their products. And now just 6 years later, Honest Company is highly successful with an ever-expanding portfolio of products ranging from infant care to cleaning, vitamins, and more.
As a mother of two (soon to be three!), I've heard all about The Honest Company and their baby products. I was excited give their bathroom cleaner a try!
First impressions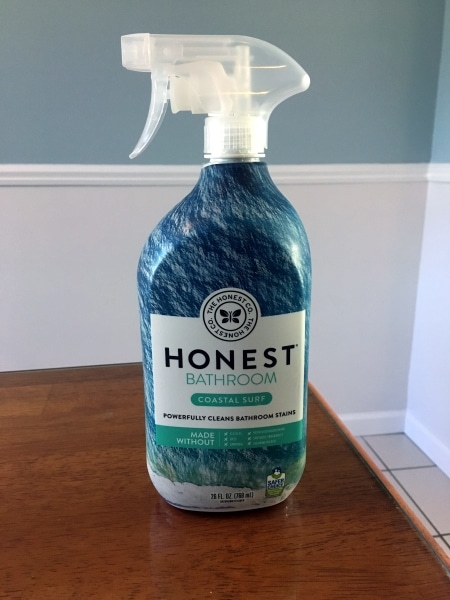 To appropriately match the scent description, Coastal Surf, Honest's bathroom cleaner displays beautiful ocean waves on the eye-catching label design. It promises a powerful clean on bathroom stains like limescale, soap scum, and other bathroom grime using ingredients approved by the EPA Safer Product Standards.
Although I usually go for unscented options, Honest's bathroom cleaner only comes in the Coastal Surf scent.
While most naturally-scented cleaners choose lavender or citrus scents, Honest's blend of cedar wood and lemon essential oils is pleasant, refreshing, and long-lasting. After using the cleaner in the bathroom, the light scent lasted for about a day. For this mother who is potty-training her little boy, the longevity was a very welcome aroma compared to the alternative! That being said, scents are often a no-no for those with sensitivities.
Looks and smells good, but how does it work?
The directions state to spray directly on bathroom surfaces and wipe, leaving it to soak for powerful dirt and soap scum removal.
First up: the toilet. Because… yuck! Especially since beginning the potty-training journey with my son, I've spent a lot of time sanitizing bathroom surfaces but not a lot of time for a deep clean. Specifically, there was brownish discoloration under the rim and draining into the bowl. I let the cleaner sit on the harder stains while I wiped down the other toilet surfaces. A few scrubs of the toilet brush left behind a sparkling clean, refreshingly-scented surface!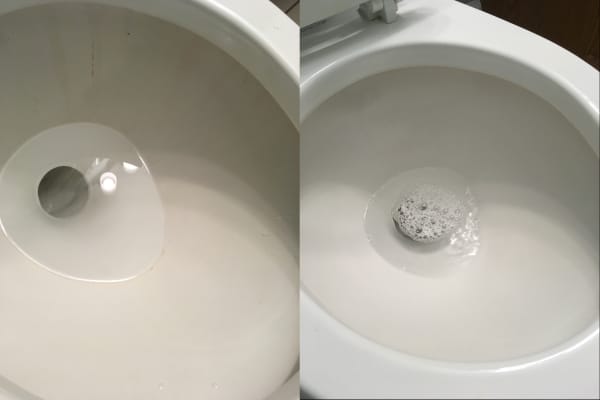 Unfortunately, after the immediate success of the toilet, Honest's bathroom cleaner began to disappoint on other surfaces. The sink had standard hard water stains on the countertop from repeated use. It took extra scrubbing but the hard water stains did eventually come off.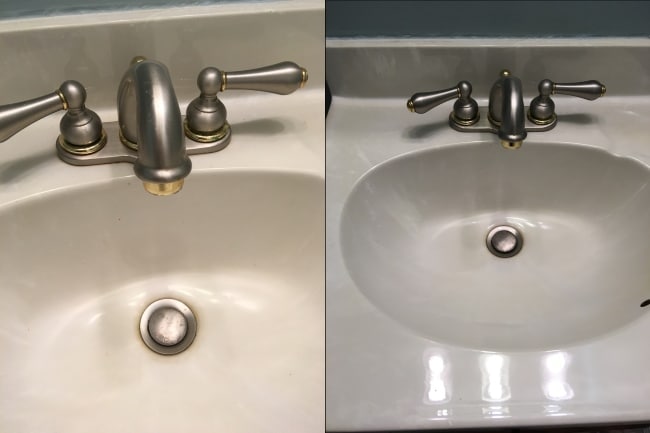 Next, I tried the shower and shower door. Although it did remove the soap scum from the door, it came off in a slimy mess, and I used twice the paper towels trying to wipe it off. Even after several rinses, I was less than confident I had removed it all. Similarly, the shower floor remained stained (although this is a constant problem and I wasn't surprised Honest's cleaner didn't work), but the cleaner left behind a slippery residue. Showering the next morning was almost hazardous! Neither surface felt "clean."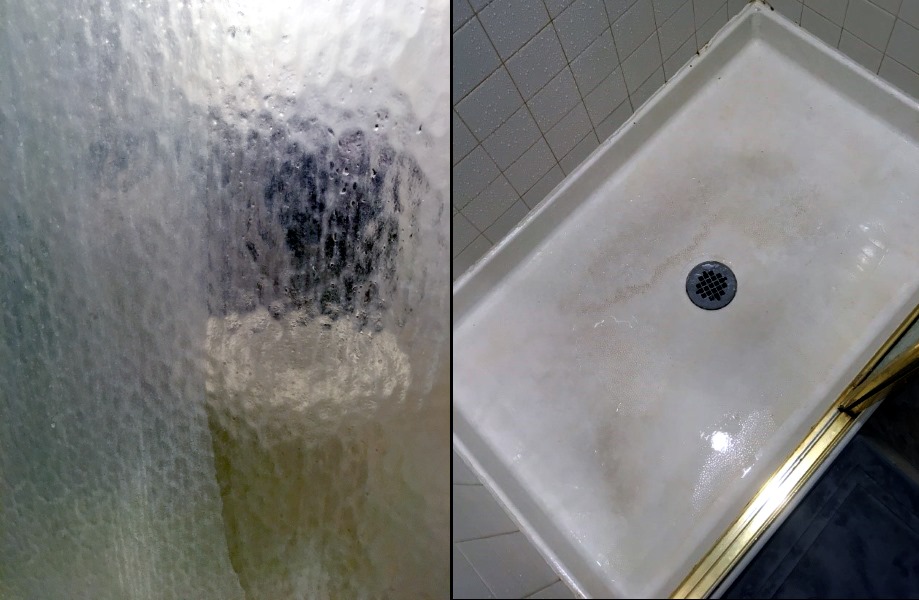 Determined to give the cleaner a chance to redeem itself with a tough task it promised on the label to remove, I used it on the limescale build up on the tub faucet. And again, even after several minutes of intense scrubbing, Honest's cleaner did not succeed. The limescale clung to the faucet.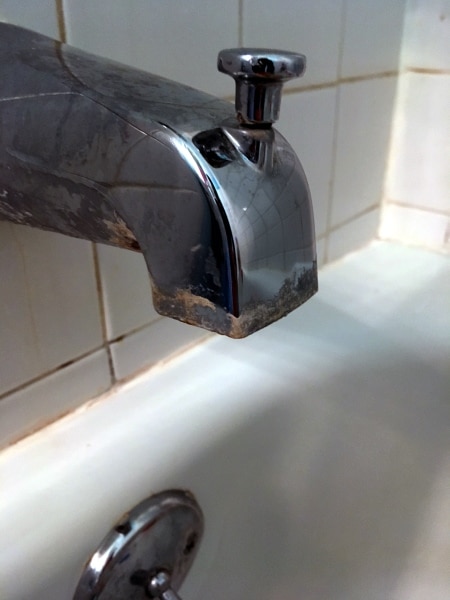 Furthermore, the pleasant and light scent of Coastal Surf soon became overwhelming. I'm not sensitive or allergic to scents, but after spraying multiple surfaces, I began frequently sneezing and coughing. With sparse results for my hard labor and watery eyes, my cleaning experience was frustrating at best.
How do the ingredients stack up?
I have used more powerful cleaners before, but do the ingredients redeem this cleaner?
I was shocked to see the lengthy list of ingredients—22 in total. In an attempt to be transparent, Honest Company does list all their ingredients with their CAS Registry Number, a numeric identifier linked to a database where consumers can see all the information on the ingredient.  This is a major step up from the majority of their peers, and for that level of transparency alone,  the company should be applauded.
The problem is their ingredients, especially fragrances, are poorly chosen.
The primary surfactants in this formulation are Decyl and Lauryl Glucoside and Laureth-7, which are gentle, biodegradable surfactants derived from coconut oils and corn glucose.  Great start.   The only real concern with these surfactants is the source of the materials.  Depending on the manufacturing process, there are some contamination concerns with genuinely scary ingredients like 1,4 Dioxane etc.  But you would hope a company like the Honest Company do their homework here.
Glucoside Lauramine Oxide was next, added for pH control.
The cleaner contains alcohol, which has beneficial disinfectant properties.   In addition to alcohol, Isopropyl Alcohol (IPA, the usual form of cleaning alcohol) also makes an appearance. You often alcohols in spray cleaners as they evaporate quickly and dissolve dirt.  Alcohol can also dry the skin or even cause contact dermatitis if they come into contact with the skin, so wear gloves when cleaning with this product.
In addition to these relatively gentle cleaning agents are fragrances.  Lots and lots of fragrances.  An alarming 70% of the listed ingredients are fragrances to create the unique Coastal Surf scent.
Now I'm in two minds here.  The company have lived up to their name and have been extremely honest into what makes up their fragrances.  Every single fragrance ingredient is listed.  Rather than the generic Fragrance/Perfume or Parfum, the Honest Company tell you the different fragrances that make up that Fragrance.  It's quite shocking to see so many, but this is normal folks.  This is what manufacturers are adding to cleaning and personal care products and not telling us.
Of note among the fragrances are Amyl Cinnamal, Hydroxycitronellal, Geraniol, Decanal, and Limonene are all in this product.  The EU has mandated that these ingredients must be listed if present in cleaning or personal care products such is their propensity to cause contact dermatitis.
In addition to these mandated listings, there are 9 more! Lemon peel extract, Cedar Wood Oil, Amyris Balsamifera Bark Oil, Anisaldehyde, Gamma-Decalactone, Gamma-Nonalactone, Ionone, Isoamyl Salicylate, and Methyl Anthranilate are also included for fragrance.
That seems like a lot of scents for one product – and it is – but it's not atypical.
While the smell is undoubtedly nice, this cleaner gave cause to my unusual sneezing fit!  Fragrances are volatile compounds, and in addition to contact dermatitis, they can cause asthma type symptoms in some people.  So make sure your room is very well ventilated if you do use this product.
While I was impressed with the primary ingredients in this formulation, I can't help but be disappointed with the amount of fragrances present in this formula.  It just seems such a cosmetic pointless feature.  In my opinion, if you want to smell the ocean – go to the beach!  Which probably explains why I'm not a marketeer…
Would you recommend this product?
Sadly, I would say no. I really wanted to like this product, but it missed the mark on major points:
The scent, while pleasant at first, was a respiratory irritant – and I'm not particularly sensitive to fragrances. The cleaner worked well on toilet surfaces, but left questionable—even slippery—residue behind everywhere else. Not to mention, it didn't deliver on removing limescale like the label promised, and was minimally helpful in removing hard water stains (my elbow grease did most of the work).
Finally, the cleaner is full of poorly-chosen ingredients. From alcohol to a host of alarming fragrances, the ingredients seem to go against the mission of The Honest Company itself, "to create safe, effective for our families and yours."
The Honest Company seems to have other great products. Unfortunately, this isn't one of them.