Safe Household Cleaning is reader-supported. All reviews are independent and any products reviewed are purchased by the site owner. To help fund this model, some of the links on the site are affiliate links. If you decide to make a purchase from one of these links, this site will receive some commission. At no cost to you. It helps keeps this place running. Learn more
Begley's Glass Cleaner
Review Score
Ewg Rated
NA
Ingredients

Water
Alcohol Denat
Eucalyptus Leaf Oil


Begley's Glass Cleaner contains only three plant based, biodegradable ingredients designed and manufactured by a company with vision and integrity. But try as I might, I couldn't recommend this product. I really wanted to as well. It would be a decent alternative if there were only a few natural options. But in a booming natural cleaning market, it quickly fell short of other competitor's performances. On the plus side, the ingredients are certainly better than conventional cleaners but it just didn't clean as well as other glass cleaners we've reviewed.

While I appreciate the mission and cause Begley's stands for, I wish it delivered better results.

Having reviewed two other glass cleaners recently, I'm beginning to feel like a pro at what to look for in a good glass cleaner. For me, I value a cleaner with naturally-derived and environmentally-friendly ingredients, potent cleaning power, and a streak-free finish.
I had the privilege to review a glass cleaner by a company we haven't reviewed before: Begley's Best. I was excited to learn about a new company and give it a try!
Who is Begley's Best?
Begley's was founded by author, actor, and environmentalist Ed Begley, Jr., who believes that simple changes in personal habits can create lasting beneficial effects for the environment.
Begley began his company to provide an avenue for consumers to begin making these small changes.
He understands the problems with today's cleaning industry and he's built an entire company to try to do something about it!
Using naturally-derived and non-toxic ingredients, Begley's produces cleaners, hand soaps, and more that work equal to or better than conventional products while being environmentally responsible. They also guarantee full disclosure of ingredients for all their products and even give helpful explanations of certain ingredients and preservatives.   This alone puts them ahead of the vast majority of their peers, which simply refuse to provide this level of transparency and disclosure.  But if we don't know wat's in a product, how can we change our personal habits to benefit us, our family and our environment?  It's a scandalous situation, and one I'm delighted to see Begley's Best doing something about.
The company and their ethos sound great.  Let's get started!
Begley's Natural Glass Cleaner comes in a 16-ounce bottle—a little smaller than other glass cleaners we've reviewed. The simple bottle isn't very appealing: the one-note green label backdrops a basic font and no eye-catching phrases grab my attention. If I had seen it in the store, I might have overlooked it entirely.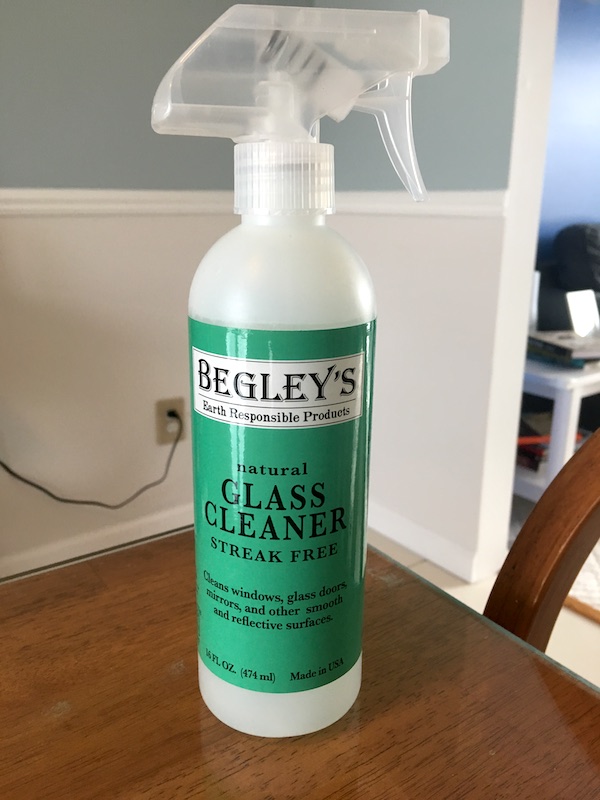 In their defense, I'm guessing this isn't a company with a massive marketing budget.  But a few tweaks could make it look a little more professional.
Upon further inspection of the label, the product sounds more promising.
It advertises a streak-free clean that quickly removes and resists fingerprints without the use of ammonia or other harsh chemicals.
The cleaner smells like straight alcohol, even though eucalyptus oil is included for scent. The eucalyptus did faintly come through once I sprayed the product, but even so, it smelled like I was spraying mouthwash.
While I wasn't drawn in by the product, I kept an open mind. Especially for natural cleaning products, sometimes the best ones come in plain packaging. Let's see how well it works!
How well does it clean?
I was a little disappointed that Begley's cleaner doesn't offer as much versatility as other glass cleaners we've reviewed. On the label, it states it can be used for windows, mirrors, and reflective surfaces like chrome. But that's ok; if it cleans well, I'm sold.
Windows
Up first were the finger-printed windows. My curious children love putting their little fingers and noses against the front bay windows to experience the cold glass as they peer at the Christmas lights in our neighborhood.
I couldn't capture an adequate before-and-after photo of my windows, but unfortunately, Begley's glass cleaner wasn't the best I've used. Even for basic smudges and fingerprints, I had to wipe and re-wipe to get a streak-free clean. I probably wouldn't use this product for large window areas or glass doors due to the extra effort.
Once I was done scrubbing away the fingerprints, it did leave a streak-free shine, and it does resist fingerprints well. So while I had to put in extra effort to get the fingerprints off, at least they'll stay away for a while!
Glass table
After the windows, I wasn't very optimistic about my sticky kitchen table. My daughter is in a plate-throwing phase, so she mainly eats her food directly off the table. You can imagine the mess that creates!
As I expected, Begley's cleaner left much to be desired in cleaning my glass table. I had to scrub vigorously, pick at stuck-on food with my fingernail, and re-apply the cleaner several times before I was satisfied with the results. I had to do this across the whole table, not just for my daughter's place. The repeated application of the cleaner wasn't a pleasant experience, as I felt like I was breathing in lots of alcohol.
Like the windows, the table looked very nice once it was clean. But it probably won't be my daily go-to cleaner.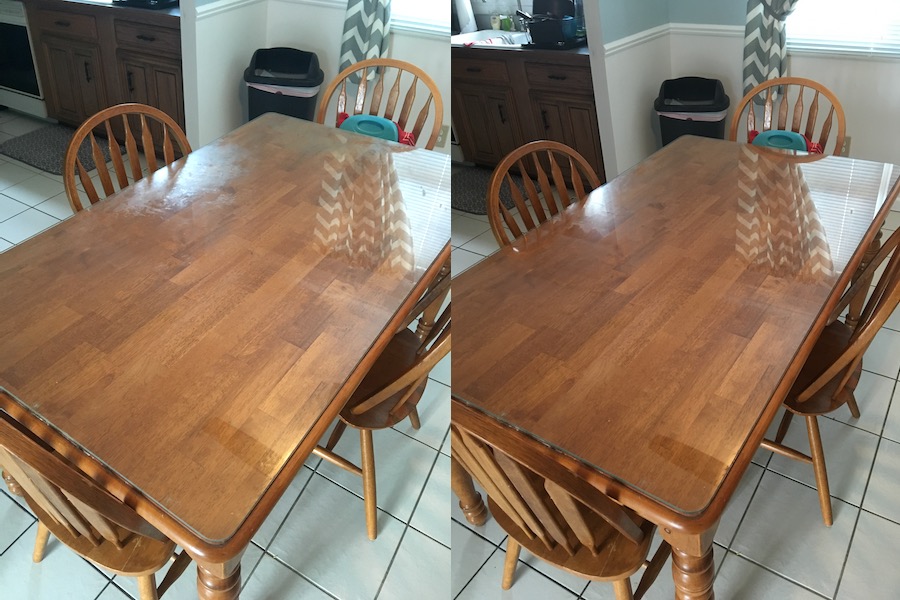 Electric Kettle
One test I haven't given a glass cleaner yet is my husband's electric kettle. He loves brewing artisanal coffee and uses this kettle every day—and sometimes twice! It had built up lots of fingerprints and streaks, so it was the perfect test for Begley's cleaner.
I began to notice an unfortunate theme: cleaning the kettle required re-application and extra care to make sure it was streak-free. But the silver lining is I kept an eye on the kettle for a few days after cleaning the teapot and it resisted streaks and fingerprints fairly well.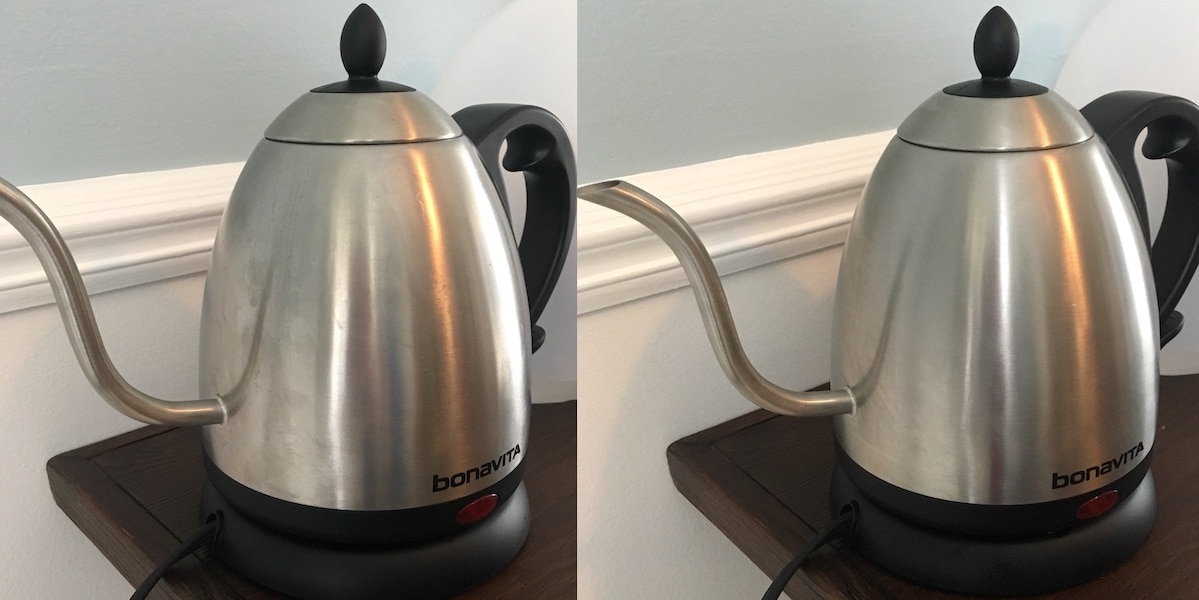 Mirrors
I did try Begley's cleaner on the bathroom mirrors even though they weren't very dirty, and the results were average at best. Based upon the other three tests, I would expect that if my mirrors were dirty enough to clean, I would have to re-apply and wipe several times to get a streak-free finish.
Additionally, I used paper towels (as recommended on the label), and the cleaner left behind paper towel "fuzzies" which required extra wiping to remove. Not a deal-breaker, but definitely a nuisance.
What's in it?
Overall, I was rather discouraged with the results of this cleaner, but would the ingredients make it worth my purchase?
The great thing about Begley's is they build trust with their consumer in several areas. First, they give full disclosure of their ingredients, which sets them apart from countless companies—even the "natural" ones.
Second, they use very simple, natural ingredients, and as few of them as possible. This is wonderful news for those of us with sensitivities, because the fewer ingredients a product contains, the smaller chance of an allergic reaction or sensitivity. Begley's glass cleaner is a great example of this because it only contains three ingredients:
Water
Alcohol Denatured
Eucalyptus Globulus Leaf Oil
Alcohol denatured is the primary cleaning agent for this product. It's used to disinfect, dissolve dirt, and evaporate quickly for that streak-free finish. It is biodegradable and gets a thumb's up from EWG, but it is also known to dry out skin and cause contact dermatitis, so wear gloves when using this product.
Finally, Eucalyptus Globulus Leaf Oil is added for a hint of fragrance. The alcohol is overpowering, but you can detect eucalyptus if you're sniffing for it! Like many fragrances—even natural oils—this type of eucalyptus oil can cause skin irritations and respiratory effects. Given that I had to re-apply this product several times to get a good result, the extra exposure to the scent could cause problems for those who struggle with sensitivities.
The ingredients are better than most, but could still be a problem for those with sensitivities and allergies.
Would you recommend this product?
Sadly, I wouldn't recommend this product.  I really wanted to as well.  In all honesty, it would be a decent alternative if there were only a few natural options.  But in a booming natural cleaning market, it quickly fell short of other competitor's performances. On the plus side, the ingredients are certainly better than conventional cleaners but it just didn't clean as well as other glass cleaners we've reviewed.
While I appreciate the mission and cause Begley's stands for, I wish it delivered better results.