Safe Household Cleaning is reader-supported. All reviews are independent and any products reviewed are purchased by the site owner. To help fund this model, some of the links on the site are affiliate links. If you decide to make a purchase from one of these links, this site will receive some commission. At no cost to you. It helps keeps this place running. Learn more
Savvy Green Laundry Detergent
Review Score
Ewg Rated
NA
Ingredients

Water
Sodium Carbonate
Sodium Metasilicate
C12-15 Pareth-2


Savvy Green Laundry Detergent is a top quality, high performing, well-formulated detergent. Just be careful when handling the ingredients, keep it away from kids, use the recommended amount, and make sure your clothes are fully rinsed.

I just wish they used cardboard instead of plastic packaging!

Savvy Green is a company that was created by two women, Rita and Mary. They began in a kitchen making "clean" powder detergent for friends as gifts. They soon realized they could make a bigger indent in reducing the world's carbon footprint if they produced on a larger scale.
Thus Savvy Green was born.
It has remained independently owned and operated since and was established and still remains in St. Petersburg, Florida. They state on their website "We are all about offering safe, eco-friendly, and effective options- from development to production to distribution- all the way to our customers ease of use and responsible disposal of all containers."
So with all the company background aside it really does help you understand little things about the product that are different.
Just from looking at the label you can see it's crisp, clean aesthetic serves its purpose.  They fully disclose their ingredients (there's only three of them!.  And they are fully aware of the problems associated with cleaning products.
I couldn't wait to try this out…
First impressions mean a lot…
My first impression is obviously that this is a safe, and environmentally conscious product. I am always game for that.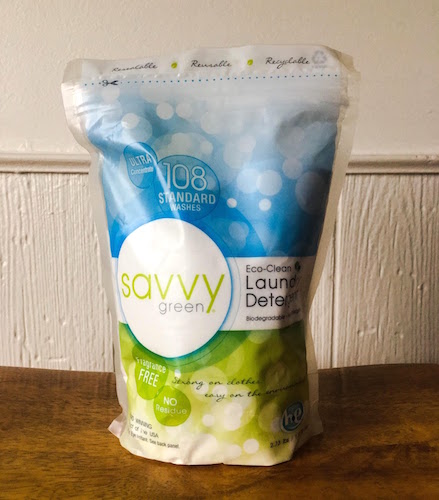 I was a little thrown off by the fact that the packaging is plastic.  Really?  For such an environmentally friendly company, this surprised me.  It isn't hard plastic, which is a plus, and it takes up little space once disposed of.  But I much prefer cardboard.
On to what is hidden inside
The powder is crisp, white, very plain, and with absolutely zero-scent.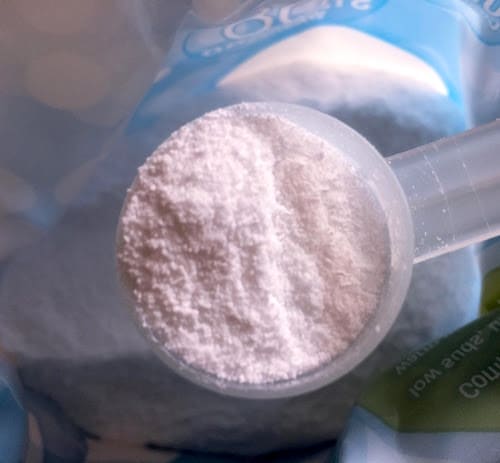 Now, I love when my laundry has that freshly cleaned smell. But you don't need fragrances for that.  In fact, fragrances aren't always a great idea.
They do also include an awesome little scoop to make it easier to measure and dispense the product.
On the topic of dispensing the product, they do say to use very little in your wash since it is concentrated. I always have a habit of using more. Always. But I had to stop myself this time.  I found this painful.  Stop yourself! 
Does it actually wash?
I am here to tell you. Yes! It actually washes beautifully. Now I did use both an HE Washer and a normal everyday washer. Only because of a couple ingredients that are a little questionable if not rinsed properly (we touch on this later) I recommend using an extra rinse and warm water at least if you are using a normal system.
Now to the fun. I realized my clothes were not very conventionally stained. As to say, they are very deep, dug in stains.
After washing, I had a couple superficial surface ones but nothing crazy. I really did not think it would leave a dent in some of the stains, and I was pleasantly surprised.
With a foamy lather that washed away very well considering the powder form. It lived up to its packaging promise that it left behind no residue. As well as surpassing my "no scent" expectations. Even after they had been removed from the wash they still had absolutely no smell. But it was still fresh just because they were clean. If you want flowers, go to a florist…
Now I did not use a fabric softener – people in my household have very sensitive skin. Which ended up being a perfect test for their "safe on sensitive skin" claim as well.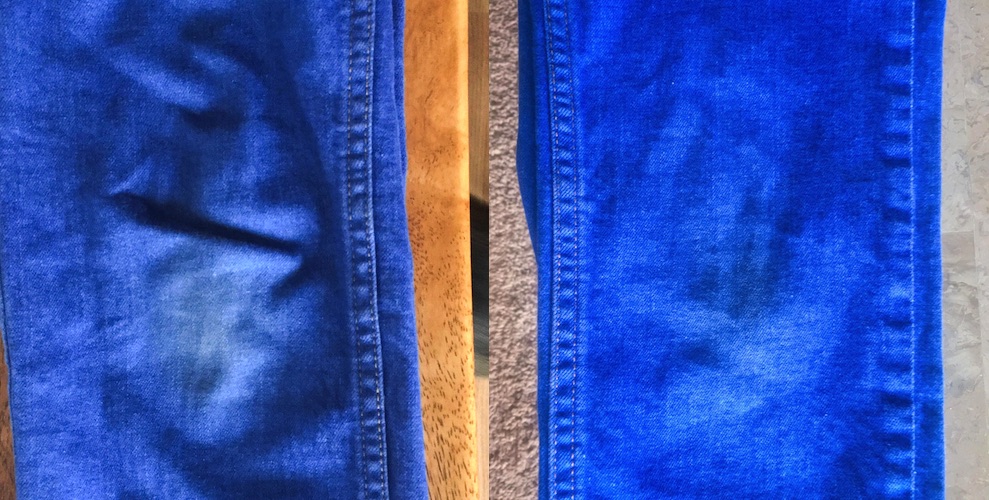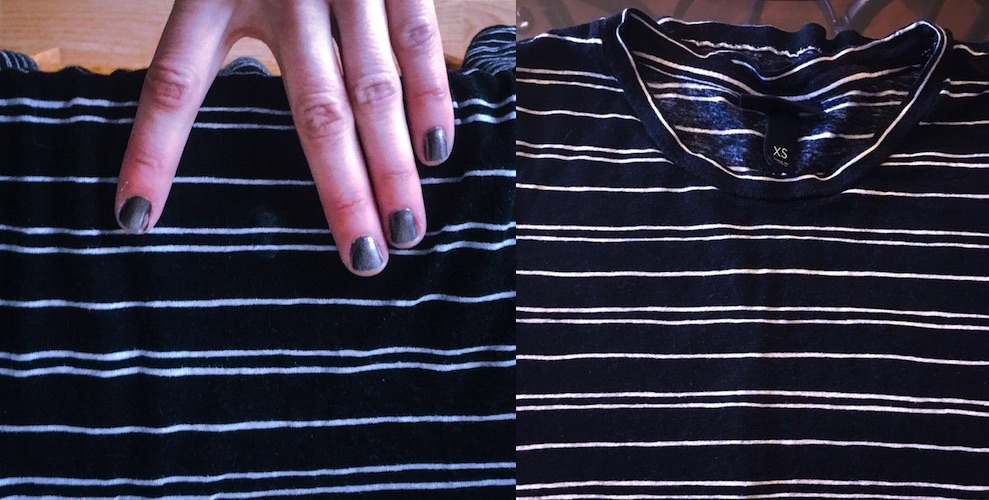 So is it well formulated?
Now this company prides itself on its safe production and waste disposal, and aim to provide the consumer with tools to do the same.   This is a non-bio washing detergent as opposed to a soap.
Which brings me to a couple concerns with the formulation.  And this is why its so important to use the recommended amount of this detergent…
First, Sodium Metasilicate (Drying Agent in this product) has an F rating with the EWG Skin Deep Hazard scale. This is a real irritant if exposed to the skin. So be sure to rinse these clothes properly, and keep out of reach of children.  Safe for kids means safe for kids clothing…
Which seems like the opposite of what is stated on the packing. Although all three of these products happen to be "harmless" as long as they are properly rinsed off. Which is why they probably mention "no residue"…
Secondly, the chemical that is the second ingredient is C12-15 Pareth-2 (the detergent in the product). This is a vegetable based biodegradable surfactant that, again, can irritate if left on the skin.   So rinse.  and rinse well.
Thirdly, dear old Sodium Carbonate aka Washing soda or Ash Soda.  An eternal favorite.  Again, this is fully biodegradable but it also is known to cause  "housewife eczema" due to mostly women washing clothes excessively in those days. It would cause a rash like irritation that went away with soap and water. Now that we have machines it seems that as long as you are not handling this stuff it is perfectly safe.
I would personally use gloves when using this product.  But I am ultra sensitive.
Just remember to rinse properly.
So is this on my recommended list?
In conclusion, I would have to say that this will be used until it is gone. that's not often the case with reviewed detergents, unfortunately.  Price wise, it stacks up to most detergents.  They disclose their ingredients.  The ingredients are biodegradable.  I just wish they used cardboard instead of plastic packaging!
All in all, I would I would rate this as a top quality, high performing, well-formulated detergent.  Just be careful with handling the ingredients.  Keep it away from kids.  Buy flowers if you want a scent.  Use the recommended amount, and no more.  And make sure your clothes are properly rinsed.